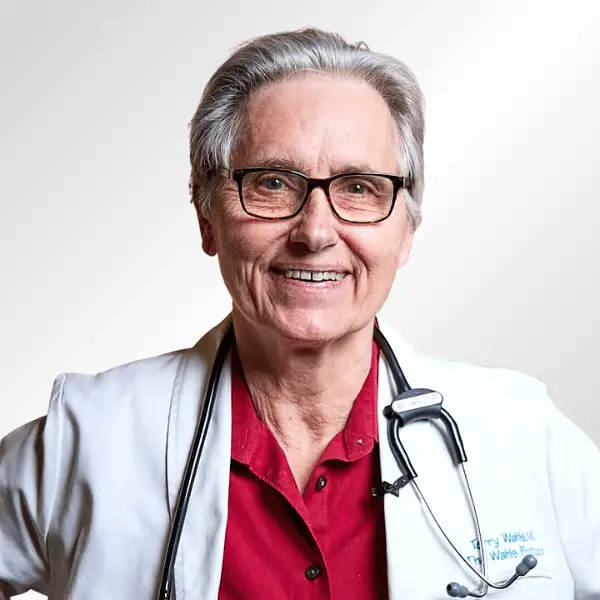 Country:

United States

Resides:

Iowa City, IA

Known For:

Creator of the Wahls Protocol

Spouse/Partner:

Jackie Reger

Children:

Zach Wahls

Education:

Drake University
About Terry Wahls
Dr. Terry Wahls was born on November 9, 1955, in McGregor, Iowa. She is married to Jacky Reger and has one child named Zach Wahls, who serves as an Iowa State senator.[2] [3] 
Wahls has shared her personal experiences of living with multiple sclerosis, which started in 2000. Within three years of her MS diagnosis, she developed secondary progressive MS, underwent chemotherapy to slow the disease, and was in a wheelchair.[4] 
Wahls feared she'd be bedridden soon, so began researching how foods and vitamins affect the body. In 2007, Wahls experimented on herself, putting her research on diet's impact on MS to work. She began strict nutritional interventions while also using neuromuscular electrical stimulation.[5] 
Her diet consisted of:
600 grams cruciferous vegetables (such as broccoli, cauliflower, and brussels sprouts)
300 grams of brightly colored fruits and vegetables
60–100 grams of meat, fish, or poultry
She did not consume any milk, eggs, or gluten.[5] 
Wahls reported a reduction in fatigue within three months of her dietary intervention. By month six, she was walking with a cane and by nine months she was riding her bike again. "A year after I started, I did a 20-mile bike ride," Wahls says.[6] 
Her journey of overcoming her own health challenges has fueled her passion for helping others with MS and autoimmune diseases through dietary and lifestyle interventions.[6]
Education
Wahls earned her Bachelor of Science degree from Drake University in Des Moines, Iowa, and then went on to receive her Doctor of Medicine degree from the University of Iowa College of Medicine.[7]
After completing her residency in internal medicine, she joined the faculty at the University of Iowa as a clinical professor, where she continues to teach and conduct research.[7]
Career
Wahls began her career as a clinical professor of medicine at the University of Iowa, specializing in internal medicine. In addition to her work as a professor, she has been actively involved in clinical research, focusing on the impact of diet and lifestyle on chronic conditions like multiple sclerosis.[8] 
Wahls has been heavily involved in researching the impact of dietary measures on MS, ever since she was able to treat her own case with nutritional interventions. Since 2014, she has conducted pilot and larger studies on dietary approaches to treatment MS-related fatigue. 
In 2022, Wahls received a $2.5 million gift from the Carter Chapman Shreve Family Foundation to study the effects of her dietary intervention on MS patients. With the donation, the Therapeutic Lifestyle Research Fund was able to recruit 156 student participants with relapsing-remitting MS to research the impacts of three diets:[5]
Modified Paleolitic diet: Increased fruit and vegetable intake, with elimination of gluten, dairy, and eggs.
Ketogenic diet: Limit of carbohydrates to under 50 grams daily, increased healthy fat intake with olive oil, and consumption of non-starchy vegetables.
U.S. Department of Agriculture "dietary guidelines for Americans" diet: Limit sodium and consume fruits, vegetables, whole grains, and reduced-fat dairy. 
Wahls will also be investigating if diet and lifestyle treatment without drugs is found to be equivalent to disease-modifying drug treatments.[5] 
The Wahl Diet Protocol
The Wahls Protocol is a comprehensive dietary and lifestyle intervention developed by Wahls to improve the health of individuals with multiple sclerosis and other autoimmune conditions. It is based on her research on dietary interventions for MS and her own experiences with using nutritional interventions to improve MS symptoms.[9] 
The Wahls Diet is based on a modified Paleolithic diet, which focuses on whole, nutrient-dense foods and eliminates processed foods and common allergens, including dairy, legumes, sugar, nightshade vegetables, and grains.[9]
The protocol is comprised of three levels, each with increasing dietary restrictions:[10]
Wahls Diet (Level 1): This level emphasizes nine cups of fruits and vegetables daily, high-quality proteins, and healthy fats. It also avoids gluten, dairy, and eggs.
Wahls Paleo (Level 2): This level builds on Level 1 by further eliminating grains, legumes, and nightshade vegetables. It also encourages the consumption of seaweed, organ meats, and fermented foods.
Wahls Paleo Plus (Level 3): The most restrictive level, it incorporates principles of a ketogenic diet, with high fat and low carbohydrate intake. It aims to promote ketosis, a metabolic state in which the body relies on fat, rather than carbohydrates, for energy.
In addition to dietary changes, the Wahls Protocol also emphasizes the importance of exercise, stress management, and overall lifestyle changes to improve health and well-being.[10] 
Books
Dr. Terry Wahls has authored several books outlining her dietary protocol and its potential benefits for those with autoimmune conditions, including the following:
Minding My Mitochondria: How I Overcame Secondary Progressive Multiple Sclerosis (MS) and Got Out of My Wheelchair (2010): Wahls explains the link between micronutrient starvation and chronic disease, and the prevalence of this issue in modern society.[11] 
The Wahls Protocol: A Radical New Way to Treat All Chronic Autoimmune Conditions Using Paleo Principles (2014): This book discusses the integrative approach to healing chronic autoimmune conditions with dietary and lifestyle interactions.[12] 
The Wahls Protocol Cooking for Life: The Revolutionary Modern Paleo Plan to Treat All Chronic Autoimmune Conditions ( 2017): This serves as a the cookbook companion to The Wahls Protocol and offers nutritionally dense recipes for patients with autoimmune disease.[13] 
Dr. Terry Wahls Today
Today, Wahls continues to teach and conduct research at the University of Iowa. She is also an educator at the Functional Medicine Coaching Academy, where she shares her expertise on the impact of diet and lifestyle on autoimmune conditions.
Wahls remains dedicated to spreading awareness about the potential benefits of her dietary protocol and inspiring others to take control of their health through holistic interventions.[1]
References
Leaders Media has established sourcing guidelines that rely on credible, expert-level, and primary sources for articles about people and companies. Articles are frequently edited by staff writers. Learn more about our mission, editorial ethics, and how we source references in our editorial policy.
Any reader who wishes to provide any additions or revisions to this article, including updating any out-of-date information, please email [email protected].