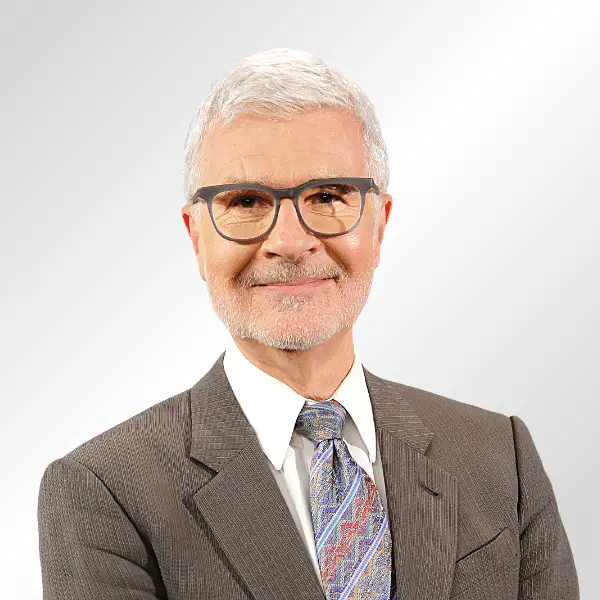 DOB:

July 11, 1950

Age:

73

Country:

United States

Resides:

Palm Springs, CA

Hometown:

Omaha, NE

Known For:

Diet books and medical research

Spouse/Partner:

Penny Gundry

Education:

Yale University
Early Life and Education
Dr. Steven Gundry was born in Omaha, Nebraska, on July 11, 1950. He received his undergraduate degree in human biology from Yale University and went on to obtain his medical degree from the Medical College of Georgia in 1977. Gundry completed his surgical residency at the University of Michigan and cardiothoracic surgery fellowship at the National Institutes of Health (NIH) and the Children's Hospital of Los Angeles.[1]
Cardiothoracic Surgeon
As a cardiothoracic surgeon, Gundry made significant contributions to the field, including the development of minimally invasive heart surgery techniques.[2] He gained widespread recognition for his pioneering work in infant heart surgery, such as in 1990, when he successfully operated on an infant born with a life-threatening heart condition.[1] 
Gundry later served as the Head of Cardiothoracic Surgery at Loma Linda University Medical Center before shifting his focus to nutrition.[1]
Nutritionist
Gundry's interest in nutrition led him to develop a theory surrounding lectins, plant-based proteins that he believes cause various health issues.[3] He has written several books on the topic, including The Plant Paradox, which promotes a lectin-free diet for optimal health.[4] 
Gundry also advocates for a ketogenic diet, as discussed in his book, Unlocking the Keto Code.[5] He also hosts The Dr. Gundry Podcast, where he interviews various experts and shares his insights on nutrition and health.[6]
Publications
The Longevity Paradox: How to Die Young at a Ripe Old Age (2019): Gundry explores the secrets of longevity and provides a detailed plan to help readers live a longer, healthier life. He discusses the role of the gut microbiome in aging, and offers dietary and lifestyle recommendations to support a healthy microbiome and promote overall health and longevity.[11]
The Energy Paradox: What to Do When Your Get-Up-and-Go Has Got Up and Gone (2021): Gundry examines the reasons behind the modern epidemic of fatigue and low energy, and suggests that by optimizing our gut health and making specific dietary and lifestyle changes, we can improve our energy levels and overall vitality. The book includes a step-by-step program, meal plans, and recipes for boosting energy.[13]
Criticisms 
Gundry believes that lectins, which are naturally occurring proteins found in most plants, can cause a range of health problems, including inflammation, weight gain, digestive issues, heart disease, and autoimmune disease.[15] 
According to Gundry, lectins are a plant's natural defense mechanism against predators like insects and animals, and when humans consume them, lectins can cause damage to the gut lining. He suggests that avoiding or minimizing the intake of lectin-rich foods, such as legumes, nightshade vegetables, and certain grains, can lead to improved health and vitality.[15]
Gundry's theories on lectins have been met with significant criticism from the medical community. Critics argue that his claims lack substantial scientific evidence and that lectins are generally harmless when consumed as part of a balanced diet.[3] Furthermore, some experts contend that the benefits of plant-based diets, which include lectin-rich foods, are well-established in the medical literature.[16]
Gundry has also been criticized for spreading misinformation about COVID-19 vaccines, particularly in relation to heart-related side effects. He released a scientific abstract reading, " "mRNA COVID Vaccines Dramatically Increase Endothelial Inflammatory Markers and ACS Risk as Measured by the PULS Cardiac Test: a Warning." It was deemed flawed by organizations like FactCheck and the American Heart Association, and would later be revised to: "Observational Findings of PULS Cardiac Test Findings for Inflammatory Markers in Patients Receiving mRNA Vaccines." Gundry also changed language used in his original abstract, removing phrases such as "dramatic changes" and "clinically validated."[17] 
His claims about the vaccines causing heart disease were debunked by various organizations, including Reuters and Full Fact. The Centers for Disease Control and Prevention (CDC) reported that the benefits of the vaccine outweigh the potential risks of heart inflammation, and the CDC reported that the risk of heart inflammation after getting the vaccine is rare and occurs primarily in young men.[18][19][20]
Dr. Steven Gundry Today
Despite the criticisms and controversies, Gundry continues to maintain a strong following in the alternative medicine and nutrition spheres. His connection to Gwyneth Paltrow's Goop brand, which has faced its own share of controversies, has further fueled his prominence.[21] 
Today, Gundry remains an influential figure in the world of nutrition and wellness, with many supporters who adhere to his dietary recommendations. 
References
Leaders Media has established sourcing guidelines that rely on credible, expert-level, and primary sources for articles about people and companies. Articles are frequently edited by staff writers. Learn more about our mission, editorial ethics, and how we source references in our editorial policy.
Kolata, G. (1990, October 9). Infant Boy Survives Heart Peril. The New York Times. https://www.nytimes.com/1990/10/09/science/infant-boy-survives-heart-peril.html 
O'Connor, A. (2000, July 4). Making Some Trauma of Heart Surgery Disappear. The New York Times. https://www.nytimes.com/2000/07/04/health/making-some-trauma-of-heart-surgery-disappear.html
Hamblin, J. (2017, April 28). The Next Gluten. The Atlantic. https://www.theatlantic.com/health/archive/2017/04/the-next-gluten/523686/ 
HarperCollins. (n.d.). The Longevity Paradox: How to Die Young at a Ripe Old Age. https://www.harpercollins.com/products/the-longevity-paradox-steven-r-gundry-md
Kirkus Reviews. (2022, January 15). Unlocking the Keto Code. https://www.kirkusreviews.com/book-reviews/steven-r-gundry/unlocking-the-keto-code/ 
Apple Podcasts. (n.d.). The Dr. Gundry Podcast. https://podcasts.apple.com/us/podcast/the-dr-gundry-podcast/id1434371530 
Dr. Gundry's Diet Evolution: Turn Off the Genes That Ar. . .. (n.d.). Goodreads. https://www.goodreads.com/book/show/18919358-dr-gundry-s-diet-evolution 
The Plant Paradox: The Hidden Dangers in "Healthy" Food. . .. (n.d.). Goodreads. https://www.goodreads.com/book/show/33630505-the-plant-paradox 
The Plant Paradox Cookbook: 100 Delicious Recipes to He. . .. (n.d.). Goodreads. https://www.goodreads.com/en/book/show/36250543 
PlantParadox 30 – Dr Gundry. (n.d.). Dr Gundry. https://drgundry.com/plantparadox30/ 
The Longevity Paradox: How to Die Young at a Ripe Old A. . .. (n.d.). Goodreads. https://www.goodreads.com/book/show/39813128-the-longevity-paradox 
The Plant Paradox Family Cookbook: 80 One-Pot Recipes t. . .. (n.d.). Goodreads. https://www.goodreads.com/book/show/46269741-the-plant-paradox-family-cookbook
The Energy Paradox: What to Do When Your Get-Up-and-Go . . .. (n.d.). Goodreads. https://www.goodreads.com/book/show/53739867-the-energy-paradox 
Unlocking the Keto Code: The Revolutionary New Science . . .. (n.d.). Goodreads. https://www.goodreads.com/en/book/show/57698622 
Felman, A. (2023, March 6). Does the lectin-free diet work? https://www.medicalnewstoday.com/articles/319593 
Campbell, T. C. (2017, April 10). "The Plant Paradox" by Steven Grundy MD – A Commentary. Center for Nutrition Studies. https://nutritionstudies.org/the-plant-paradox-by-steven-grundy-md-commentary/
Neale, T. (2021, December 23). Correction Issued for Controversial Study Linking COVID-19 Vaccines to ACS Risk. TCTMD.com. https://www.tctmd.com/news/correction-issued-controversial-study-linking-covid-19-vaccines-acs-risk 
FactCheck Reuters. (2021, July 23). Fact Check-COVID-19 vaccines do not cause heart disease. Reuters. https://www.reuters.com/article/factcheck-coronavirus-vaccines-idUSL1N2SH1HN
Full Fact. (2021, May 14). Covid-19 vaccines are not causing heart disease. Full Fact. https://fullfact.org/health/covid-vaccines-heart-disease/ 
COVID-19 Vaccination. (2020, February 11). Centers for Disease Control and Prevention. https://www.cdc.gov/coronavirus/2019-ncov/vaccines/safety/myocarditis.html 
Khazan, O. (2017, September 8). The Baffling Rise of Goop. The Atlantic. https://archive.ph/20210403102222/https://www.theatlantic.com/health/archive/2017/09/goop-popularity/539064/ 
Any reader who wishes to provide any additions or revisions to this article, including updating any out-of-date information, please email [email protected].