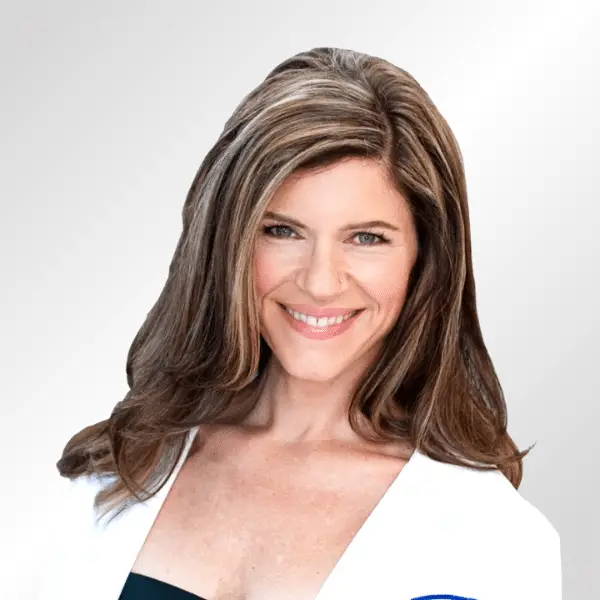 DOB:

February 23, 1967

Age:

56

Country:

United States

Resides:

Berkely

Known For:

Author of Women, Food, and Hormones

Spouse/Partner:

David Gottfried

Education:

Massachusetts Institute of Technology
About Sara Gottfried
Sara Gottfried is an MD and a certified yoga instructor and meditation teacher.[3] She's dedicated her career to helping women optimize their health and achieve hormonal balance through various lifestyle changes, dietary modifications, and personalized treatment plans. Four of Gottfried's books are New York Times best-sellers.[4]
Additionally, she's contributed to numerous podcasts, magazines, and TV shows, including Bulletproof, Ultimate Health, Huberman Lab, Natural Health, Cosmopolitan, Glamour, The Oprah Winfrey Show, and The Dr. Oz Show.[1][5]
Sara Gottfried was born February 23, 1967, in the U.S. She attended Harvard Medical School, where she earned her medical degree. Prior to medical school, she obtained her undergraduate degree in bioengineering from the University of California, Berkeley.[6]
After completing her medical degree, Dr. Gottfried finished her residency in obstetrics and gynecology at the University of California, San Francisco. She also pursued further training in integrative and functional medicine, completing a fellowship with the American Board of Integrative and Holistic Medicine.[6]
Gottfried says she's always had a passion for women's health and helping her patients overcome hormonal challenges and stubborn weight gain. In addition to being a practicing physician, she calls herself a "wife, mother, scientist, researcher, speaker, connector, scholar, and seeker."[2]
Medical Practice
Gottfried began her medical career working in "conventional medicine" at a busy practice, seeing more than 30 patients on many days. Although she tried helping her patients to overcome common ailments, she herself didn't feel well, especially for her age. She struggled with issues including blood sugar problems, moodiness, joint pain and inflammation, multiple injuries, and stubborn belly fat. The doctors she visited at the time didn't offer much help, however Gottfried had testing done, which revealed that her cortisol levels (a primary "stress hormone") were three times higher than normal, leading to many of her health problems.[7] 
Gottfried decided to focus more on holistic wellness and treating her patients using integrative medicine. She now has a private practice in the San Francisco Bay Area where she sees patients mostly via telemedicine and occasionally in person. Gottfried says, "I took the solutions to my problems and translated them into evidence-based, personalized protocols for my patients, which worked extremely well on the 25,000+ people I've seen in the past few decades of practicing precision, functional, and integrative medicine."[2] 
Additionally, Gottfried is the Director of Precision Medicine at the Marcus Institute at Thomas Jefferson University Hospitals.[5][8] She's also a contributing member at the Andrew Weil Center for Integrative Medicine at the University of Arizona, where she teaches and trains healthcare professionals in integrative and functional medicine approaches.[9][10] To help spread her message, Gottfried teaches web-based learning to other physicians through the Gottfried Institute's online platform. Her most recent mission is to "reinvent healthcare toward the standard of personalized medicine."[10] 
Aside from working directly with patients, Gottfried is a sought-after speaker, educator, and author. She regularly speaks on podcasts, TV shows, and at conferences and events around the world. Her speaking engagements focus on topics related to women's health, weight loss, hormone optimization, and integrative medicine.
Books and Approach
Gottfried has written several bestselling books on treating the root causes of health ailments, women's health, balancing hormones, and tips for losing weight. She's also the author of numerous research articles and magazine publications, including for Women's World, Redbook, and Yoga Journal. She's been featured in many popular media outlets, such as 20/20, The Oprah Winfrey Show, The Dr. Oz Show, and The New York Times.[11]  
Gottfried's Instagram account, which has over 273,000 followers, reaches a broad audience interested in various health topics every month.[12] 
Gottfried's books include:
Overall, Dr. Gottfried's approach empowers people to take control of their own health and achieve balance in their lives through personalized and integrative approaches.[13] One of her main focuses is identifying and treating the root causes of health problems instead of temporarily addressing symptoms. In her own words, "The greatest health transformations unfold when you address the root causes, not simply the signs."[2] 
Gottfried teaches her patients and readers, which include women, men, professional athletes, and CEOs, about staying healthy with a holistic approach, meaning one that takes into account people's physical bodies, hormones, mental and emotional health, and spiritual well-being. Her goal is to address people's entire sense of well-being, including their nutrition, immune function, detoxification, mindset, stress levels, and aging processes.[8] 
Key themes and concepts that Gottfried teaches include:
Understanding the role of hormones in overall health and well-being.
Identifying symptoms of hormonal imbalances, such as weight gain, fatigue, mood swings, and low sex drive.
Using a personalized approach to hormone optimization that takes into account individual health history, lifestyle, and goals.
Addressing the root causes of hormonal imbalances, such as stress, poor diet, and environmental toxins.
Incorporating lifestyle modifications, such as exercise, sleep, and stress reduction techniques, such as deep breathing to support hormonal balance.
Using natural therapies, such as herbs, supplements, and bio-identical hormones, to support hormonal balance when needed.
Incorporating regular monitoring and evaluation of hormonal levels to ensure optimal hormone balance over time.
In her books and private practice, Gottfried recommends the following lifestyle changes for many of her patients:[2] 
Eat a variety of healthy foods that keep blood sugar levels in the optimal range, emphasizing protein, veggies, high-fiber foods, and healthy fats. Avoid sugary foods, sweetened beverages, and refined grains.
Get plenty of sleep, which is essential for overall well-being.
Exercise less but more wisely in order to avoid injuries and burnout. 
Use "tech-enabled recovery" to track workouts, how your body responds (such as heart rate variability and sleep quality), and to give yourself enough time to rest.
Incorporate your favorite types of physical activity into your daily routine, such as running, hiking, and yoga. She also recommends high-intensity interval training (HIIT) and weight lifting if appropriate. 
Spend quality time with people who you have supportive relationships with, which helps beat stress.
Make a point to do things that amplify happiness, such as learning, being in nature, taking care of a pet, meditating, and socializing.
Personal Life
Gottfried, now 55 years old, lives in San Francisco with her family. In her 30s, she married her husband, David Gottfreid. The couple has two daughters together.[14]
Gottfried remains a dedicated health and wellness advocate, often speaking publicly about the challenges of balancing a career and a family life. She emphasizes the need to carve out time for family, friends, self-care, stress reduction, and mindfulness practices in order to maintain a positive mood and a healthy sex drive.[15] In her journey to maintaining her own health, she has said that she enjoys cooking healthy foods, exercising, doing yoga, having a pet, and spending time with her husband and daughters.[2]  
References
Leaders Media has established sourcing guidelines that rely on credible, expert-level, and primary sources for articles about people and companies. Articles are frequently edited by staff writers. Learn more about our mission, editorial ethics, and how we source references in our editorial policy.
Any reader who wishes to provide any additions or revisions to this article, including updating any out-of-date information, please email [email protected].