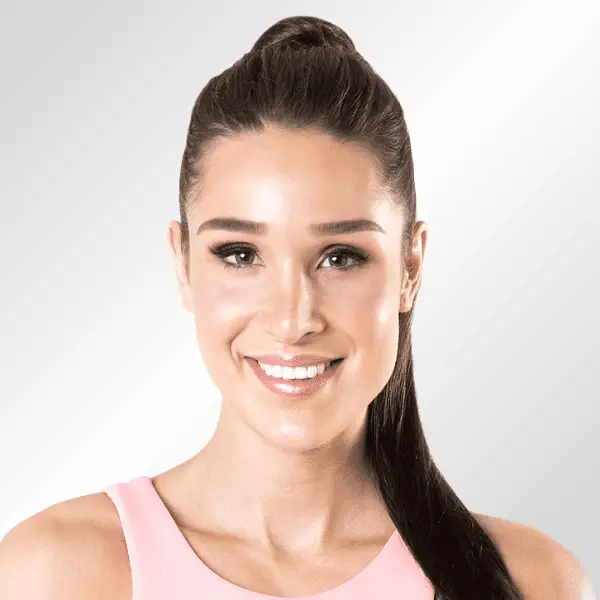 DOB:

May 21, 1991

Age:

32

Country:

Australia

Resides:

Malvern, Australia

Hometown:

Adelaide, South Australia

Known For:

Bikini Body Guide Workout Program

Religion:

Christianity

Education:

Concordia College
About Kayla Itsines
Itsines is the creator of a series of successful fitness ebooks targeting women seeking simple but effective circuit workouts. Her Bikini Body Guides have sold millions of copies, while her Sweat With Kayla app has over 50 million downloads. Itsines is also the creator of healthy meal plans and YouTube videos featured on her app and other channels.[2]
Sweat With Kayla, which debuted in 2016, generated more revenue than any other fitness app in its first year. Itsines created Sweat With Kayla with her former business partner (and ex-husband) Tobi Pearce. In 2016, at 25 years old, Itsines made the BRW Young Rich List, with a wealth of $46 million (shared with Tobi Pearce).[3] TIME also named Itsines one of the most influential people on the internet in 2016, while Forbes listed her as one of the world's top social media fitness influencers the same year.[4][5]
Kayla Itsines was born in Adelaide, South Australia, on May 21, 1991. Her family is of Greek descent. From a young age, Itsines loved playing sports, including competitive soccer and netball. After graduating from high school, she decided to study fitness and nutrition to pursue a career as a personal trainer. She graduated from the Australian Institute of Fitness at 18 years old.[3]
Early Fitness Career: Start of the Bikini Body Guide
Once trained as a personal trainer, Itsines became an entrepreneur and opened up her own personal training business. Her clients frequently asked her for help with meal planning and creating at-home workouts. She began uploading "client transformations" on Instagram, catching the attention of IG users around the world.[6][3] This inspired her to create her first Bikini Body Guide workout program in 2014.
BBG (renamed to High Impact with Kayla) was a 12-week workout program designed to help women achieve strong, toned, healthy bodies. The program consists of a series of high-intensity interval training (HIIT) workouts, resistance training, and cardiovascular exercises, nearly all of which can be done at home with little or no equipment. Each circuit takes about 28 minutes to complete.[7][8]
Founding Sweat and the Sweat With Kayla App 
BBG's popularity quickly grew through word of mouth and with help from social media. Once she had a large following established, she and her partner rebranded their company to Sweat in 2015 and created the Sweat With Kayla fitness app. Their goal was to make the BBGs scalable and accessible to a wider audience.[9]
Itsines states that she regrets calling her program a "bikini guide" because it implies that looking good in a bikini is the most important aspect of health, and that only one body type is bikini-worthy. In her words, "Do I regret calling my guides Bikini Body? My answer is 'yes.' That's why when I released the app, I called it Sweat With Kayla." BBG was eventually renamed to High Impact with Kayla.[3][8]
The Sweat With Kayla app became very popular and she has since built a large online community of followers through social media platforms such as Instagram. The Sweat app features workouts beyond circuits, including options for yoga, cardio, core-focused, and post-pregnancy workouts.[10][6]
With both high- and low-impact fitness options, Itsines hopes her app offers something for everyone. She states on her website, "My programs are flexible, so you can choose whether you want to work out at home or in the gym. The programs include audio cues, warm-ups, and challenges so you can train with me when and how you want."[1] A monthly membership to the Sweat app costs users $19.99.[11]
Net Worth and Other Achievements
In 2016, Itsines and her business partner (and ex-husband) Tobi Pearce, sold a majority stake in their company, Sweat, to a private equity firm iFit. It's unknown exactly how much the firm paid Itsines and Pearce, although it's been reported by Insider to be roughly $400 million.The app went on to accumulate more than 50 million downloads, making about $100 million in revenue each year.[9]
Today, Itsines is one of the most well-known fitness influencers. She is also an author and a brand ambassador. Her net worth after splitting from Pearce is unknown, but it's estimated Itsines is worth at least an estimated $225 million (US dollars).[12] Her income is attributed to a combination of ebook and membership program sales, as well as her YouTube channel, ownership of several gyms in Queensland, and multiple brand sponsorships. Smart Company reports that she may make as much as $57,000 per sponsored post on Instagram.[2]
Itsines has written several successful guides and short books focused on fitness, nutrition, and health that are intended to complement her workout programs.[3] Her ebooks offer recipes, meal plans, and advice on how to adopt healthy habits. Itsines's workout plans, guides, and ebooks include:[11]
Personal and Family Life
Itsines lived with long-time business partner and fiancé Tobi Pearce starting in 2016. Pearce co-founded the fitness company Sweat and is the father to Itsines' daughter Arna, born in 2019. Itsines says that having her daughter inspired her to dive into the world of pre and postpartum fitness.[13]
In 2022, Itsines revealed that she was engaged to her boyfriend Jae Woodroffe.[14] The two welcomed a child together, a boy named Jax, in January 2023.[15][16]  Itsines is also the sister to Leah Itsines, a popular health food blogger who has more than 500,000 followers on Instagram.[17]
Advice for Entrepreneurs
When asked what she credits her success to, Itsines says that she believes it's a combination of her discipline and focus on community. She claims to "set hard limits" on herself and her schedule, cutting out time to work out daily and prep healthy food. She also abstains from drinking any alcohol, goes to sleep early, and lives an organized, routine life as much as possible.[3][6]
Itsines tells Insider, "My advice for anyone looking to enter into the fitness space is to create a business or brand based around something you enjoy and are truly passionate about . . . understand your customer and what they are looking for from your fitness product or service. Listen to what your customer wants and put their needs first."[18]
References
Leaders Media has established sourcing guidelines that rely on credible, expert-level, and primary sources for articles about people and companies. Articles are frequently edited by staff writers. Learn more about our mission, editorial ethics, and how we source references in our editorial policy.
Any reader who wishes to provide any additions or revisions to this article, including updating any out-of-date information, please email [email protected].