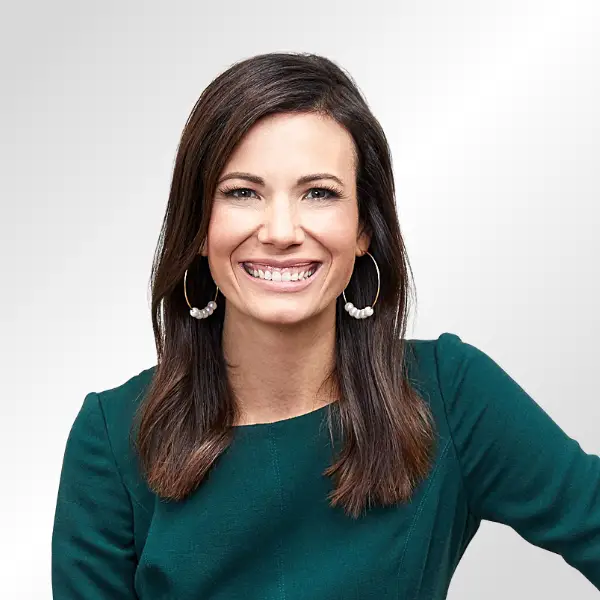 DOB:

April 4, 1988

Age:

35

Country:

United States

Resides:

Nashville

Hometown:

Nashville

Known For:

Host of The Rachel Cruze Show

Spouse/Partner:

Winston Cruze

Religion:

Christianity

Education:

University of Tennessee
About Rachel Cruze
Rachel Cruze was born on April 25, 1988, in Tennessee. As the daughter of Dave Ramsey, a renowned financial expert, author, and radio host, she comes from a family with a strong background in personal finance. Cruze was exposed to practical financial principles and gained valuable insights into money management from an early age. On the Ramsey Solutions website, Cruze writes, "Growing up as Dave Ramsey's daughter, it's safe to say I learned how to handle money at a young age—how to give generously, save, and steer clear of debt."[1][2]
When Cruze was just 16 years old, she started speaking at high schools and small events to encourage young people to set and achieve their financial goals without relying on debt. Cruze then attended the University of Tennessee, where she earned her Bachelor of Arts in communication.[3] 
After completing her education, Cruze joined her father's organization, Ramsey Solutions, where she became actively involved in spreading the message of financial literacy and offering practical advice to individuals and families. She began speaking at various conferences and events, sharing insights on topics such as budgeting, debt management, saving, and investing.[4] 
Cruze is married to Winston Cruze, and the couple has three children: Amelia, Caroline, and Charles.[4]
The Rachel Cruze Show
The Rachel Cruze Show is a podcast and YouTube show hosted by Cruze that covers a wide range of topics related to personal finance, money management, and intentional living. It aims to provide practical advice, insights, and encouragement to help listeners make smart financial decisions and create a life of financial freedom and contentment.[5]
The show has 30 million views and 500,000 downloads per month. On it, Cruze shares her own experiences, stories, and lessons learned from her journey in personal finance. She also invites guests, including experts in various fields, to share their expertise and perspectives on money, relationships, career, and other aspects of life that intersect with personal finance.[2]
The show covers a diverse range of topics, including:
Budgeting
Debt management
Saving
Investing
Retirement planning
Relationships and money
Starting a business
Achieving financial goals
Some of the most popular episodes include:
"12 Things to Do Differently with Money in 2023 with Dave Ramsey"[6] 
"The Top 10 Money Wasters in Our Houses with Minimal Mom"[7] 
"15 Practical Budgeting Tips"[8] 
In addition to The Rachel Cruze Show, Cruze also co-hosts the Smart Money Happy Hour podcast with her friend George Kamel and co-hosts The Ramsey Show, often with her father.[9][10] 
Publications
Smart Money Smart Kids: Raising the Next Generation to Win with Money (2014): Co-authored with Dave Ramsey, this book offers practical advice for parents on how to teach their children about money management, budgeting, saving, giving, and avoiding debt. It provides a roadmap for raising financially responsible kids and equipping them with the tools they need to make wise financial decisions in the future.[11]
Love Your Life, Not Theirs: 7 Money Habits for Living the Life You Want (2016): In this book, Rachel Cruze explores the detrimental effects of comparison and consumerism on personal finances and happiness. She encourages readers to shift their focus from keeping up with others to defining their own financial goals, living within their means, and finding contentment in their own financial journey. The book offers practical strategies for budgeting, saving, and aligning spending with values to create a life of financial freedom and fulfillment.[12]
Know Yourself, Know Your Money (2021): In this book, Cruze explores how your behavior is the biggest obstacle to making good decisions with money. She explains that when you look closer at your behaviors and beliefs, your money problems are typically just one symptom of a larger problem in your life. Cruze also describes how your parents' view of money shaped your own money personality, and points out the four types of "childhood money classrooms" and six money fears.[13] 
Rachel Cruze Today
Today, Rachel Cruze travels the United States for speaking engagements related to financial advice. "I'm super passionate about exposing the toxic culture's lies that people believe when it comes to their finances and giving people a clear plan they can use to take control of their money," she writes on the Ramsey Solutions website.[4][14] 
Cruze recommends that people follow a zero-base budget, which occurs when your income, minus expenses including giving and saving, equals zero.[15] 
References
Leaders Media has established sourcing guidelines that rely on credible, expert-level, and primary sources for articles about people and companies. Articles are frequently edited by staff writers. Learn more about our mission, editorial ethics, and how we source references in our editorial policy.
Any reader who wishes to provide any additions or revisions to this article, including updating any out-of-date information, please email [email protected].