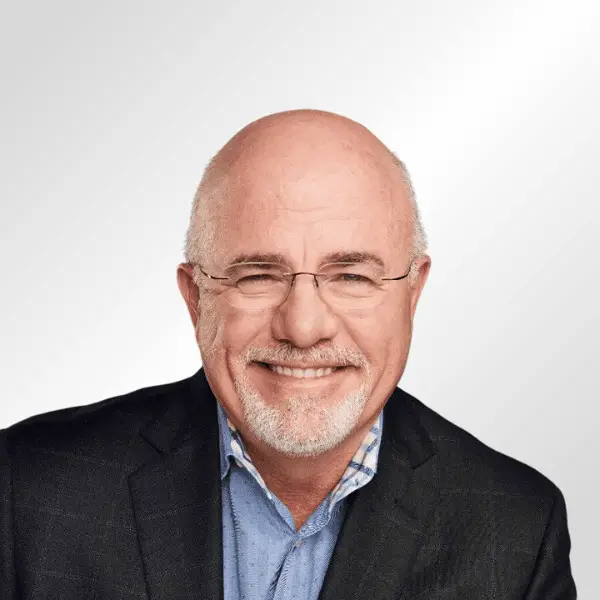 DOB:

September 3, 1960

Age:

63

Country:

United States

Resides:

Nashville, TN

Hometown:

Antioch, Nashville, TN

Known For:

The Dave Ramsey Show

Spouse/Partner:

Sharon Ramsey

Religion:

Christianity

Education:

University of Tennessee
About Dave Ramsey
Dave Ramsey was born on September 3, 1960, in Antioch, Tennessee, a suburb of Nashville. From a young age, his parents encouraged hard work and saving money. Ramsey attended the University of Tennessee in Knoxville, Tennessee, where he studied business administration. He was also interested in real estate as a teenager and got his real estate license at the age of 18.[2] 
Ramsey's career started in his 20s in the real estate industry when he built a multimillion-dollar business before filing for bankruptcy in the 1980s.[2] By age 26, his rental real estate portfolio was worth more than $4 million.[3] His real estate investments ended up failing due to over-leveraging and a downturn in the real estate market.[2] 
His early experiences led him to reevaluate his approach to money and develop the principles that now form the foundation of his financial advice. He transitioned from working in real estate to counseling others about finances. Ramsey started a personal finance counseling company in the late 1980s called The Lampo Group (now Ramsey Solutions), which gained a following over its first several years.[4] 
In the early 1990s, Ramsey started offering financial advice to a wider audience through his radio show, The Money Game, which later became The Dave Ramsey Show.[5] The show has since become one of the most popular personal finance programs in the United States, with over 10 million listeners tuning in weekly to hear Ramsey's advice.[1]  
Ramsey's approach to personal finance is based on a philosophy of living debt-free, building an emergency fund, and investing for the long term.[6] He emphasizes the importance of financial discipline and offers practical tips and strategies for achieving financial success. Ramsey is also a devout Christian and often incorporates his faith into his financial advice.[7] 
Ramsey has also written many books which have sold millions of copies worldwide. In addition to his radio show and books, he's developed various products and services designed to help people get out of debt, build wealth, and achieve financial freedom, including financial guides, calculators, and online courses.[1] 
Financial Achievements and Advice
Ramsey is the founder of Ramsey Solutions, a company that offers a range of financial products and services, including books and coaching programs.[8] Ramsey also created the Financial Peace University, a nine-lesson course that teaches people how to save for emergencies, pay off debt fast, and spend wisely.[9] His program is taught widely at churches, schools, corporations, and military bases.[10] 
Over the past several decades, Ramsey has developed a number of financial tools to help people gain control of their money and lives. One example is "The Total Money Makeover" game, which he created to make learning about money fun and engaging.[11] The game, which is designed to help players learn about budgeting, saving, investing, and debt reduction, became a popular tool for individuals and families to understand personal finances and develop good money habits.
Ramsey also offers several investment calculators on his website to help individuals plan and track their investments. One of the most popular is the "Investment Calculator," which allows users to calculate the potential returns of their investments over time.[12] To use the Investment Calculator, users enter the amount they plan to invest, the expected rate of return, and the length of time they plan to hold the investment. The calculator then provides an estimate of the investment's future value, as well as a breakdown of the investment's earnings and total return.[12] 
In addition to the Investment Calculator, Ramsey's website offers other calculators to help individuals plan their financial futures, including a debt snowball calculator, a mortgage calculator, and a retirement savings calculator.[1]
Ramsey is also known for his "Baby Steps," which are a set of seven financial goals designed to help people achieve financial stability. The steps are intended to be followed in order, with each step building on the progress made in the previous one. 
Ramsey's "Baby Steps" are as follows:[13] 
Save $1,000 for a small emergency fund.
Pay off all non-mortgage debt using the debt snowball method, in which you pay off your debts from smallest to largest, regardless of interest rate.
Save 3–6 months' worth of expenses for a fully funded emergency fund.
Invest 15% of your household income into retirement accounts.
Save for your children's college education.
Pay off your home early.
Build wealth and give generously.
Books and Blog
Ramsey has written many books on personal finances that have sold millions of copies worldwide, including five bestsellers. Throughout his books, he explains his personal philosophies, principles, and advice, including on leadership and the spiritual side of money management. 
Ramey's books include:
Financial Peace
More Than Enough
The Total Money Makeover
EntreLeadership
Smart Money Smart Kids, a children's book co-authored with his daughter Rachel Cruze
Retire Inspired
Everyday Millionaires
On his website DaveRamsey.com, Ramsey writes a blog that features articles and resources on budgeting, saving, and investing, as well as tips on entrepreneurship and leadership based on Ramsey's own experiences. His blog also ties in his other resources, including calculators, budgeting tools, and courses designed to help people understand the economy and their financial positions.
In addition to the blog, Ramsey has a large presence on social media, including Facebook (almost 6 million followers), Twitter, Instagram (with over 3.4 million followers), and YouTube, where he shares advice, insights, and inspiration with his followers.
Show and Podcast
The Ramsey Show is a very popular radio program hosted by Ramsey with various guests making appearances. It's considered one of the top five radio shows in the U.S.[14] The show, which has been on the air for over 30 years and has helped millions of people, offers practical advice on a wide range of financial topics.[15] 
Listeners call into the show to ask Ramsey questions and receive personalized advice on their specific financial situations. The show is broadcast live from Nashville, Tennessee, and is syndicated on over 550 radio stations across the United States, reaching up to 18 million listeners weekly. It's also available as a podcast.14] 
Ramsey's podcast, also called The Ramsey Show, features highlights from Ramsey's live radio show, as well as exclusive content and interviews with experts in the personal finance industry. The podcast has a large and dedicated following, with new episodes released daily. 
Net Worth and Awards
As of 2023, Ramsey's net worth is estimated to be about $200 million.[16]
Ramsey has won several awards for his work in the personal finance industry. In 2015, he was inducted into the National Radio Hall of Fame in recognition of his contributions to the field of radio broadcasting.[17] He's also been recognized by the National Association of Broadcasters with the Marconi Award for Network/Syndicated Personality of the Year multiple times, including in 2015, 2016, and 2017.[18]
In addition, several of Ramsey's books have been New York Times bestsellers, and he has been featured in numerous media outlets, including CNBC, Fox News, and The Wall Street Journal. [19]
Today, Ramsey lives in Nashville with his wife and children. He's been married to his wife, Sharon Ramsey, since 1982. Having been married for over 40 years, the Ramseys have been open about the role that their faith has played in their relationship and also their approach to money management. The couple has three children together: Rachel Cruze, Denise, and Daniel. Rachel Cruze is also a well-known personal finance expert and author who frequently collaborates with her father on his programs and books.[20]
As an advocate for giving back, Ramsey is a philanthropist and has donated millions of dollars to various charities and causes over the years. He also founded the The Lampo Group foundation, which provides financial education and support to individuals and families in need.[21]
References
Leaders Media has established sourcing guidelines that rely on credible, expert-level, and primary sources for articles about people and companies. Articles are frequently edited by staff writers. Learn more about our mission, editorial ethics, and how we source references in our editorial policy.
Ramsey Solutions. Company. https://www.ramseysolutions.com/company
Ramsey Solutions. Dave's Story. https://www.ramseysolutions.com/company/history/daves-story 
University of Tennessee. (2017, May 15). Dave Ramsey — Our Tennessee. Our Tennessee. https://our.tennessee.edu/100-distinguished-alumni/dave-ramsey/
T. (2022, January 3). Dave Ramsey. BIOGRAPHY OF BILLIONAIRES, MILLIONAIRES & FAMOUS PEOPLE. https://mmoblogger.com/dave-ramsey/
The Ramsey Show. https://www.kfmo.com/on-air/dave-ramsey
Carpenter, C. (2022b, December 10). The  Total Money Makeover: An Interview with Dave Ramsey | CBN. CBN. https://www2.cbn.com/article/not-selected/total-money-makeover-interview-dave-ramsey
Chrisie Sanchez's Blog. https://www.har.com/blog_70643_live-like-no-one-else—the-dave-ramsey-story
Ramsey Solutions. Ramsey Network. https://www.ramseysolutions.com/shows?snid=shows 
Ramsey Solutions. Financial Peace. https://www.ramseysolutions.com/ramseyplus/financial-peace/financial-peace-university
Conroy, J. O. (2020, November 15). The man who wants to help you out of debt – at any cost. The Guardian. https://www.theguardian.com/money/2020/oct/29/dave-ramsey-debt-financial-guru 
Ramsey Solutions. The Total Money Makeover Book by Dave Ramsey. https://www.ramseysolutions.com/store/books/the-total-money-makeover-by-dave-ramsey
Ramsey Solutions. Investment Calculator. https://www.ramseysolutions.com/retirement/investment-calculator
Ramsey Solutions. Dave Ramsey's 7 Baby Steps. https://www.ramseysolutions.com/dave-ramsey-7-baby-steps
Cassell, W., Jr. (2022, July 20). Who Is Dave Ramsey? Investopedia. https://www.investopedia.com/articles/investing/082015/how-dave-ramsey-made-his-fortune.asp
The Dave Ramsey Show' Celebrates 30 Years Of Helping Listeners. (n.d.). Inside Radio. https://www.insideradio.com/free/the-dave-ramsey-show-celebrates-30-years-of-helping-listeners/article_042bbc2a-3b51-11ed-9379-c77cb131bfb8.html\
Dave Ramsey — Radio Hall Of Fame. Radio Hall of Fame. https://www.radiohalloffame.com/dave-ramsey
Nnamani, C. (2023, February 25). Dave Ramsey's Net Worth: From Debt to Riches and Teaching Financial Peace. Capitalism.com. https://www.capitalism.com/learn-about-dave-ramseys-net-worth-financial-educator-career-and-how-he-cleared-his-debts/
Dave Ramsey | NAB Broadcasting Hall of Fame. https://nab.org/hof/inductees/daveRamsey.asp
Dave Ramsey. Simon & Schuster. https://www.simonandschuster.com/authors/Dave-Ramsey/77586365\
Ramsey Solutions. Rachel Cruze. https://www.ramseysolutions.com/rachel-cruze
The Lampo Group: Dave Ramsey | Fostering Success Michigan. (n.d.). http://fosteringsuccessmichigan.com/network/the-lampo-group-dave-ramsey
Any reader who wishes to provide any additions or revisions to this article, including updating any out-of-date information, please email [email protected].