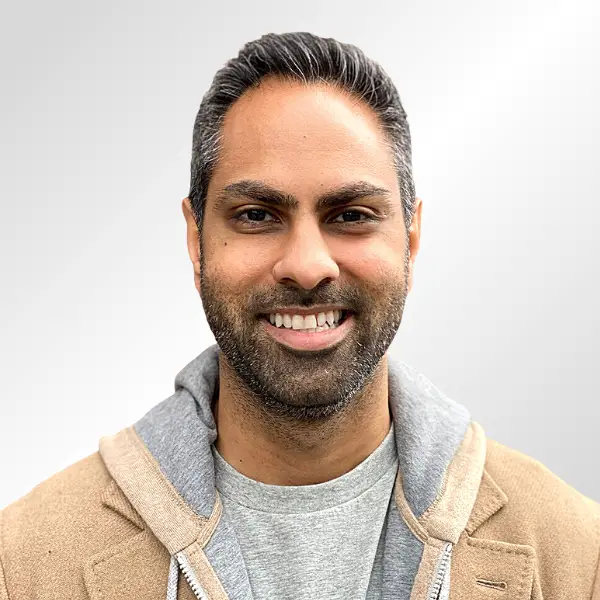 Ramit Sethi
Authors, Non-Fiction
Investors & Wealth
DOB:

June 30, 1982

Age:

41

Country:

United States

Resides:

New York, NY

Hometown:

California, USA

Known For:

Author of I Will Teach You To Be Rich

Spouse/Partner:

Cassandra Sethi

Education:

Stanford University
About Ramit Sethi
Ramit Sethi came out with the I Will Teach You to Be Rich podcast in 2021, and the following year, he released I Will Teach You to Be Rich: The Journal. He also regularly speaks on personal finance and entrepreneurship across the country.[1] In addition to his writing and speaking career, Sethi is also the founder and CEO of Growthlab.com and the co-founder of PBworks.com. As of 2023, Sethi has a net worth of over $25 million.[2] 
Sethi was born on June 30, 1982, to parents Neelam Sethi, a mechanical engineer, and Prabhjot S. Sethi, a retired elementary school teacher who came to the United States from India in 1982.[3] Sethi grew up in Sacramento County as one of four children. He has two sisters and one brother. Sethi's brother Maneesh is the founder of Pavlok wearables and appeared in season seven of ABC's Shark Tank.[4] 
Sethi earned his bachelor's and master's degrees from Stanford University. During his undergraduate studies, he majored in science, technology, and society with a minor in psychology before studying sociology for his graduate degree.[2]  
In 2018, Sethi married Cassandra Campi at a ceremony in Lake Tahoe California. Campi is the founder of the men's styling company Next Level Wardrobe. The two met in 2012 at a barbecue in New York.[3]
Sethi and his wife share traveling as a hobby. Sethi says, "Traveling with my wife, Cass, is one of the most important and meaningful parts of my Rich Life. Every year, we take a 6-week vacation. We always leave time for relaxing, reading, and setting our goals for the next year."[5]
Career
In 2004, Sethi started the I Will Teach You to Be Rich online business while still in school at Stanford. His interest in personal finance began with some financial mistakes he made early in his adult life. To pay for college, he applied for numerous scholarship opportunities and earned enough to entirely cover the cost of his schooling. Unfortunately, he invested the scholarship money in the stock market, rather than using it for school, and immediately lost half of it.[6]
The loss of his scholarship money motivated Sethi to learn more about personal finance. His research led him to the belief that the available personal finance advice was not relevant for everyday people. 
He once said, "I'm honestly bored by most personal-finance sites. With a few excellent exceptions, most of it is trite, conformist, and reveals very few new insights about money." To fill a gap he saw in the financial advice market, he created his website, which quickly gained traction.[7]
Sethi also did marketing and consulting work at multiple companies throughout his college career. He began as a marketing intern for marketing expert and entrepreneur Seth Godin. He later did consulting work at AuctionDrop, Storm Ventures, and Omidyar. Throughout his time at Stanford, Sethi also did research at the Stanford Persuasive Technology Lab.
Shortly before graduation, Sethi co-founded PBWorks with David Weekly and Nathan Schmidt. The website, originally called PBWiki, is an online real-time collaboration tool. His other business ventures include GrowthLab.com, a website that offers educational content and courses for business leaders.[8]  
In 2009, Sethi became a bestselling author when he compiled his personal finance research into the New York Times bestseller, I Will Teach You to Be Rich.[9] He had previously co-authored Recruit or Die: How Any Business Can Beat the Big Guys in the War for Young Talent in 2007.[10]
Sethi's other publications include Your Move: The Underdog's Guide to Building Your Business, released in 2017, the I Will Teach You to Be Rich podcast, which began in 2021 and focuses on love and money,[11] and the I Will Teach You to Be Rich journal, released in 2022.[12]  
Living a Rich Life
Sethi's personal finance philosophy centers around teaching people how to live a "Rich Life," which means something different to every person. He says, "A Rich Life is your ideal life—one where you look at your personal relationships, your finances, and your ordinary days and say, 'Wow!'"[13] 
For Sethi, a Rich Life means being able to buy tailored clothes, treat his parents to special experiences, and travel to amazing places. But he encourages others to figure out what a Rich Life means for them.[13] He says, "I think it's a tragedy to live a smaller life than you have to."[14] 
Personal Finance Philosophies
Negotiate Everything
Sethi is a big believer in negotiation, which he says he learned from his parents. He often encourages his audience to "bargain like an Indian." 
"If you bargain like an Indian, what you're saying is that I'm willing to ask for what I want," he says.[15]
Sethi's mother explains bargaining and negotiation are a huge part of their culture. She explains, "That's the way we grew up. You never purchased anything without bargaining, whether it was milk or eggs or fruit."[16] 
According to Sethi, you should negotiate your salary and your bills. Reach out to credit card companies, banks, utility providers, and landlords for the best deals possible. He shared with his Twitter followers that he was able to receive a rent decrease for his New York apartment four times in eleven years through negotiation. He explained, "Landlords don't magically offer you lower rents—you have to know the market and negotiate."[17] 
Spend Extravagantly
Unlike other popular financial experts, Sethi is critical of budgets and cutting out small expenses. He writes, ″[Budgets] make us feel bad about ourselves, they don't provide any forward-looking information—they're just pointless."[18]
He regularly tells his audience that you don't have to stop spending money on the things you love. He says, "If I hear another expert telling me that I have to cut down on lattes, I'm gonna drown myself in a bathtub of cold brew. It doesn't work! It's pointless. Saving $3 a day on lattes and coffee doesn't even add up to that much. And frankly, there are much better things to focus your attention on."[19]
Instead, he recommends using a concept called conscious spending, which involves spending extravagantly on things that are important to you and cutting back on things that aren't.
Focus on Big Wins
Sethi believes it's more important to make large financial decisions that will have a major impact on your long-term financial goals than to worry about small financial decisions each day that may lead to increased stress. He calls these large financial decisions "Big Wins."
He writes, "There are a few Big Wins in life where—if you simply get them right—you almost never have to worry about the small things. If you can focus on the five to ten "Big Wins," rather than fifty little things, you can have an insurmountable edge in life."[20]
According to Sethi, "Big Wins" include things like negotiating a higher salary, automating your investments, improving your credit, and cutting costs on things that don't matter to you.[21]
Ramit Sethi Today
In 2023, Sethi continues to run the I Will Teach You to Be Rich website and podcast. Sethi reports over 1,000,000 people read his material each month through his blog, newsletter, and social media platforms.[6]
References
Leaders Media has established sourcing guidelines that rely on credible, expert-level, and primary sources for articles about people and companies. Articles are frequently edited by staff writers. Learn more about our mission, editorial ethics, and how we source references in our editorial policy.
Any reader who wishes to provide any additions or revisions to this article, including updating any out-of-date information, please email [email protected].