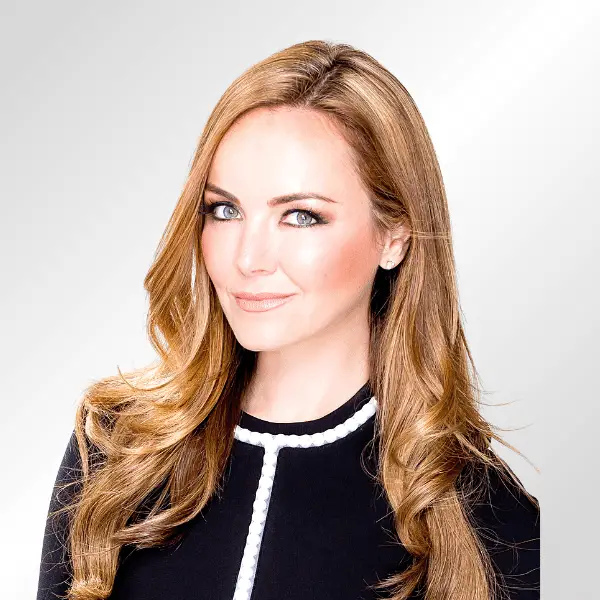 DOB:

March 7, 1984

Age:

39

Country:

United States

Resides:

Los Angeles

Known For:

Co-founder of Money News Network

Religion:

Judaism

Education:

Northwestern University
About Nicole Lapin
Nicole Lapin was born on March 7, 1984, in Los Angeles, California. Lapin's father, Ron, is a scientist and her mother, Orly, is a former Miss Israel.[2]
In high school, Lapin began working in broadcasting as a public-access television channel anchor. She went on to graduate as valedictorian of her class and summa cum laude from Northwestern University's Medill School of Journalism. She also studied European Union politics at L'Institut d'Études Politique de Paris.[3] 
Since her career launch as a teenager, Lapin has become a prominent voice in the finance industry, known for her straightforward approach and commitment to empowering individuals with the knowledge and tools to take control of their financial lives.[4] 
Career
She got her start in finance at 18 years old, reporting from the floor of the Chicago Mercantile Exchange for First Business Network. She also worked as a general assignment reporter for three CBS affiliates, KPSP-TV in Palm Springs, California; KELO-TV in Sioux Falls, South Dakota; and WKYT-TV in Lexington, Kentucky.[5] 
In 2006, she became the youngest anchor at CNN and covered the Israel-Hezbollah conflict, the death of former U.S. President Gerald Ford, and the Virginia Tech shooting.[5] 
In 2010, Lapin started working at CNBC, where she anchored for Worldwide Exchange, a global finance show. Lapin has also contributed financial reports to MSNBC, Today, and Bloomberg Television.[3][6] 
Lapin served as the "money saving correspondent" for The Wendy Williams Show and also reported on the business of Hollywood for The Insider.[7][8]
She also hosted the nationally syndicated business reality competition show on the CW Network named Hatched, and created and hosted the AOL Originals show I'll Never Forget My First, where she interviewed influential women about the first time they knew they made it.[9] 
Money News Network
In 2023, Lapin co-founded Money News Network, a collection of business-focused podcasts, with business partner and executive producer Morgan Lavoie. The network aims to emphasize easy-to-understand discussions on complicated topics regarding the financial markets.[10] 
In an interview with Variety, Lapin said, "Listeners are looking for content that feels intentional and rich and not just banking on the power of celebrity. We're trying to democratize the pathway to wealth for everyone." She also said in the interview, "We've seen more Americans becoming more anxious about money and more people trying to sign up for brokerage accounts. What Money News Network is about is us identifying authorities who are committed to building relationships with their audiences."[11]
The goal is to establish a network of successful podcasts and brand posts that can spin off with complementary newsletters, books, and live events, Lapin states.[11] 
Money Rehab Podcast
Lapin started her Money Rehab podcast in 2021 and has released over 500 episodes. With short episodes that are just 10–20 minutes in length, her podcast offers "bite-sized tips and tricks so you don't waste any time," according to the description. Lapin interviews guest experts and discusses topics related to personal finances and budgeting, leadership, and work culture.[12] 
Some recent podcast episodes include:
"Good Debt Is Real. Here's How to Use It"[13] 
"5 Tips to Manage Financial Anxiety"[14] 
"How Toxic Leadership Affects Stock Price"[15] 
"How to Confront Your Workplace Nemesis"[16]
Publications
Rich Bitch: A Simple 12-Step Plan for Getting Your Financial Life Together . . . Finally (2015): In this book, Lapin provides a practical guide to financial literacy for women. She breaks down complex financial concepts into simple steps and offers advice on budgeting, saving, investing, and building wealth. The book aims to empower women to take control of their finances and create a solid foundation for long-term financial success.[17]
Boss Bitch: A Simple 12-Step Plan to Take Charge of Your Career (2017): In this book, Lapin shares strategies for professional success and career advancement. She offers practical advice on personal branding, negotiation, networking, and navigating workplace challenges. Boss Bitch provides tools and insights to help women build confidence, take charge of their careers, and achieve their goals in the professional world.[18]
Becoming Super Woman: A Simple 12-Step Plan to Go From Burnout to Balance (2019): This book focuses on the challenges many women face in trying to balance their career, personal lives, and self-care. Lapin shares her personal journey of overcoming burnout and provides actionable steps for regaining balance, setting boundaries, managing stress, and prioritizing self-care. She offers a roadmap for women to navigate the demands of modern life while maintaining their well-being.[19] 
The Super Woman Guide to Trips, Treatments, and Therapies for Balance on a Budget (2019): This is a companion ebook to Lapin's popular Becoming Super Woman. It discusses how to plan trips, treatments, and therapies to unplug and recharge, while sticking to a balanced budget.[20] 
Miss Independence: A Simple 12-Step Plan to Start Investing and Grow Your Own Wealth (2022): In this book, Lapin explains how to invest money to grow wealth with some simple tips and practices. Lapin attempts to take the fear out of money management and investing by using her own vulnerable stories.[21] 
Nicole Lapin Today
Lapin is currently serving as an ambassador for the Starlight Starbright Children's Foundation, where she hosts a campaign called "Being Smart Is Cool." The foundation delivers happiness to seriously ill children and their families, and has helped over 2.4 million people to date.[5][22]  
Her journalism awards include citations from the Chicago Emmy Committee, the Hearst Journalism Foundation, the Society of Professional Journalists, the Radio-Television News Directors Association, and the Association of Women Journalists.[5]
Today, Lapin is a best-selling author who continues to make television appearances and contribute to major media outlets, including Good Morning America, Inc., and Forbes. She continues to make podcast episodes and write posts published on her Money News Network website.[23][24] 
References
Leaders Media has established sourcing guidelines that rely on credible, expert-level, and primary sources for articles about people and companies. Articles are frequently edited by staff writers. Learn more about our mission, editorial ethics, and how we source references in our editorial policy.
Any reader who wishes to provide any additions or revisions to this article, including updating any out-of-date information, please email [email protected].