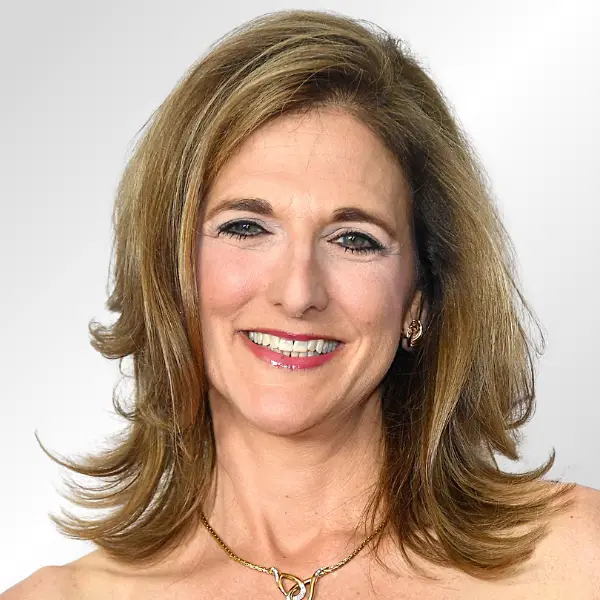 Jill Schlesinger
Investors & Wealth
Journalists & Media
DOB:

December 9, 1966

Age:

56

Country:

United States

Resides:

New York, NY

Hometown:

New York, NY

Known For:

Emmy Award-Winning Business Analyst at CBS News

Education:

Brown University
About Jill Schlesinger
Jill Schlesinger was born December 9, 1966, and grew up in Scarsdale, New York.[2] She was one of two daughters born to Susan and Albie Schlesinger.[3] Jill Schlesinger's mother, Susan, worked in the real estate industry,[2] while her father, Albie, was a trader and specialist on the American Stock Exchange. Schlesinger credits much of her financial wisdom to her father's influence.[4] 
Schlesinger earned a bachelor's degree in international relations and affairs from Brown University in 1987.[5] While pursuing her degree, she played on Brown's soccer team.[6] 
In 1991, Schlesinger married Ronald Fuchs, a medical student at Brown. Rabbis Jack Stern and Israel Dresner performed the marriage at the Westbury Hotel in New York.[7] However, the couple later divorced.[8] Since 2002, Schlesinger has been in a relationship with Jackie LiCalzi, Morgan Stanley's Managing Director and Global Head of Regulatory Relations.[9][10] The couple lives together in Manhattan with their two dogs, Trixie and Charlie.[11] 
Though finance is a large part of Schlesinger and LiCalzi's professional lives, Schlesinger says it is never a point of conflict in the relationship. She says, "We laugh because we never ever had a fight about money, never, not once."[9]
Schlesinger serves on the board of the New York City LGBT Community Center and has been a vocal advocate for the LGBT community.[1] She told CBS News about an experience she had while at her investment advisory firm when she had a client who did not want to own stock in a company that provided health benefits to gay partners. 
She explains that she had to choose between landing the client for her fledgling business or being true to herself, saying, "In a split-second, the choice was clear: I told the client that he would not want to hire me because I was a lesbian and he should seek advice elsewhere."[12]
Career
While still in college, Schlesinger interned at a local television station, which exposed her to the news business. She also worked as a clerk on the stock exchange during the summers.
However, she began her post-college career as a trader on the Commodities Exchange in New York, where she traded gold, silver, and copper options.[13] 
In 1995, Schlesinger left options trading to be co-owner and chief investment officer for an independent investment advisory firm, where she managed over $650 million for individual clients. While working in financial services, Schlesinger became a certified financial planner (CFP).[5] 
After fourteen years working as co-owner and CIO of an investment firm, Schlesinger realized she wanted a career switch. She left the finance industry and began working as editor-at-large for CBS Interactive. She held this position from 2009 to 2013, when she took a role as a Business Analyst at CBS News.[5] 
Schlesinger hosts the Jill on Money podcast and the nationally syndicated radio show Jill on Money. She also writes a nationally syndicated column for Tribune Media Services of the same name.[1] Schlesinger is also a weekly guest on NPR's radio show, Here and Now, and started the Moneywatch podcast in 2021.[14] 
Schlesinger's accomplishments in journalism and finance have been recognized several times. In 2018, she won Radio Television Digital News Association's Personal Finance Reporting Award. The same year, she received NAPFA's Special Achievement Award for helping educate consumers about financial planning. She also received the Gracie Award for Best National Talk Show in 2018 and 2021 for the radio show Jill on Money.[1] 
Jill Schlesinger Books
In 2019, Schlesginer released her first book, The Dumb Things Smart People Do With Their Money. In this book, she discusses the emotional blindspots many people have with money and how to avoid making major financial mistakes.[15] 
Schlesinger's second book, The Great Money Reset: Change Your Work, Change Your Wealth, Change Your Life, was published in 2023. After noticing that many people felt the urge to make changes in their lives following the COVID-19 pandemic, Schlesinger wrote this book to guide people as they make decisions to shift their careers and their financial plans.[16] 
Jill Schlesinger Today
Schlesinger continues to share financial news and tips with her audience through her social media platforms, blog posts, podcasts, and weekly newsletter.[1] With over 726,000 followers on LinkedIn, Schlesinger is part of LinkedIn's Top Voices program, an invitation-only group of experts across the professional world.[5] She also hosts a quarterly webinar called Money Live, interviewing guests and answering audience questions.[17]
References
Leaders Media has established sourcing guidelines that rely on credible, expert-level, and primary sources for articles about people and companies. Articles are frequently edited by staff writers. Learn more about our mission, editorial ethics, and how we source references in our editorial policy.
About — Jill on Money. (2023). Retrieved 27 April 2023, from https://www.jillonmoney.com/about
 Ryan. Jill Schlesinger Biography – Net Worth, Career, Husband, Children, Analyst | eBiographyPost. (2022). Retrieved 27 April 2023, from https://ebiographypost.com/celebrities/jill-schlesinger-bio-net-worth-husband
Albert Schlesinger Obituary (2013) – New York, NY – new york times. (2013, November 6). Retrieved April 27, 2023, from https://www.legacy.com/us/obituaries/nytimes/name/albert-schlesinger-obituary?id=23861092
Schlesinger, J. (2019, May 09). A father's wisdom on money matters and more. Retrieved April 27, 2023, from https://www.baltimoresun.com/business/success/jillonmoney/tca-a-father-s-wisdom-on-money-matters-and-more-20160616-story.html
Jill Schlesinger – Business Analyst – CBS news | linkedin. (n.d.). Retrieved April 27, 2023, from https://www.linkedin.com/in/jillonmoney
Brown Women's Soccer All-Time Roster. (2023). Retrieved 27 April 2023, from https://brownbears.com/sports/2018/5/8/brown-womens-soccer-all-time-roster.aspx?id=2694
Jill Schlesinger is married to Ronald Steven Fuchs. (1991, April 22). Retrieved April 27, 2023, from https://www.nytimes.com/1991/04/22/style/jill-schlesinger-is-married-to-ronald-steven-fuchs.html
Writing a check for problems to go away with CBS' Jill Schlesinger Bobbi Rebell Financial Grownup + Grownup Gear Bobbi Rebell CFP®. (2018). Retrieved 27 April 2023, from https://www.bobbirebell.com/podcast/jillschlesinger
Felix, B. (2019). Episode 67: Jill Schlesinger: The Pursuit of Finances and Fun — Rational Reminder. Retrieved 27 April 2023, from https://rationalreminder.ca/podcast/67
Jacqueline LiCalzi. (2023). Retrieved 27 April 2023, from https://www.sifma.org/people/jacqueline-licalzi/
Donor Spotlight | Jacqueline LiCalzi. (2018). Retrieved 27 April 2023, from https://peconiclandtrust.org/blog/donor-spotlight-jacqueline-licalzi
Schlesinger, J. Jill Schlesinger on living as an out and proud American. (2014). Retrieved 27 April 2023, from https://www.cbsnews.com/news/jill-schlesinger-on-living-as-an-out-and-proud-american/
Joung, N. (2019). CBS News' Jill Schlesinger on "Life After High School." Retrieved 27 April 2023, from https://www.pbs.org/wnet/chasing-the-dream/stories/cbs-news-jill-schlesinger-on-life-after-high-school/
Podcasts — Jill on Money. (2023). Retrieved 27 April 2023, from https://www.jillonmoney.com/podcasts
Schlesinger, J. (2019). The dumb things smart people do with their money: Thirteen ways to right your financial wrongs. New York: Ballantine Books.
SCHLESINGER, J. (2023). Great money reset: Change your work, change your wealth, change your life. S.l.: GRIFFIN.
Pricing Page — Jill on Money. (2023). Retrieved 27 April 2023, from https://www.jillonmoney.com/pricing-page
Any reader who wishes to provide any additions or revisions to this article, including updating any out-of-date information, please email [email protected].