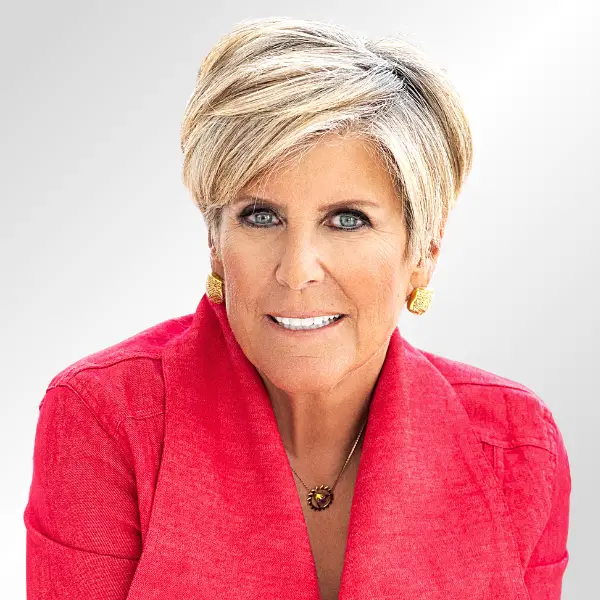 Suze Orman
Investors & Wealth
Women in Business
DOB:

June 5, 1951

Age:

72

Country:

United States

Resides:

Santa Monica

Hometown:

Chicago, IL

Known For:

Host of the Suze Orman Show

Spouse/Partner:

Kathy Travis

Religion:

Judaism

Education:

University of Illinois at Urbana-Champaign, Bentley University
About Suze Orman
Susan "Suze" Orman was born on June 5, 1951, in Chicago, Illinois, to Romanian and Russian parents. Her parents were of Jewish descent, and her mother worked for a rabbi when she was younger. When she was a child, she struggled to speak and read well, leading to difficulties in school.[4] 
After attending the University of Illinois at Urbana-Champaign in the late 1970s, Orman moved to California and held various jobs, including a stint as a waitress at the Buttercup Bakery in Berkeley.[5][6] Her career as a personal finance expert began with a series of unconventional twists and turns before she became a well well-known financial advisor.[7] 
Orman's focus on helping people better understand and manage their finances has made her a respected figure in the world of personal finance.[8] She has won several awards for her work, including two Emmy Awards and multiple Gracie Awards. She's also been named by TIME magazine twice as one of the "100 Most Influential People." Additionally, she's made Forbes' list of the world's most powerful women.[3]
Career in Finance and Media
In the early 1980s, Orman decided to borrow money from a friend and invest the money she saved from making tips as a waitress, approximately $50,000, to open her own restaurant. A broker at Merrill Lynch advised her to invest the money in high-risk financial products. Unfortunately, the investment turned out to be unsuitable, causing Orman to lose all of her savings within a few months.[3]
Determined to learn about the financial industry and understand what went wrong, Orman applied for a job at Merrill Lynch as a financial advisor trainee. She was hired in 1983 and quickly excelled in her new career. During her time at Merrill Lynch, she discovered that the broker who had mishandled her investments had acted unethically, so she then successfully sued the company to recover her lost funds.[3]
In 1987, Orman left Merrill Lynch to become Vice President of Investments at Prudential Bache Securities. She continued to build her expertise in finance and gained a reputation for her ability to simplify complex financial concepts.[9]
In the late 1980s, Orman started her own financial advisory firm, the Suze Orman Financial Group, which she ran for ten years.[10] She also began writing books on financial topics, including a booklet entitled, "The Facts on Single Premium Whole Life," and her first book, You've Earned It, Don't Lose It. The success of her writing, combined with her engaging and relatable communication style, eventually led to her becoming a sought-after speaker, media personality, and eventually the host of her own TV show.[11]
Orman is involved in a media company called Suze Orman Media which produces multimedia content and online courses, all focused on personal finance and wealth management. Orman Media's goal is to empower people and businesses to take control of their financial lives by providing accessible, practical, and actionable advice that's easy to implement.[12]
Orman's net worth is estimated to be about $25 million, which she's earned from her books, show, podcast, real estate investments, and media appearances.[5]
Books
Orman has authored many books and guides on achieving financial success, a number of which became best-sellers.[13] She's written nine consecutive books that have become New York Times bestsellers and has over 25 million books in circulation.[14]
Her books focus on both the practical and psychological aspects of personal finance, offering advice on saving, investing, and managing debt, as well as addressing the emotional barriers people face when dealing with money. Orman also explores the connection between finances and self-worth, encouraging readers to confront their fears and insecurities about money.[6]
Some of her most popular books and guides include:[2]
The 9 Steps to Financial Freedom: Practical and Spiritual Steps So You Can Stop Worrying 
Women & Money: Owning the Power to Control Your Destiny
The Road to Wealth
The Laws of Money, The Lessons of Life
The Money Book for the Young, Fabulous, and Broke
The Money Class
Suze Orman's Action Plan: New Rules for New Times
Women & Money: Be Smart, Strong, and Secure 
The Ultimate Retirement Guide for 50+
The Suze Orman Show and Podcast
Orman hosted The Suze Orman Show on CNBC from 2002 to 2015.The show was dedicated to providing financial advice to viewers and featured a mix of expert analysis, interviews with guests, and Q&A sessions with viewers who called in with their personal questions.[15]
Each episode of the show focused on a particular financial topic, such as retirement planning, investing, debt management, or real estate. Orman would provide practical advice and insights on these topics, drawing on her years of experience as a wealth management expert. The Suze Orman Show was very popular and helped make Orman a household name in the world of personal finances. The show won several awards, including a Gracie Award (which honors women in radio, television, and broadcasting) and two Daytime Emmy Awards for "Outstanding Service Show Host."[16] 
Orman started The Suze Orman Women and Money Podcast to share financial advice and insights with listeners so they're empowered to make better financial decisions, build wealth, and achieve financial security.She covers a wide range of topics on her podcast, such as saving, investing, retirement planning, and debt management.[17]
In addition to her TV show and podcast, Orman has spoken at many conferences and appeared on various networks and programs, including The Oprah Winfrey Show more than 25 times, The Larry King Live show nearly 30 times, and the Today Show. Business Week recognized Orman as "A top motivational speaker in the U.S."[18] In 2012, Orman produced a six-episode TV series on finances that was hosted on OWN, Oprah Winfrey's Network.[19] Orman also served as a contributing editor to "O" The Oprah Magazine for 16 years.[3]
Personal Life and Other Endeavors
In 2007, Orman stated publicly that she is a lesbian. She married her business partner and now wife, Kathy Travis, in 2010.[20] Beginning in 2008, Orman began speaking out about her support for the Democratic party, especially Barack Obama, and policies supporting same-sex relationships and marriages.[21]
The United States Army and Army Reserve appointed Orman as a personal finance educator in 2016. In 2018, she also began serving as a Special Advocate for the National Domestic Violence Hotline.[22]
 In 2020, Orman co-founded a company called Secuewsave, which aims to help Americans prepare for emergencies by building savings plans.[23]
References
Leaders Media has established sourcing guidelines that rely on credible, expert-level, and primary sources for articles about people and companies. Articles are frequently edited by staff writers. Learn more about our mission, editorial ethics, and how we source references in our editorial policy.
Any reader who wishes to provide any additions or revisions to this article, including updating any out-of-date information, please email [email protected].