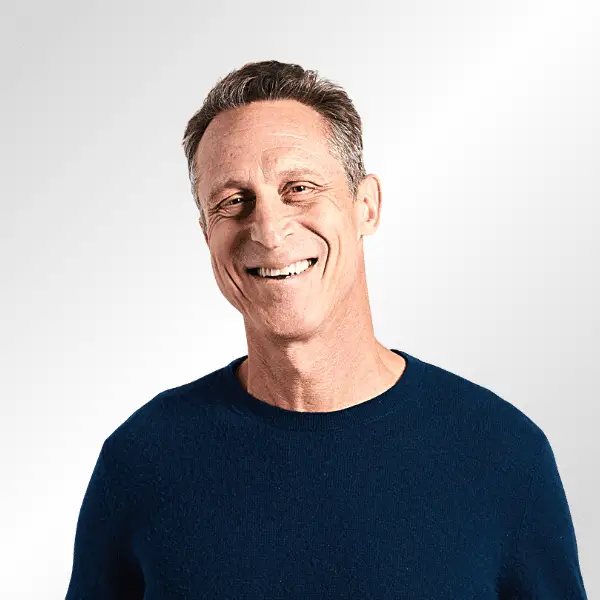 DOB:

November 22, 1959

Age:

64

Country:

United States

Resides:

Lenox, MA

Hometown:

New York, NY

Known For:

Functional Medicine

Spouse/Partner:

Mia Lux

Religion:

Christianity

Education:

Cornell University
About Mark Hyman
Dr. Mark Hyman, a practicing family physician, is a leading advocate, educator, and speaker for personal health and medical reform.[1] His passion for food and functional medicine has sparked a global movement toward better health.[3] He's written fourteen New York Times bestselling books on health and functional medicine and hosts The Doctor's Farmacy podcast, which has over 700 episodes.[1] [2]
Dr. Mark Hyman is the Head of Strategy and Innovation of the Cleveland Clinic Center for Functional Medicine and the founder of The UltraWellness Center in Lenox, Massachusetts.Additionally, he is the medical editor of The Huffington Post and board chairman for the Institute for Functional Medicine.[4] He was a guest co-host and advisor to The Dr. Oz Show before the show retired in 2022, and frequently appears on Good Morning America, Today, The View, and CNN.[1] 
In a Q&A interview with Kripalu Center for Yoga & Health, Dr. Hyman describes what he does as "empower self-healing by addressing the root causes of illness using food as medicine."[5] 
Early Life and Career
Mark Hyman was born on November 22, 1959.[6] He initially wanted to be a writer, but ended up pursuing Asian studies in college after befriending some students in that department. He describes the first course he took in Asian studies as life-changing. He became passionate about the interconnectedness of Buddhist philosophy and medicine and simultaneously developed an interest in yoga.[7]
In 1983, Dr. Hyman received a BA in Asian studies with a focus in Chinese and Tibetan Buddhism from Cornell University in Ithaca, New York.[7][8] He then attended the Ottawa University School of Medicine for his doctorate. From there, he attended the University of California, San Francisco School of Medicine from 1988 until 1990 for his residency program at the Community Hospital of Santa Rosa. 
When he finished his medical residency, Dr. Mark Hyman started his career as a small-town family doctor in Idaho, working 80- to 100-hour work weeks, before working a year in China when he was 36.[5][9] While in China, Dr. Hyman got mercury poisoning, and it took years for his doctors to diagnose him.[10]
After his time in China, Dr. Hyman knew he wanted to work in integrative medicine.[7] When he returned to the U.S., still battling his personal health issues, a friend of his from Cornell University invited him to California to attend a nutrition course. He completed the course, and within a month, he accepted a job offer as co-medical director at Canyon Ranch, an integrative wellness resort in Lenox, Massachusetts.  
Within the first few months at Canyon Ranch, Dr. Hyman began experiencing symptoms of chronic fatigue, something he attributed to the fumes he was exposed to in China. While continuing to try and heal himself, a nutritionist at Canyon Ranch introduced Dr. Hyman to the science of functional medicine. This knowledge transformed his perspective of conventional medicine, and he became committed to helping others benefit from this knowledge as well.[7]    
Philosophy
Dr. Hyman became disenchanted by conventional medicine during his time in medical school. In a 2004 interview, he shared, "As I got further into medical school, I basically got brainwashed. I went in knowing that I was going to be brainwashed, and had my guard up, but I was still brainwashed." He embraced, however, deeper and more connective mindsets on health, particularly after reading Nutrition Against Diseases by Roger Williams. In the same interview, he says, "In my mind, I connected lifestyle, nutrition, and spirituality as core components of disease."[7]
Today, Dr. Hyman is a leading advocate for functional and integrative medicine. He believes that food is medicine and, when used correctly, can facilitate optimum health and energy while staving off disease.[1] His podcast episodes cover topics like exercise for optimal aging, plant-based vs. grass-fed meat, and how to identify nutrient deficiencies.[11] He follows a diet he calls "pegan," which blends paleo with veganism, and shares the tips and benefits in his book The Pegan Diet: 21 Practical Principles for Reclaiming Your Health in a Nutritionally Confusing World. 
Media and Politics
Dr. Hyman's philosophy on health has led him into the political arena as well. In 2009, he participated in the White House Forum on Prevention and Wellness and has consulted with the surgeon general on diabetes prevention. He has also testified before the Senate Working Group on Health Care Reform and was nominated by Senator Tom Harkin of Iowa to serve on the President's Advisory Group. That same year, Dr. Hyman also helped introduce the Take Back Your Health Act to the U.S. Senate.[1]
In 2014, Dr. Hyman played a substantial role in the film Fed Up, which addresses childhood obesity, and was produced by Katie Couric. In 2015, Dr. Hyman worked with former Ohio State Senator Tim Ryan to introduce the ENRICH Act to Congress. The Act would serve to fund nutrition and medical education programs.[1] 
Books and Lectures
Dr. Hyman is a fourteen-time New York Times bestselling author, speaker, and educator. In 2015, Dr. Hyman collaborated with fellow authors Rick Warren, Daniel Amen, and Dr. Mehmet Oz to produce The Daniel Plan. The plan, a faith-based initiative that also became a book, helped a church collectively lose 250,000 pounds. Dr. Hyman was awarded "Christian Book of the Year" for his work on the project. Dr. Hyman was additionally inducted into the Books for Better Life Hall of Fame.[1]
Books by Dr. Mark Hyman:
Dr. Hyman has delivered many notable addresses as well. These include a presentation at the Clinton Foundation's Health Matters event, the Achieving Wellness in Every Generation conference, the World Economic Forum, and TEDx.[1] 
Family and Personal Life
Dr. Hyman has two children. His daughter Rachel is following in her father's medical footsteps and his son Misha is the founder and CEO of The Health Warrior Project.[12][13] Dr. Hyman was married to Mia Lux, a comedian, host, and facilitator, though his current marital status is unknown.[14]
As a way of resting from work, Dr. Hyman enjoys biking, playing tennis, hiking, doing yoga, and cooking for his family and friends.[5] For his morning routine, he practices meditation for 20 minutes before making coffee. Then, he makes a shake or cooks pasture-raised eggs and begins his work.[10]
Mark Hyman Today
Dr. Mark Hyman remains active today with the release of his latest book, new podcast episodes, and upcoming speaking events.[1] He engages with his millions of Instagram followers with longevity-promoting exercises and advice for leveraging natural light for improved health.[15]  
Mark Hyman Quotes
References
Leaders Media has established sourcing guidelines that rely on credible, expert-level, and primary sources for articles about people and companies. Articles are frequently edited by staff writers. Learn more about our mission, editorial ethics, and how we source references in our editorial policy.
Any reader who wishes to provide any additions or revisions to this article, including updating any out-of-date information, please email [email protected].