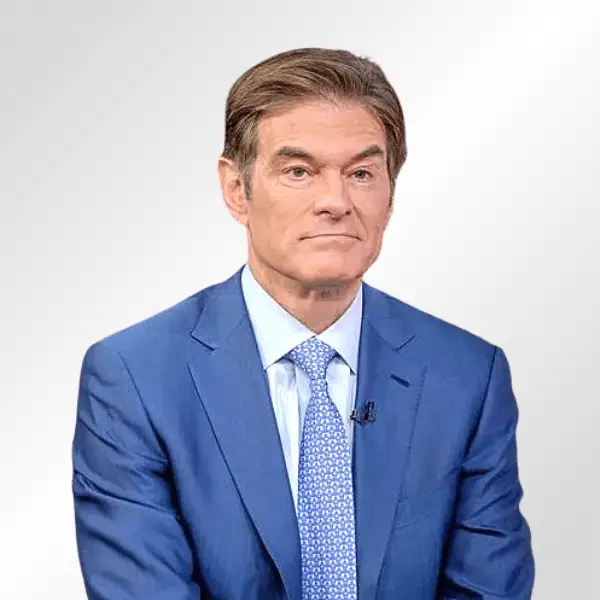 DOB:

June 11, 1960

Age:

63

Country:

United States

Resides:

Cliffside Park, NJ

Hometown:

Cleveland, OH

Known For:

The Dr. Oz Show

Spouse/Partner:

Lisa Oz

Religion:

Christianity

Education:

Harvard University
About Dr. Mehmet Oz
Dr. Mehmet Oz, or "America's Doctor" to some, is a celebrity author and Emmy Award-winning TV host known for advocating topics of alternative health and medicine.[4] He teaches at Columbia University and directs the Cardiovascular Institute and Complementary Medicine Program at New York Presbyterian Hospital.[5] From 1999 to 2004, Dr. Oz was named a "Global Leader for Tomorrow" by the World Economic Forum.[6] He was also listed by TIME magazine as one of the "100 Most Influential People."[6]
He became recognized for his regular appearances on The Oprah Winfrey Show in the early 2000s, before launching his own successful TV series, The Dr. Oz Show, in 2009.[1] Dr. Oz's blended philosophy on health has gained him both followers and critics. While he advocates for traditional methods of Western medicine, his teachings also encourage more alternative lifestyle approaches that have since come into question.[5]
In 2022, he retired The Dr. Oz Show to pursue a political career, running for Pennslyvania's Senate Republican seat.[1] After a hostile and highly covered race, he lost to Democratic candidate John Fetterman. Still, Dr. Oz's franchise is worth $200 million.[7] 
Early Life
Mehmet Oz was born Mehmet Cengiz Oz to Turkish parents on June 11, 1960.[1] While he was born in Cleveland, Ohio, Dr. Oz was raised in Wilmington, Delaware, where his father, Mustafa, worked as a thoracic surgeon. Dr. Oz's mother, Suna, had come from a wealthy family of writers, businessmen, and civil engineers and was the daughter of a pharmacist.[5] Both of his parents had immigrated from the Konya Province in Turkey.[5] 
Dr. Oz's father practiced traditional Islam, but his mother was a secular Muslim.[8] The religious difference between traditional and secular practice challenged Dr. Oz's Muslim identity, and he ultimately converted to Sufism, a form of Islamic mysticism.[8]  
After high school, Oz attended Harvard University in 1982 for his undergraduate degree before obtaining a joint MBA and MD from Wharton Business School and Pennsylvania School of Medicine in 1986.[5] Dr. Oz was born a dual citizen of both the U.S. and Turkey.[1] As such, he frequently traveled to Turkey growing up and even served in the Turkish army to keep his Turkish citizenship.[1] 
Medical Career
Dr. Oz had decided at seven that he wanted to work in medicine.[9] From 1986 until 1990, Dr. Oz worked on his cardiothoracic surgery residency at Columbia-Presbyterian Medical Center in New York, becoming an attending surgeon in 1993.[1] Over time, his interest in non-Western approaches grew, and treatments like meditation, hypnosis, and acupuncture became a common part of his care.[1] 
After gaining medical experience in the field, and with his growing interest in alternative healthcare, Oz started the Cardiovascular Institute and Integrative Medicine Program at the New York-Presbyterian Hospital in 1994.[9] This program gained media attention, and in 1998, Dr. Oz published Healing from the Heart, a book he co-authored with his wife.
Then, in 2003, Dr. Oz and his wife launched Second Opinion With Dr. Oz, a TV show that aimed to reach a wider audience with Dr. Oz's medical expertise.[9]Second Opinion With Dr. Oz featured several celebrity appearances, including Quincy Jones, Charlie Sheen, Oprah Winfrey, and Magic Johnson.[9]  
The Dr. Oz Show
In 2005, Dr. Oz was invited to appear on The Oprah Winfrey Show following the popularity of his bestselling book YOU: The Owner's Manual, published that same year. His appearances continued, and between 2006 and 2011, Dr. Oz had made a total of 62 appearances on The Oprah Winfrey Show, with several additional appearances on various spin-off shows.[10] His growing rapport and popularity through his shows with Oprah eventually solidified his persona as "America's Doctor."[1]
In 2009, Dr. Oz harnessed his success and launched The Dr. Oz Show. The show provided health advice on various topics, featured hour-long episodes, and was co-produced by Harpo Studios, Oprah's production company.[11] Topics ranged from vaccine boosters and sleeping pills to Alzheimer's drugs, weight loss, and more. In 2016, Donald Trump, the presidential candidate at the time, appeared on the show, sparking presumptions about Dr. Oz's political leanings.[10] The Dr. Oz Show ran for a total of 13 years and produced 1,681 episodes before being discontinued.[10]  
While his ratings were good initially, some of Dr. Oz's medical claims attracted criticism. A 2014 review of Dr. Oz's televised recommendations by the British Medical Journal revealed that 54% of his medical claims lacked supportive evidence.[12] 
In 2022, Dr. Oz announced that he would retire the show to pursue a run in the Pennsylvania Republican primaries.[13] This would be his first attempt to run for a position in public office. Interestingly, despite his long-working relationship with Oprah Winfrey, Winfrey publicly supported his race opponent.[10]
Books and Publications
Dr. Oz has written eight books on the New York Times bestseller list.[14] His most popular books, the YOU series, began in 2005 with YOU: The Owner's Manual. He has also written several periodicals and papers, including Fresh Start magazine and the forewords for several books, like The Power of When by Michael Breus and Transcendence by Norman Rosenthal. 
Other books by Dr. Oz:
Political Career and Stances
Dr. Oz announced his run for a seat in the U.S. Senate against Democratic candidate John Fetterman in Pennslyvania in 2021.[1] To that effort, Dr. Oz also pledged to relinquish his Turkish citizenship so that he would only be a U.S. citizen.[15] That year, his candidacy was endorsed by former president Donald Trump.[1] 
During his run, Dr. Oz criticized how the government had handled the COVID-19 pandemic, and the political rhetoric between him and Fetterman was hostile. Ultimately, Dr. Oz lost the run to Democratic candidate John Fetterman.[1] 
Dr. Oz's political positions:
Education: He believes in educational reform and wants to incorporate several new policies, like implementing the school choice movement.[16]
Abortion: He is anti-abortion, except if the mother's life is in jeopardy or in cases of rape or incest.[17] 
Crime: He supports law enforcement and sentencing reform.[18] 
Economy: Dr. Oz believes that reckless spending has, in part, caused inflation and he is critical of President Joe Biden's economic policies and decision-making.[19] 
Foreign policy: Dr. Oz believes that Ukraine and Taiwan should be armed for defense and that the U.S. "serves as a barometer for the rest of the world." [20]
Immigration: He believes in the government's responsibility to protect its citizens. In a Tweet, he said, "I will fight to end illegal immigration and soft-on-crime policies that release dangerous, undocumented criminals into sanctuary cities."[21][22]
Gun policy: He opposes red flag laws, strongly believes in the Second Amendment, and is a proud gun owner.[18]
Healthcare: If he won the senate seat, he would have worked to dismantle certain prescription-based healthcare policies and make private healthcare more available.[17]
Family and Personal Life
Dr. Oz lives with his wife Lisa in northern New Jersey, and together they have four children and several grandchildren.[23] He has shared that he and his wife have renewed their vows several times and that while they don't always agree, they always work things out.[23] 
He and his wife have been married 25 years, tying the knot in 1985, but as he explains to Yahoo! News, it wasn't smooth sailing at first.[24] On their first date, Dr. Oz took Lisa to a steakhouse for dinner, not realizing she was a vegetarian. Dr. Oz has shared how their parents were friends and had essentially set them up. Dr. Oz jokingly called it "an arranged marriage."[24]
Recent Criticism of Mehmet Oz   
Once regarded as "America's Doctor," Dr. Oz, now in his sixties, has received backlash for promoting unproven and sometimes misleading health advice, according to Scientific American.[25][26] In 2021, a letter from fans to Jeopardy! game show producer Mike Richards, published in Medium, expressed concern of Dr. Oz being slated as the new guest host.[27] The letter called on the show's producer to reconsider Dr. Oz as host due to the harmful and unsupported health advice he provided on his show.[27] The letter stated, "Dr. Oz represents what has become a dubious trend in America: the elevation of the credentialed talking head at the expense of academic rigor and consensus."[27]
In 2015, Dr. Oz addressed his medical critics, which were fellow doctors, on ABC News.[28] He said, "Doctors should never fight their battles, or each other, in public. But now I believe I must . . . it's ironic that I'm being accused of a conflict of interest by these doctors when, as you're about to see, some of them have their own conflict of interest issues."[28]
That same year, he appeared in an interview with NBC News to respond to critics of his show, The Dr. Oz Show.[29] He said, "The show's purpose is not to talk about medicine. The show's purpose is to talk about the good life. What you need to do to live your best . . . I'm very respectful to my critics and I completely understand why you'd be much more comfortable if everything I said on television was something that a doctor would say in his office, but that's not what the show is about."[29]
Then in 2022, allegations surfaced of Dr. Oz overseeing the cruel treatment of dogs in medical experiments while at Columbia University between 1989 and 2010.[30] Dr. Oz responded to this accusation during a visit to a York County Rotary Club, stating: "You should know these accusations, not only do they have no validity, but whatever research was being done must have helped humans at some level."[31]
Despite criticisms, Dr. Oz continues his medical work, delivering speeches at health conferences and advocating for humanitarian aid in Turkey and Syria. He is followed by millions on Instagram. [32]
References
Leaders Media has established sourcing guidelines that rely on credible, expert-level, and primary sources for articles about people and companies. Articles are frequently edited by staff writers. Learn more about our mission, editorial ethics, and how we source references in our editorial policy.
Any reader who wishes to provide any additions or revisions to this article, including updating any out-of-date information, please email [email protected].