Over the past few decades, reality TV has greatly impacted real estate investing. Shows like Flip That House, Property Brothers, and Fixer Upper have inspired thousands of investors to take on home renovation projects around the country. 
The number of house flips has been steadily climbing for years, reaching a 22-year high in Q1 of 2022. At 9.6% of all home sales, the average gross profit for flipping a house in early 2022 was $67,000.
Although you can earn a nice profit from a house flip, it's far from a guarantee. For example, in 2019, the multi-billion dollar real estate company Zillow ignored the risks of house flipping by opening an entire branch dedicated to it. In the first year of its house flipping venture, Zillow bought 5,244 homes, selling 31.9% at a loss. The situation took a turn for the worse as time went on. In the second half of 2021, the company bought 11,191 homes, selling 50.9% for a loss. These losses cost Zillow millions, forcing them to shut down their house flipping venture for good. 
While there's money to be made in house flipping, Zillow's experience proved even real estate pros can make mistakes and fail to flip a home for a profit. High property values and the rising cost of labor and materials have cut into many investors' profits. 
But if you know the tricks of the trade, you can minimize risk and become a profitable investor. This article will teach you what you need to know to begin fix-and-flip investing confidently.
Key Takeaways
Flipping houses is a high-risk, high-reward investment strategy.
Choosing the right investment property and the right renovations is a critical part of earning a profit through house flipping.
Underestimating the timeline or the costs can ruin the profitability of a house flip. 
House flippers should be dedicated to the profession and willing to work hard to return a profit.
How Flipping Houses Works
House flipping or fix-and-flip investing is a real estate investment strategy where investors purchase properties to renovate rather than use for residential purposes. House flippers profit from the sale of the property after the home is fully renovated.
Fix-and-flip investors look for low-valued properties, often purchasing distressed homes, foreclosures, or old buildings in disrepair. Then, they focus on renovations that increase the value and attract the attention of buyers. Typically, house flippers move as quickly as possible to sell their property for a profit because the investment costs increase the longer the property is held.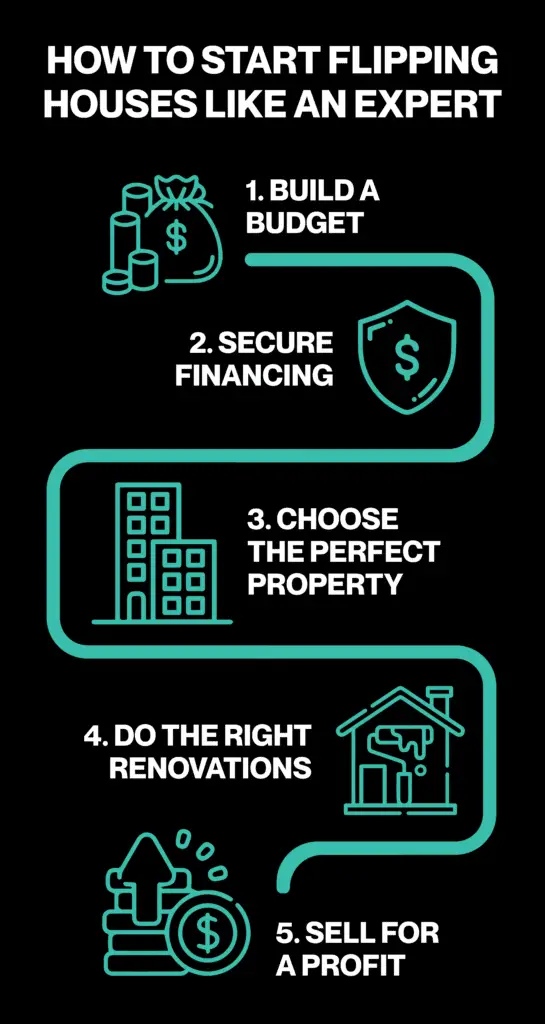 5 Steps to Start House Flipping an Investment Property
1. Build a Budget
Before you can start flipping houses, you need to determine how much money you're willing to spend. Texas real estate developer and entrepreneur Christopher Gill spoke with the Bigger Pockets podcast show while analyzing the budget for a potential house flip. 
"We've purchased this home for $135,000. After taking my guys through, we've gotten a lot of our initial bids already taken into account. We're looking to rehab it between $85,000 and $100,000," Gill says. "Then there's financing costs in there . . . I have to pay my realtor on the back end, so there's probably at least another $30,000 or $40,000 of fees right there."
With this in mind, don't forget to budget for each stage of the project. Here's a list of expenses involved in every stage of a house flip:
Purchase Expenses
Down payment 
Closing costs
Inspection fees
Renovation Expenses
Labor costs
Materials costs
Permitting costs
Holding Expenses
Property taxes
Mortgage interest
Insurance payments
Utility costs 
Selling Expenses
Marketing
Real estate agent fees
Closing costs
Capital gains taxes
2. Secure Financing
You have a few more financing options for getting into real estate through fix-and-flip investing than traditional real estate investors. But it's essential to consider the pros and cons of each type of loan. Here are the most common financing strategies for house flippers. 
Hard Money Loan
Hard money lending is one of the most common financing strategies used in fix-and-flip investing because loans are easier to qualify for than other financing methods. These loans typically have terms between three months and two years, making them well-suited for the fast-paced house flipping industry. Interest rates for hard money loans are often between 12% and 18%, making the cost of holding the investment property high. 
High-interest rates and short-term lengths make it financially risky for fix-and-flip investors to hold a property longer than expected. It's critical for investors using hard money loans to stick to their timelines for renovations and prioritize selling the property quickly. 
Conventional Mortgages
Conventional mortgages are less common in fix-and-flip investing because they have strict guidelines and can be difficult to qualify for. Unlike hard money lenders, conventional lenders require excellent credit scores and debt-to-income ratios. Many conventional lenders will also avoid lending money for homes in extreme disrepair. But investors who can qualify for conventional loans benefit from lower interest rates and longer term lengths. 
Private Lenders 
A private lender is an individual or group with enough cash to fund your purchase. Often, private money lenders are friends or family members interested in participating in your investment. However, private lenders can also be found at real estate networking events or by speaking with other house flippers who have worked with private lenders. 
The terms of a private loan can be negotiated between the lender and the borrower to meet both groups' satisfaction. Make sure to work with a lender you trust and create a detailed contract, even when working with a friend or family member. 
Home Equity Loans
If you own the home you live in or have other real estate properties, you may be able to draw on the equity from these properties to pay for a fix-and-flip property in cash. Home equity loans and HELOCs offer real estate investors low-interest rate cash. However, if your house flip is unsuccessful and you can't repay your home equity loan, you risk losing your home or other investment properties. 
3. Choose the Perfect Property
Drew Scott, the host of the home renovation show Property Brothers, spoke with Supermoney.com about the most important property features when you're looking to flip a house.
Scott says, "You first have to look at the things you cannot change, which include location, distance to transit and amenities, size of lot, and many times the size of the house. Within the home, there's a lot you can do to improve value. However, if the above criteria are not met, then even the nicest home won't give you the return you think it will."
Look for a property that fits your desired price range and has the permanent features you're looking for. Don't worry about the home's appearance and condition because that will change once you renovate. 
4. Do the Right Renovations
Once you've purchased the property, it's time to start renovating. But it's important to remember that some renovations add more value than others. Here are some strategies for deciding which projects to prioritize in your house flip:
Look at the Competitors
Look at similarly-sized homes listed in your area for a good price. If every home has a smart thermostat, new windows, and a master bedroom with an en suite bathroom, consider adding these features. 
If your home has a popcorn ceiling, your first thought might be that you want to replace it because it looks outdated. But, if every home in the area also has popcorn ceilings, you may be able to sell your home profitably without spending money on that particular project. 
Consider Your Target Buyer
Are you hoping to sell to a first-time home buyer, a family, or a retiree? Is your ideal buyer looking for a luxury home or a budget option? Keep your ideal buyer in mind while choosing which renovations to make. If you're targeting a budget buyer, don't splurge on the trendiest designs for the home because these things won't matter to the buyer you want. 
Research Added Value
The 2022 Cost vs. Value Report uses data compiled by Remodeling Magazine to present the house projects that add the most resale value to a home compared to the project's price. The report shows garage door replacements, manufactured stone veneer, and minor kitchen remodels have the lowest cost compared to the resale value they add.
It's important to research the added value of each renovation in your local market. Local contractors and real estate agents can often provide great insights into how much local buyers prefer various home features. 
Remember It's a Business
It's essential to avoid emotional decision-making as a house flipper. Ryan Pineda has been flipping houses since 2015. His company now flips over 100 properties per year. He says he's seen numerous house flippers make renovation decisions based on personal preferences. He advises against this, saying, "You're not building your dream home every time you flip a house."
Keep Pineda's advice in mind. Always make renovation plans that maintain ROI as your top goal.
5. Sell for a Profit
After putting significant work into your house flip, you want to be sure the property sells for the highest value possible. The most important thing you can do to ensure your property sells for a profit is to work with an agent who knows what they're doing. A top-tier agent knows how to price a property competitively, create a listing that stands out among the competition, attract interest to the property, and negotiate with the buyer. 
Don't settle for the first agent you come across. Find an experienced real estate agent who will ensure you walk away with the profits you hoped for. 
Frequently Asked Questions About Flipping Houses
Every beginning house flipper has questions. Luckily, you don't have to find all the answers by yourself. Here are some of the most common questions new fix-and-flip investors have in the early stages:
What Are the Pros and Cons of Flipping Houses? 
Pros
Earn cash quickly: Rental property investors might earn a few thousand dollars per year and cash out on their home equity after decades. A fix-and-flip investor sees their cash returns every six months to a year. The quick turnaround appeals to many investors looking for quick profits. 
Diversify your portfolio: Including multiple investment strategies in your portfolio helps minimize risk and improve your returns. Fix-and-flip investing functions differently from rental property investing. This means if the rental market takes a downturn, you may have a buffer against any financial losses because your house flips can keep you afloat.
Monetize a hobby: Many people get into house flipping because they enjoy the renovation process. If house projects are your hobby, flipping houses is a perfect way to monetize that.
Expand your real estate knowledge: Anyone who owns real estate can benefit from the ability to spot costly repairs. If you invest in and manage rental properties, learning how to redo cabinetry, repair old pipes, or spruce up a living room is a major benefit. 
Cons
Time-Consuming: Many house flippers start rehab projects as a side hustle but don't anticipate how much effort is required to pull off the project. Real estate investor and educator Steven Michael Miller spoke about a woman he met at a seminar who earned $20,000 flipping a house with her husband. Miller congratulated the woman on the profit, but she said the flip wasn't as advantageous as it sounded.

She told him: "We did the math. We put a lot of our own time and effort in, and it took a lot longer than we thought it was going to take. And that $20,000 ended being about $5.75 an hour for my husband and I." At $5.75 an hour, this couple could've earned significantly more working a secondary job in any industry. Their story shows that without careful planning, it's easy to spend more time on a flip than the project is worth.

Requires extensive expertise: It takes time to become an expert house flipper. Your first house flip will likely not be as profitable as your tenth. Real estate investor and wealth coach Kris Kohn says, "Until you've done five flips, please consider yourself an absolute beginner because these things can go well on your first or second property. And the tides can turn pretty quick because you're also dealing with a changing and evolving market."

High-Risk: The profitability of a house flip can quickly sink due to a real estate market shift, unexpected repairs, a rise in the cost of materials, or many other issues. While more experience helps you anticipate and prepare for these problems, there will always be risks in flipping houses. Even experts can't completely eliminate every problem that cuts into profits. 
What Are the Most Common Mistakes of House Flipping?
Ryan Pineda listed the most frequent mistakes he's seen in his 15 years in the house flipping industry. Here's what he said: 
Underestimating the timeline: "I see a lot of people when they get into real estate investing be very optimistic. They'll be calculating their numbers, and they'll put a three-month flip. And personally, we don't have many flips that are three months," Pineda explains. "For us, on average, our flips are taking about five months."

If an experienced house flipper like Pineda takes about five months, it's unlikely a new house flipper will be able to achieve a three-month flip. A house flip that takes longer than expected can be financially challenging to manage because the investor likely didn't budget for the extra expense of holding the property for those additional months. 

Underestimating rehab costs: When in doubt, it's better to overestimate the cost of a house flip rather than underestimate it. The worst-case scenario for an investor is to run out of money and have a property that will be difficult to sell because it's in partial disrepair. 

Forgetting the cost of money: If you're borrowing money to fund your house flip, the closing costs of the loan and the interest you'll pay each month you hold onto the property can add up. Don't forget to budget for these costs to ensure you can turn a profit with your investment. 
How Much Do Renovations Cost?
The cost of a house flip will depend on multiple factors, including the market you're in, the home's size, and the age and condition of the home.
Ryan Pineda flips homes in Las Vegas, Nevada, a market that sits close to the national average cost of living and cost of housing. He estimates costs using the price per square foot method. Here's how he does it:
Price Per Square Foot Method
Basic Rehab: $5–$10 per square foot
This rehab would be limited to new paint and new carpet.

Lipstick Rehab: $15 per square foot
This rehab involves new paint and flooring, refinishing the cabinets, and adding a budget countertop, but no major projects. 

Full Interior Remodel: $20 per square foot
In an interior remodel, you'll do an entire cosmetic upgrade of the home's interior. This means new showers, cabinets, flooring, and appliances. But you won't upgrade anything on the home's exterior or the "bones of the home," meaning the foundation, plumbing, or wiring.

Full Rehab: $25 per square foot
A full rehab includes everything in a full interior remodel, but you'll also paint the home's exterior and upgrade the landscaping. 
Important
If a home has an old roof, furnace, plumbing, or any other major feature that has to be replaced, add that cost to the estimate you got using the square footage method. Discuss the cost of those upgrades with a local contractor. 
While you can use Pineda's numbers for estimating the cost of your house flip, remember to adjust for your local market. If you're unfamiliar with prices in your market, reach out to contractors before you set a budget. 
Even when you've become familiar with your local market, Pineda recommends working with a general contractor to make your final cost estimates. 
"If you get a property in contract or you're close on a deal, you should absolutely go walk it with a [general contractor]," Pineda says. "In fact, I recommend walking it with three [general contractors]. That way, you have a for sure number on what it's going to cost you. And they're going to be able to see things that you might miss."
Flipping Houses Requires Dedication
House flipping is not an investment strategy for anyone looking to make a quick buck without much effort. It requires thought, planning, and intention. 
Flipping houses might be a good investment strategy for you if:
You're passionate about renovating homes
Your tolerance for risk is high
You are willing to work hard to earn a profit
If you're determined you are the right person for a career in flipping houses, do your research, make a plan, and start your first project. As Robert T. Kiyosaki wrote in Rich Dad Poor Dad, "There is always risk, so learn to manage risk instead of avoiding it."
If you're interested in learning about other real estate investing strategies, check out these articles: 
How to Make Money With a Short-Term Rental Investment 
How to Become a Landlord and Build Wealth 
Sources
Leaders Media has established sourcing guidelines and relies on relevant, and credible sources for the data, facts, and expert insights and analysis we reference. You can learn more about our mission, ethics, and how we cite sources in our editorial policy.
The Motley Fool. "The House Flipping Statistics Investors Should Know in 2022."
https://www.fool.com/research/house-flipping-statistics/#:~:text=323%2C465%20homes%20were%20flipped%20in,7%25%20from%20the%20previous%20quarter
Bloomberg. "How Managing by Moonshot Doomed Zillow's Home Flipping."
https://www.bloomberg.com/news/features/2022-05-05/zillow-home-flipping-app-was-big-idea-gone-wrong?leadSource=uverify%20wall
Bigger Pockets. "Flipping Your First Deal | Ep. 1 Analyzing the Deal."
https://www.youtube.com/watch?v=qR8Ay-ZhrpM
Supermoney. "The Scott Brothers Share Their Top House Flipping Secrets."
https://www.supermoney.com/guide-flipping-houses-property-brothers/
remodeling. "2022 COST VS VALUE REPORT."
https://www.remodeling.hw.net/cost-vs-value/2022/key-trends-in-the-2022-cost-vs-value-report
Ryan Pineda Show. "Top 5 House Flipping Mistakes."
https://www.youtube.com/watch?v=BzskDCuLkRc
Kris Kohn Limitless TV. "Fix and Flip Real Estate – Pros & Cons of Flipping Homes."
https://www.youtube.com/watch?v=Vwg-Yv3RVLk
payscale. "Cost of Living Las Vegas, Nevada."
https://www.payscale.com/cost-of-living-calculator/Nevada-Las-Vegas
Ryan Pineda Show. "How To Estimate House Flip Repair Costs | PRO SECRETS."
https://www.youtube.com/watch?v=oOrgy6xftR8