A growth mindset has the potential to increase creativity, motivation, empathy, ambition, ethical behavior, self-improvement, brain development, and performance levels. Yet, Dr. Carol Dweck, a leading expert on motivation and achievement goal theory, found that only 40 percent of people have a "growth mindset." In fact, a growth mindset and a fixed mindset (a mental model wired to comply with your basic qualities) ranked evenly among those surveyed. 
In an interview with Harvard Business Review, Dweck shares she and her team of researchers found employees of companies with a growth mindset versus a fixed mindset are: "47% likelier to see their colleagues as trustworthy; 34% likelier to feel a strong sense of ownership and commitment to the company; 65% likelier to say that the company supports risk-taking; and 49% likelier to say that the company fosters innovation."
So, what is a growth mindset, and how can business leaders develop a culture of one to benefit their organizations? 
What is a Growth Mindset vs. a Fixed Mindset?  
The difference between a fixed vs. a growth mindset ultimately boils down to how people perceive their abilities. "Some people believe their talents and abilities are these fixed traits (a fixed mindset). You have a certain amount and that's it. But other people believe talents and abilities can be developed through hard work, good strategies, good manager-ing from others," Dr. Dweck explains in a discussion at Talks at Google. 
Those with a fixed mindset are fearful of challenges and difficulties. They don't want to come across as less intelligent or less talented. These individuals fear failure might prove they aren't as gifted as they have been told or believe they are. 
Conversely, those with a growth mindset are more interested in developing themselves than worrying about what others might think if they fail. This is why people with this mindset are more likely to challenge themselves, even in the face of failure. Furthermore, they realize being vulnerable and putting themselves out there is a part of growth and self-improvement. 
Check out the top six strategies for developing a growth mindset culture below.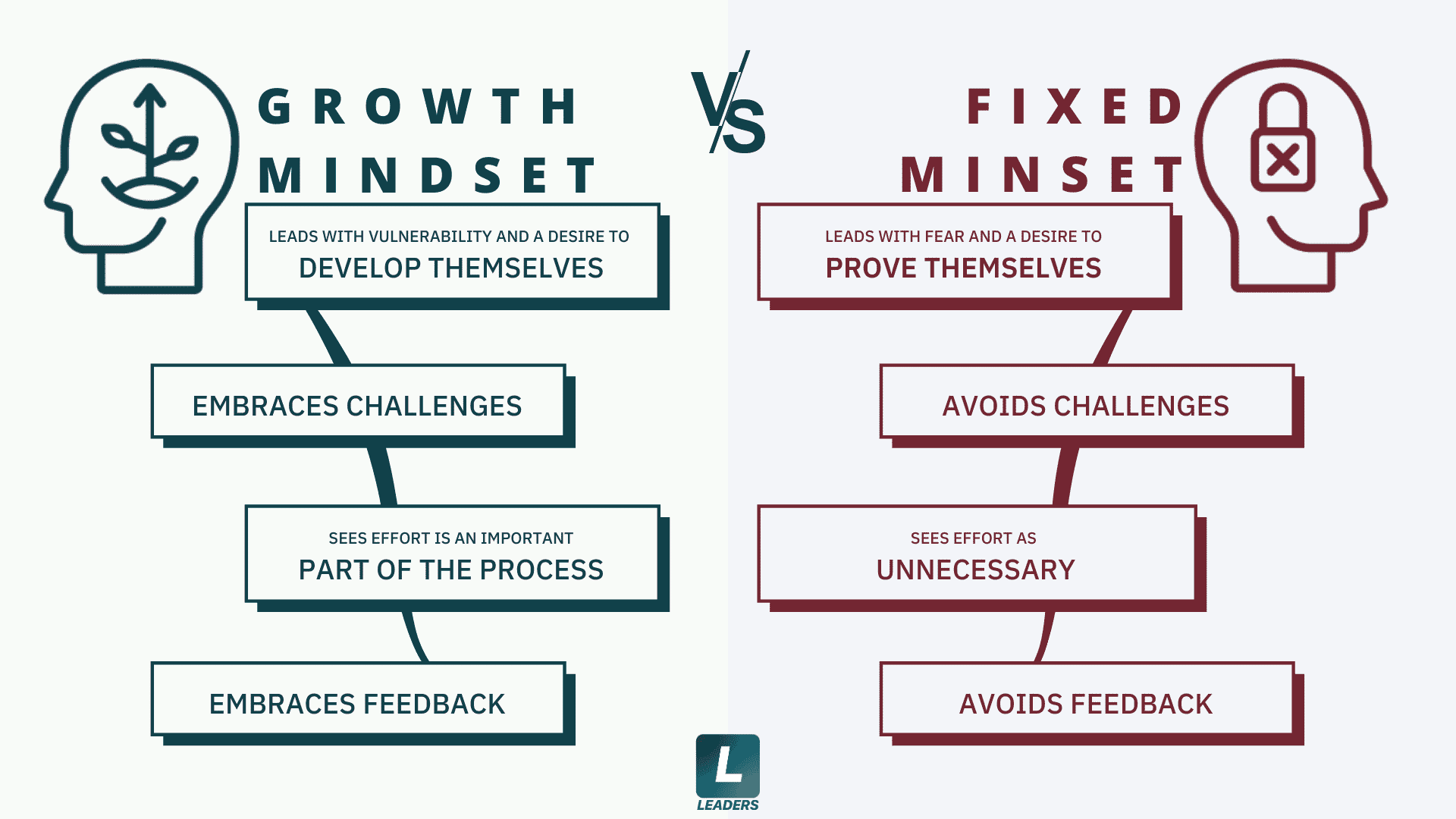 Recognize Places for Growth as a Leader
Shifting away from a fixed mindset means recognizing areas requiring growth. Every leader has room for personal development that can benefit their business and its people. For company owners and key organizational players, this requires honest self-analysis in partnership with organizational analysis. 
In order to shift more toward a growth mindset, the company founder's purpose and business's purpose should be in alignment. Studies show that purpose-driven businesses outperform and outgrow purely profit-driven businesses time and time again. 
Make it a priority to really dissect the difference you want to make in the world. Reverse engineer fulfillment of your mission in life from Point B to Point A. 
What do you need to learn to get there? 
How can you better develop your team to help fulfill company goals? 
How do the business's objectives align with this purpose? 
Revisit strategies or initiatives that don't line up with your desired impact. 
Become a Servant Leader 
Servant leadership and a growth mindset go hand-in-hand. In fact, Kong Wah Cora Chan writes for Columbus State University's Servant Leadership that: "A servant leader has a growth mindset and makes a conscious effort to develop self effectiveness in areas of listening, empathy, healing, awareness, persuasion, conceptualization, foresight, stewardship, commitment to the growth of people, and community building." In essence, through these qualities, servant leaders cultivate a growth mindset culture within an organization. 
Companies without servant leaders are more likely to have a fixed mindset. They may pigeon-hole employees because they're unable to see outside the scope they've developed for the organization. By limiting the possibilities of what their company could achieve, they limit the possibilities of what heights their people could reach.
In contrast, servant leadership instills a growth mindset culture by focusing on developing others above all else. When engagement levels increase, turnover decreases. In a study conducted by Gallup, researchers found employers can increase engagement by providing learning and growth opportunities, helping direct reports feel connected to the company's mission and purpose, and empowering people to do "what they do best." 
Praise the Process
In the TED talk, "Why Good Leaders Make You Feel Safe," leadership expert Simon Sinek says, "The closest analogy I can give to what a great leader is, is being a parent." While it's not a leaders' job to parent employees, business executives and managers do serve a similar purpose by influencing the development and growth of individual team members. 
Dr. Dweck says developing a fixed mindset often begins at an early age when parents—or in this case, leaders—tell their children (employees) how smart or talented they are. While it sounds harsh, in a video for Kids in the House, she states: "Our research conclusively shows that telling children they're talented or smart can actually harm them. It puts them into a fixed mindset, it makes them think that what you value in them is this fixed intelligence, it makes them afraid of mistakes and it makes them less eager to learn."
So, what's the solution? For children, Dr. Carol Dweck says, "to praise the process your child engages in, their effort, their strategies, their improvement, their learning . . . what you are conveying is a lifelong value of improving and learning."
The takeaways are similar for leaders developing a growth mindset team culture in their organizations.
Redefine What Success Looks Like
As mentioned above, most people's beliefs about their basic qualities are shaped at a young age. This can include leaders who guide organizations. They, too, can struggle with a developed fixed mindset. For instance, according to a recent Gallup study, only 37% of small business owners report feeling extremely successful. 
Letting go of preconceived notions of success can help leaders work through a fixed mindset. Write down the qualities others have told you determine success. Next, cross out the ones like being smart, gifted, or talented. Replace these with constructive qualities required for a growth mindset. For instance, this might look like "I'm determined," "I don't quit when things get tough," and "I am driven to learn more." 
This exercise changes the perception of what contributes to a person's business success. Once a leader recognizes factors of growth within themselves, they can more effectively bring their (and their employees') best qualities to light. 
Work Through Limiting Beliefs
Leaders or employees with limiting beliefs have a fixed mindset because deep down, they believe they've already maxed out their talents and abilities. Due to this, one of the most important steps in developing a growth mindset is tackling limiting beliefs. 
Working through limiting beliefs requires a person to analyze their life choices and decisions. In an article for Psychology Today, Dr. Matt James explains that limiting decisions are "hiding out in the areas where you're producing results that you don't want." 
As a team building exercise, work through limiting beliefs together. 
Set up a meeting and ask everyone to:
Spend 15 minutes thinking about what they want out of life. 
Write down the decisions they've made to get there. 
Identify the choices that haven't led to their ultimate goals. (This is where people will find some of the beliefs that have held them back.) 
Read their top limiting belief out loud. 
Provide words of support or ideas for defeating the limiting belief. 
Follow up on a regular basis. 
Leaders are not excluded from participating. Developing a growth mindset culture is dependent upon the leadership of an organization. Serve by example, and even go first. 
While this is an exercise in vulnerability, it gives the team a chance to lift each other up and suggest ways to defeat limiting beliefs together. Let group members select an accountability partner who will check in with them once a week. This helps people overcome any biases that would hinder breakthroughs in mindset. 
Encourage Collaboration
Business owners and executives might assume that competition pushes people into a growth mindset. But, creating an environment where people actively compete against one another is an unhealthy business practice. According to Dr. William P. Barnett, an organizational behavior professor at Stanford University, encouraging competition has two detrimental consequences. It causes employees to measure themselves against others and creates a mindset of scarcity. 
Instead, he says that within a business, great leaders encourage collaboration. Problems within the business should be solved by teams working together, rather than individual forces challenging one another at work. "Competition already exists in your organization. If you turn up the heat and have even more competition than is naturally occurring, you can easily—almost predictively—spill over into having the maladaptive problems that can come from too much competition," he tells writer Beth Jensen in a blog for Insights by Stanford Business. 
Plant Seeds of Growth
Best-selling author John C. Maxwell says shifting into a growth mindset plants a seed of hope in people. "When we decide to believe that growth is possible, and commit to pursuing it, hope begins to rise," he writes in a blog on his website. When employers create a growth mindset within their organization, hope sprouts up and develops team members into the people they want to be in life. 
Being a champion of growth and development is the greatest way you can serve others as a leader. When you develop a company growth mindset culture, you multiply leaders who multiply leaders. In turn, it increases the positive impact one person can make on the world during their lifetime. The growth mindset shows team members that their basic qualities are not carved in stone, they can grow and even multiply. Watching this process unfold is one of the greatest rewards of being a leader.  
Interested in receiving more information on growth mindset? For additional resources on how to shift into a growth mindset and practicing transformational leadership in the process, check out: