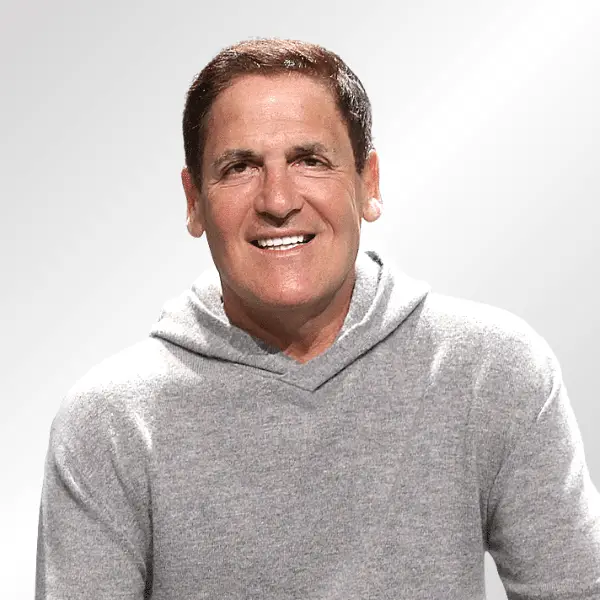 DOB:

July 31, 1958

Age:

65

Country:

United States

Resides:

Dallas, TX

Hometown:

Pittsburgh, PA

Known For:

Shark Tank and Owner of Dallas Mavericks

Spouse/Partner:

Tiffany Stewart

Religion:

Jewish

Education:

Kelley School of Business at Indiana University, University of Pittsburgh
About Mark Cuban
Mark Cuban was born on July 31, 1958, in Pittsburgh, Pennsylvania, to a Jewish working-class family. His father, Norton Cuban, worked as an automobile upholsterer, while his mother, Shirley, was a homemaker. Cuban's grandfather changed the family surname from "Chabenisky" to "Cuban" after emigrating from Russia through Ellis Island.[2] 
Cuban attended Mount Lebanon High School in a suburb of Pittsburgh. He was an avid basketball player and became interested in business and entrepreneurship at a young age. As a pre-teen, he began selling garbage bags door-to-door to earn extra money, and at age 12, he started his own business selling stamps to fellow collectors.[3]
During high school, Cuban began taking night classes at the University of Pittsburgh and used those credits to graduate early from high school. He attended Pitt for freshman year of college and then transferred to Indiana University to pursue a business degree. He graduated in 1980 and moved back to Pittsburgh, where he took a job with Mellon Bank, and later moved to Texas.[3] 
Cuban worked a series of odd jobs before starting his own computer consulting business called MicroSolutions in 1982. He later sold the company to CompuServe for $6 million. Cuban's entrepreneurial success began from there and grew into a diverse range of start-ups and investments that made him a billionaire.[2] 
Business Career
On the Mark Cuban Companies website, well over 100 companies are listed, with brands including the Dallas Mavericks, Texas Legends, Magnolia Pictures, Collegedebt.com, and Mark Cuban Cost Plus Drug Company.[4]
Some of his most notable and successful investments include:
AudioNet/Broadcast.com
After selling his first company, MicroSolutions, Cuban founded venture capital firm Radical Computing, Inc. He then co-founded AudioNet (later Broadcast.com) in 1995 with Indiana alumni Todd Wagner. AudioNet was an online audio and video streaming service that was active in numerous companies. It went public in 1998 and was then sold to Yahoo! for about $5.7 billion, at the height of the "dot-com bubble." After making that deal, Cuban began acquiring several companies in a range of fields.[5] 
2929 Entertainment
2929 Entertainment is a vertically integrated media and entertainment company that covers all aspects of the entertainment pipeline, from development and production, to distribution and exhibition. The company services independent films made outside of Hollywood's studio system. It's responsible for films including Good Night, and Good Luck, The Sweetest Guys in the Room, The Road, and Enron. Under the 2929 Entertainment umbrella includes a number of Cuban-owned subsidiaries, such as Magnolia Pictures, Truly Indie, Magnet, AXS TV, and Spotlight Cinema Networks.[6] 
Cyber Dust
The Cyber Dust (now called Dust) app launched in 2014 and aimed to bring messaging privacy to the masses. It's the only messenger that can erase your messages from another phone. Additionally, according to the app's website, notifications are sent if screenshots are taken.[7][8] 
Landmark Theatres
In 2003, Cuban and his partner Todd Wagner acquired Landmark Theatres, a cinema chain devoted to independent films, for an undisclosed sum. They sold it to Cohen Media Group, a production and distribution company backed by billionaire real estate mogul Charles Cohen, in 2018.[9]
Dallas Mavericks
Cuban bought the Dallas Mavericks of the NBA in 2000, paying $285 million for the franchise, just as it was about to declare bankruptcy. He has said that he bought the team because he thought he could make it better and sell more tickets.[10] 
He upgraded the team's facilities and offered perks to players which attracted free agents. The Mavericks won the NBA Finals in 2011.[11] 
The team's value has steadily increased since being purchased by Cuban. In 2014, the Maverick's were worth $765 million and in 2022 they were valued at $3.3 billion, which is significantly more than the average NBA team's value.[10] 
Cuban has been fined several times for publicly criticizing the NBA league, referees, and players. He chooses to sit with fans during games, eggs on opponents, and questions the referees. He is also the first team owner to launch his own blog that provides game and league insights.[12] 
Cuban has also expressed interest in buying other sports teams in the past, including the NHL's Pittsburgh Penguins. He has bid on both the Chicago Cubs and Texas Rangers.[13] 
Mark Cuban Cost Plus Drugs
In 2022, Cuban launched Mark Cuban Cost Plus Drugs, a company with the mission to offer generic drugs to U.S. consumers at lower prices. The company purchases pharmaceuticals directly from manufacturers, bypassing middlemen in order to lower prices substantially. It also plans to begin manufacturing generic drugs at the company's 22,000 square foot plant that's being constructed near Dallas, Texas.[14] 
As of January 2023, the company has a customer base of more than 1.5 million, becoming a major disruptor in generic drug pricing. It currently offers more than 350 generic drugs at discounted prices.[15]
Security and Exchange Commission Allegation
In 2004, Cuban was charged by the Security and Exchange Commission (SEC) with insider trading in regards to an internet search engine website called Mamma.com. The SEC claimed that Cuban ordered the sale of his Mamma.com holdings after being approached by the company to join a transaction that would dilute shares of current stakeholders. Cuban claimed innocence and the case was dismissed in 2009, but then reinstated in 2013. He was later cleared of all charges by a Texas jury.[12] 
Shark Tank
Cuban began appearing on Shark Tank in 2011. The reality television series involves entrepreneurs who present their business ideas and inventions to a panel of potential investors. As of 2022, Cuban has invested roughly $61 million in more than 200 on-screen deals during the show.[16] 
Some of Cuban's largest Shark Tank investments include:[17] 
Ten Thirty-One Productions, a company that produces live horror-themed attractions in which he invested $2 million in exchange for a 20% stake.
Rugged Maniac, an annual obstacle course race business in which Cuban invested $1.75 million for 25% ownership. 
BeatBox Beverages, who secured a $1 million investment in exchange for a 33% stake for their boxed party punch company.
CNBC Make It reported that it's not unusual for a Shark Tank investor and company to revise or abandon their partnerships after taping. Of the 237 companies on the show that were interviewed by Forbes, 43% of the deals made during taping fell apart and another 30% were changed afterward.[18] 
Author
Cuban wrote How to Win at the Sport of Business in 2011. The book shares his business experience and provides insider knowledge on what it takes to become a thriving entrepreneur. Cuban tells his early career story and how he became a successful businessman and billionaire.[19]
Shark Tank, Jump Start Your Business was published in 2013 and authored by Cuban, Michael Parrish DuDell, Lori Greiner, Robert Herjavec, Daymond John, Kevin O'Leary, and Barbara Corcoran. The book contains practical advice and tips for people starting their own businesses.[20] 
In 2018, Cuban wrote Kid Start Up: How You Can Be an Entrepreneur, along with co-authors Shaan Patel and Ian McCue.[21]
Cryptocurrency
In 2021, Cuban said that dogecoin was the strongest cryptocurrency as a medium of exchange and began accepting it as payment for merchandise for the Dallas Mavericks organization. He said that dogecoin could be considered a digital version of gold that can be used for the acquisition of goods and services.[22] 
When cryptocurrency lender Voyager Digital filed for bankruptcy in 2022, Cuban and the Dallas Mavericks were named in a class-action lawsuit, alleging that the crypto company was a Ponzi scheme due to Cuban's promotions of it and team sponsorships. The case and trial is ongoing, with Cuban stating that he engaged in transparent forum shopping and gamesmanship.[23] 
Philanthropy 
Mark Cuban is the president and director of the Mark Cuban Foundation. One of the programs supported by the foundation is the AI Bootcamps initiative that teaches underprivileged high school students across the country the basics of artificial intelligence during four half-day bootcamp programs.[24] 
Cuban started the Fallen Patriot Fund in 2003 to help families of service men and women and first responders who were killed or seriously injured in the line of duty. To date, the fund has distributed more than $5 million in grants, with every dollar helping those in need.[25] 
In 2015, Cuban made a $5 million donation to Indiana University at Bloomington for the Mark Cuban Center for Sports Media and Technology, which offers media school students the chance to work with 3D imaging, virtual reality, and other technology new to college athletics.[26] 
Following the Orlando nightclub shooting in 2016, Cuban donated $1 million to the Dallas Police Department to fund overtime hours for the department that would help protect the city's LGBTQ+ community and boost counterterrorism efforts.[27][28] 
Quotes
"Sweat equity is the most valuable equity there is. Know your business and industry better than anyone else in the world. Love what you do or don't do it." —Mark Cuban[29]
"The best way to predict the future is to invent it."  —Mark Cuban, How to Win at the Sport of Business
"In sports, the only thing a player can truly control is effort. The same applies to business. The only thing any entrepreneur, salesperson or anyone in any position can control is their effort." 
—Mark Cuban, How to Win at the Sport of Business
"Forget about finding your passion. Instead, focus on finding big problems." —Mark Cuban, Shark Tank[30]
References
Leaders Media has established sourcing guidelines that rely on credible, expert-level, and primary sources for articles about people and companies. Articles are frequently edited by staff writers. Learn more about our mission, editorial ethics, and how we source references in our editorial policy.
Any reader who wishes to provide any additions or revisions to this article, including updating any out-of-date information, please email [email protected].