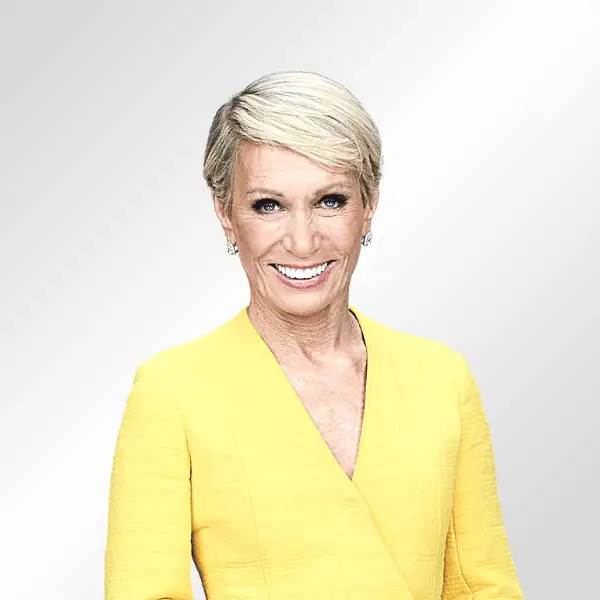 Country:

United States

Resides:

New York City, NY

Hometown:

Edgewater, NJ

Known For:

Shark Tank

Spouse/Partner:

Bill Higgins

Religion:

Christianity

Education:

St. Thomas Aquinas College
About Barbara Corcoran
Barbara Corcoran is best known as a real estate mogul and an investor on the ABC show Shark Tank. She is also an author, television personality, and motivational speaker. Corcoran has built a successful career in business, investing in over 80 companies. She is a strong advocate for women in business and often serves as an inspirational mentor for aspiring entrepreneurs.
She is also a motivational speaker and a regular contributor to The Today Show, MSNBC, and many other major networks.[2] She has also authored three books: Use What You've Got and Other Business Lessons I Learned from My Mom, Shark Tales: How I Turned $1,000 into a Billion Dollar Business, and Nextville: Amazing Places to Live the Rest of Your Life. Corcoran currently hosts the podcast Business Unusual with Barbara Corcoran. As of 2023, Corcoran has a net worth of $100 million.[3]
Early Life
Corcoran was born into an Irish-Catholic family on March 10, 1949, in Edgewater, New Jersey, a working-class town known for frequent bar fights and other crimes.[4] Corcoran was raised in a two-bedroom apartment as the second of ten children born to Florence and Edwin Corcoran Jr. Florence Corcoran was a homemaker. Barbara Corcoran credits her mother as a major mentor in her life, saying her mother took great care of all her children with little help from her father.[5] Edwin Corcoran Jr. often bounced between jobs, drank too much, and treated his wife disrespectfully.[6]
Due to undiagnosed dyslexia, Corcoran struggled during her early years in school. She was labeled the dumb kid by teachers and classmates. She says, "I spent 6 hours a day daydreaming in class, and by 3rd grade, I just gave up."[7]
Corcoran began high school at St. Cecilia High School. However, after flunking several courses during her freshman year, she transferred to Leonia High School, where she graduated.[8] She then moved to Sparkill, New York, to attend St. Thomas Aquinas College, studying education, where she earned her degree in 1971.[9] Corcoran received straight D's during her education but said, "I deserved straight F's. They were charity D's, and I was grateful for every one of them."[10]
Early Professional Life
After graduating from college, Corcoran worked jobs in several industries. Before she reached age 23, she had worked in 20 different jobs, including hot dog salesman, a newspaper dispatcher, a house mother for six orphans in an orphanage, and a bookseller in a local bookstore.[11]
While working 18-hour days as a waitress, Corcoran met Ray Simone, who became her boyfriend and business partner. During the early months of the relationship, Corcoran began her career in real estate, getting a job as a receptionist at the Giffuni Brothers' firm. It was then that Simone told Corcoran she was good at real estate and offered her $1,000 to start her own real estate firm. The firm that they split ownership of was called the Corcoran-Simone brokerage firm.[12]
Initially, the Corcoran-Simone brokerage firm focused on the rental market. In 1973, Corcoran earned her first commission check of $340,[13] but the company quickly grew. By 1975, the real estate firm had shifted to a focus on selling properties. They had hired 14 salesmen and were earning an annual profit of $500,000.[14]
However, the company split up when Corcoran and Simone went their separate ways, and Simone married Corcoran's secretary. Simone told Corcoran she would never succeed without him. This fueled her determination to become a successful businesswoman.[15]
Corcoran's solo real estate business, The Corcoran Group, was the first woman-owned real estate company in New York City and quickly became one of the leading real estate brokerages in the area.[16] In 2001, Corcoran sold the business to NRT Inc. for $66 million.[17] Corcoran's first offer for the business came in at $22 million, but she countered, asking for $66 million, a price she chose because six was her lucky number.[18]
Television Career
Corcoran has appeared as an investor in every season of the reality series Shark Tank, since the show began in 2009, where she has invested in over 80 companies.[19]
While Corcoran is now an executive producer of Shark Tank, she nearly didn't make the cut when the show was first casting. The show's producer, Mark Burnett, initially chose Corcoran to be on the show but later informed her that he changed his mind and hired another woman to fill the single female seat among the group of investors.[20]
Corcoran did not accept this setback and suggested Burnett invite both women to compete for the spot on the show. Burnett agreed, and Corcoran flew to Los Angeles to fight for her role among the investors. She out-competed the other woman and has been involved in the show ever since. 
Corcoran has cemented her role as a television personality by appearing in numerous other shows, such as Beyond the Tank, The Neighbors, Night Cap, Drop Dead Diva, and Dancing with the Stars.[21]
Motivational Speaking and Publication Career
Corcoran's venture into the publishing industry began in 1981 when she began The Corcoran Report, a newsletter covering New York real estate trends.[22] Corcoran started the report to bring more publicity to her real estate brokerage, and it successfully established Corcoran as a leading expert on New York real estate. 
Since then, Corcoran has authored multiple books, including best-seller Shark Tales: How I Turned $1,000 Into a Billion Dollar Business! She also has written for numerous publications, including The Daily Review, More Magazine, Red Book, and the New York Daily News. [1]
Corcoran now visits business leaders at conferences, workshops, and corporate events as a motivational speaker, discussing her story and advising other entrepreneurs and business people. Her speaking clients include Morgan Stanley, Harvard Business School, Entrepreneur Magazine, the National Association of Professional Women, and JP Morgan, among others.[23]
Family Life
Corcoran has been married to former FBI Agent and Navy captain Bill Higgins, since 1988. Corcoran and her husband met at a conference in 1981 and now have two children together, Tom and Katie, although Higgins has four kids from a previous marriage.[24]
Corcoran credits the couple's perseverance for the continued success of their 34-year marriage. "We both have stick-to-itiveness," Corcoran says about the marriage.
Barbara Corcoran's Leadership Philosophy
As a motivational leader with charm and communication skills, Corcoran has a charismatic leadership style, and places a strong emphasis on resilience and perseverance. Additionally, she encourages business leaders to use obstacles as fuel to motivate their success. Corcoran says, "I have a theory, and I really believe it. I think your weakness can become your single greatest strength."[25]
She also exemplifies transformational leadership by acting as a role model for women building multi-billion dollar companies and sharing advice for business leaders through her motivational speaking and content creation. 
Barbara Corcoran Today
In recent years, Corcoran shares business and leadership advice through her podcast and social media platforms. As the host of Business Unusual with Barbara Corcoran, she discusses all topics related to business and personal development. With guests like Nick Viall,[26] former star of ABC's The Bachelor, and Sarah Moret,[27] founder of the successful natural deodorant brand, Curie, Corcoran covers topics like entrepreneurship, publicity, authenticity, and self-awareness. 
Corcoran discusses similar motivational topics with her growing social media following. She gives advice to her millions of followers on TikTok and Instagram,[28][29] and remains an active public figure and a voice for business leadership.