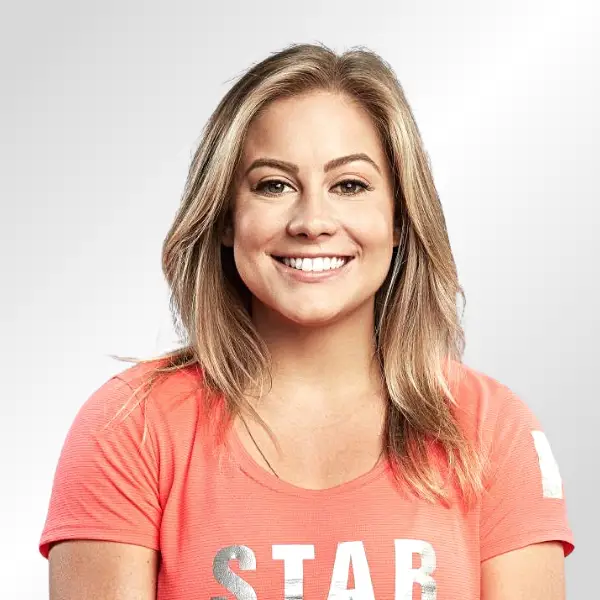 Shawn Johnson East
Content Creators
Lifestyle Influencers
DOB:

January 19, 1992

Age:

31

Country:

United States

Resides:

Nashville, TN

Hometown:

Des Moines, IA

Known For:

Gold Medal Winner in 2008 Olympics

Spouse/Partner:

Andrew East

Religion:

Christianity

Education:

Vanderbilt University
About Shawn Johnson East
Johnson East officially retired from gymnastics in 2012. Since her retirement, she's authored two books and has become an advocate of mental awareness, as well as doing charity work. Additionally, she's a former Dancing with the Stars champion, a TV personality, wife to former professional football player Andrew East, and a mother of two children.
Shawn Machel Johnson was born on January 19, 1992, in West Des Moines, Iowa, to parents Doug and Teri Johnson. She is an only child and one that had a lot of energy, according to her parents. She started gymnastics at a young age in 1995 and quickly showed a talent for the sport. When speaking about her early interest in gymnastics, her mom once said, "The wild child just needed something to do!"[2] 
Johnson East excelled in gymnastics after training at Chow's Gymnastics and Dance Institute in West Des Moines beginning at the age of 6. On her way to becoming a national champion, she was coached by Li Liu and Liang Chow, considered among the best gymnastics coaches in the world.[3] Johnson East would typically train for up to 40 hours per week.[4]
At the age of 12, Johnson East competed in the Junior Olympics National Championships. Her dedication to gymnastics paid off when she earned a spot as a key member of the U.S. gymnastics team at the age of 16, putting her on the road to compete on the 2008 U.S. Olympics team.[2]
Olympics and Other Competitions
The U.S. women's gymnastics team won the gold medal at the 2007 World Championships and the silver medal in the all-around competition at the 2008 Summer Olympics held in Beijing.[4] At the time of competition, Johnson East measured 4'9" and weighed about 90 lbs.[5]
In 2008, Johnson East herself won a gold medal at the age of 16 in the balance beam competition and a silver medal in the all-around, team, and floor exercise competitions. She has won four Olympic medals in total and three World Championship career medals (in team, all-around, and floor exercises).[6] She is one of only six women from the U.S. to win the World Championship all-around title. Her gymnastics abilities have been described as "fearless, confident, and skilled."[7] Steve Penny, President of USA Gymnastics, adds that "Her personality, smile, and powerful gymnastics won both medals and fans."[8]
After the 2008 Olympics, Johnson East took a break from gymnastics for two years. Following the Olympics, she opened up about suffering from an eating disorder.[9] During a podcast interview, she revealed, "I am very sad looking back at that kid that was on the Olympic podium." She returned to competitions in 2010 and competed at the U.S. National Championships. Although she qualified for the 2010 World Championships, an injury forced her to withdraw from the competition.[10] In 2011, Johnson East competed at the Pan American Games and won the team gold medal and the silver medal for the uneven bars.[11]
In 2009, Johnson East earned the ESPY for Best U.S. Female Olympian.[11] She also won the Teen Choice's Female Athlete award three times, in 2008, 2009, and 2011.[8]
Johnson East officially retired from gymnastics in 2012 after having to have surgery on her knee, but she remains involved in the sport as a commentator and author. After retiring and speaking out about her eating disorder, she admitted she was "so happy and so free, to not be a part of that world anymore." Johnson East was inducted into the Gymnasts Hall of Fame in the summer of 2017.[12]
Family Life
Shawn Johnson East is married to former NFL player Andrew East.[13] The two married in 2016 after dating for three years. East and Johnson met in 2013 when he gave her a tour of Vanderbilt University's campus. Together, with her husband, Johnson East has two children: a daughter named Drew and a son named Jett. The couple lives in Nashville, Tennessee, and is known for their public displays of affection and for sharing glimpses of their personal lives on their social media accounts—most famously on Instagram and the Johnson East's blog.[14]
TV and Other Career Focuses
Johnson East competed in the show Dancing with the Stars in 2009 and again in 2012. She won the competition in 2009 and came in second in 2012, which was the 15th season of Dancing with the Stars, called the "All-Stars" edition.[15] 
Johnson East authored a book in 2013 called Winning Balance: What I've Learned So Far About Love, Faith, and Living Your Dreams. She followed up her first book with another in 2017 called The Flip Side. The Flip Side was published by Simon & Schuster and became a New York Times bestseller. The memoir offers a behind-the-scenes look at Johnson East's life as a gymnast and her journey after retiring from competitions.Her memoir covers topics such as the pressure of young Olympians, struggles transitioning from being a professional athlete, and finding one's identity and purpose.[16]
As a professional gymnast, Johnson East was known for her strong work ethic, positive and inspiring attitude, and graceful performance. She continues to inspire countless young gymnasts and mentors upcoming athletes via her writing, speeches, social media posts, and TV appearances.
Additionally, she partnered with the fitness line CALIA to design a collection for women that's sold at Dick's Sporting Goods.[17] In her words, CALIA "celebrates everything it means to be a woman, in every walk of life and every shape of life." In 2013, she became a certified Nike trainer and starred in YouTube exercise videos.[18] Johnson East also appeared as a judge on CNBC's 2017 show Adventure Capitalists, in which she invested in small businesses.[19]
In addition to being dedicated to her family and her writing, Johnson East is involved as a mentor and spokesperson for several charitable organizations.[20] She works with organizations like the Children's Miracle Network, which is dedicated to promoting children's health and wellness, as well as the March of Dimes, which supports "healthy moms and strong babies."[21]
References
Leaders Media has established sourcing guidelines that rely on credible, expert-level, and primary sources for articles about people and companies. Articles are frequently edited by staff writers. Learn more about our mission, editorial ethics, and how we source references in our editorial policy.
About | Shawn Johnson East. Shawnjohnson. https://www.shawnjohnson.com/thelife
Shawn Johnson. (2023, January 26). Biography. https://www.biography.com/athletes/shawn-johnson
Park, A. (2012, July 26). Liang Chow's Gymnastics Coaching Journey: From Beijing to West Des Moines | TIME.com. https://olympics.time.com/2012/07/26/liang-chows-gymnastics-coaching-journey-from-beijing-to-west-des-moines/
Macur, J. (2008, August 3). Shawn Johnson Balances Life and Gymnastics With Help of Chinese Coaches. The New York Times. https://www.nytimes.com/2008/08/04/sports/olympics/04johnson.html
Shawn Johnson East. (2017, July 25). CNBC. https://www.cnbc.com/shawn-johnson-east–investor–adventure-capitalists–cnbc/
Shawn Johnson. Team USA Org. https://www.teamusa.org/Athletes/JO/Shawn-Johnson
Shawn Johsnon. Yahoo Sports. https://web.archive.org/web/20121026003012/http://sports.yahoo.com/olympics/beijing/usa/shawn+johnson/221035
Shawn Johnson. USA Gymnastics.  https://usagym.org/pages/features/120603_johnson/index.html
2008 Olympic balance beam gold-medalist Johnson retires from competitive gymnastics. Around the Rings. https://www.infobae.com/aroundtherings/articles/2021/07/12/2008-olympic-balance-beam-gold-medalist-johnson-retires-from-competitive-gymnastics/
Shawn Johnson's roots run from Iowa to Beijing. USA Today https://usatoday30.usatoday.com/sports/olympics/beijing/gymnastics/2008-08-06-johnson_N.htm
Shawn Johnson Explains Why Her 2008 Olympics Gold Medal Moment Makes Her Feel 'Sad'. ET Online https://www.etonline.com/shawn-johnson-explains-why-her-2008-olympics-gold-medal-moment-makes-her-feel-sad-169003
Shawn Johnson East. USA Gym Legacy. https://www.usagymlegacy.org/hof/bio/johnson-shawn/
Pankake, M. (2016, August 10). Celebrity Wedding: Andrew East and Shawn Johnson Tie the Knot. Vanderbilt University. https://news.vanderbilt.edu/2016/08/10/celebrity-wedding-andrew-east-and-shawn-johnson-tie-the-knot/
McGahan, M. (2022, September 17). Shawn Johnson and Andrew East's Relationship Timeline: A Look at the Athletes' Romance. Us Weekly. https://www.usmagazine.com/celebrity-news/pictures/shawn-johnson-and-andrew-easts-relationship-timeline-photos/
The Flip Side. (n.d.). Book by Shawn Johnson, A.L. Sonnichsen | Official Publisher Page | Simon & Schuster. https://www.simonandschuster.com/books/The-Flip-Side/Shawn-Johnson/9781481460224
Henni, J. (2022, April 5). Shawn Johnson East Calls This Activewear Brand 'the Best Thing to Happen to My Wardrobe' Peoplemag. https://people.com/style/shawn-johnson-east-calia-activewear-fitness/
Shawn Johnson. Dancing With the Stars. https://dancingwiththestars.fandom.com/wiki/Shawn_Johnson#:~:text=Shawn%20Johnson%20East%20is%20the,of%20Dancing%20with%20the%20Stars
Nikeesports. (2013, November 21). Nike Training Club with Shawn Johnson  Hamstring, Inner Thigh and Quad Stretch [Video]. YouTube.
Adventure Capitalists. IMDB. https://www.imdb.com/title/tt6027096/
Shawn Johnson East and Andrew East. Edge Monitoring https://www.edgementoring.org/andrew-east-shawn-johnson-east
Shawn Johnson East and Andrew East join March of Dimes Celebrity Council. March of Dimes https://www.marchofdimes.org/about/news/shawn-johnson-east-andrew-east-join-march-dimes-celebrity-advocate-council
Any reader who wishes to provide any additions or revisions to this article, including updating any out-of-date information, please email [email protected].