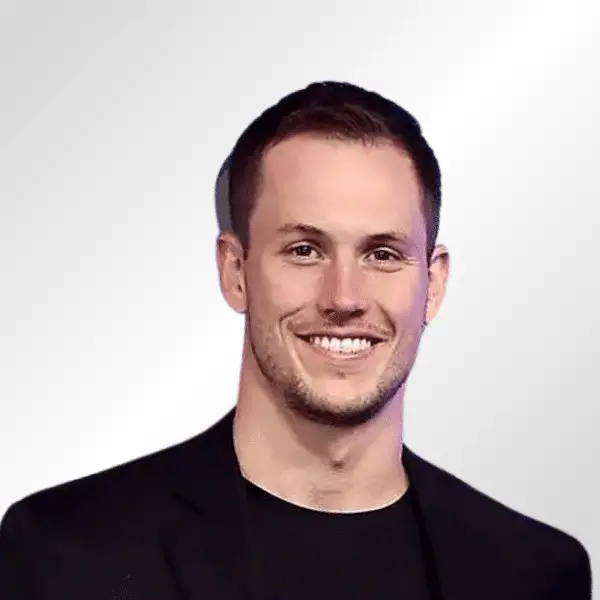 DOB:

September 17, 1991

Age:

32

Country:

United States

Resides:

Nashville, TN

Hometown:

Indianapolis, IN

Known For:

NFL Player

Spouse/Partner:

Shawn Johnson East

Religion:

Christianity

Education:

Vanderbilt University
About Andrew East
Andrew East is married to Shawn Johnson East, former Olympic gymnast and gold medalist. He and his wife host a YouTube channel and regularly post about their careers and family life on social media.[1]
Andrew Dean East was born September 17, 1991, in Indianapolis, Indiana. He is the middle of five kids and has three brothers and one sister. His father, a construction consultant, played football at Purdue University in Indiana as a tight end and snapper. As a kid, East participated in sports, competitive cycling racing, and the Eagle Scouts.[1][4]
East started playing football when he was eight and continued through high school. East attended North Central High School in Indianapolis, Indiana, where he played on the football team and earned the position of Team Captain.[4]
East began playing and excelling in the linebacker position in his junior and senior years of high school, posting 110 tackles in one year and 65 in the following year. He went on to play long-snapper (or deep-snapper), a center on special teams whose duty is to snap the football over a longer distance to gain points. He was named the All-Around-Area linebacker and also earned the award for Indiana Academic All-State honors.[4]
Football and NFL Career
East played college football at Vanderbilt University before going undrafted in the 2015 NFL Draft. He received a scholarship to Vanderbilt and was the football team captain for two consecutive years.[1]  While at Vanderbilt to study civil engineering, East snapped in all 51 games of his collegiate career. He also recorded 13 special teams tackles.[1][4]
His senior year, East was named a finalist for the Wuerffel Trophy, which honors collegiate athletes who also excel in academics and community service. Other honors he received included:[5] 
2014 SEC Good Works Team
2014 AFCA National Good Works Team
2015 Reese's Senior Bowl Participant
2014 SEC Academic Honor Roll
2013 SEC Academic Honor Roll
In the Vanderbilt newspaper, East was described in the following way prior to beginning his third season: "A model of consistency, East provides stability to both conversion and punt coverage units. An excellent athlete, East also possesses the athleticism to make downfield tackles covering punts."[1][4]
East is 6 feet, 2 inches tall, and weighed about 230 lbs when playing at Vanderbilt and in the NFL.[6] East earned an MBA from Vanderbilt's Owen School of Management in between playing football.[5] He was initially signed with the Seattle Seahawks as a free agent, although his contract was waived several months later. East also signed with several other NFL teams over the course of his career. He was with each team for several months as part of their "special teams" before his contracts were waived. The teams that East was contracted with include:[7][8][9]
Kansas City Chiefs
Oakland Raiders
Los Angeles Rams
Jacksonville Jaguars
Washington Redskins
Memphis Express (member of the Alliance of American Football)
In 2022, East announced that he would be retiring from professional football. He posted a video on his family's YouTube channel on February 25, 2022, explaining his retirement. In his retirement video, East thanked his former coaches for instilling a great work ethic and positive attitude in him and his teammates. He expressed gratitude for his football career but also excitement for the next chapter in his life as a retired professional athlete, husband, and father. In his words, "There's more to life, and I've never felt more passionate about that than now."[10]
In 2021 and 2022, East competed on two seasons of American Ninja Warrior, an American sports entertainment reality show. On ANW, East competed with other athletes in extremely challenging obstacle courses, displaying endurance, strength, and determination.[11] 
Family Life
East is married to former Olympic gymnast Shawn Johnson East. East met Johnson through his oldest brother Guy, who was an Olympic-caliber cyclist. The couple got married in April 2016 in Franklin, Tennessee. They now have two children, a daughter named Drew born in 2019 and a son named Jett born in 2021. The Easts currently live in the Nashville, Tennessee, area.[12]
East's wife, Shawn Johnson East, is a retired gymnast who won a gold medal in the balance beam competition at the 2008 Summer Olympics in Beijing. She has also won three other Olympic medals, including for team and all-around competitions. Johnson East became a successful author after writing several books about her gymnastics career and transition into retirement.[13] 
YouTube, Podcasts, and Blogging
On his website, East says, "Video editing has become a passion of mine and has led to a career that I never could have dreamt of. My wife and I started on YouTube, then expanded into other socials, and now have a passion for helping other people build their own brands and businesses."[1]
East is involved in several YouTube channels and podcasts, including:
Redirected with Andrew East, where East interviews athletes, entrepreneurs, comedians, and entertainers to learn about their struggles and advice.[14]
The East Family, where the Easts post videos and updates about their lives.[15]
FamilyMade Media, an online network created to help celebrate and connect families on their journeys.[16]
East's Instagram account has over 1.1 million followers. It features videos and posts that are "family-friendly, kinda cheesy, hopefully cute." He also occasionally posts blog posts on his website about topics including goal-setting, productivity, and family life.[17]
The Easts also contribute to several charities and causes.They're involved in organizations including the Children's Miracle Network, which is dedicated to promoting children's health and wellness, as well as the March of Dimes, which supports "healthy moms and strong babies."[18] [19] 
References
Leaders Media has established sourcing guidelines that rely on credible, expert-level, and primary sources for articles about people and companies. Articles are frequently edited by staff writers. Learn more about our mission, editorial ethics, and how we source references in our editorial policy.
Any reader who wishes to provide any additions or revisions to this article, including updating any out-of-date information, please email [email protected].