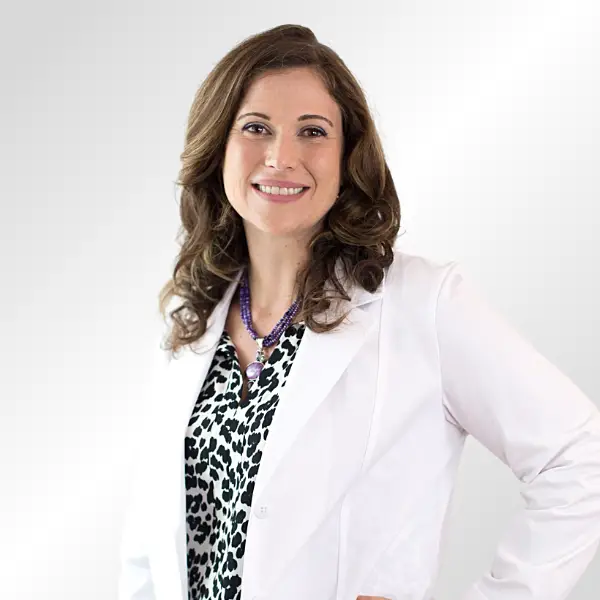 DOB:

November 13, 1977

Age:

46

Country:

United States

Resides:

Tucson

Hometown:

Ontario

Known For:

Creator of The Paleo Mom

Education:

University of Victoria
About Sarah Ballantyne
Dr. Sarah Ballantyne started her academic career in physics, earning an Honors Bachelor of Science with Distinction from the University of Victoria, Canada, in 1999. Her thesis work was in radiation therapy for prostate cancer.[2] 
At the age of 26, she earned her doctorate degree in medical biophysics from the University of Western Ontario in 2003. She has a strong academic background and has conducted scientific research in various fields, including immunology, inflammation, and genetics. Her personal health journey, battling multiple autoimmune diseases, inspired her to delve deeper into the connection between diet, lifestyle, and autoimmune conditions.[3] 
After achieving her doctorate, Ballantyne spent four years doing medical research at the Cardiology Department at St. Michael's Hospital in Toronto, Canada, and then in the Department of Cell Biology at The University Of Arizona. She later spent time researching cancer biology and cell trafficking, which is how cells shuttle proteins from one part to another in a targeted way.[2] 
Upon the birth of her first child, Ballantyne decided to take a break from her academic career and become a fully engaged stay-at-home mom. At the time of her child's birth, Ballantyne was obese and suffering from over a dozen immune- and autoimmune-related diseases. With the birth of her second child, she discovered the Paleo lifestyle, which she says had an amazing effect on her health and contributed to her loss of 120 pounds.[2] 
On the Paleo diet, Ballantyne reduced and reversed a long list of health issues, including irritable bowel syndrome, fibromyalgia, migraines, anxiety, asthma, allergies, and psoriasis. Her results and enthusiasm about the Paleo lifestyle led Ballantyne to create The Paleo Mom blog.[1] 
Paleo Mom
Ballantyne is the creator of the website The Paleo Mom, where she shares her knowledge, research, and practical tips on health, nutrition, and autoimmune wellness. The Paleo Mom features articles, recipes, and resources for those seeking to optimize their health, particularly those dealing with autoimmune diseases.[4]  
It has become the most-cited Paleo publisher and has 1.3 million article views and downloads. Readers can explore several categories that include recipes, lifestyle, autoimmunity, nutrition, and gut health.[4] 
Ballantyne also launched a guide named Nutrivore, which is the culmination of over a year of research and development. The key is to eat foods that meet the body's nutritional needs, which is explained in Ballantyne's e-book.[5]
The Whole View Podcast
The Whole View Podcast is a collaboration between Dr. Ballantyne and Stacy Toth of Real Everything. It includes 500 episodes that explore topics relevant to health and wellness, with weekly episodes dedicated to thoroughly answering listener questions.[6] 
"Stacy and Dr. Sarah approached each topic in a holistic and nuanced way, with a body-positive mindset, deep dives into the medical research and science, and practical tips for living our best lives, all informed by their own inspirational health journeys, personal experiences, and professional expertise," reads the podcast page. The 500-part podcast ended in 2022, but remains online for listeners.[6]
The most recent podcast episodes include the following titles:
"Genetics, Epigenetics and Social Determinants of Health"[7] 
"Environmental Allergies"[8] 
"Movement, Exercise, Snacks and New Posture Science"[9] 
"Microwaves, EMFs and 5G"[10] 
Publications
Here are the books written by Dr. Sarah Ballantyne, along with their publication dates and summaries:
The Paleo Approach: Reverse Autoimmune Disease and Heal Your Body (2014): In this comprehensive guide, Ballantyne explains the science behind autoimmune diseases and provides a detailed protocol known as the autoimmune protocol (AIP). The book covers the foundations of the AIP, including dietary and lifestyle modifications, and offers practical advice on implementing the protocol to manage autoimmune conditions and support healing.[11] 
The Paleo Approach Cookbook: A Detailed Guide to Heal Your Body and Nourish Your Soul (2014): Serving as a companion to The Paleo Approach, this cookbook complements the AIP by offering over 200 recipes that adhere to the protocol. The recipes are designed to be delicious, nutrient-dense, and suitable for individuals following the AIP or those looking to improve their health through a Paleo-style diet.[12] 
The Healing Kitchen: 175+ Quick & Easy Paleo Recipes to Help You Thrive (2015): Co-authored by Ballantyne and Alaena Haber, this cookbook provides a variety of paleo recipes that promote optimal health and healing. It includes flavorful dishes, such as soups, salads, mains, and desserts, all created with nutrient-dense ingredients to support well-being and encourage a balanced lifestyle.[13] 
Paleo Principles: The Science Behind the Paleo Template, Step-by-Step Guides, Meal Plans, and 200+ Healthy & Delicious Recipes for Real Life (2017): In this extensive book, Ballantyne offers a comprehensive resource on the Paleo diet and its scientific foundations. She explains the principles of the paleo template, delves into the scientific research behind it, provides step-by-step guides for implementation, and includes over 200 recipes to support a healthy and balanced lifestyle.[14]  
The Paleo Approach: Cookbook & Meal Planner (2019): This companion cookbook is designed specifically for those following the autoimmune protocol (AIP). It includes over 120 AIP-friendly recipes, along with weekly meal plans and shopping lists to simplify the process of meal preparation while adhering to the AIP guidelines.[15] 
Ballantyne also has several e-books available on her website, including the following:
Guide to Nutrivore[5]  
Nutrivore Weekly Serving Matrix[16]  
The Gut Health Guidebook[17]  
The Gut Health Cookbook[18]  
The Autoimmune Protocol[19]  
Go To Bed: 14 Steps to Healthier Sleep[20]  
The Paleo Template[21]  
Achievements and Accolades 
Dr. Sarah Ballantyne is a recognized authority in the field of autoimmune diseases, and her work has helped many individuals understand the connection between diet, lifestyle, and autoimmune conditions, as well as find practical strategies to support their health and well-being.[22] 
Ballantyne has earned several awards for her research and academic career. She earned awards for research excellence from the American Physiological Society three years in a row and from the Canadian Institute of Health Research/Biocontact Quebec.[23]  
She has had fellowships with the National Science and Engineering Research Council of Canada, the Canadian Heart and Stroke Foundation, Pfizer Canada, and the Canadian Institutes of Health Research.[2]  
During her academic career, Ballantyne filed one patent in both the U.S. and Canada, published 14 papers in peer-reviewed scientific journals, and wrote 25 abstracts that were presented at international conferences.[24]  
References
Leaders Media has established sourcing guidelines that rely on credible, expert-level, and primary sources for articles about people and companies. Articles are frequently edited by staff writers. Learn more about our mission, editorial ethics, and how we source references in our editorial policy.
Any reader who wishes to provide any additions or revisions to this article, including updating any out-of-date information, please email [email protected].