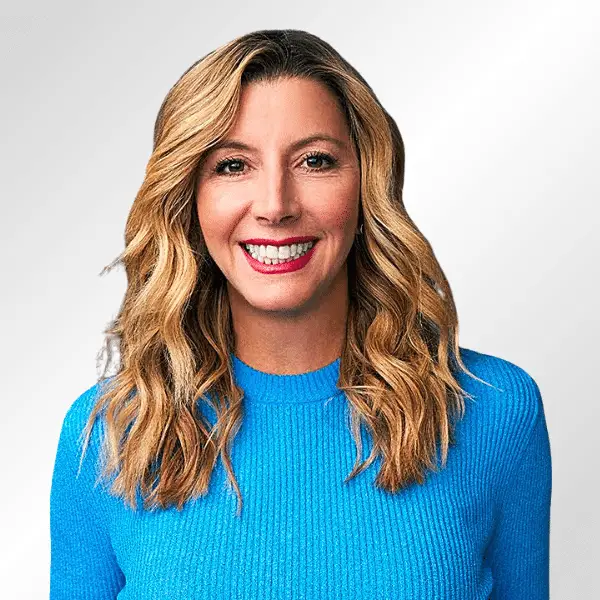 Sara Blakely
Billionaires
Entrepreneurs & Small Business
DOB:

February 27, 1971

Age:

52

Country:

United States

Resides:

Atlanta

Hometown:

Clearwater, FL

Known For:

Founder of Spanx

Spouse/Partner:

Jesse Itzler

Religion:

Judaism

Education:

Florida State University
About Sara Blakely
Sara Blakely was born on February 27, 1971, in Clearwater, Florida, to parents John and Ellen Blakely.[3] Her father, John Blakely, was a trial attorney, while her mother, Ellen Ford Blakely, was an artist.[4] Blakely grew up in a supportive family that encouraged her to embrace failure as a learning experience. Her father often asked her and her brother, Ford, what they had failed at during the week as a way to foster resilience and a growth mindset.[5]
Blakely attended Clearwater High School,[6] where she was an active participant in various extracurricular activities, including cheerleading.[7] She later enrolled at Florida State University (FSU) and earned a Bachelor of Arts degree in communications.[8] During her time at FSU, Blakely was a member of the Delta Delta Delta sorority and worked various part-time jobs to support herself, including selling fax machines door-to-door.[9][10] 
After graduating from college, Blakely planned to attend law school, following in her father's footsteps. However, she did not perform well on the Law School Admission Test (LSAT) and abandoned her law school plans. Instead, she took a job at Walt Disney World Resort in Orlando, Florida.[8]
In 2008, Blakely married Jesse Itzler, an entrepreneur, author, and former rapper from Long Island, New York.[11][8] The couple has four children, Lazer, Charlie, Lincoln, and Tepper, born between 2009 and 2016.[12] 
Spanx
Sara Blakely's journey to create Spanx started when she was working as a door-to-door fax machine salesperson. One day she realized she did not like the path she was on. She explains,  "So I wrote down on a piece of paper the things that I was good at, and one of them was sales. I just started thinking about that, and I ended up writing down in my journal, 'I want to invent a product that I can sell to millions of people that will make them feel good.'"[10] 
In a moment of inspiration, Blakely decided to cut the feet off a pair of pantyhose to achieve the desired look of shapewear, and the idea for Spanx was born.[8] 
Blakely spent the next two years researching patents, visiting hosiery mills, and learning everything she could about the undergarment industry. While she had no formal background in fashion or manufacturing, she persevered, using her marketing and sales skills to promote her innovative product.[10] In 1998, Blakely invested her life savings of $5,000 to launch Spanx.[7] 
Blakely's product began selling in seven Neiman Marcus stores after she convinced a buyer at the department store to carry her product.[1] Spanx was profitable from day one, earning $4 million in revenue in its first year and $10 million in the second.[8] But its popularity exploded in 2000 when Oprah Winfrey named Spanx her favorite product of the year.[7] 
As the company grew, Blakely continued to diversify the product line, expanding from footless pantyhose to a wide range of shapewear, undergarments, leggings, swimwear, and maternity wear.[1] 
In 2021, the Blackstone Group acquired a majority stake in Spanx, valuing the company at $1.2 billion.[13] In celebration of the deal, Blakely gave each of her employees $10,000 and two first-class plane tickets to a destination of their choice.[14] Today, Spanx is a global brand with products sold in over 50 countries.[1] 
Philanthropy
Sara Blakely is known not only for her business success but also for her philanthropic efforts. In 2013, she became the first female billionaire to join The Giving Pledge, a commitment by the world's wealthiest individuals and families to give away the majority of their wealth to address society's most pressing problems.[15]  
Blakely has focused her philanthropic efforts on empowering women and girls worldwide. In 2006, she launched the Sara Blakely Foundation to help women through entrepreneurship, education, and the arts. The foundation has supported various initiatives, including providing scholarships for young women and partnering with organizations like the Malala Fund to promote education for girls.[16] 
In addition to her foundation, Blakely has donated millions of dollars to other causes, such as disaster relief efforts and fighting human trafficking. In 2020, she pledged $5 million to support small female-run businesses during the COVID-19 pandemic. [17] 
Sara Blakely Quotes
"Embrace what you don't know, especially in the beginning, because what you don't know can become your greatest asset."[18] 
"It's important to be willing to make mistakes. The worst thing that can happen is you become memorable."[19] 
"You've got to visualize where you're headed and be very clear about it. Take a Polaroid picture of where you're going to be in a few years."[20] 
"Money is fun to make, fun to spend, and fun to give away."[21] 
"I think failure is nothing more than life's way of nudging you that you are off course."[19] 
Sara Blakely Today
Blakely lives with her family in Atlanta, Georgia, and remains the executive chair at Spanx.[22] She enjoys doing yoga each morning before helping her kids get ready for school.[23] As an influential business leader, Blakely often shares her thoughts on LinkedIn, where she is a "Top Voice" and has over 2.2 million followers.[24]
References
Leaders Media has established sourcing guidelines that rely on credible, expert-level, and primary sources for articles about people and companies. Articles are frequently edited by staff writers. Learn more about our mission, editorial ethics, and how we source references in our editorial policy.
Any reader who wishes to provide any additions or revisions to this article, including updating any out-of-date information, please email [email protected].