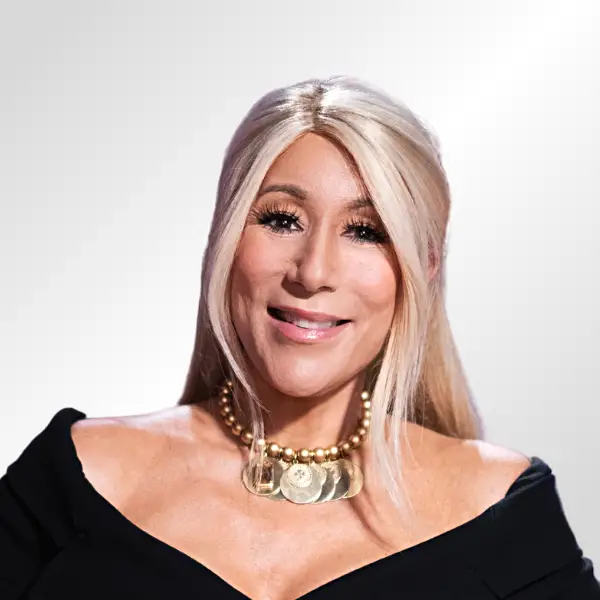 DOB:

December 9, 1969

Age:

53

Country:

United States

Resides:

Chicago, IL

Hometown:

Chicago, IL

Known For:

Shark Tank and QVC

Spouse/Partner:

Dan Greiner

Education:

Loyola University Chicago
About Lori Greiner
Lori Greiner was born on December 9, 1969, in Chicago, Illinois. Her mother worked as a psychologist and her father was a real estate developer.[2][3] 
Greiner attended Loyola University Chicago, where she studied communications, focusing on journalism, television, and film. After completing her education, she pursued a career in the media as a journalist and producer for the television station WTTW. She then worked as a producer for independent films before moving into retail product development.[2][4] 
Her entrepreneurial journey began when she created her first product, an earring organizer called the "Stud Earring Jewelry Box," which she launched in 1996. She took out a $10,000 loan to make a prototype of the earring organizer that she could sell through retail channels and sold over 2,500 units within two minutes on television's Home Shopping Network. She also sold the product in J.C. Penney. The success of this product marked the start of her career as an inventor and entrepreneur, and led to the launch of Greiner's retail product company For Your Ease Only.[2]
Queen of QVC
Greiner, now known as the "Queen of QVC," launched her own program on the network called Clever & Unique Creations in 2000. To date, Greiner has invented over 400 products and holds over 100 patents for items that solve everyday problems.[5][6] 
During her time on QVC, Greiner has created and sold numerous products in various categories, including household items, kitchen gadgets, and beauty products. She is known for her ability to spot marketable ideas and turn them into successful products. Her expertise in product development and her keen business acumen have earned her recognition as one of the most successful inventors and entrepreneurs in the retail industry.[5][6]
As a QVC presenter, Greiner's role involves introducing and demonstrating her products on-air, and also actively engaging with customers, answering their questions, and creating a sense of urgency to drive sales during live broadcasts. Her ability to connect with the audience and effectively communicate the unique selling points of her products has been instrumental in her success on QVC.[6]
Greiner's engaging and enthusiastic presentation style, coupled with her genuine passion for entrepreneurship and innovation, has endeared her to QVC's audience.[5] 
Shark Tank
ABC's Shark Tank premiered in 2009 and Greiner has been a regular fixture on the successful show, investing in over 30 companies. Shark Tank lends to Greiner's entrepreneurial spirit and has gained her widespread fame and recognition as a cast member. The show evaluates business pitches from aspiring entrepreneurs, and "sharks" invest in the ones they believe have the most potential for success. Greiner's role on the show has further solidified her status as a prominent figure in the world of business and entrepreneurship.[4][7]
Lori's negotiation style is often characterized by her directness, but she is also known for showing empathy and understanding toward the entrepreneurs. She is known as the warm blooded shark who considers not only the product's potential, but also the entrepreneur's passion, dedication, and business acumen before deciding whether to invest.[8] 
As a shark, Greiner has made numerous investments in various businesses featured on the show. Her investments have spanned a wide range of industries, including kitchen gadgets, beauty products, fashion accessories, and more. Beyond the financial investment, her involvement often includes offering guidance, advice, and leveraging her extensive network to help the entrepreneurs grow their businesses.[9]
Throughout her tenure on Shark Tank, Greiner has become one of the most beloved and respected sharks by both the entrepreneurs and the audience. Her entrepreneurial success, combined with her genuine interest in helping others achieve their dreams, has made her a prominent figure on the show and a source of inspiration for aspiring business owners.[9]
One of Greiner's most successful deals was during a 2012 episode of Shark Tank, when Aaron Krause pitched a product that serves as a better version of the traditional sponge called Scrub Daddy. Greiner made a deal with Krause, offering $200,000 for 20% of the company. Greiner told the aspiring entrepreneur that she would make him a "millionaire within a year." One year later, Greiner sold 42,000 sponges to QVC viewers in just seven minutes and got the product into several retail stores. As of July 2022, more than 10 million units have been sold. Krause and Greiner have gone on to create 48 new products that are sold in over 30,000 retail stores across the globe. The company has done $400 million in retail sales in nine years.[10][11] 
Other notable deals that Greiner has made on Shark Tank include:[12] 
Squatty Potty: $222 million in retail sales
Bantam Bagels: $40 million in retail sales, sold in Starbucks and over 16,000 stores
Qball: $3.9 million in sales in two years
Phone Soap: $150 million in retail sales
EverlyWell: $300 million in retail sales
Invent It, Sell It, Bank It
Greiner wrote her book, Invent It, Sell It, Bank It, in 2014 and it became a national bestseller that was named one of the top 10 business books by Amazon. The book is a "hands-on, nuts-and-bolts guide to getting a new product or company off the ground and making it profitable," according to publisher Penguin Random House.[13] 
The book covers how to do market research, move from concept to final product, find funding and cost-effective manufacturing, and protect your idea.[14] 
Philanthropy
According to her website biography, Greiner is a great believer that if you're lucky enough to be successful, you have a responsibility to give back. She has become known for her philanthropic efforts, serving as a board member of the Children's Memorial Foundation and Art Institute of Chicago. She also donates to the Make-A-Wish Foundation, Kind Campaign, and the Trevor Project.[4][15] [16]
Lori Greiner Today
Greiner is married to Dan Greiner, a former controller at a manufacturing company who then became the manager of finances for Greiner's product company For Your Ease Only.[2] 
In 2017, Greiner was inducted into the American Entrepreneur Hall of Fame and was named one of the "Top 25 Most Influential Women in Business." In 2002, she was named one of the "Top 100 Most Fascinating Women in Entertainment" by Entertainment Weekly and in 2003, she won an Emmy Award for Outstanding Lifestyle Host for her role on The Smartest Shopper TV Show. Greiner also won a Gracie Award for Outstanding Program Host in 2012 and was inducted in the National Retail Federation's Hall of Fame in 2018.[4] 
Greiner continues her work on QVC and Shark Tank, which is in its 15th season on ABC. She is also a sought after speaker for several high-profile companies and organizations, including the American Heart Association, IBM, Chase, Verizon, and Adobe.[13][17] 
References
Leaders Media has established sourcing guidelines that rely on credible, expert-level, and primary sources for articles about people and companies. Articles are frequently edited by staff writers. Learn more about our mission, editorial ethics, and how we source references in our editorial policy.
Inventor & Entrepreneur | Lori Greiner. (2023, July 24). Lori Greiner: Inventor & Entrepreneur | Home. https://lorigreiner.com/ 
Parker, G. (2023). 20 Things You Didn't Know about Lori Greiner. Money Inc. https://moneyinc.com/lori-greiner/ 
IMDb. (n.d.). Lori Greiner. IMDb. https://www.imdb.com/name/nm4883262/bio/ 
Aakash. (2023, June 12). Is Lori Greiner still on QVC? Unraveling the facts. QVC Hosts Facts. https://qvchostsfacts.com/is-lori-greiner-still-on-qvc-unraveling-the-facts/ 
Lori Greiner Net Worth: From inventor to investor. (2023). Lori Greiner Net Worth: From Inventor to Investor – MoneyMade. https://moneymade.io/learn/article/lori-greiner-net-worth 
Lori Greiner — For the Home – QVC.com. (n.d.). https://www.qvc.com/for-the-home/lori-greiner/_/N-lgluZ1z141p9/c.html 
Tun, Z. T. (2023). 8 Most successful products from "Shark Tank" Investopedia. https://www.investopedia.com/articles/investing/082415/10-most-successful-products-shark-tank.asp 
Shark Tank- about. (n.d.). CNBC. https://www.cnbc.com/shark-tank-about/ 
Leidy, L. (2023, July 26). "Shark Tank" investor Lori Greiner's net worth can buy her a LOT of QVC products. Parade: Entertainment, Recipes, Health, Life, Holidays. https://parade.com/celebrities/lori-greiner-net-worth 
Thomas, M. (2023). Scrub Daddy Made Lori Greiner An Absolute Fortune After She Invested In It On Shark Tank. TheThings. https://www.thethings.com/how-much-did-lori-greiner-make-from-scrub-daddy-net-worth-after-investing-as-shark-tank-judge/ 
Scrub Daddy – Lori Greiner: Inventor & Entrepreneur | Home. (2021, September 15). Lori Greiner: Inventor & Entrepreneur | Home. https://lorigreiner.com/newsroom/products_cpt/scrub-daddy/
Lori Greiner | Shark Tank. (n.d.). ABC. https://abc.com/shows/shark-tank/cast/lori-greiner 
Invent It, Sell It, Bank It! by Lori Greiner: 9780804176439 | PenguinRandomHouse.com: Books. (2014, March 11). PenguinRandomhouse.com. https://www.penguinrandomhouse.com/books/234661/invent-it-sell-it-bank-it-by-lori-greiner/ 
About Lori – Lori Greiner: Inventor & Entrepreneur | Home. (2023, July 24). Lori Greiner: Inventor & Entrepreneur | Home. https://lorigreiner.com/about-lori/ 
Holzman, C. (2016, April 8). Lori Greiner is the 'Shark' with a heart. Entrepreneur. https://www.entrepreneur.com/leadership/lori-greiner-is-the-shark-with-a-heart/270457 
Kimball, T. (2023). Shark Tank: Season 15; ABC Entrepreneur Series renewed for 2023-24. Canceled + Renewed TV Shows – TV Series Finale. https://tvseriesfinale.com/tv-show/shark-tank-season-15-abc-entrepreneur-series-renewed-for-2023-24/
Any reader who wishes to provide any additions or revisions to this article, including updating any out-of-date information, please email [email protected].