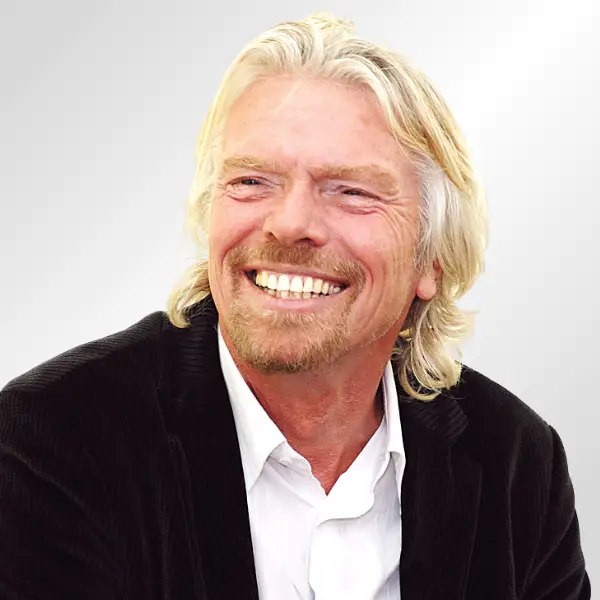 DOB:

July 18, 1950

Age:

73

Country:

United States

Resides:

British Virgin Islands

Hometown:

London, UK

Known For:

Founder of Virgin Group

Spouse/Partner:

Joan Templeman

Children:

Holly Branson, Sam Branson

Religion:

Atheism

Education:

Stowe School
About Richard Branson
Richard Branson, a successful British businessman and entrepreneur, is the founder of the successful Virgin brand, which encompasses more than 40 different companies.[4] Branson got his start in business in 1973 when he formed Virgin Records.[3] Virgin Records, the launch pad for the Virgin Group empire, was a British record store and Branson's first major company. He would later grow it into a major record label for music artists like The Rolling Stones.[3] 
Today, Virgin Group employs over 60,000 people, oversees 40 different companies within travel, entertainment, media, and health, and operates in 35 countries.[4] In 2000, Branson was knighted by Queen Elizabeth II, giving him the formal name of "Sir Richard."[5]
Early Life
Richard Branson was born Richard Charles Nicholas Branson on July 18, 1950, in Shamley Green, Surrey, England.[3] His father, Edward "Ted" Branson was a barrister, and his mother, Eve was a ballet dancer and flight attendant.[6] Branson was the oldest of three; he has two younger sisters. 
When Branson was 15, he tried selling parakeets and Christmas trees to raise money for a magazine he wanted to publish.[7] While both of those earnest pursuits failed, his mother acquired a small sum of money from a necklace she had found.[7] She gave this money to Branson, and he was able to create his magazine, which he called Student.[6]
The magazine would ultimately go national in Britain and feature celebrity interviews with people like Mick Jagger, James Baldwin, and Vanessa Redgrave. Branson struggled in school because of his dyslexia, so he eventually dropped out and began working on the magazine full-time.[6] When Student began to lose money in the 1960s, Branson formed Virgin Mail Order Records, the first time he had begun doing business using the name "Virgin."[1] 
In 1973, when Branson was just 23, he opened his first discount British record store in Oxford, London, Virgin Records. Virgin Records would then become the Virgin Record Label.[3] 
Early Career and Failures
In 1984, Branson also formed Virgin Atlantic Airways.[7] Then, in 1992, Branson sold Virgin Records to provide more funding to Virgin Atlantic.[3] By the 1990s, Virgin Group had become one of the largest privately held companies in the UK.[3] Despite these obvious successes, however, Branson experienced his share of failed business ventures, as well. 
In 1994, he launched Virgin Cola, a soft drink intended to compete with Pepsi and Coke.[8] Unfortunately, the brand wasn't unique enough to generate a loyal consumer base, and the company folded within a few years.[8] In 1996, Branson stepped into fashion by launching Virgin Brides, a wedding dress boutique that accompanied the clothing line and the cosmetic brand he had already opened. Unfortunately, it failed to drive enough sales to remain open.[8]
In 2000, Branson tried his hand at the automobile industry by launching Virgin Cars.[8] Virgin Cars set out to be an online car dealer, but that, too, failed within a few years. Then in 2005, Virgin Digital, an online music library, made its debut to compete with iTunes. After losing the battle with Apple, Virgin Digital shut down two years later.[8]
A Snapshot of Virgin Group
Virgin Records (1973): Branson opens the first British discount record store.[3] 
Virgin Atlantic Airways (1984): Branson becomes a major investor in an airline and renames it Virgin Atlantic Airways.[3]
Virgin Atlantic Holidays (1985): Branson founds Virgin Atlantic Holidays, a transatlantic travel company.[9]
Virgin Express (1996): Virgin Group acquires an airline called Euro Belgian Airlines and renames it Virgin Express.[1]
Virgin Trains (1997): Branson acquires his own railway division called Virgin Trains.[1]
Virgin Mobile (1999): Virgin Group opens a mobile phone service called Virgin Mobile.[10] The service is sold in 2006 and is renamed Virgin Media, Inc.[3] 
Virgin Galactic (2004): Branson's space tourism company, Virgin Galactic, makes a deal with SpaceShipOne to use their technology for tourist suborbital space flights.[1]
Virgin Comics and Virgin Animation (2006): Richard Branson, Shekhar Kapur, Deepak Chopra, Gotham Chopra, and Sharad Devarajan form Virgin Comics.[1]
Virgin Healthcare (2008): Branson acquires Virgin Care, a healthcare subdivision, which has since been acquired by Twenty20 Capital and rebranded as HCRG Care Group.[11]
Virgin Hotels (2010): Branson forms Virgin Hotels to add to the other hospitality companies under the Virgin Group umbrella. The first Virgin Hotel property opened in 2015 in Chicago.[12] 
Virgin Orbit (2022): Branson's space aircraft company was granted a license to conduct the first-ever space launch in the UK.[13] 
Philanthropy
Aside from being an international business mogul and billionaire, Richard Branson is also a philanthropist.[3] Not only does he personally financially contribute to over 37 different charities, but he's pledged to donate 50% of his fortune to charity.[14] 
In 2004, Branson formed Virgin Unite, a nonprofit organization dedicated to uniting entrepreneurs to create a better world.[15] Today, Branson says he is committed to using Virgin Unite as a platform for improving LGBTQ+ rights and drug policy reform. He also hopes to shed light on climate change and the death penalty.[15] 
In an article for Chatelaine, Branson says, "Fortunately, early on in my life, I realized that personal 'stuff' really didn't matter. Joan and I lived on a houseboat, and one day it sank. We realized that we missed nothing except our treasured photo albums."[16]
Family and Personal Life
Richard Branson has been married twice and has two children.His first marriage was to Kristen Tomassi, from 1972 until 1979. In 1976, Branson met Joan Templeman, and the two married on Necker Island in 1989.[1] 
Branson's daughter, Holly Branson, was born in 1981.[1] Today, she is Virgin Group's Chief Purpose and Vision Officer, a co-founder of Big Change and a chair for Virgin Unite. Branson's son, Sam Branson, was born in 1985. Today he is the founder of Sundog Pictures, co-founder of Big Change, and a father.[17]
Branson is also known for his adventurous pursuits. In 1986, Branson and a partner set a record for crossing the Atlantic Ocean in a powerboat. Then in 1987, he and Swedish aeronaut Per Lindstrand were the first to cross the Atlantic Ocean in a hot air balloon.[3] 
Rochard Branson Today
In December 2022, Virgin Orbit—Branson's aircraft company—was granted a license to conduct the first-ever space launch in the UK.[13] The launch, which was named mission "Start Me Up," took place on January 9, 2023, and was live-streamed on YouTube.[18][19] 
Richard Branson, now 73, spends his time at his home on Necker Island, a luxurious part of the British Virgin Islands.[20] He is active on his Instagram account, which has millions of followers, and enjoys sharing videos of the wildlife he interacts with at his home on Necker Island.[21] 
In a Q&A Instagram interview with Virgin Hotels NYC in January 2023, Branson shares his preference for "red anything" cocktails, that he is now a morning person, and that his greatest compliment was from George Clooney, who reportedly said he wanted to switch lives with Branson for 24 hours.[21] 
Richard Branson Quotes
References
Leaders Media has established sourcing guidelines that rely on credible, expert-level, and primary sources for articles about people and companies. Articles are frequently edited by staff writers. Learn more about our mission, editorial ethics, and how we source references in our editorial policy.
Any reader who wishes to provide any additions or revisions to this article, including updating any out-of-date information, please email [email protected].