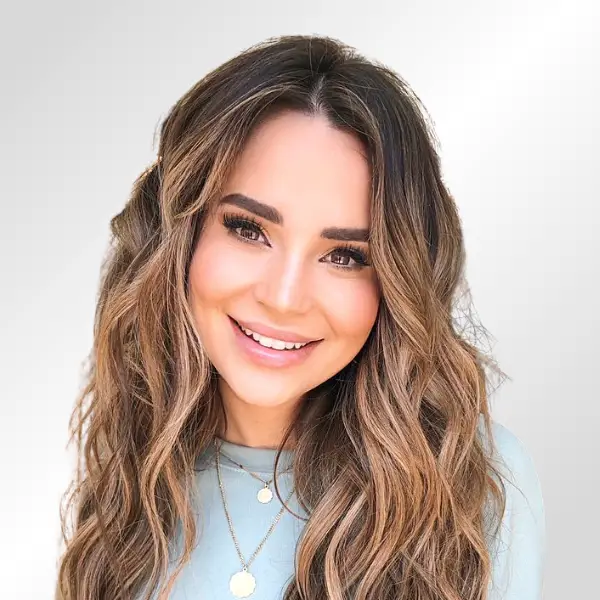 Rosanna Pansino
Content Creators
Lifestyle Influencers
DOB:

June 8, 1985

Age:

38

Country:

United States

Resides:

Los Angeles, CA

Hometown:

Seattle, WA

Known For:

Creator of Nerdy Nummies

Religion:

Catholicism

Education:

Pacific Lutheran University
About Rosanna Pansino
Rosanna Pansino was born on June 8, 1985, in Seattle, Washington. She is of German, Croatian, Italian, and Irish ancestry. She attended Pacific Lutheran University in Parkland, Washington, and then moved to Los Angeles to pursue a career in acting.[2] 
Pansino has always been a hard worker, holding jobs since the age of 12, including dog walking, babysitting, waitressing, and working as a barista. Her goal was to become an actress and she earned gigs like working as an extra on shows like Glee. After posting baking videos on YouTube and experiencing a hint of success, she started creating Nerdy Nummies, a hugely successful cooking channel that launched her career.[3]
She explains in an NPR interview that because she's dyslexic, she always learned best through visual content and clear communication, two elements that she captures in her now-famous YouTube channel.[4] 
Pansino lives in Los Angeles, California, with her partner, Mike Lamond, a YouTuber, sports commentator, and voice actor known as "Husky."[5]
Nerdy Nummies
Pansino began posting baking videos on YouTube in 2009 and launched her Nerdy Nummies channel in 2011. When she was in her mid-20s, she took the financial risk to invest her savings into her YouTube career and halt her acting aspirations.[3] 
The Nerdy Nummies channel is based on the things Pansino loved growing up, including science, reading, video games, movies, and more.[2] 
In an article published by Bustle, Pansino said, "My dad loves to cook and my mom loves to bake—and we still do! Making and having dinner together is something my family really valued, and it's definitely influenced me today. It's influenced a lot of what I do."[6] She and her parents would often make themed pizzas and other meals that inspired her creative and fun approach to cooking. Her father died in 2019 after a six-year battle with leukemia and Pansino gave credit to him in a social media post, writing, "You made me who I am today."[7]
Pansino spent the first few years on YouTube building her audience and was eventually named one of the highest paid YouTube stars by Forbes in 2015 and 2016.[8] 
She continues to post YouTube videos and has her own website, rosannapansino.com, which offers recipes and merchandise, including apparel, plushies, accessories, and cookbooks.[9] 
Other Works 
Apart from her YouTube channel, Pansino has also appeared in various television shows, including small roles in the animated series Broken Quest in 2013, the sitcom Parks and Recreation, CSI: Crime Scene Investigation, and CBS's NCIS: Los Angeles.[10] 
In 2015, Pansino released her first music single and video called "Perfect Together," which has 25 million views on YouTube.[11] 
She is also a New York Times bestselling author. In 2015, she published The Nerdy Nummies Cookbook, which showcases Pansino's favorite "geeky" recipes that highlight her creative, quirky, and fun cooking style. "The Nerdy Nummies Cookbook combines two things Rosanna loves: geek culture and baking. Her fondness for video games, science fiction, math, comics, and lots of other things considered 'nerdy' have inspired every recipe in this book," reads the book description.[12] 
Pansino's second book, Baking All Year Round, was published in 2018 and includes more than 85 recipes for holidays and special occasions. Pansino provides fun and creative recipe ideas, including some that are gluten-free, dairy-free, and vegan-friendly.[13] 
In 2015, Pansino was the executive producer and host of two holiday food specials on the Cooking Channel. Two years later, she partnered with Wilton to launch the Rosanna Pansino baking line.[14][15]
Awards and Impact
Nerdy Nummies is the most popular cooking channel on YouTube today. Pansino has amassed over 14 million subscribers and she has received several awards and accolades, including the following:
Shorty Award for "Best Foodie, Chef or Food Lover in Social Media," 2013[16]
Forbes, "Highest-Paid YouTubers," 2015–2016[17] 
Streamy Award nominations in the "Food Category" for Nerdy Nummies[18] 
Webby Awards in "People's Voice" in 2016, 2018, and 2021[19] 
Taste Award for being the "Breakout Foodie of the Year," 2016[20] 
Forbes, "Top Influencer of the Year," 2017[21] 
References
Leaders Media has established sourcing guidelines that rely on credible, expert-level, and primary sources for articles about people and companies. Articles are frequently edited by staff writers. Learn more about our mission, editorial ethics, and how we source references in our editorial policy.
Any reader who wishes to provide any additions or revisions to this article, including updating any out-of-date information, please email [email protected].