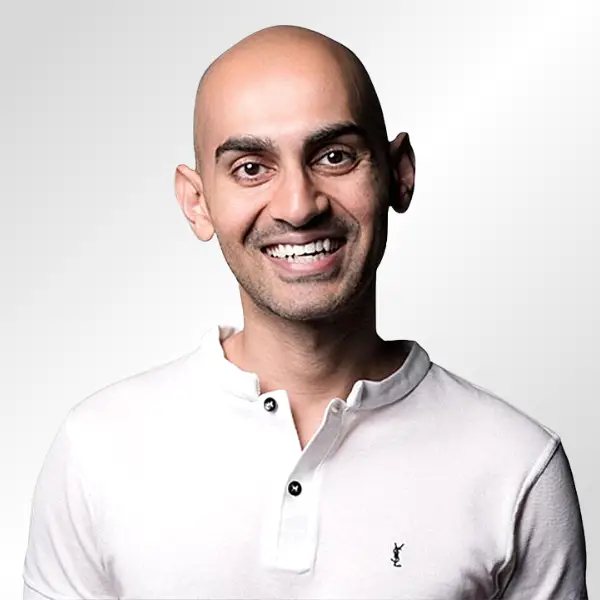 DOB:

April 25, 1985

Age:

38

Country:

United States

Resides:

Las Vegas

Hometown:

London

Known For:

Digital marketing advice

Spouse/Partner:

Michelle Patel

Religion:

Christianity

Education:

Cypress College
About Neil Patel
Neil Patel was born on April 14, 1985, in London, England. He moved to California with his family as a young child.[3] 
Patel began his career in online content marketing as a high schooler after taking marketing classes at a community college. In his late teens, he created his first website, a job board site called Advice Mokey.[3] At this time, he also gained experience working in TV media, photography, and print marketing. He quickly realized he had a talent for search engine optimization (SEO) and driving traffic to websites, leading him to focus his career on these skills. 
After completing his studies at California State University, Fullerton, Patel started his first company in 2008 called Crazy Egg, which offered website optimization tools to businesses.[4] The company quickly gained popularity and was soon followed by other successful ventures, such as Hello Bar, which provides website pop-ups and conversion optimization tools. He followed up these endeavors with a web analytics platform called KISSmetrics.[5] 
Digital and Content Marketing Accomplishments
Patel's success in digital marketing led to him becoming a sought-after consultant and speaker, including for well-known companies and "tech giants" such as Amazon, Google, Microsoft, and Airbnb.[3] Additionally, he has used his expertise to help startups and entrepreneurs build their online presence and grow their businesses. 
Forbes has referred to Patel as a "Top 10 Marketer," while former President Barack Obama included him in the "Top 100 Entrepreneurs Under 30" list.[6][7] Many other publications consider him to be one of the best SEO strategists and social media marketing influencers to follow and to learn from.[8] 
In 2017, Patel became the founder of NP Digital, a marketing agency that's an "alternative to the status quo" and "built on values, fueled by data and driven by creativity."[9][10] NP Digital has offices in eight countries, more than 750 employees, and more than 950 clients to date. Patel also notes that his agency is "minority-founded and minority-owned" and "a diverse organization that is inclusive."[10] 
In addition to NP Digital, Patel is the creator of the SEO tool called Ubersuggest, which was launched in 2017. Ubersuggest is a keyword research tool that offers features including SEO analyzing, A/B testing, and backlink checking.[11] 
Throughout his career, Patel has been a strong advocate for using data and analytics to inform marketing strategies. He's credited with helping to popularize many marketing tactics and techniques that are now commonly used in SEO, content marketing, and across social media platforms. For instance, he's written about "growth hacking," a marketing technique used by startups to quickly and efficiently grow their user base. He's also taught his audience how people can establish their own "personal brands" using social media in order to gain a following and make money from affiliates.[12] 
On his website and personal blog, neilpatel.com, Patel goes into depth on many marketing topics and offers real-life examples.According to an article on his website, his blog has about 9 million readers every month, with more than 50% of readers paying for membership-only content.[13] Patel claims his site to be "one of the top 100 blog destinations in the world."[10] 
Today, Patel is a frequent speaker at industry conferences and events.[14] Since beginning his career, he's spoken at over 310 events, sharing his insights and strategies on digital marketing, SEO, email marketing, content marketing, and social media.[1]  
Controversy 
While Patel is an influential figure in the digital marketing industry, there's also been some controversies surrounding his business practices and his public image, especially among some marketing professionals who initially looked up to his work.[15] Here are a few examples of criticisms regarding Patel's work:
Accusations of unethical marketing tactics: Some critics have accused Patel of using questionable or unethical tactics to promote his businesses and services, such as misleading claims or aggressive sales tactics. Many of these claims have been disputed by Patel and his supporters.[16] 
Plagiarism accusations: Patel has been accused of plagiarizing content from other websites and using it on his own blog. He openly talks about content stealing and has admitted it has happened to him, such as by stating that he has hired freelance writers in the past who have copied content from other sources.[17] 
Criticism of his SEO strategies: Patel is known for his expertise in SEO, but some critics have accused him of using outdated or ineffective strategies, such as keyword stuffing or over-optimizing content for search engines. 
Bad press for not reading books: Patel gained negative attention in 2021 for publicly saying in a video that he doesn't ever read books to continue learning because he thinks they're often outdated and that other forms of content are more useful.[18]In his words, "I don't spend my time reading books. Instead, I spend three hours a day reading blogs, Instagram, YouTube — all the other places I can consume information faster — and you should too."
Podcast and Books
Patel has co-authored several high-earning books, as well as eBooks and guides, that are focused on online marketing and website optimization. Throughout his books, he shares his personal stories about how he built his company, plus offers advice for creating content that engages target audiences.
Patel's guides and books include:[2] 
In addition to his blog, YouTube channel, and books, Patel hosts the Marketing School podcast, which has aired more than 2,000 episodes and has over 1 million monthly listeners[20][21] He created the podcast with another entrepreneur named Eric Siu. Today, Marketing School is considered one of the most popular digital marketing podcasts. Patel's marketing YouTube channel also has over 1.1 million monthly views and more than 1 million subscribers.[20] His Instagram account also has nearly 400,000 followers.[22] 
References
Leaders Media has established sourcing guidelines that rely on credible, expert-level, and primary sources for articles about people and companies. Articles are frequently edited by staff writers. Learn more about our mission, editorial ethics, and how we source references in our editorial policy.
Neil Patel. LinkedIn. https://www.linkedin.com/in/neilkpatel/
Neil Patel. Amazon. https://www.amazon.com/neil-patel-Books/s?k=neil+patel&rh=n%3A283155\
9 Unique Facts About Neil Patel. Inc. https://www.inc.com/larry-kim/9-unique-facts-about-neil-patel.html
Neil Patel – Author Biography | Entrepreneur. (2018, May 16). Entrepreneur. https://www.entrepreneur.com/author/neil-patel 
TechCrunch is part of the Yahoo family of brands. (2012, November 15). https://techcrunch.com/2012/11/15/kissmetrics-power-report/?guccounter=1
Schawbel, D. (2016, September 13). Neil Patel: Building A Career Is About Flexibility, Curiosity And Adaptability. Forbes. https://www.forbes.com/sites/danschawbel/2016/09/13/neil-patel-building-a-career-is-about-flexibility-curiosity-and-adaptability/?sh=1ff6513048be
Marketing Guru, Neil Patel: I don't think I know everything, I just keep learning. (2023, February 28). Natfluence. https://natfluence.com/interview/neil-patel/
Sharma, R. (2023, January 30). Top 112 Social Media Marketing Influencers to Follow in 2023 | Statusbrew. Statusbrew Blog. https://statusbrew.com/insights/top-social-media-marketing-influencers/
Sullivan, L. Search & Performance Marketing Daily: Former Agency Co-CEOs Reunite At Neil Patel Digital. https://www.mediapost.com/publications/article/350434/former-agency-co-ceos-reunite-at-neil-patel-digita.html
About NP Digital: The Alternative to the Agency Status Quo. (2023, February 23). NPD Global. https://npdigital.com/about/
(2021, October 24). Is Ubersuggest by Neil Patel a Good Freemium SEO Tool? – Spell Out Marketing. Spell Out Marketing. https://spelloutmarketing.com/ubersuggest-neil-patel/
Patel, N. (2021b, September 13). The 34 Marketing Principles I Live By. Neil Patel. https://neilpatel.com/blog/marketing-principles/
Patel, N. (2021, August 28). The Secret Behind My 1,866,913 Monthly Search Visitors (It's Not What You Think). Neil Patel. https://neilpatel.com/blog/more-google-traffic/
NEIL PATEL – BRAND MINDS. BRAND MINDS. https://brandminds.com/speaker/neil-patel/
Tank, S. (2021, October 12). Neil Patel – Cunning Scammer Earning Millions – Gripeo. Gripeo. https://www.gripeo.com/neil-patel-review/
Brown, T. (2020, June 11). Why Does Neil Patel Steal Content and Is it Unethical (or Bad for SEO?) | Hook Agency. Hook Agency. https://hookagency.com/blog/neil-patel-steals/
Patel, N. (2022, March 2). Duplicate Content: 5 Myths and 5 Facts About How It Impacts SEO. Neil Patel. https://neilpatel.com/blog/myths-about-duplicate-content/
Ellefson, L., & Ellefson, L. (2021, June 10). NY Times Bestselling Author Torn Apart for Saying He Doesn't Read Books. TheWrap. https://www.thewrap.com/neil-patel-books-twitter/
Tempesta, E. (2021, June 11). NY Times bestselling author is mercilessly mocked on Twitter after sharing he doesn't read books. Mail Online. https://www.dailymail.co.uk/femail/article-9678193/NY-Times-bestselling-author-mercilessly-mocked-Twitter-sharing-doesnt-read-books.html
Neil Patel. Youtube. https://www.youtube.com/channel/UCl-Zrl0QhF66lu1aGXaTbfw 
Home – Marketing School Podcast. (2017, November 13). Marketing School Podcast. https://marketingschool.io/
Neil Patel. Instagram. https://www.instagram.com/neilpatel/?hl=en
Any reader who wishes to provide any additions or revisions to this article, including updating any out-of-date information, please email [email protected].