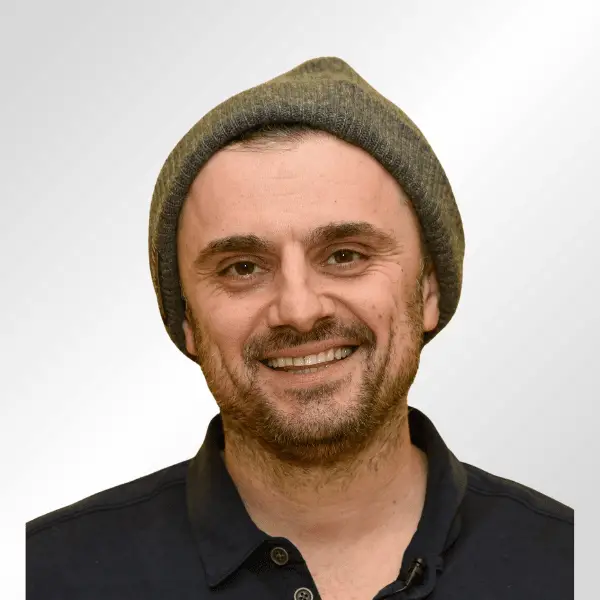 DOB:

November 14, 1975

Age:

48

Country:

United States

Resides:

Upper East Side, NY

Hometown:

Babruysk, Belarus

Known For:

Advertising Advice and Hustle

Children:

Misha Ava Vaynerchuk and Xander Avi Vaynerchuk

Religion:

Ashkenazi Jewish

Education:

University of Massachusetts Amherst
About Gary Vaynerchuk
Gary Vaynerchuk's success with social media platforms and producing business content landed him a ten-book deal with HarperCollins in 2008.[4] At around the same time, Vaynerchuk founded the digital agency VaynerMedia, a company that offers consulting and marketing strategy services for Fortune 500 businesses.[5] Vaynerchuk has diversified his portfolio as well, creating a parent company called VaynerX which features other media companies under its umbrella.[4]
Vaynerchuk is the chairman of VaynerX, a digital agency he founded after successfully increasing business at his father's liquor store, which he renamed Wine Library. He has appeared on numerous television programs with hosts such as Conan O'Brien and Ellen Degeneres. He's also active on social media building his own personal brand and hosts a global top 100 podcast. Vaynerchuk has written six books, five of which have gone on to become New York Times bestsellers.[6] 
Early Life
Gary Vaynerchuk was born in modern-day Belarus with the first name Gennady.[7] When he was only three-years-old, Vaynerchuk and his family moved to the United States, starting off in Queens, New York, before ending up in Edison, New Jersey.[8] At only 14, Vaynerchuk began working in his father's liquor store, then called Shoppers Discount Wine & Liquor.[9] Despite his job, he stayed active in school and graduated from North Hunterdon High School.[9] 
Growing the Family Business
In 1996, Vaynerchuk came up with the idea to not only rename his father's liquor store "Wine Library" but to take their sales online, making them one of the nation's first sites to do this with alcohol.[3] Ten years later, he launched WineLibrary TV, an episodic video series on YouTube, which helped grow his father's company until they made $60 million a year in revenue.[10] On WineLibrary TV, Vaynerchuk would provide his own reviews on the wines for sale in the store.[3]
Building a Personal Brand
Fueled by the success of his efforts on social media, Vaynerchuk would soon leave his family's business to strike out on his own. He would later land a speaking gig at the Web 2.0 Expo in New York City in 2008, where he gave the keynote address.[11] His speech proved to be a big hit and a game changer,[12] prompting HarperCollins to offer a ten-book deal worth $1 million.[3]
Books
Vaynerchuk has written six books, including five which have landed on the New York Times bestseller list. The books include Crush It!: Why Now Is the Time to Cash In on Your Passion, The Thank You Economy, Twelve and a Half: Leveraging the Emotional Ingredients Necessary for Business Success, #AskGaryVee: One Entrepreneur's Take on Leadership, Social Media, and Self-Awareness, Jab, Jab, Jab, Right Hook: How to Tell Your Story in a Noisy Social World, and Crushing It!: How Great Entrepreneurs Build Their Business and Influence—and How You Can, Too.[13]
While the books cover a variety of topics, they mainly deal with how to become a successful entrepreneur by leveraging your personal brand through social media and other tools. His first book—Crush It![14]—was published in 2009, and his most recent book—Twelve and a Half—was published in late 2021.[15]
Media Companies
In 2009, with his younger brother AJ, Vaynerchuk founded VaynerMedia, a company dedicated to digital advertising through social media.[16] The company has grown tremendously over the years and reached more than $100 million in revenue by 2006.[17] VaynerMedia's success culminated in creating an ad for the Super Bowl for the first time in 2020—the "Crunch Time" ad for Planters would generate the most mentions on Twitter.[18]
VaynerMedia falls under the umbrella of the VaynerX holding company.[19] Numerous companies can be found under the VaynerX brand, including many that Vaynerchuk either created or co-founded, such as Veefriends, VCR Group, VaynerWatt, and VaynerSports.[20] Other notable subsidiaries under VaynerX include women's magazine PureWow and men's lifestyle brand ONE37.[3]
Other Pursuits
In 2014, Gary Vaynerchuk served as a judge for the 88th Miss America pageant, alongside gold medal-winning gymnast Shawn Johnson and former NFL great Donald Driver.[21] He was also a mentor and advisor on the show Planet of the Apps in 2017 along with Gwyneth Paltrow and Will.i.am.[22] The show was done in the style of Shark Tank but only lasted for one season, airing ten episodes.[23] Vaynerchuk has blamed the show's lack of success on bad marketing on the part of Apple, stating, "Apple didn't use me or Vayner to do the marketing, and did everything wrong."[24] 
Gary Vaynerchuk Quotes
"Love your family, work super hard, live your passion."―Gary Vaynerchuk, Crush It!
"Live your passion. What does that mean, anyway? It means that when you get up for work every morning, every single morning, you are pumped because you get to talk about or work with or do the thing that interests you the most in the world."―Gary Vaynerchuk, Crush It!
"[L]ife shrinks and expands on the proportion of your willingness to take risks and try new things."―Gary Vaynerchuk, #AskGaryVee
"Too many people are scared to share their visions and thoughts in public or even in board-rooms. Having a strong vision is important for your personal brand. Don't be afraid to say what you think. Ever. That said, don't forget to listen, either."―Gary Vaynerchuk, The Thank You Economy
"You just have to make the choice to actually do it. I am so tired of excuses. Why not try something new? Be optimistic, exhibit patience, shut your mouth, and execute."―Gary Vaynerchuk, Crushing It!
Gary Vaynerchuk Today
In addition to being the current chairman of VaynerX and CEO of VaynerMedia and Veefriends, Vaynerchuk currently sits on the board of Pencils of Promise, Bojangles Restaurants, and MikMak.[6][20] Vaynerchuk continues to stay active on social media and podcasting. He runs a podcast called The GaryVee Audio Experience, which has more than 2,000 episodes.[25] His YouTube channel features more than 4 million subscribers and over 500 million views.[26]
As of 2022, it is unconfirmed if Gary Vaynerchuk is divorced from his wife Lizzie Vaynerchuk, whom he married in 2004 and share two kids with, Misha Ava Vaynerchuk and Xander Avi Vaynerchuk. Based on social media, it appears Gary Vaynerchuk is in a relationship with Mona Vand. [27]
References
Leaders Media has established sourcing guidelines that rely on credible, expert-level, and primary sources for articles about people and companies. Articles are frequently edited by staff writers. Learn more about our mission, editorial ethics, and how we source references in our editorial policy.
Any reader who wishes to provide any additions or revisions to this article, including updating any out-of-date information, please email [email protected].