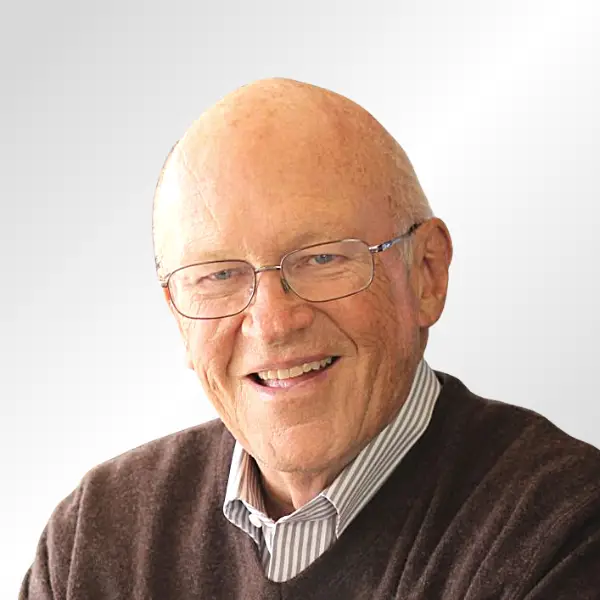 DOB:

May 6, 1939

Age:

84

Country:

United States

Resides:

San Diego, California

Hometown:

City of Orange, NJ

Known For:

Author of The One Minute Manager

Spouse/Partner:

Marjorie Blanchard

Religion:

Christianity

Education:

Cornell University
About Ken Blanchard
Kenneth Blanchard was born on May 6, 1939, in Orange, New Jersey. In 1961, Blanchard completed his undergraduate degree in government and philosophy at Cornell University. He followed this with a master's degree in sociology and counseling from Colgate University in 1963. In 1967, he earned his Ph.D. in education administration and leadership from Cornell University.[2]
Blanchard started his career in academia. After earning his Ph.D., he joined the faculty of Ohio University as an assistant dean. He later served as a dean at the University of Massachusetts Amherst and worked at Californian American University.[2]
Blanchard's entry into the world of business leadership and management consulting began when he co-authored the 1981 book The One Minute Manager with Spencer Johnson. The book, a brief narrative illustrating effective management techniques, was an instant success and became a perennial best-seller.[3]
Encouraged by the success of the book and the appeal of his management ideas, Blanchard and his wife founded the Ken Blanchard Companies in 1979, a leadership development and management training company. Blanchard continued to build his reputation as a leading expert in management and leadership, co-authoring several more best-selling books and creating popular management models such as Situational Leadership II®. He has since become one of the most influential leadership experts in the world.[1]
Over his career, Blanchard has received many awards and accolades.[4] He was inducted into Amazon's Hall of Fame as one of the "Top 25 Best-Selling Authors of All Time."[5] The American Society for Training and Development awarded him the "Distinguished Contribution to Workplace Learning and Performance Award."[4]
Ken Blanchard Companies (Now Blanchard)
The Ken Blanchard Companies is an international management training and consulting firm that was founded in 1979 by Ken Blanchard and his wife, Marjorie Blanchard. The company is headquartered in San Diego, California.[6]
While he began his career in the field of education, Blanchard ultimately merged his love for teaching with his passion for leadership development, creating a career that has had a significant impact on management practices globally.[1]
The Ken Blanchard company's mission is to inspire and equip people to lead themselves, lead others, and lead organizations. The firm provides training in leadership, team building, customer service, and other related areas. It offers a variety of products and services, including coaching, online learning, assessments, and consulting, among others.[6]
The company utilizes the various models and frameworks that Blanchard has developed over his career, such as the Situational Leadership II model and the principles of servant leadership. The model is used by a broad range of clients from different sectors, including businesses, government organizations, and educational institutions, both on a national and international scale.[7][8]
In 2022, the Ken Blanchard Companies rebranded to Blanchard, which has the mission of "Creating inspired leaders through dynamic, human-powered learning experiences.[6]
Servant Leadership
Blanchard is a significant proponent of servant leadership, a philosophy and set of practices that enriches the lives of individuals, builds better organizations, and ultimately creates a more just and caring world. He believes that effective leaders are servants first, putting the needs of others before their own to allow those around them to achieve their full potential.[8]
Blanchard has become famous for the "Situational Leadership" model, which he developed along with Paul Hersey. The model explains that management must adapt their leadership style based on the maturity of the individuals they're leading and the details of their tasks.[9]
Best-Selling Books
Blanchard has co-authored several best-selling books, including The One Minute Manager, which he co-authored with Spencer Johnson.[10] The book, which has sold more than 20 million copies in 42 languages, is a brief story describing three techniques of an effective manager: one-minute goals, one-minute praisings, and one-minute reprimands.[5]
Another one of Blanchard's successful books is Simple Truths of Leadership: 52 Ways to Be a Servant Leader and Build Trust, in which he summarizes key insights gained from his long and successful career in leadership. Some of the principles he talks about include treating people with respect, being a servant leader, creating raving fans through superior customer service, and creating empowered, high-performing teams.[9]
Other notable books by Blanchard include:[5]
Blanchard Leadership Podcast
Blanchard and his associates host the Blanchard Leadership Podcast, where he shares his insight and wisdom on leadership, team building, and management practices. He often interviews other thought leaders in the business and management fields, such as Seth Godin and Sharon Kauffman, who share their recommendations about relationships, career success, and life philosophies.[11] 
References
Leaders Media has established sourcing guidelines that rely on credible, expert-level, and primary sources for articles about people and companies. Articles are frequently edited by staff writers. Learn more about our mission, editorial ethics, and how we source references in our editorial policy.
Blanchard Leadership Podcast. https://resources.kenblanchard.com/podcasts
Any reader who wishes to provide any additions or revisions to this article, including updating any out-of-date information, please email [email protected].