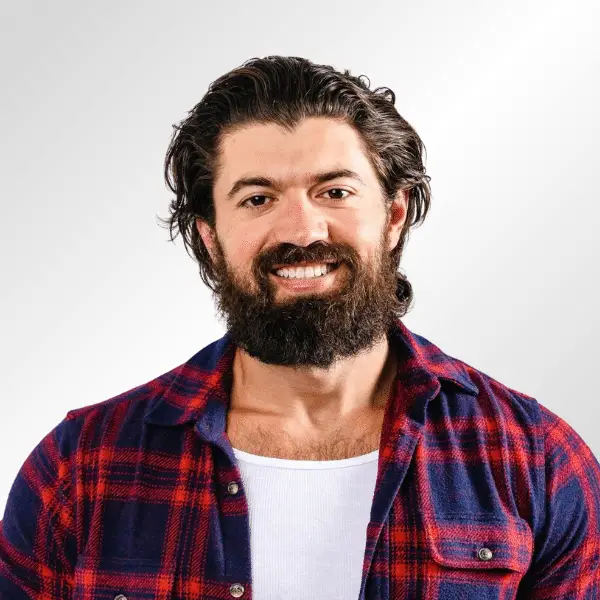 DOB:

August 18, 1992

Age:

31

Country:

United States

Resides:

Las Vegas, NV

Hometown:

Austin, TX

Known For:

Aquisition.com

Spouse/Partner:

Leila Hormozi

Education:

Vanderbilt University
About Alex Hormozi
Alex Hormozi turned his knowledge and experience into a lucrative career by licensing out his strategies and materials to other companies. He also started businesses of his own, growing them until he was ready to sell. He is currently a managing partner for Acquisition.com, a company he founded to invest his own wealth in other businesses that hold potential for growth and expansion.[4]
Hormozi has made a career of building businesses to be successful. He has launched multiple companies while also turning around dozens more. Hormozi created his current company, Acquisition.com, to pour more of his own money into businesses he believes in. His wife Leila has also been heavily involved in many of their business ventures over the years.[5]
Early Life and Education
Born in the United States in 1989, Alex Hormozi comes from an Iranian immigrant family and is a first generation Iranian-American. Hormozi graduated from high school in Maryland, where he stayed active in sports. He went to Vanderbilt University, earning a bachelor's degree in human and organizational development. Hormozi stayed active in college and even became the vice-president of Vanderbilt Powerlifting.[6] His passion for fitness would carry over into the professional world.[7]
Early Career
It didn't take long for Hormozi to land what many would consider to be an ideal job. He ended up becoming a management consultant working on space cyber intelligence for the U.S. military, a job he admitted sounded "much cooler than it really was."[2] It was while he was at this job that he realized he was pursuing what his father would have liked him to do, not what he really wanted to do. He left the job behind and soon opened his own gym called United Fitness in 2013 in Huntington Beach, California.[8]
Hormozi found success with his gym and even expanded it to six locations in only three years.[9] After overcoming that initial challenge, he changed career trajectories again, this time using his strategies to help other gyms grow and become successful through his new company, Gym Launch. Over the course of two years, he helped turn more than 30 businesses around, giving other people a taste of success. It was during this period that he met his future wife Leila, who became a business partner first.[2]
New Ventures
Hormozi had learned effective marketing strategies as he improved other businesses. He realized through his interactions with gym owners that he could license out those strategies and materials. This led to great success as he helped more than 4,500 businesses improve and grow in the space of four years.[10]
Meanwhile, he continued to create and grow his own companies. Some of those businesses include Prestige Labs, a supplement company, and ALAN, a software company designed to increase sales for brick-and-mortar stores. During this time, Hormozi scaled and later exited seven businesses, earning him millions in the process.[11] The most notable sale happened in 2021 when he sold his dependable licensing company for more than $45 million.[1]
Latest Business
In 2020, Hormozi founded a new company—Acquisition.com.[12] He saw this as a way he could invest his own money to help other businesses thrive. Hormozi grew the company, quickly adding to his portfolio of organizations, which has a value of more than $100 million. His portfolio follows his investment strategies, focusing on businesses that have high cash flow and sales-based services.[4]
Books
Hormozi has written two books.[13] The first, published in 2020, is Gym Launch Secrets: The Step-by-Step Guide to Building a Massively Profitable Gym.[14] In it, Hormozi provides insights and advice on how gym owners can increase the number of customers they have and keep them loyal for years to come. His second book, $100M Offers: How to Make Offers so Good People Feel Stupid Saying No, was published in 2021 and details how to create enticing offers that customers will agree to.[15]$100M Offers has sold more than 100,000 copies.[10]
Alex Hormozi Quotes
"I have a saying I use to train sales teams 'The pain is the pitch.' If you can articulate the pain a prospect is feeling accurately, they will almost always buy what you are offering." ―Alex Hormozi, $100M Offers
"Entrepreneurship is about acquiring skills, beliefs, and character traits. To advance, I find that we must determine which skills, beliefs, and character traits we lack. Most times, we simply need to improve." ―Alex Hormozi, $100M Offers
"I'm going to be an entrepreneur so I can be free. Free to do whatever I want, whenever I want, with whomever I want." ―Alex Hormozi, $100M Offers
Alex Hormozi Today
Alex Hormozi is a managing partner for Acquisition.com. He is also a board member for Prestige Labs, ALAN, and Gym Launch.[10] He is heavily involved in charity efforts, donating to nonprofit organizations that help underprivileged communities.[3] Hormozi currently hosts a podcast, The Game w/ Alex Hormozi.[16] He and his wife Leila have been married since 2017. She is currently also a managing partner and CEO for Acquisition.com.[17]
References
Leaders Media has established sourcing guidelines that rely on credible, expert-level, and primary sources for articles about people and companies. Articles are frequently edited by staff writers. Learn more about our mission, editorial ethics, and how we source references in our editorial policy.
Any reader who wishes to provide any additions or revisions to this article, including updating any out-of-date information, please email [email protected].