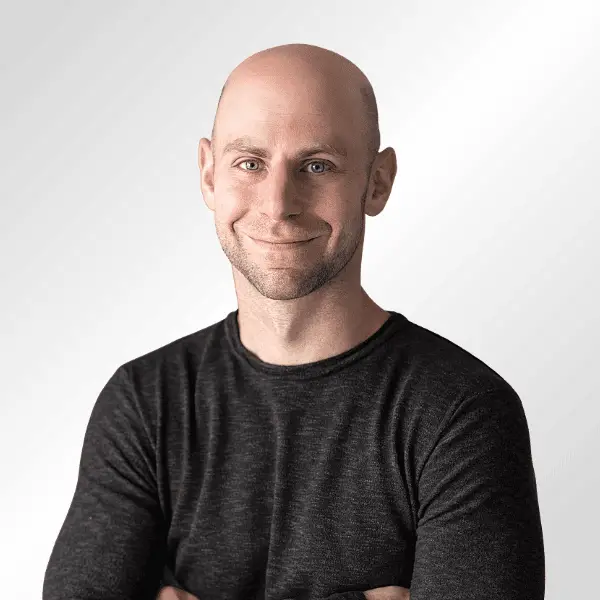 DOB:

August 13, 1981

Age:

42

Country:

United States

Resides:

Philadelphia, PA

Hometown:

West Bloomfield Township, MI

Known For:

Business and Culture Thought Leader

Spouse/Partner:

Allison Sweet Grant

Education:

Harvard University
About Adam Grant
Adam Grant was born in West Bloomfield, Michigan, on August 13, 1981.[2]  His father, Mark, was a lawyer, and his mother, Susan, was a teacher.[3]  Grant has one sister, Traci. As a child, he had many hobbies, including basketball, video games, reading, and trivia.[4] He began doing professional magic shows at age 12 and still enjoys magic as an adult.[5]
At age 14, Grant became interested in springboard diving. He began training 4–8 hours a day. Three years later, he was a state finalist, All-American, and Junior Olympic National Qualifier.[5]
Grant was captain of the swimming and diving team during his senior year at West Bloomfield High School.[6] After high school graduation, he attended Harvard and competed in diving as a freshman. However, after his freshman year, he transitioned to coaching rather than competing.[3] He graduated magna cum laude from Harvard in 2003 with Phi Betta Kappa honors.[5]
While at Harvard, Grant worked in sales at Let's Go, a travel guide company. Though he was initially unsuccessful, after meeting a student paying her way through college with the money she earned at Let's Go, he realized he wanted the company to succeed. After that, he worked much harder. He eventually excelled and was promoted to director of advertising sales, overseeing a budget of $1 million at age 19.[3] 
After his Harvard graduation, Grant went to the University of Michigan to pursue a Ph.D. in organizational psychology. While at the University of Michigan, Grant met nursing student Allison Sweet, whom he would later marry. Grant and his wife now have three children.[5]  
Grant has described his struggles with anxiety, which he says is strongest when he has too much free time. He says, "For me, in my moments of idleness, I experience the most existential anxiety, so I like that every moment is scheduled, even when it's having on my calendar that I'm going to watch a television show with my wife. It means my brain is engaged in other things, and it's not going to be a terrifying evening."[3] 
Career
After earning his Ph.D., Grant took a job as an assistant professor at the University of North Carolina's business school, UNC Kenan–Flagler, where he earned the Weatherspoon Award and the Tanner Award for excellence in undergraduate teaching.[5] 
Two years later, Grant joined the faculty of The Wharton School of the University of Pennsylvania, where he quickly became the youngest tenured professor and the top-rated professor at the school.[7] He has remained the top-rated professor at Wharton for over seven straight years.[1] 
In addition to his work in academia, Grant has worked as a consultant with many companies, including Google, CitiGroup, Yahoo, and the U.S. Air Force.[5] He is also a keynote speaker with the Washington Speakers Bureau.[8] He has delivered multiple Ted Talks that have received a combination of over 35 million views.[9] 
In 2016, Grant cofounded Give and Take Inc, a software that allows for easy knowledge sharing.[10] He is also on the board of the Lean In Foundation and is chairman of the creative advisory board at Exile Content.[11][12] 
Leadership Style
One of Grant's core leadership philosophies is giving back to others. He is known for always saying "yes" to requests for help. He promises to introduce students to anyone he knows or has met, and many students take him up on this offer. He also regularly answers hundreds of emails at the end of every day.[3] 
He says, "Generosity is not about putting others first. It's about treating people better than they expect—and expecting nothing in return.[13]
Grant also believes in leading through research-based strategies. He incorporates his research into his own life. For example, he meets with students during one 4.5-hour block each week rather than breaking the meetings into smaller sessions. He chose this schedule based on research that showed consolidated sessions of providing help to others lead to greater happiness.[3] 
Writing and Podcasts
Grant has authored several best-selling books. His first title, Give and Take, was released in 2013, followed by 2016's Originals: How Non-Conformists Move the World, and 2021's Think Again: The Power of Knowing What You Don't Know. In 2019. Grant also released the audiobook Power Moves. 
In 2017, Grant co-authored Option B: Facing Adversity, Building Resilience, and Finding Joy with former Facebook COO Sheryl Sandberg. Grant has also co-authored two children's books with his wife, Allison Sweet Grant. The Grants published The Gift Inside the Box in 2019 and Leif and the Fall in 2020. 
Grant hosts ReThinking, a podcast that explores new ways of thinking with some of the world's most creative thinkers,[14] and the podcast Work Life, which discusses methods for improving work.[15]
In addition to his books and podcasts, Grant is a regular op-ed contributor to The New York Times. He has also written for The Atlantic, Harvard Business Review, The Washington Post, and The Wall Street Journal.[16] He also writes a monthly newsletter, Granted.[1] 
Recognition
Grant received the Owens Scholarly Achievement Award in 2010.In 2011, Grant earned the Academy of Management's Cummings Scholarly Achievement Award and the Society for Industrial and Organizational Psychology's Distinguished Early Career Contributions Award.[17] 
Thinkers50 ranked Grant among the "Top 10 Thinkers in the World" in 2017, 2019, and 2021.[7] In 2015, the World Economic Forum named Grant a "Young Global Leader."[17] He also made Fortune's "40 Under 40" list in 2016.[18] 
Adam Grant Today
Grant currently holds the position of Saul P. Steinberg Professor of Management and Psychology at The Wharton School.[19] He delivers content to over 242,000 subscribers in his monthly newsletter, Granted.[20] He also regularly posts psychology content for his 1.9 million Instagram followers and 5 million LinkedIn followers.[21][22]  Grant's weekly podcasts receive over one million listeners per episode.[23]  
References
Leaders Media has established sourcing guidelines that rely on credible, expert-level, and primary sources for articles about people and companies. Articles are frequently edited by staff writers. Learn more about our mission, editorial ethics, and how we source references in our editorial policy.
Any reader who wishes to provide any additions or revisions to this article, including updating any out-of-date information, please email [email protected].