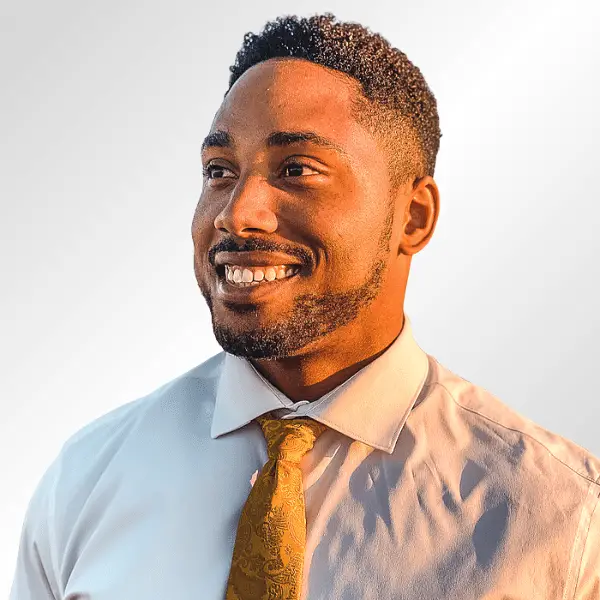 DOB:

June 8, 1993

Age:

30

Country:

United States

Resides:

Los Angeles

Hometown:

La Palma, CA

Known For:

Tax Strategy Advice

Spouse/Partner:

Jeaneth Dennis

Religion:

Christianity

Education:

California Polytechnic State University San Luis Obispo
About Karlton Dennis
Karlton Dennis was born June 8, 1993, in La Palma, California, to Calvin and Karla Dennis.[3] He is the second of four sons,[4] with brothers named Kameron, Karrington, and Kenneth. In 2011, Dennis graduated from Servite High School, an all-boys college prep Catholic high school in Anaheim, California.[3]  
While in high school, Dennis played cornerback on the football team, earning a spot on the Los Angeles Times High School All-Star Football Team. He also ran on the track team and was a member of the honor roll.[3]   
Dennis attended Cal Poly San Luis Obispo after high school graduation, studying kinesiology, exercise science, and public health. While in college, Dennis continued playing football, earning a spot as the Cal Poly San Luis Obispo 2015 Defensive Team Captain. He also worked while in college, taking a summer job as a bellman at Sycamore Mineral Springs Resort and Spa. Dennis graduated with his bachelor's degree in 2016.[1] 
Dennis has been married to his wife, Jeaneth, since December 2020. After the wedding, he told his social media followers, "It doesn't happen often in life, but I knew I wanted to be with Jeaneth the day I met her. With massive action and the grace of God, now I get to enjoy the rest of life with my best friend."[5]
Career
After earning his bachelor's degree, Dennis worked for four years as a sales representative for E. & J. Gallo Winery.[1] At the same time, he started his own fitness brand. He explained that it was a very busy time, saying, "By day, I was selling wine, and at night, I was stacking my personal training experience and building courses in the fitness and health industry; when all was said and done, I was overworked."[2]
In 2017, Dennis joined his mother's business, Karla Dennis and Associates, a tax and accounting firm.[1] This was his first step in transitioning into a career as a tax strategist and tax strategy educator. He now mentors or coaches over 1,100 students in tax planning.[6] He also offers an online "Tax Strategy Crash Course" and coaching through the Tax Reduction Company and Tax Alchemy.[2]  
Dennis started his YouTube channel in 2017, which has since grown to 552,000 subscribers. Though his earliest videos offered fitness tips to viewers, he quickly shifted to focus on tax, investing, and business content.[7]  
In May 2020, Dennis launched the Tax Free Living podcast, which covers tax-saving strategies, tips for real estate investing and small business owners, and news about well-known celebrities and their tax write-offs or tax mistakes.[8]   
In his coaching and educational content, Dennis covers the following topics: 
How to structure a business: Dennis often discusses when to convert a sole proprietorship to an LLC or a corporation and explains how each business structure works. He describes how payroll, accounting, and taxes work after converting a business to a new structure. 
Tax write-offs: Dennis shares tips with his YouTube subscribers, podcast listeners, and students on how to write off business expenses legally, the best ways to depreciate assets, and how to avoid deduction mistakes that could lead to penalties from the IRS.
Explanations of tax law: Dennis explores several tax laws that aren't well-known and how to use them to your advantage. He also covers tax laws that many people misunderstand.[7][8]  
In 2019, Dennis joined the Forbes Business Development Council, an invitation-only business community. Members of the council must be senior-level sales or business executives working at companies that generate more than $1 million in revenue.[9]
Dennis frequently collaborates with his family members to create educational content and provide tax strategy advice. He has appeared on his mother's YouTube channel, the Karla Dennis channel, which has over 25,000 subscribers.[10] Dennis also works alongside his mother and brother, Kenneth Dennis, at the Tax Reduction Company.[11]  
Karlton Dennis Today 
Dennis lives with his wife, Jeaneth, in San Luis Obispo, California.[12] He continues to produce his podcast, releasing two episodes each week.[8] He also regularly releases new YouTube videos and shares tax education content on Instagram and TikTok with his 154,000 Instagram followers and 110,000 TikTok followers.[7][6][13]