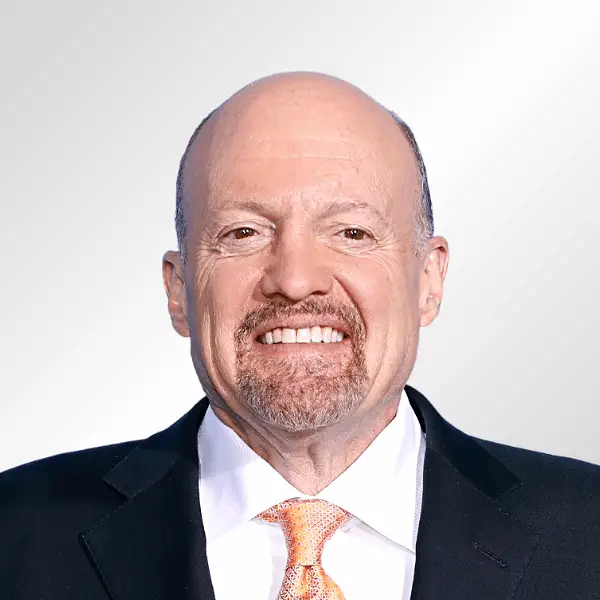 DOB:

February 10, 1955

Age:

68

Country:

United States

Resides:

Summit, NJ

Hometown:

Wyndmoor, PA

Known For:

Host of Mad Money on CNBC

Spouse/Partner:

Lisa Cadette Detwiler

Religion:

Judaism

Education:

Harvard University
About Jim Cramer
James Joseph Cramer was born on February 10, 1955, in Wyndmoor, Pennsylvania.[1] His father, N. Ken Cramer, owned International Packaging Products, a company that sold boxes and bags to retailers, while his mother, Louise A. Cramer, was an artist.[3] Ken and Louise Cramer practiced Judaism with their son during his childhood.[4]
Jim Cramer grew up in a middle-class family. He developed a strong work ethic from an early age, working various jobs to support himself financially, including selling ice cream at Veterans Stadium during Phillies games.[5]
After moving to Springfield Township, Pennsylvania, with his family, Cramer attended Springfield Township High School. During high school, Cramer was a member of the track team.[6] 
Education and Early Career
Cramer attended Harvard College, where he initially pursued a degree in political science, later switching to a concentration in government.While at Harvard, Cramer became involved with journalism, serving as the president and editor-in-chief of The Harvard Crimson, the daily student newspaper. He graduated magna cum laude with a Bachelor of Arts degree in 1977.[7]
After completing his undergraduate studies, Cramer pursued a career in journalism. He held various reporting roles at publications such as the Tallahassee Democrat, the Los Angeles Herald-Examiner, and American Lawyer.[7][8] As a journalist, Cramer made under $200 per week.[9] During that time, a thief broke into his house and stole everything. This left Cramer unable to pay rent. As a result, he lived out of his car for six months.[10] 
After a few years in journalism, Cramer shifted his focus to law and enrolled at Harvard Law School.He earned his Juris Doctor (J.D.) degree in 1984.[7]  While in law school, Cramer began trading stocks to pay for tuition. He earned enough to pay for his degree and became hooked on stock market investing.His investment advice at the time became popular as he recorded his stock picks on his answering machine.[11]  
When the owner of The New Republic, Michael Peretz, profited from Cramer's stock advice, he gave Cramer $500,000 to invest. In two years, Cramer earned $150,000 for Peretz.[1]
Career
Goldman Sachs
After graduating from law school, Cramer was hired by Goldman Sach's Securities Sales department. By 1987, Cramer was ready to move on from Goldman Sachs. He says, "I made the most stupid and brilliant move of my life. I quit."[12] 
Cramer & Co.
In 1987, Cramer founded his own hedge fund, Cramer & Co.From 1987 to 2001, Cramer had only one year of negative returns and had an average annual return of 24%. His record beat the S&P 500 by 10 points.[13]  
In 1997, Cramer partnered with Jeff Berkowitz, and the firm became Cramer Berkowitz. In late 2000, Cramer announced he was retiring and leaving control of the company with Berkowitz, though he remained a limited partner. He explained his reasons for leaving hedge fund management: "It's been almost 20 years since I started running managing money for individuals, and I have regarded it as a terrific daily challenge that has consumed about as much of me as I think I can allow it before I become too tired and spent to do other things," Cramer said. "But after a great run, I long for other challenges that, at this point in my life, seem more compelling to me: family, my writing, and, yes, for those who know me best, fun. Plain unadulterated fun. Fun with my wife. Fun with my beautiful daughters before they are too old to want to be with their daddy."[14]
TheStreet.com
In 1996, before leaving Cramer Berkowitz, Cramer co-founded TheStreet.com, a financial news and analysis website, with Martin Peretz, a former professor at Harvard and the owner and editor-in-chief of The New Republic.[15][16] TheStreet.com provided financial news, market analysis, and stock recommendations to individual investors.[17] 
In 1999, TheStreet went public and soon reached a market capitalization of $1.7 billion. However, its stock price dwindled after that. In 2019, the company again became privately owned when TheMaven purchased it for $16.5 million. Cramer remained with the company for two years after the acquisition but left in 2021 to focus on his work with CNBC.[18] 
TV Shows and Media Appearances
Between 2002 and 2005, he co-hosted Kudlow and Cramer, a business and politics talk show.[19] In 2005, Cramer began hosting the television show Mad Money on CNBC.[1] 
Cramer explained the show's premise when he said, "This is a show that is about education, entertainment, and making money. And I think that people should recognize that you need all three components going forward if you're going to be successful because the stock market is no longer the way it was."[20] 
As of 2023, the show is in its eighteenth season. Each episode has an average of 139,000 viewers.[21] Since 2018, Mad Money has also been available as a podcast.[22] Cramer has also appeared on several shows and networks, including The Tonight Show with Jay Leno, Late Show with David Letterman, Jimmy Kimmel Live, The Apprentice, and Late Night with Conan O'Brien.[23]
In 2011, Cramer became the co-host of CNBC's Squawk on the Street, a business show that follows the first 90 minutes of Wall Street trading.[24]
Controversies
Market Manipulation Allegations
Cramer has faced controversies throughout his career, including allegations of market manipulation. In 2007, a video from 2006 surfaced in which Cramer discussed how hedge fund managers could manipulate stock prices to their advantage. Although Cramer claimed that his comments were taken out of context and that he was explaining market irregularities rather than endorsing manipulative practices, the video attracted criticism and raised questions about his credibility.[25]
Jon Stewart Interview
In 2009, Cramer became the focus of a highly publicized feud with Jon Stewart, then the host of The Daily Show.[26] Stewart criticized Cramer and CNBC for their role in the financial crisis of 2007/2008 and of promoting risky investments. Cramer appeared on The Daily Show to defend himself. Cramer says he expected a friendly discussion. Instead, Stewart continued his harsh criticisms and was widely perceived as coming out of the interview as the winner.[13] 
Cramer believes he was treated as if he were under investigation during the interview. However, says he was not to blame for the financial crisis. He stated, "Stewart was the prosecutor, and I was Exhibit A. But what was the crime? What did I do wrong? I wasn't running Fannie or Freddie. I wasn't in charge at Countrywide."[13]  
Books by Jim Cramer
Jim Cramer has authored several books on investing and personal finance, including:
Jim Cramer Quotes
"Every once in a while, the market does something so stupid it takes your breath away."[27]
"I wish it grew on trees, but it takes hard work to make money."[28]
 "A good investor in this new world knows to always expect the unexpected."[28]
"I think that stocks have been this tremendous equalizer for people in this country. Guys who can't make a lot of money at their jobs have been able to make a lot of money in the stock market."[28]
"I mean, it's the most objective industry in the world. If your numbers stink, you're out. If your numbers are good, you get more money. It's the most Darwinian. It's beautiful, it's brutal, it works."[28]
Personal Life
Jim Cramer has been married twice. He was first married to stock market trader Karen Backfisch, with whom he has two children. The couple was married from 1988 to 2009.In 2015, Cramer married Lisa Cadette Detwiler, a New York City restaurant general manager and a real estate agent.[29][30] Cramer first met Detwiler in 2006 after being set up by a mutual acquaintance.[3]
Jim Cramer Today
Today, Jim Cramer remains a prominent figure in the world of finance while hosting Mad Money and running CNBC's investment club. 
As a high-profile figure in the investment world, he continues to receive criticism when his predictions are incorrect. One of his recent recommendations that was highly criticized was his recommendation of Meta stock in the fall of 2022 before it fell 25%. Similarly, Cramer recommended buying stock in Silicon Valley Bank before the bank failed.[31] 
Some critics believe Cramer is incorrect so frequently, they started the "Inverse Cramer Tracker ETF," in March 2023. The managers of this ETF open a short position on any stock Cramer recommends and a long position on any companies Cramer recommends against.[32] 
References
Leaders Media has established sourcing guidelines that rely on credible, expert-level, and primary sources for articles about people and companies. Articles are frequently edited by staff writers. Learn more about our mission, editorial ethics, and how we source references in our editorial policy.
Any reader who wishes to provide any additions or revisions to this article, including updating any out-of-date information, please email [email protected].