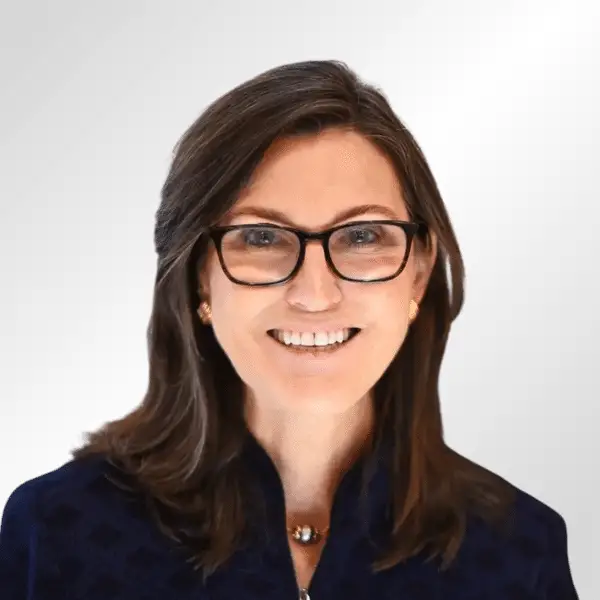 DOB:

November 26, 1955

Age:

67

Country:

United States

Resides:

Wilton, CT

Hometown:

Los Angeles, CA

Known For:

Founder of ARK Invest

Religion:

Christianity

Education:

University of Southern California
About Cathie Wood
Wood has made a name for herself in the world of finance and has been recognized by multiple publications for her accomplishments. Her awards include spots on the Bloomberg 50 list in 2018,[1] Forbes' Most Powerful Women 2021,[2] and Forbes' 50 over 50 2021.[3]
Cathie Wood's net worth rose as high as $400 million in 2021 due to her company's rapid growth during the COVID-19 pandemic.[4] However, as some of Wood's favorite stocks plummeted in value in 2022, her net worth is down to an estimated $140 million, which primarily comes from her stake in ARK Invest. 
Early Life
Cathie Wood, born Catherine Duddy, was born in Los Angeles, California, on November 26, 1955.[5] As the oldest child of Irish immigrants, Gerald and Mary Duddy, Wood is a first-generation American. She moved around frequently with her family, following her father, a radar systems engineer for the U.S. Air Force, before eventually settling in Culver City, California.[6]
As a part of a devoutly Catholic family, Wood developed a love for Christianity as a child. She says about her faith, "So I was born with the gift of faith. I really do believe that. It has come very easily to me, though it has evolved and deepened over the years. And as a child, I think I did start to develop a relationship with God, the Father, and Jesus, our Redeemer."[7]
Wood attended Notre Dame Academy, an all-girls Catholic high school in Los Angeles, graduating in 1974.[8] After graduating, she pursued a degree in finance and economics from the University of Southern California, where she graduated summa cum laude in 1981.[9]
She says she felt pressure to succeed when entering college, stating: "I was very fearful as I went into college that I was the oldest, and I had to carry the mantle for the family. And so I approached it with a great bit of trepidation."[7]
Despite initial feelings of nervousness in college, Wood was ambitious and successful. She petitioned renowned economist Arthur Laffer for the opportunity to take his class, despite the course typically being unavailable to undergraduate students. According to Laffer, Wood excelled in his class, and he would later become her lifelong mentor.
He said, "She was able to take the pressure and the discipline of a graduate course while being an undergraduate, which is quite exceptional."[10]
Early Career
Wood's connection to Laffer led to her first job following graduation as an assistant economist at The Capital Group.[11] Three years later, she took a job at investment firm Jennison Associates, where she remained for eighteen years, working as an equity research analyst, portfolio manager and director, and chief economist.[9]
At Jennison Associates, Wood began focusing on thematic investments, an investment strategy that focuses on investing in long-term ideas and trends, such as disruption and innovation, rather than focusing on particular sectors or regions. She became most interested in high-growth, high-risk stocks.[9]
Wood left Jennison Associates to co-found the hedge fund Tupelo Capital Management. She was at Tupelo Capital Management for three years, managing $800 million in thematic investments.[9]
Following her tenure at Tupelo Capital Management, Wood took a position as Chief Investment Officer of Global Thematic Strategies at Alliance Bernstein, where she managed $5 billion. While continuing to focus on high-growth, high-risk stocks, her assets performed worse than the market average during the 2007–2008 financial crisis.[12]
ARK Invest
After her idea for an actively-managed Exchange Traded Fund based on disruptive innovation was vetoed at Alliance Bernstein due to the high-risk level, Wood decided to start her own investment company.[13] ARK Invest was born in 2014. ARK stands for Active Research Knowledge, but the name is also a reference to the Ark of the Covenant.[14][15] It was funded by over $5 million of Wood's own savings and took three years to break even.[16]
ARK Invest focuses on investments in five disruptive technologies: DNA sequencing, robotics, artificial intelligence, energy storage, and blockchain technology.[17]
Wood explained her reasons for her investment decisions when she said, "As a thematic investor, I've focused on technologically enabled disruption that cuts across economic sectors. Over the long term, I believe this investment strategy delivers returns well above those of any broad-based investment benchmark, with a low correlation of relative returns to most passive or active benchmark-sensitive strategies. I believe this validates disruptive innovation as a component of any investment portfolio."[18]
ARK became one of the top-performing investment companies in the world when heavy investments in Tesla, Bitcoin, Coinbase, and Robinhood began soaring in value in 2020. The flagship Ark Innovation ETF rose 157% in 2020.[4] By February 2021, the company was managing $50 billion in assets.[19] However, the company's fortunes took a turn for the worse in 2022 when a large majority of the stocks in ARK's portfolio plunged in value. By December 2022, the fund had dropped to $11.3 billion.[20]
Investments in Education
In 2018, Wood founded the Duddy Innovation Institute at her alma mater, Notre Dame Academy High School.[21] The Duddy Innovation Institute aims to challenge young women and attract more women to innovative industries like genomics, robotics, artificial intelligence, and blockchain technology.[22]
In 2022, Wood continued her investments in education by launching the Innovation Foundation, a non-profit that partners with Pinellas County Schools in Florida to bring innovative STEM curriculum to middle school students.[23]
Leadership Style
Cathie Wood's leadership style is both transformational, vision-driven, and motivational. Many people describe her as charismatic and easy to follow. She describes herself, saying, "There was nowhere I was going to fit in, and I didn't want to fit in anywhere. I wanted to blaze a trail."[24]
She makes decisions with confidence, conviction, and kindness. Her long-time mentor Arthur Laffer says, "She's very capable of making very hard, tough decisions that are unpopular. She can do that and does it all the time. But she does it nicely."[10]
Personal Life
Wood lives in Connecticut, where she attends Walnut Hill Community Church, a non-denominational Christian congregation.[25] She has three children: Caitlin, Caroline, and Robert, whom she shares with her ex-husband, the late Robert Wood.[26] Caitlin works as the managing director of Wood's Innovation Foundation, and Caroline works as the marketing manager at ARK Invest.[27][23]
Cathie Wood Today
Wood's investment losses in 2022 have led to criticism from others in the finance industry. Morningstar, a fund-rating company, called her approach to stock picking "perilous" and said, "Wood's reliance on her instincts to construct the portfolio is a liability."[28]
However, Wood remains optimistic. In January 2023, she stated, "I believe that the current market dislocation presents an opportunity for innovation strategies to thrive when equity markets recover. Fear of the future is palpable, but crisis can create opportunities."[20]
Wood continues to be one of the most widely followed finance leaders on social media. With 1.5 million Twitter followers and 15 million YouTube video views, she shares her perspective, predictions, and financial advice with the world.[30][31]
References
Leaders Media has established sourcing guidelines that rely on credible, expert-level, and primary sources for articles about people and companies. Articles are frequently edited by staff writers. Learn more about our mission, editorial ethics, and how we source references in our editorial policy.
Any reader who wishes to provide any additions or revisions to this article, including updating any out-of-date information, please email [email protected].