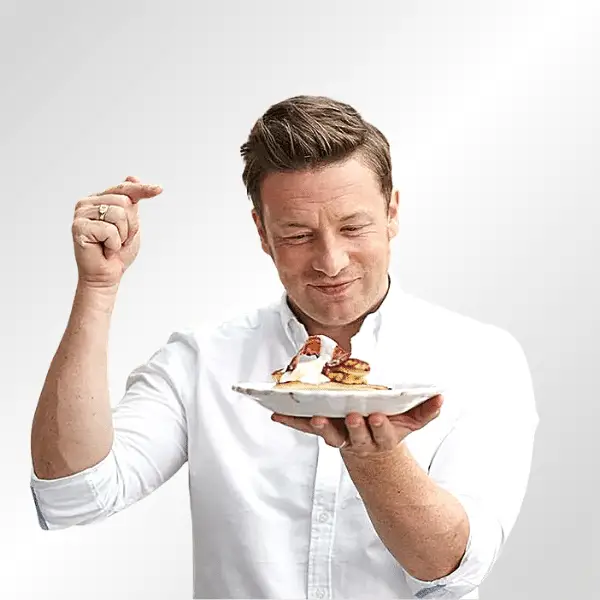 DOB:

May 27, 1975

Age:

48

Country:

United States

Resides:

London, England

Hometown:

Clavering, UK

Known For:

The Naked Chef

Spouse/Partner:

Juliette Norton

Religion:

Not Religious

Education:

Westminister Kingsway College
About Jamie Oliver
Jamie Oliver is also a prominent activist for healthy eating and has been involved in campaigns to improve the quality of school meals to reduce the prevalence of obesity and other diet-related diseases in children.[2]
James (Jamie) Trevor Oliver was born on May 27, 1975, in Clavering, Essex, located in England. As a kid, Oliver worked in his parent's pub in Clavering. He then attended Westminster Catering College at 16 years old, where he studied hospitality and catering.[3] He later traveled to France for additional training and experience before landing his first job as pastry chef at the Neal Street Restaurant in London and then as sous-chef for The River Cafe, a popular Italian restaurant, also in London.[4]
Oliver was part of the cooking team when a BBC television crew visited The River Cafe to shoot a 1997 documentary called Christmas at the River Cafe. Oliver impressed producer Patricia Llewellyn with his appeal and she persuaded higher-ups that he deserved his own show.[3] 
The success of The Naked Chef led to the creation of over fifty television series and two dozen cookbooks. Today, Oliver runs the Jamie Oliver Group, which is organized into three commercial functions: media, products and licensing, and restaurants. The Jamie Oliver Group website reads that their mission is "underpinned by our social purpose to build a healthier future for our kids."[5] 
Additionally, the Jamie Oliver website features recipes, nutrition articles, "how-to" posts, a cookbook club, and more.[6] 
Oliver married Juliette Norton in July 2000 and the couple has five children. The family lives in Essex, England.[1] 
Television
Jamie Oliver has produced or starred in over fifty television series during his career.[1] 
Oliver's first television show, The Naked Chef, debuted in 1999 on the BBC when the star was just 23 years old. The 30-minute episodes stripped down recipes and presented the bare essentials of cooking. The series, which launched in the U.K., but made its way to the United States on the Food Network, ran until 2001. "Streetwise and passionate about food, Jamie is at the cutting edge of modern life and modern cooking. With his principle of stripping down recipes to their bare essentials, Jamie cooks for friends and family with maximum flavor and minimum effort," reads the series description.[7][8]
The word "naked" in the show's title refers to the food he uses to build recipes. Oliver presented a laid-back approach to cooking, showing that cooking can be enjoyable and only requires the use of simple, or "naked," preparations.[9]
The series was so successful that it launched Oliver's career, spawning cookbooks and additional television shows.[9] 
In 2002, Oliver starred in Oliver's Twist, where he invited friends and family over for meals and traveled London to visit local markets and grocery stores. The show ran for two seasons. Oliver also starred in a five-episode documentary series that year called Jamie's Kitchen. In it, he trained disadvantaged youths who were offered a position at Oliver's restaurant Fifteen after completing the culinary course. In 2003, a follow-up, two-episode series called Return to Jamie's Kitchen provided an update on the trainees at Fifteen. The series included several other follow-up episodes, including Jamie's Kitchen Australia, which aired in 2006, and Jamie's Chef in 2007.[10]
Jamie's School Dinners aired in 2005 and documented the challenges Oliver faced while training school cafeteria workers to prepare healthy meals in schools. In the four-episode documentary, Oliver worked at a school kitchen in Greenwich, London, for one year. The documentary began Oliver's campaign to improve school meals in Britain, which would eventually gain support from the British government.[11] 
Jamie's Great Italian Escape also aired in 2005. A six-part travelogue, the series followed Oliver as he rediscovered his love of cooking while traveling through Italy. He released another series in Italy, called Jamie Cooks Italy, in 2018.[12] 
Several versions of Jamie's Christmas aired from 2006 to 2022.[13] 
Jamie at Home aired in 2007 and focused on urban gardening, teaching viewers how to prepare homegrown produce.[14] 
In 2008, Jamie's Ministry of Food aired in the U.K. and initiated the Pass It On campaign, which inspired people to pass their recipes on to family and community members. The campaign became popular on social media and spread to areas across the U.K. and Australia.[15] 
In 2010, Jamie Oliver's Food Revolution aired in the U.S. and chronicled Oliver's efforts to improve people's eating habits in West Virginia. The six-episode series won an Emmy Award for "Outstanding Reality Program" and returned for a second season set in Los Angeles, California.[4] 
Jamie's 30-Minute Meals aired in the U.K. in 2010 and then Jamie's 15-Minute Meals aired in 2012.[16] 
In 2014, Oliver starred in Jamie's Comfort Food and Jamie & Jimmy's Friday Night Feast. In 2015 and 2016, he released Jamie's Super Food and Jamie's Super Food Family Classics.[17] 
In 2019, he released Jamie's Meat-Free Meals, which included inspirational meatless recipes from around the world and in 2020, he created the series Keep Cooking and Carry On, which focused on easy and affordable home cooking during the pandemic.[18] 
In 2021–2022, he released several series, including Jamie Oliver: Together, The Great Cookbook Challenge with Jamie Oliver, and Jamie's One-Pan Wonders.[19]
Restaurants
In 2002, Jamie Oliver opened his first restaurant, Fifteen, in London. The restaurant was staffed by disadvantaged young people who are trained by Oliver and his team. Oliver later opened several more Fifteen restaurants and established the Jamie Oliver Group in 2017. It grew to include 22 Jamie's Italian, Barbecoa, and Fifteen restaurants in London, and Jamie's Diner at Gatwick airport. The group also includes 61 overseas outlets that are run by franchisees.[20] 
In 2019, Oliver's U.K. restaurant group became insolvent, resulting in the closure of most of his eateries within the United Kingdom. Franchise restaurants overseas were not affected by the closures.[20] In a Yahoo! Entertainment interview, Oliver said the closures were "painful," but a "minor blip in the vision and the dream."[21] 
In 2022, Oliver launched a delivery-only pasta service called Pasta Dreams. The pasta is fresh, with a specific blend of flours and organic eggs. The dishes were also designed to travel well, and delivery packaging is plastic-free.[22]  
Cookbooks
Oliver published his first cookbook The Naked Chef in 1999, and it became a bestseller.[23] Since his first book, he released over 20 other books, including the following: 
2000: The Return of the Naked Chef /The Naked Chef Takes Off (U.S. version)[24]
2001: Happy Days and the Naked Chef[25]
2002: Jamie's Kitchen[26]
2003: Funky Food for Comic Relief[27]
2004: Jamie's Dinners[28]
2005: Jamie's Italy[29]
2005: Something for the Weekend[30]
2006: Cook with Jamie: My Guide to Making You a Better Cook[31]
2007: Jamie's Little Book of Big Treats[32]
2007: Jamie at Home: Cook Your Way to the Good Life[33]
2008: Jamie's Ministry of Food: Anyone Can Learn to Cook in 24 Hours[34]
2009: Jamie's Red Nose Recipes[35]
2009: Jamie's America[36]
2010: Jamie Does . . . Spain, Italy, Sweden, Morocco, Greece, France: Easy Twists on Classic Dishes Inspired by My Travels[37]
2010: Jamie's 30-Minute Meals[38]
2011: Jamie's Great Britain[39]
2011: Jamie's Monster Bake Sale[40]
2012: Jamie's 15-Minute Meals[41]
2013: Save with Jamie[42]
2014: Jamie's Comfort Food[43]
2015: Everyday Super Food[44]
2016: Super Food Family Classics[45]
2016: Jamie Oliver's Christmas Cookbook[46]
2017: 5 Ingredients – Quick & Easy Food[47]
2018: Jamie Cooks Italy[48]
2018: Jamie's Friday Night Feast Cookbook[49]
2019: Veg: Easy & Delicious Meals for Everyone[50]
2020: 7 Ways: Easy Ideas for Every Day of the Week[51]
2021: Together: Memorable Meals, Made Easy[52]
2022: One: Simple One-Pan Wonders[53] 
In 2009, Oliver published Jamie Magazine in the U.K. and an American edition premiered in 2012. The magazine folded in 2017.[54] 
Activism
Oliver made a name for himself by highlighting minimal, clean, and fresh cooking. This philosophy can be seen in his television series, cookbooks, restaurants, and activist work.[55]
In 2002, Oliver established the Fifteen Foundation, a London-based program that gave underprivileged youth the opportunity to gain working experience in the culinary industry at the chef's Fifteen restaurant. The success of the program was chronicled in Oliver's TV series Jamie's Kitchen, causing the initiative's efforts to spread throughout the U.K. and beyond.[4] 
In 2005, Oliver launched the Feed Me Better campaign, which introduced healthier foods to schoolchildren in Britain. The program was later backed by the British government, which agreed to increase the amount of funding used on school meals. The success of the Feed Me Better campaign caused Oliver to be named "Most Inspiring Political Figure of 2005" at the Channel 4 Political Awards.[15]
In 2008, after the filming of Jamie's Ministry of Food, Oliver was shocked by the low level of cookery skills in Rotherham. He launched a permanent Ministry of Food program that continues to teach people to cook today. The program has reached over 100,000 people worldwide and has inspired people to choose and prepare more nutritious foods.[15] 
Oliver won the prestigious 2010 TED Prize for his efforts with the Jamie Oliver Foundation to promote healthy eating and cooking skills.[56] "The Jamie Oliver Food Foundation works with kids, communities, businesses, and policy partners to make food education a priority. The foundation is leading a full-scale Food Revolution to improve the health and happiness of families around the world," reads the TED website.[57]
In 2019, the Jamie Oliver Group co-founded Bite Back 2030, a youth-led movement working to achieve a world where all young people have the opportunity to be healthy, no matter where they live.[58] 
In 2020, he launched the Jamie Oliver's Together campaign and television series, which was aimed at helping people share food and support each other during the pandemic.[59]
References
Leaders Media has established sourcing guidelines that rely on credible, expert-level, and primary sources for articles about people and companies. Articles are frequently edited by staff writers. Learn more about our mission, editorial ethics, and how we source references in our editorial policy.
Any reader who wishes to provide any additions or revisions to this article, including updating any out-of-date information, please email [email protected].