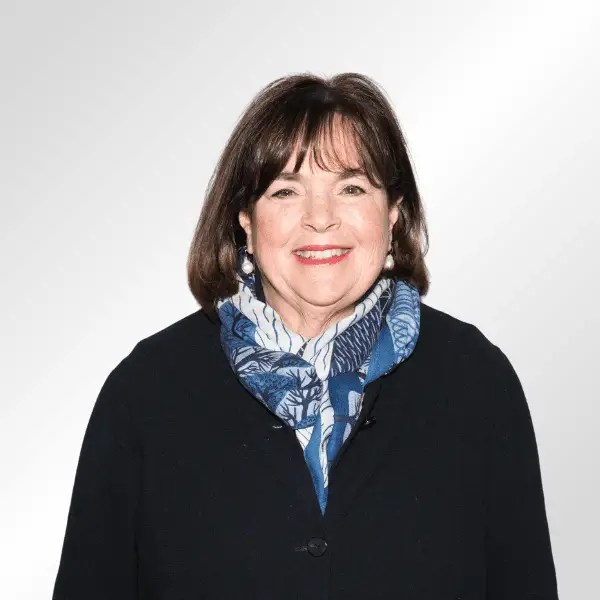 DOB:

February 2, 1948

Age:

75

Country:

United States

Resides:

East Hampton, New York

Hometown:

New York, NY

Known For:

Barefoot Contessa

Spouse/Partner:

Jeffrey Garten

Religion:

Jewish

Education:

Syracuse University
About Ina Garten
Ina Garten was born into a Jewish family on February 2, 1948, in Brooklyn, New York. She grew up in Stamford, Connecticut, and studied fashion design at Syracuse University in 1966. She married Jeffrey Garten in 1968 and the couple moved to North Carolina after Jeffrey Garten enlisted in the Army. She later earned her degree from Georgetown University in Washington, D.C.[3] 
Garten discovered a love for cooking in Paris, when she visited in the 1970s. She found that street food in Paris was simple, seasonal, and based on flavorful ingredients. Ina and Jeffrey Garten spent four months camping in Paris, using a Day-Glo orange tent to sleep in at night. Together, the couple discovered French delicacies on a budget.[4] 
In the late 1970s, Garten began working in Washington, D.C., for the White House Office of Management and Budget. She worked under former presidents Gerald Ford and Jimmy Carter, writing nuclear energy budgets.[4] 
In 1978, while working, she was feeling unfilled at work and in life when she came across an ad for the sale of a small food store in Westhampton, New York. Garten made a trip out to the store with her husband and found a 400-foot specialty food store.[3] "I had no experience in the food business—or in any business!—but I knew that this was exactly what I wanted to do," Garten writes on her website. She ended up making the owner an offer on the spot. Two months later, she was the owner of Barefoot Contessa.[5] 
Twenty years after opening Barefoot Contessa, the business grew into a 3,000-square-foot food emporium where twenty cooks and bakers prepared the food. Thousands of customers visited to shop for breads, salads, dinners, and baked goods.[3] The store became wildly popular and was visited by several celebrities, including Jack Nicholson and Steven Spielberg. When Garten began seeking another change in her lifestyle, she sold the business to her employee and chef, Amy Forst and Parker Hodges, in 1996. Eventually, in 2003, the emporium closed its doors for good when the property lease expired.[6] 
The Barefoot Contessa did not end there, however. Garten continued to grow her business with cookbooks, food products, and her own show on the Food Network.[1] 
Barefoot Contessa 
The small specialty food store bought by Garten in 1978 was already named Barefoot Contessa, which was inspired by the 1954 movie The Barefoot Contessa starring Humphrey Bogart and Ava Gardner. Garten liked the name and decided to keep it.[4] 
With more free time since selling her store, Garten wrote her first cookbook, The Barefoot Contessa Cookbook, which far exceeded its expected sales. She established herself with the success of her cookbook and was approached by the Food Network with an offer to become a television show host. Although she denied the proposal several times, she eventually signed a deal for a 13-show season.[7] 
Garten's first Barefoot Contessa episode aired on the Food Network in 2003 and her fan base grew exponentially. The show was filmed at the Garten's East Hampton home, first inside her own kitchen and later in a redesigned barn on her property.[8] Garten filmed ten seasons of Barefoot Contessa, and in 2022, started a new Food Network series called Be My Guest, which is in its third season.[9][10] 
Despite having no formal culinary training, her mentors include Eli Zabar, the owner of Eli's Manhattan and Eli's Breads, and food-show host Martha Stewart.[11] 
In 2006, Garten and her business partner, Frank Newbold, started a successful line of Barefoot Contessa pantry products for Stonewall Kitchen, which included forty products such as sauces, preserves, marinades, and baking mixes. Her pantry items are no longer sold in stores.[12] 
Garten has won four Emmy awards as "Outstanding Culinary Host" for Barefoot Contessa and Barefoot Contessa: Back to Basics. In 2018, she received the James Beard Foundation Award.[4] 
Cookbooks
"In 1996, I decided that it was time for a new challenge so I sold the store to the manager and the chef. At that point, with nothing to do, I built myself an office over the store and tried my hand at writing a cookbook," Garten wrote on her website.[5]
Garten's first book, The Barefoot Contessa Cookbook, was published in 1999 and became one of the best-selling cookbooks of the year. It invites readers into her food emporium and shares the recipes that made her store a success.[13] 
Barefoot Contessa: Parties! was published in 2001 and shares ideas and recipes for hosting parties, with a focus on having and creating fun.[14] 
Barefoot Contessa: Family Style was published in 2002 and includes tips and recipes for bringing people together and creating connection.[15] 
Barefoot in Paris was published in 2004 and provides entertaining ideas and recipes inspired by Paris, France.[16] 
Barefoot Contessa: At Home, published in 2006, includes recipes that smell and taste good, making everyone feel like they're home. This book was inspired by the reaction that Jeffrey Garten has when he comes back home to the Hamptons on Fridays and notices the smell of home cooking.[17] 
Published in 2008, Barefoot Contessa: Back to Basics explains to readers how to pair ingredients in order to unlock their true flavors.[18] 
Barefoot Contessa: How Easy Is That? was published in 2010 and includes "tried-and-true" recipes that are easy to make and satisfying.[19] 
Barefoot Contessa: Foolproof, published in 2012, shows readers how to make a game plan for preparing meals.[20] 
Published in 2014, Make It Ahead contains recipes that can be made in advance, including ideas for party hosting or last-minute meals.[21] 
Cooking for Jeffrey was published in 2016 and includes recipes that Garten's husband, Jeffrey, and their friends request most often.[22]
In Cook Like a Pro, published in 2018, Garten shares her best "pro tips" for cooking delicious recipes, including slow-cooked truffled scrambled eggs and chocolate chevron cake.[23] 
Published in 2020, Modern Comfort Food includes 85 new recipes that are meant to feed a reader's deepest cravings.[24] 
Go-To Dinners was published in 2022 and includes recipes that were inspired by daily home cooking during the pandemic. The book provides ideas for freeze-ahead, make-ahead, and prep-ahead cooking.[25] 
During her career, Garten has also written monthly columns for popular magazines including Martha Stewart Living, O, The Oprah Magazine, and House Beautiful. [5]
Impact 
"I just can't believe I get to do this. After having had several careers first—as a nuclear energy policy wonk and running a specialty food store—this is as good as it gets," Garten said in an interview with Epicurious.[26] 
Garten's thirteen cookbooks and Food Network episodes continue to impact fans. In 2021, she was included on Forbes 50 over 50 list. Her Barefoot Contessa and Be My Guest episodes can be streamed on the Discovery+ network.[27] 
Garten is currently writing a monthly column for Food Network Magazine and recently finished her thirteenth book, Go-To Dinners, which became a New York Times bestseller.[28] 
Ina and Jeffrey Garten have been married for over 50 years and the couple lives together in East Hampton, New York.[5] 
References
Leaders Media has established sourcing guidelines that rely on credible, expert-level, and primary sources for articles about people and companies. Articles are frequently edited by staff writers. Learn more about our mission, editorial ethics, and how we source references in our editorial policy.
Any reader who wishes to provide any additions or revisions to this article, including updating any out-of-date information, please email [email protected].