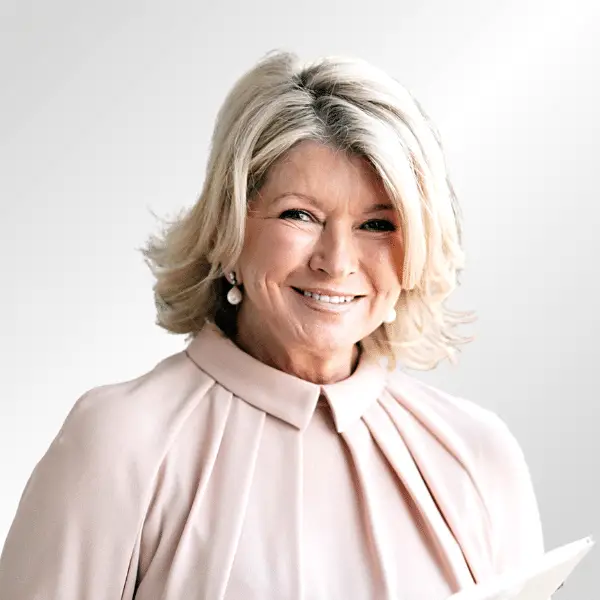 DOB:

August 3, 1941

Age:

82

Country:

United States

Resides:

Seal Harbor, MA

Hometown:

Nutley, NJ

Known For:

Homemaking, cooking, and media publishing

Spouse/Partner:

Andrew Stewart

Religion:

Catholic

Education:

Barnard College
About Martha Stewart
Martha Helen Stewart (born Martha Kostyra) was born on August 3, 1941. She is the second of Edward and Martha Kostyra's six children. She was born in Jersey City, New Jersey, but moved to Nutley, New Jersey, at the age of three.[2] Stewart's parents were schoolteachers, though Edward later became a pharmaceutical salesman.[3] Her parents taught her to cook, sew, and garden as a child, while her grandparents introduced her to canning.[4]  
Stewart worked as a model throughout high school and college. She appeared on runways, in television commercials, and in magazine advertisements for companies like Unilever and Chanel.[5] In 1961, Glamour magazine named her one of the ten best-dressed college women in the United States.[6]  
After high school, Stewart moved to New York City to attend Barnard College of Columbia University. She graduated from Barnard in 1962 with a major in history and architectural history. While at Barnard, Stewart met her future husband, Andrew Stewart. They were married in 1961.[4]   
Stewart and her husband divorced in 1990. They have one daughter, Alexis, who is a TV host and radio personality.[7] Stewart never remarried. 
Early Career
Before her career in publishing, media, and homemaking, Stewart worked with her father-in-law as a stockbroker. She remained in the profession for eight years.[8] At the same time, she worked on restoring and decorating the 1805 farmhouse she lived in with her husband in Westport, Connecticut.[4] 
In 1976, Stewart started a catering business with her friend, Norma Collier. The catering business thrived, but Collier felt it was difficult to work with Stewart, so Stewart bought her portion of the business and became the sole owner.[9] 
In 1977, Stewart's husband contracted her catering company to host a book release party for his publishing company. At the party, Stewart met Alan Mirken, the head of the Crown Publishing Group. Mirken was impressed with Stewart's party-hosting and cooking ability. A few years later, he asked her to develop a cookbook. This led to the release of Entertaining, Stewart's first publication. The book featured recipes and photos from parties Stewart had hosted.[10]  
Later Career
After the success of Entertaining, Stewart released many other books on cooking, party planning, and homemaking. As the Martha Stewart brand grew, Stewart became a featured writer in numerous magazines and newspapers. She also appeared as a guest on several talk shows and had a regular spot on the CBS Early Show.[4] 
In 1990, Stewart published her own magazine, Martha Stewart Living. By 2002, each issue had two million copies in circulation. Stewart later created several other magazines, including Martha Stewart Weddings and Everyday Food.[4]  
By 1997, Stewart began selling branded merchandise, beginning with the Martha Stewart Everyday Collection, which was sold exclusively at Kmart. Initially, the collection included bed, bath, and paint products but later expanded to kitchenware and other home decor items.[11]  
In October 1997, Stewart consolidated her business ventures into one umbrella company called Martha Stewart Living Omnimedia. This company included all of Stewart's television, magazine, book, and merchandising products. She became the chairwoman, president, and CEO of the company.[10]  
Martha Stewart Living Omnimedia went public on the New York Stock Exchange in 1999 at an initial $18 per share. By the end of the trading day, the price rose to $38, making the company's total valuation $1.8 billion.[12] In the decade following the IPO, the company created several new product lines, including branded homes, lighting, crafts, rugs, and food products.[10]  
In 2015, Sequential Brands Group acquired Martha Stewart Living Omnimedia for $353 million. After the purchase, the company was delisted from the New York Stock Exchange.[12] 
Television Career
Stewart's first television show, Martha Stewart Living, launched in 1992 and was based on her magazine with the same name. The show became very popular and ran until 2004. Stewart went on to develop, host, or guest star in several other television shows.[13] 
In 2005, Stewart appeared as the host of two new shows, The Martha Stewart Show and The Apprentice: Martha Stewart. In 2011, PBS released Martha Bakes, followed by Martha Stewart Cooking School the next year.[14][15]
As an avid fan of rap music, Stewart worked with rapper Snoop Dogg on the cooking show Martha and Snoop's Potluck Party Challenge, which was nominated for a 2017 Primetime Emmy.[16] Stewart's other television ventures include Martha Knows Best, Martha Gets Down and Dirty, and Martha Gardens.[13] 
ImClone Scandal and Conviction
In 2004, Stewart was involved in an insider trading scandal. On December 27, 2001, Stewart sold 4,000 shares of ImClone Systems stock after receiving a tip from her stock broker that the CEO of ImClone was selling all his shares due to an experimental drug's failure to get FDA approval.[17]  The next day the stock's value dropped by 16%. According to the SEC, Stewart avoided a $45,673 loss.[18]  
Stewart's trial began in 2004. She pleaded innocent and posted an open letter to her website claiming, "I want you to know that I am innocent—and that I will fight to clear my name . . . The government's attempt to criminalize these actions makes no sense to me . . . I am confident I will be exonerated of these baseless charges."[19]  
During the trial, the judge dismissed the charge of securities fraud.[20] However, Stewart was found guilty of conspiracy, obstruction of justice, and making false statements to a federal investigator. She was sentenced to five months in federal prison, five months of house arrest, and two years of probation.[17]   
Additionally, Stewart was ordered to pay a $30,000 fine and banned from serving on the board of any publicly traded company for five years.[17] As a result, she stepped down from her position on the board of Martha Stewart Living Omnimedia for five years.[21] Stewart served her sentence at a federal prison in West Virginia.[22] 
Martha Stewart Today
Martha Stewart is still a very active businesswoman and media producer. She hosts The Martha Stewart Podcast and the television show Martha Cooks.[23][13] She also launched a new Amazon store, the "World of Martha," in February 2023. [24] 
Stewart has appeared as a brand ambassador in commercials for several brands including Skechers, Tito's Vodka, Oreos, and Pfizer.[25] In a 2023 Skechers Super Bowl commercial, she appeared alongside Snoop Dogg, continuing her longtime friendship and business partnership with the rapper.[26]