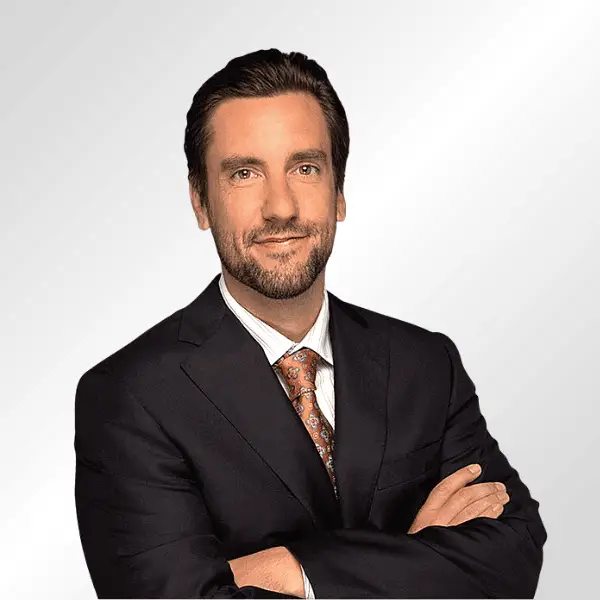 DOB:

April 6, 1979

Age:

44

Country:

United States

Resides:

Nashville, TN

Hometown:

Nashville, TN

Spouse/Partner:

Lara Travis

Education:

George Washington University
About Clay Travis
While starting out mainly as a sports writer and analyst, he now hosts a conservative radio talk show that airs across the country.[6] He also hosts a podcast that features a variety of guests both from the sports world and outside of it.[7]
Clay Travis is the founder of the sports website OutKick, which is dedicated to offering a more conservative take on sports.[8] He hosts a popular radio program that took over many of the time slots occupied by The Rush Limbaugh Show after the famed radio host passed away.[9] Travis is a bestselling author, sports writer, and podcast host who has been critical of political content on sports shows.[10]
Early Life and Education
Clay Travis was born on April 6, 1979, in Nashville, Tennessee, where he spent most of his formative years.[11] He first graduated from George Washington University in 2001 with a history degree. He later earned a law degree from Vanderbilt University Law School.[12] After graduation, Travis began his own law practice in the U.S. Virgin Islands.[13]
Sports
While working as a lawyer, Travis also wrote a personal blog that attracted national attention when he protested DirecTV for not carrying the NFL Sunday Ticket package in the Virgin Islands.[14] This attention helped him land a job writing for CBS Sports in 2005. The work proved to be enjoyable for Travis, who later stopped practicing law and became a writer and editor for the sports website Deadspin. Later, he became a national columnist for another sports website, FanHouse.[15] 
In July 2011, Clay Travis decided to launch his own website called OutKick the Coverage.[16] While it at first focused on college football, the website expanded to cover a wider variety of sports and celebrity news. OutKick grew into a popular website, billing itself as "the antidote to the mainstream sports media that often serves an elite, left-leaning minority instead of the American sports fan."[8] Travis has become a vocal critic of sports stations and organizations injecting politics into the sports world.[17]
In 2014, Travis went to work for Fox Sports as a part of the channel's Saturday pre-game show.[18] He licensed OutKick and his media brand to Fox Sports, with the Fox Corporation later outright buying OutKick in 2021.[19] Travis also started daily broadcasts on Facebook and Periscope dedicated to sports.[20]
Success on the Radio
In 2010, Travis hosted a sports radio show in Nashville, but eventually left in 2016 to host his OutKick the Coverage show that aired in the mornings across the country on Fox Sports Radio.[21] Travis would find an even wider reach after leaving the show in May 2021 to begin The Clay Travis and Buck Sexton Show, debuting it on June 21, 2021.[22] Unlike his previous radio shows which were dedicated to sports, this show is considered conservative talk radio and has even been described as the successor to The Rush Limbaugh Show.[23]The Clay Travis and Buck Sexton Show is broadcast on more than 400 stations nationwide.[24]
As part of a deal with iHeartMedia, Travis also hosts a podcast called Wins & Losses with Clay Travis. The podcast "goes deep with thought-leaders from all walks of life and explores the key wins and losses in their lives and careers." Some of the guests Travis has had on the podcast include Senator Marco Rubio, Big 10 Commissioner Kevin Warren, journalist Megyn Kelly, and The Babylon Bee owner Seth Dillon.[25] 
Books
Travis has written four books.[3] His first book, written while he worked for CBS Sports, was called Dixieland Delight, where he chronicled his journey to visit all the football stadiums for the teams in the Southeastern Conference (SEC) at the time.[26] Another book, On Rocky Top, details the fall of a successful era of Tennessee football.[27] In his most recent book, Republicans Buy Sneakers Too: How the Left Is Ruining Sports with Politics, Travis argues for the uniting power of sports for the country while decrying what he calls the politicization and increasing polarization of sports at the hands of the political Left.[28] 
Political Views
Clay Travis describes himself as being a "radical moderate" who is outspoken against progressive ideology but is anti-death penalty and pro-choice.[29] His views have changed over the years. For example, he worked on the presidential campaign for Al Gore back in 2000,[30] but announced that he planned to vote for Donald Trump in 2020 after voting for Libertarian candidate Gary Johnson in 2016.[31] 
Travis boasts that he is banned from appearing on CNN and ESPN.[2] In his last appearance on CNN, Travis discussed the importance of free speech with anchor Brooke Baldwin. During the interview, he made comments deemed offensive by Baldwin and was subsequently kicked off the air.[32]
Travis was also an outspoken critic of COVID-19 mitigation policies during the pandemic. Critics say he downplayed the severity of the disease, particularly during the early months of the pandemic.[33] Travis was a leading advocate of sports teams playing out their seasons during the pandemic and even worked with the Trump Administration and the Big 10 Commissioner to help the Big 10 Conference play football in 2020.[34] 
Clay Travis Today
Clay Travis continues to host The Clay Travis and Buck Sexton Show on the radio.[6] Travis is married to his wife, Lara, who is a former cheerleader for the Tennessee Titans.[35] The two were married in 2004. Together they have three sons.[36] The family continues to live in Nashville, Tennessee.
References
Leaders Media has established sourcing guidelines that rely on credible, expert-level, and primary sources for articles about people and companies. Articles are frequently edited by staff writers. Learn more about our mission, editorial ethics, and how we source references in our editorial policy.
Any reader who wishes to provide any additions or revisions to this article, including updating any out-of-date information, please email [email protected].