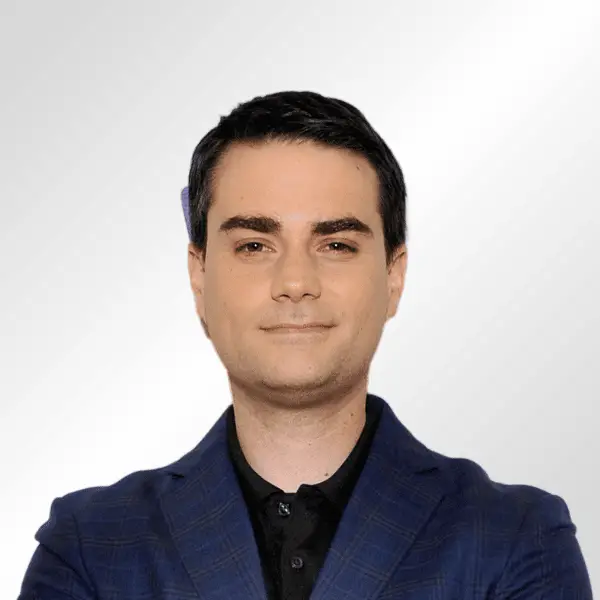 DOB:

January 15, 1984

Age:

39

Country:

United States

Resides:

Los Angeles, CA

Hometown:

Burbank, CA

Known For:

Founder of The Daily Wire

Spouse/Partner:

Mor Shapiro

Religion:

Judaism

Education:

University of California Los Angeles
About Ben Shapiro 
Ben Shapiro is vocal about his support of free markets, limited government, individual freedom, and traditional American and religious values.[3] He speaks frequently on television, podcasts, and at college campuses and other venues around the United States.[4]
Shapiro has written 11 books, some of which have been bestsellers, including How to Destroy America in Three Easy Steps, The Right Side of History, and Bullies.[1] 
In 2021, analysis from NPR of social media data found that stories published by Shapiro on The Daily Wire received more likes, shares, and comments on Facebook than any other news publisher that year.[5]
Ben Aaron Shapiro was born on January 15, 1984, in Los Angeles, California. He grew up in a Jewish family and was raised in a conservative household that eventually transitioned to Orthodox Judaism. Both of his parents worked in Hollywood—his mother as a TV executive and his father as a composer.[6] 
Shapiro was an ambitious kid who loved reading, learning, and music. He skipped two grades prior to starting high school and graduated from Yeshiva University High School of Los Angeles when he was 16 years old.[6] He recalls being interested in politics and religion from an early age, especially because he experienced school as a religious minority and a conservative in liberal-leaning Los Angeles. He has described his parents as supportive of his intellectual pursuits and considers both of them to be major influences in his career.[7]
Early Career
Shapiro began his career as a writer and editor at the age of 17, when he began contributing to a nationally-syndicated column in Creators Syndicate. This made him the youngest nationally syndicated columnist in the U.S.[8]
Shapiro attended the University of California, Los Angeles (UCLA), where he earned a Bachelor of Arts degree in political science in 2004. He then went on to attend Harvard Law School, where he earned his Juris Doctor degree in 2007.[1] While at UCLA, Shapiro was active in student politics and was a member of the student government. He also wrote for the Daily Bruin, the university's student newspaper, and was the editor-in-chief of the paper for one year.[9] Shapiro has shared that his experiences at UCLA and Harvard Law School shaped his political views and intellectual development.
After graduating from Harvard Law, Shapiro worked as a lawyer at the firm Goodwin Procter, LLP. In 2012, he started an independent legal consultancy firm in Los Angeles called Benjamin Shapiro Legal Consulting.[8]
The Daily Wire, The Ben Shapiro Show, and Books
In 2015, Shapiro founded The Daily Wire, a news and opinion website where he currently serves as the editor emeritus.[10] Shapiro also became a frequent guest on cable news networks, and eventually began hosting his own talk show called The Ben Shapiro Show, which doubles as a radio show and podcast.[11]
Prior to starting The Daily Wire, Shapiro was a popular conservative commentator and saw an opportunity to create a media outlet that would provide news and commentary from a conservative perspective. He and his partners wanted to offer an alternative to what they saw as the left-leaning bias of many mainstream media outlets, Hollywood, and universities.[11]
The Daily Wire began as a news and opinion website, offering articles and videos on topics including conservative politics, the economy, and culture. The show has since expanded to include podcasts, a mobile app, and a daily video news show, The Ben Shapiro Show.[12]
The Daily Wire gained a large following and is now considered a significant force in conservative media. To further spread his message, Shapiro released Daily Wire+, a streaming service for conservatives and right-wingers.
The Ben Shapiro Show is a daily political podcast and talk show hosted by Shapiro. Shapiro's goal when creating his podcast was to tell the "hard-hitting truth in a comprehensive, conservative, principled fashion."[12]The Ben Shapiro Show is known for its fast-paced and confrontational style, as well as its emphasis on sharp analysis and clear, concise arguments. Like The Daily Wire, it covers various political and cultural topics from a conservative perspective and also features interviews with a wide range of guests, including politicians, journalists, and other cultural commentators.
In addition to founding and hosting his own website, radio show, and podcast, Shapiro served as the editor-at-large of Breitbart News, an American far-right syndicated news, opinion, and commentary website, between 2012 and 2016.[13] He resigned from Breitbart after disapproving of how the company handled a sexual assault violation from Michele Fields, a Breitbart reporter.[14]
Shapiro has written many books since 2004, some of which have been bestsellers. Shapiro's books include:[15]
In The Right Side of History: How Reason and Moral Purpose Made the West Great, he explores the history of Western civilization and argues that its success is due to a combination of reason, faith, Judaeo-Christian values, and moral purpose. Shapiro argues that the Judaeo-Christian values and institutions of the West have been critical in creating prosperity and freedom. In the book, Shapiro offers a defense of conservative and religious values against what he sees as attacks from both the left and the right sides. The Right Side of History has been a commercial and critical success, spending several weeks on the New York Times bestseller list and receiving positive reviews from conservative commentators.[16]
In Shapiro's 2021 book, The Authoritarian Moment, he argues that the biggest threat to U.S. politics is the left's control of academia, Hollywood, journalism, and corporations.[17]
It's not entirely known what Shapiro's net worth is, however it's speculated to be about $25 million as of early 2023.[18] Shapiro has earned his wealth from a combination of book sales, viewership of The Daily Wire and The Ben Shapiro Show, and from real estate investments.
Family Life
Shapiro is married to Mor Teledano and has three children. He met his wife, now a doctor and family physician, when attending UCLA. Shapiro was introduced to Teledano by mutual friends at their university. Toledano was also involved in the student government at UCLA, where she served as the vice president of the student council.[19] They married in 2008. 
Shapiro has spoken publicly about the importance of family in his life and his wife's support. He has written about his experiences as a father and husband in some of his books.
Shapiro and his family now live in Nashville, Tennessee. Prior to moving to Tennessee, Shapiro lived in Los Angeles, California, where he grew up and spent much of his adult life.
Political Views
Shapiro is a strong supporter of free speech and the protection of religious rights in America. He also supports Israel and is critical of Palestinian leadership. He is pro-life and opposes same-sex marriage, which has earned him criticism from some liberals and the LGBTQ community.[20] 
Additionally, Shapiro is a skeptic of climate change and has expressed concerns about the scientific consensus on the issue.[21] Shapiro has spoken out against Donald Trump and has been strongly critical of the alt-right movement.[22] Overall, Shapiro is a prominent voice on the political right in the United States, and his views often align with those of other prominent conservatives.
References
Leaders Media has established sourcing guidelines that rely on credible, expert-level, and primary sources for articles about people and companies. Articles are frequently edited by staff writers. Learn more about our mission, editorial ethics, and how we source references in our editorial policy.
Any reader who wishes to provide any additions or revisions to this article, including updating any out-of-date information, please email [email protected].