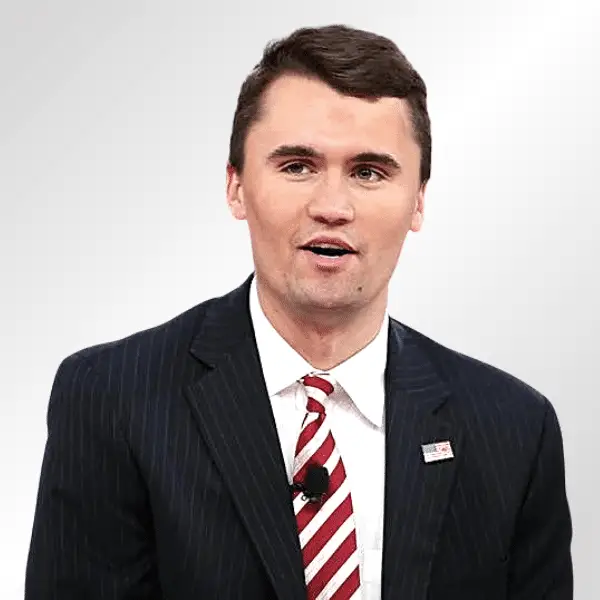 DOB:

October 14, 1993

Age:

30

Country:

United States

Resides:

Prospect Heights, IL

Hometown:

Arlington Heights, IL

Known For:

Founder of Turning Point USA

Spouse/Partner:

Erika Frantzve

Religion:

Christianity
About Charlie Kirk
Charlie Kirk was born in Arlington Heights, Illinois, on October 14, 1993, before moving to nearby Prospect Heights, where he was raised.[3] His father, Robert Kirk, worked as an architect and was the project manager during the construction of Trump Tower. His mother is a mental health counselor.[4]   
While attending Wheeling High School, Kirk volunteered for U.S. senator Mark Kirk's election campaign.[5] Kirk also showed his skill at organizing his peers when he created a campaign to protest a price increase of cookies in the school cafeteria.[4]  
He wrote on the cause's Facebook group page, "Cookies are the highlight of most school days, only to be DOUBLED in price without our consultation? NO! Enough of the manipulation. We must stand together in this fight. Fight the Power!"[4]  
Though some of Kirk's former peers at his school said the campaign was more of a prank, it successfully convinced the school to reduce the price of the cookies.[4]  
During Kirk's senior year of high school, he wrote an essay for Breitbart News claiming academic textbooks had a strong liberal bias. His essay earned him an appearance on Fox Business.[6]  
After high school, Kirk briefly attended Harper College, a Chicago-area community college, but he left school before completing a degree. He has mentioned he hoped to attend the U.S. military academy West Point, but his application was denied.[6] In 2015, he claimed his slot went to "a far less-qualified applicant in my district that was of a different gender and a different persuasion." Kirk also claimed he knew this candidate's test scores. However, Kirk later stated he was being sarcastic when he made this claim.[7]  
In 2018, Kirk met podcaster Erika Frantze. Kirk and Frantze were married in May 2021 at a ceremony in Arizona. The couple's first child was born in August 2022.[8]  
Turning Point USA
After graduating high school in 2012, Kirk founded Turning Point USA with conservative activist Bill Montgomery. He met Montogmery while speaking at "Youth Empowerment Day" at Benedictine University. Montgomery was impressed with Kirk's stage presence and encouraged him to skip college to be involved in political activism full-time.[4] 
The organization is financed by several donors, including Foster Friess, Gary Rabine, and Bernie Marcus.[9] The group has a presence on over 3,500 campuses.[10] 
Turning Point USA's stated mission is to identify, educate, train, and organize students to promote the principles of freedom, free markets, and limited government. The organization and its partner organization, Turning Point Action, visits college campuses to speak to conservative youth.[10]
Turning Point USA publishes the Professor Watchlist and the School Board Watchlist. These lists name professors and school boards across the country that the organization believes "discriminate against conservative students, promote anti-American values, and advance leftist propaganda in the classroom."[11]
In 2021, Turning Point USA expanded to include organizations Turning Point Academy and Turning Point Faith. Turning Point Faith recruits pastors and church leaders to participate in political issues.[12] 
Kirk describes Turning Point Academy as an educational movement that promotes conservative and faith-based education. The first Turning Point Academy brick-and-mortar school opened in Phoenix in 2022. Kirk said, "At TPUSA, we want to be a part of the solution, and so, this is going to be the first of what we hope to be many school projects across the country."[13]
In 2020, ProPublica reported that Turning Point USA's growth has enabled Kirk's salary to reach nearly $300,000.[14] 
Media
Kirk has hosted The Charlie Kirk Show podcast since 2019.[15] In 2020, Kirk signed an agreement with Salem Media Group to host a daily three-hour talk show based on his podcast. He stated, "I grew up listening to conservative talk radio, so I'm excited to bring a new generation's voice to the medium, and I'm thrilled to work with SRN to do that. It's time to work. The country is in trouble, and we have to save it."[16] 
Kirk's critics say his show and podcast spread misinformation. A February 2023 study from research group Brookings found 16.6% of Kirk's podcast episodes contain claims that fact-checkers were able to prove false.[17] 
Brookings points out an example of a false claim in Kirk's podcast in the episode title "The Coming Rebellion." In that episode, a guest states that Bank of America pledged $1 billion to Black Lives Matter. This claim was proven false by Brookings' fact-checkers.[18]
Charlie Kirk Books
Kirk's first book was published in 2016, and has since published three more. The following is a list of Kirk's published titles. 
Other Ventures
Kirk co-founded think tank Falkirk Center for Faith and Liberty with Jerry Falwell Jr. in 2019. The think tank is owned by Liberty University. At the time, Falwell was president of the university, though he has since resigned.[12] Kirk has also spoken at the Republican National Convention in 2016 and 2020.[19][20] 
In 2019, Kirk became chairman of Students for Trump, a group that formed to help elect Donald Trump as president.[21] As chairman, he launched a campaign to recruit one million students for Trump's reelection campaign.[22]  
In 2020, a leaked membership list revealed Kirk is a member of the Council for National Policy, an invitation-only conservative activist group that aims to keep the names of its members a secret.[23]  
Controversy
Kirk has attracted criticism for his websites Professor Watchlist and Schoolboard Watchlist. Critics say the website threatens academic integrity and puts those on the list in danger.[24]
Hans-Joerg Tiede, Associate Secretary for the American Association of University Professors' Department of Academic Freedom, Tenure and Governance, said, "There is a continuing cycle of these sorts of things. They serve the same purpose: to intimidate individuals from speaking plainly in their classrooms or in their publications."[24]
Kirk has also come under fire for his role in the attack on the United States Capitol on January 6, 2021. According to statements from Ali Alexander, one of the organizers of the attack, Kirk financed the travel of many rioters.[25] In a now-deleted tweet, Kirk claimed to have sent more than 80 buses of people to Washington D.C. before the attack.[26] 
Critics have also pointed out that Kirk often shares false or unsubstantiated claims. In 2022, AP News reported that a 2018 video released by Kirk and conservative activist Candace Owens contained multiple false claims.[27]  
The video's false claims include, "Immigrants living in the U.S. illegally who come from Mexico, Nicaragua, Guatemala, and El Salvador are 'twice as likely' to commit crime than U.S.-born citizens," "Immigrants living in the U.S. illegally get welfare benefits, and 80% never stop using welfare," and "There are 21 million immigrants living in the U.S. illegally." The news site researched each claim and found them to be false.[27]  
Charlie Kirk Today
In 2023, Kirk continues to share his ideas about conservatism with his audience through speaking events, podcasts, and his online platforms. As a divisive political commentator, Kirk attracts fans and critics. In March 2023, the announcement of a speaking engagement at UC Davis was met with protests.[28] Protestors also showed up at a speaking event at Ohio State that Kirk hosted alongside Candace Owens. Kirk currently lives in his hometown of Arlington Heights, Illinois.[29] 
References
Leaders Media has established sourcing guidelines that rely on credible, expert-level, and primary sources for articles about people and companies. Articles are frequently edited by staff writers. Learn more about our mission, editorial ethics, and how we source references in our editorial policy.
Any reader who wishes to provide any additions or revisions to this article, including updating any out-of-date information, please email [email protected].