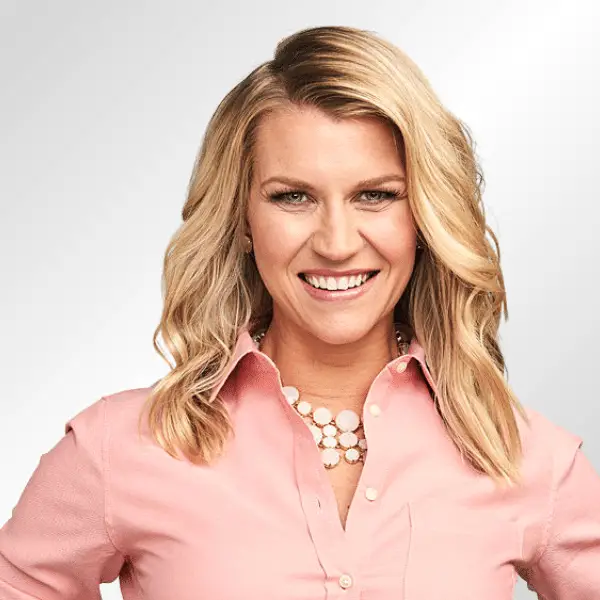 DOB:

July 20, 1983

Age:

40

Country:

United States

Resides:

Brentwood, TN

Hometown:

Nashville, TN

Known For:

Speaking guru

Spouse/Partner:

Matt Wright

Religion:

Christianity

Education:

University of Tennessee
About Christy Wright
Christy Wright was born on July 20, 1983, in Tennessee. She graduated from the University of Tenessee and later became a certified business coach, traveling the country educating and entertaining people at conferences and Fortune 500 companies.[3]
Wright served for 12 years as a Ramsey Personality with Ramsey Solutions before leaving the company to focus on other projects, including spreading God's message and writing resources tailored for women who desire to start and grow their own businesses.[4] Today, Wright spends her time speaking, educating, and writing, as well as being a mom and wife. She lives with her husband and their three children in Nashville, Tennessee.[4] 
Wright's work has been featured in media outlets including The Today Show, FOX News, Success, Entrepreneur, and Women's Day.[5]
Books and Courses
Wright has written several books, planners, and guides focused on personal development, self-fulfillment, and entrepreneurship, including:[1]
Take Back Your Time
Living True 
40 Days to Get Back to You
Business Boutique
The Christy Wright Goal Planner 
Her books encourage women to pursue their business dreams with confidence and take control of their financial futures. Topics covered throughout Wright's writing include the importance of setting goals, marketing and sales tactics, time management techniques, and tips for balancing work and family life.[2][4]
Wright also offers training programs and courses geared toward public speakers and business professionals who want to polish their communication and presentation skills.[6]
Wright's courses, which are available through her website, include the speaking courses "Stop Winging It" and "Start Getting Booked." They help professionals craft their messages, speak clearly with confidence, and get booked for speaking engagements.[6][7] Her "Start Getting Booked" online course includes video lessons, a digital workbook, and the templates needed to complete the booking process and work as a professional speaker.[7]
Get Your Hopes Up Podcast
Wright is the host of the Get Your Hopes Up podcast, a religion and spirituality podcast that discusses common questions about God and teaches scripture.[8] Wright "tells hilarious and heart-warming stories that will invite you to get to know God, get closer to him, and get your hopes up again." Examples of the podcast's episodes include "When to Obey God" and "Why You Have a Hard Time With Prayer."[8] 
Additionally, Wright spreads her message via her social media channels, including Instagram, where she has over 122,000 followers.[9] 
Business Boutique and Christy Wright Show
When previously working with Ramsey Solutions, Wright started the brand called Business Boutique, while also hosting a podcast and writing a book with the same titles. In Business Boutique, episodes she shared practical advice, interviewed successful entrepreneurs, and discussed topics related to starting and running businesses.[1][10] 
The Business Boutique was created to guide women who aspire to turn their passions and talents into profitable businesses. In her Business Boutique books and guides, she provides practical strategies, actionable steps, and real-life examples to help women overcome challenges and achieve success in entrepreneurship.[11] 
The Christy Wright Show
The Christy Wright Show, previously aired by Ramsey Solutions, focuses on personal development and acheiving business success. Today, the show airs on YouTube and has over 47,000 subscribers.[12] The show "helps you experience breakthroughs in your limitations, inspires you to create a life you love, and builds confidence in yourself." [12]
References
Leaders Media has established sourcing guidelines that rely on credible, expert-level, and primary sources for articles about people and companies. Articles are frequently edited by staff writers. Learn more about our mission, editorial ethics, and how we source references in our editorial policy.
Christy Wright. Ramsey Solutions. https://www.ramseysolutions.com/christy-wright
Christy Wright. Podcast. https://www.christywright.com/podcast
Christy Wright. Platform Tickets. https://www.platformtickets.com/artists/christy-wright 
Better Together. Our Guests: Christy Wright. Retrieved from https://www.bettertogether.tv/our-guests/christy-wright
All American Speakers. Christy Wright – Celebrity Speaker & Business Coach. All American Speakers. https://www.allamericanspeakers.com/celebritytalentbios/Christy+Wright/396279
Wright, C. Stop Winging It. https://www.christywright.com/stopwingingit
Wright, C. Start Getting Booked. https://www.christywright.com/startgettingbooked
Wright, C. [@christybwright]. Instagram. Retrieved May 12, 2023, from https://www.instagram.com/christybwright/
Get Your Hopes Up with Christy Wright. Apple Podcasts. https://podcasts.apple.com/us/podcast/get-your-hopes-up-with-christy-wright/id1138081298
Wright, C. (2017). Business Boutique: A Woman's Guide for Making Money Doing What She Loves. Ramsey Press. https://www.ramseysolutions.com/store/books/business-boutique-by-christy-wright
Pray.com. Christy Wright Show. https://www.pray.com/series/christy-wright-show/8ae6e4e0-90ff-11eb-a779-b3d7b3064130/
Christy Wright. YouTube. https://www.youtube.com/c/ChristyWright
Any reader who wishes to provide any additions or revisions to this article, including updating any out-of-date information, please email [email protected].