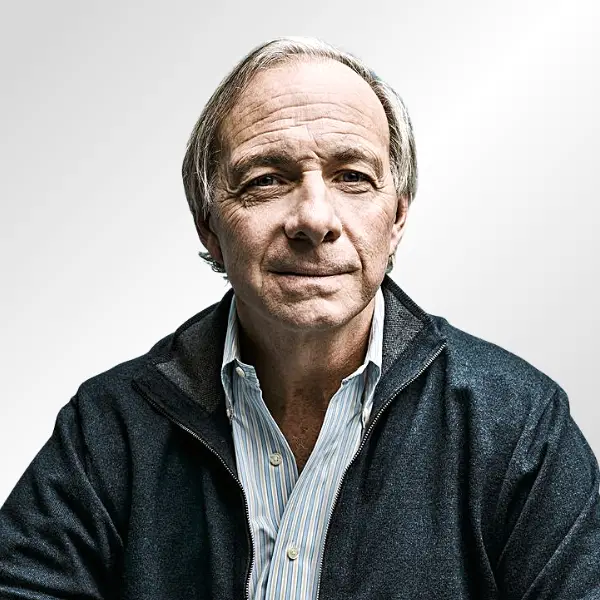 Ray Dalio
Billionaires
Investors & Wealth
DOB:

August 8, 1949

Age:

74

Country:

United States

Resides:

Greenwich, CT

Hometown:

Jackson Heights, NY

Known For:

Founder of Bridgewater Associates

Spouse/Partner:

Barbara Dalio

Religion:

Christianity

Education:

Long Island University
About Ray Dalio
Ray Dalio is recognized for his innovative investment strategies, risk management techniques, and principles for success in life and business.[4] In addition to his business success, Dalio is the bestselling author of several books on investing and personal development, including his bestseller, Principles: Life and Work.[3]
It's estimated that Dalio's net worth is about $19 billion, up from about $12 billion in 2013. Forbes estimates Dalio's worth to be $19.1 billion.[3] As of 2023, Bloomberg ranked him the world's 106th-wealthiest person, worth an estimated $16.2 billion.[5] Dalio was named one of the world's most influential people by TIME in 2012.[6] 
Dalio earned a Master of Business Administration degree from Harvard Business School in 1973 before founding Bridgewater. He's admired for his philanthropic work, having donated more than $1 billion to various causes. He also founded Dalio Philanthropies, which supports microfinance and public education.[3]
Raymond Thomas Dalio was born on August 8, 1949, in Queens, New York City. He's an only child and of Italian descent.[3] His mother was a homemaker, while his father was a musician. From the age of eight, he grew up in a middle-class Long Island neighborhood called Manhasset. He supposedly became interested in investing and the stock market at the young age of 12.[7]
Before becoming a teenager, Dalio would discuss stocks with golfers while caddying. He also held jobs, including mowing lawns, shoveling snow, and delivering newspapers. At 12 years old, he invested $300 into Northeast Airlines and was able to triple his investment. By the time he was in high school, he had a portfolio worth several thousand dollars. 
After graduating high school, Dalio graduated from C.W. Post College of Long Island University in 1971 and then received an MBA from Harvard Business School in 1973. He took a job as a clerk at the New York Stock Exchange before graduating from Harvard.[7]
Bridgwater Associates
Before founding Bridgewater, Dalio held several jobs, including as a broker and trader at Shearson Hayden Stone. In 1975, Dalio founded Bridgewater Associates while living in New York City. He initially served clients he had connections with from his job at Shearson Hayden.[7]
Today, Bridgewater manages about $160 billion, making it one of the largest hedge funds in the world (if not the largest).[8]Clients of Bridgewater include or have included McDonald's, PepsiCo, Costco, Proctor and Gamble, Coca-Cola, Costco, Kodak, and General Motors. The company manages pension funds, endowments, foundations, foreign governments, and central banks, among other endowments. Dalio has been involved in investments for more than 47 years and has served as the co-chief investment officer and, most recently, the chief investment officer mentor of Bridgewater for more than 35 years.[9]
Dalio is credited with popularizing commonly used investing practices, including risk parity, currency overlay, portable alpha, and global inflation-indexed bond management.[10]
Bridgewater, which employs about 1,100 people, has also become known for its policies of "radical transparency," including encouraging dissent, openly airing disagreements, and recording all meetings.[11] Dalio has a strong commitment to open communication, which he believes is critical to the success of any organization. In 2018, Dalio gave Bridgewater employees a greater stake in the firm in the hopes of boosting morale and having the firm live on successfully after his retirement.[3][11] In 2021, Dalio transferred his majority stake in Bridgewater to the board but "remains a meaningful owner of the fund" and mentor, according to Reuters.[12] 
Books
In 2017, Dalio published the 600-page bestselling book Principles: Life & Work. It expanded upon a shorter guide he wrote called Principles, which included 210 actionable steps to practice "radical transparency."[13] The book describes his viewpoints and philosophy on topics including corporate management, investing, leadership, decision-making, and risk management—all of which he learned while working at hedge funds for nearly four decades. [12][13] 
In Principles, Dalio emphasizes the importance of radical transparency, self-reflection, and continuous learning. The book has been described as a blend of personal memories and a self-help guide, offering practical advice and strategies for success in both personal and professional life. Dalio calls himself a "hyperrealist" and admits to not having all the answers.[15] 
Principles has been featured on the New York Times bestseller list and has sold over two million copies. To make the lessons of his bestseller more accessible to a wider audience, Dalio also wrote Principles for Success, a distilled-down version of his longer book in an "easy-to-read and entertaining format that's acces­sible to readers of all ages."[16] 
Dalio is also the author of Principles for Dealing with the Changing World Order: Why Nations Succeed and Fail, which explains how the U.S. became the world's dominant country but is losing power to China. Additionally, he authored Principles for Navigating Big Debt Crises, which explains how leaders and policymakers can use their power to manage debt and invest wisely. In Principles for Navigating Big Debt Crises, Dalio explains Bridgewater has anticipated financial events and navigated them while others have struggled.
Net Worth and Financial Strategies
As of early 2022, Dalio is estimated to be worth about $19 billion. He made his fortune primarily as the founder and co-chief investment officer of Bridgewater Associates.[3] Dalio built the company from the ground up, starting with just a few thousand dollars in 1975. Today, it's one of the largest and most successful investment firms in the world. [5][6] 
Dalio's success can be attributed to several key factors, including his innovative investment strategies, his focus on risk management, and his unique approach to leadership and decision-making. He is known for using a quantitative and data-driven approach to investing, as well as for his emphasis on continuous learning.[7]
One of the key components of Dalio's investment philosophy is his focus on using both macroeconomic and microeconomic data to inform his investment decisions. Macroeconomic investing focuses on the big picture, taking into account overall economic trends, such as interest rates, inflation, and gross domestic product (GDP). Macroeconomics usually results in investments in government bonds, currencies, and commodities.[7]
Microeconomic investing focuses on individual companies and specific industries, analyzing companies' earnings, revenue, and product quality to determine the potential for future growth. This type of investing often involves investing in stocks or mutual funds. Dalio also takes a diversified approach to investing, helping to lower risk and minimize losses.[17]
Additionally, Dalio has spoken out about his viewpoints on capitalism and inequality. He has called wealth inequality in the U.S. an "emergency" and has expressed concerns that modern-day capitalism is failing many Americans.[18] 
Family Life and Philanthropy
Dalio has been married to his wife, Barbara Dalio, for more than 40 years. The couple has three sons and five grandchildren. He and his family have a home in Greenwich, Connecticut.[7]
In general, public information about Dalio's family life is limited due to him being a very private person. However, Dalio has publicly expressed the importance of family and has said that his wife has been a supportive and influential presence in his life. He has also stated that his family values, particularly the value of hard work and honesty, have played a significant role in shaping his principles and approach to business.[7]
In his personal life, Dalio is known for being very disciplined and maintaining a rigorous and demanding schedule.[7]He's spoken about the importance of finding a balance between work and family life. He is also a long-time practitioner of Transcendental Meditation.[11]
As an active philanthropist, Dalio has donated more than $1 billion to charities and causes.[2] He hopes to "rectify the absence of equal opportunity in education, healthcare, and finance. Dalio has signed "The Giving Pledge," along with other billionaires, including Bill Gates and Warren Buffet, which is a commitment to giving half of a person's net wealth to charity over the course of their lifetime.[7]  
Dalio and his family also created Dalio Philanthropies to channel his philanthropic contributions. According to their website, "The Dalio family's diverse philanthropic passions include: equal opportunity in education, financial inclusion, microfinance, ocean exploration and conservation, mental health and wellness, digital equity, the next generation of video games for learning, community and the arts, and more."[19]  
Quotes
Below are some of Dalio's most popular quotes from his books:[20]  
"Every time you confront something painful, you are at a potentially important juncture in your life—you have the opportunity to choose healthy and painful truth or unhealthy but comfortable delusion." ―Ray Dalio, Principles: Life and Work
"Pain + Reflection = Progress." ―Ray Dalio, Principles: Summary
"The happiest people discover their own nature and match their life to it." ―Ray Dalio, Principles: Life and Work
"Listening to uninformed people is worse than having no answers at all." ―Ray Dalio, Principles: Life and Work
"To put these complicated matters into very simple terms, you create a cycle virtually anytime you borrow money. Buying something you can't afford means spending more than you make. You're not just borrowing from your lender; you are borrowing from your future self."  ―Ray Dalio, A Template for Understanding Big Debt Crises
"In investing, it's at least as important to know when not to be confident and when not to make a bet as it is to have an opinion and make one." ―Ray Dalio, A Template for Understanding Big Debt Crises
References
Leaders Media has established sourcing guidelines that rely on credible, expert-level, and primary sources for articles about people and companies. Articles are frequently edited by staff writers. Learn more about our mission, editorial ethics, and how we source references in our editorial policy.
Any reader who wishes to provide any additions or revisions to this article, including updating any out-of-date information, please email [email protected].