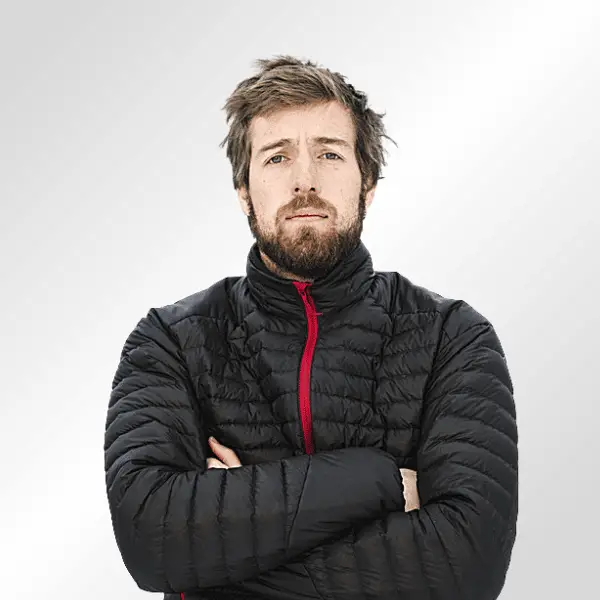 DOB:

September 5, 1989

Age:

34

Country:

United States

Resides:

Whitefish, Montana

Hometown:

Madrid, Spain

Known For:

Photography

Spouse/Partner:

Andrea Dabene

Education:

University Laval
About Alex Strohl
Strohl has published several books featuring his writing and photography, including Alternative Living and The Cabin Chronicles.[4] Additionally, he is a creative director and a filmmaker, as well as the founder of The Alex Strohl Studio and the virtual workshop company Wildest. Strohl has an impressive 2 million followers on Instagram, making him one of the most followed travel photographers in the word.[5] He uses social media to share his work and his travels, which often include his partner and wife, Andrea Dabene.[6]
Alex Strohl was born in Madrid, Spain on September 5, 1989. He moved to France as a child and had an early interest in design and art. His love for photography began during his late teenage years when he first started taking pictures with a camera that his father gave him. He became passionate about capturing the beauty of the natural world after moving to Quebec for college, where he explored the great outdoors with friends.[7]  
Strohl studied photography, graphic design, and multimedia while attending college in Canada. He started working as a freelance photographer and designer after graduating.[7] 
Strohl's big break came when he took on a photography job for the government of Canada. Around the same time, he was discovered on Instagram by a marketing agency that was looking for a photographer to work on a project for Land Rover.[8] The resulting project, which involved traveling through Canada in a Land Rover and taking photos, was a huge success, catapulting Strohl's career.He's since become well known for his outdoor and adventure photography, as well as his depictions of human connections.
Photography and Writing Career
With a keen eye for capturing the beauty of nature and the outdoors, Strohl's photography style is characterized by its warmth, rich colors, and immersive quality.[9] His work transports viewers to the places he photographs, especially when he incorporates storytelling. 
Strohl's photos often tell a narrative or convey a sense of emotion. In Strohl's own words, his work "blurs the boundaries of life and work, and of humans and nature." He describes his style as "experiential, authentic, and motivational."[7]  
In addition to his outdoor work, Strohl also does commercial photography for brands and clients, including fashion, lifestyle, and product photography. [10]
In 2012, Strohl and his partner Andrea Dabene founded the Alex Strohl Studio, a creative agency based in Whitefish, Montana. The studio specializes in photography, videography, and creative direction for various brands. Its work is characterized by placing emphasis on storytelling, emotion, and strong visual aesthetic.[11]
The Alex Strohl Studio has created content for advertising campaigns, social media, and other platforms. The studio's team includes photographers, videographers, writers, and other creatives who collaborate to produce beautiful and effective content communicating clients' messages. In addition to its commercial work, the Alex Strohl Studio also creates and sells its own products, including prints, books, and other merchandise. 
Publications that have featured Strohl's work include: National Geographic, Vanity Fair, The New York Times, Condé Nast Traveler, GQ, The Guardian, Men's Journal, and Forbes. Among Strohl's well-known clients are:[11]
Apple
Microsoft
HP
Google
Facebook
66º North
Peak Design 
Land Rover
Canon
Arcteryx
Mercedes Benz
Eddie Bauer
Toyota
Mountain Hardwear
Yeti
Sony
T-Mobile
In 2013, Strohl founded a content agency called Stay & Wander with partners and fellow photographers who he worked with in Canada.[12] Stay & Wander is a "content powerhouse that produces photo/video content, develops branded content campaigns, and delivers visual content libraries to brands for commercial use."[13]
Additionally, Strohl is a photography teacher. In 2018, he became the founder of Wildest (formally called Strohol Works), a company that hosts virtual workshops to "pass down unrivaled experience and insight to tens of thousands of aspiring amateurs."[14]Wildest offers online workshops to thousands of students every month that teach "next-level techniques for planning, capturing, and editing adventure photos," in addition to tools for using Lightroom to edit photos and tips for developing a professional portfolio.[15] Strohl has stated, "The motto of Wildist is outdoors first, then photography second . . . Anything that encourages people to go outdoors, we're going to be doing that."[16] 
Books
Strohl has published several books that feature his photography and writing. His work aims to tell stories that capture the essence of the places and people he encounters. Stroh's books include:[4]
Alternative Living: This book features a collection of photographs and stories of people who have chosen to live an alternative lifestyle. The book explores different ways of living, from "off the grid" to "tiny homes," and features interviews with the people who have made these choices.
The Cabin Chronicles: This book is a celebration of cabins and the people who live in them. Strohl explores the rustic charm and beauty of cabins and features photographs of cabins from around the world. The book also includes interviews with cabin owners and stories about their experiences.
Lost Track: Lost Track features photographs and stories of Strohl's travels through Argentina, Chile, and Bolivia. The book takes readers on a journey through the rugged and remote landscapes of the Andes Mountains, capturing the beauty of the region and the people who live there.
Origins: Origins features a collection of photographs and stories from Strohl's travels to his native country, Spain. The book explores the people, places, and culture of Spain, highlighting the country's rich history and traditions.
Personal Life
Today, Strohl spends eight or more months of each year on the road taking photos. Much of Strohl's work is done with his wife Andrea Dabene, who Strohl shares a daughter with named Mia.[17] 
In general, Strohl is a private person who doesn't share many details about his family life. However, on social media, he sometimes offers glimpses into his personal life while traveling. In 2018, Strohl got married to Andrea Dabene, who is also a photographer and content creator. The couple often works together on photography projects, and they have collaborated on several books and other projects.
Strohl and Dabene have also documented their travels and adventures together on their social media accounts, sharing photos and stories from their trips around the world. The couple frequently travels to remote and off the beaten track locations, such as ski locations, mountains, and archipelagos.[6]
References
Leaders Media has established sourcing guidelines that rely on credible, expert-level, and primary sources for articles about people and companies. Articles are frequently edited by staff writers. Learn more about our mission, editorial ethics, and how we source references in our editorial policy.
Any reader who wishes to provide any additions or revisions to this article, including updating any out-of-date information, please email [email protected].