Elon Musk is trying to take a bite out of Apple by calling out the company for pulling back on ad spending and charging high fees in its App Store.
Key Details
Elon Musk took to Twitter to call out Apple for cutting back on ad spending and charging high App Store fees.
Musk accused Apple of hating free speech in America because the company cut back on Twitter ad spending after Musk officially acquired it and set out to make it a free-speech platform.
He also called out Apple claiming it puts a "secret 30% tax" on all items purchased in the app store taking away money from businesses—30% is the fee Apple charges to check the validity and security of apps on its platform. Many developers have been complaining about the high cost of the fee for years—arguing that 20% or lower is more reasonable.
Why it's news
Elon Musk has always been one to speak his mind and that fact remains true as he recently calls out Apple CEO Tim Cook for cutting back on ad spending and charging high fees.
In a series of Tweets Musk says Apple is attempting to suppress free speech by requiring apps to abide by certain speech standards in order to stay on the App Store.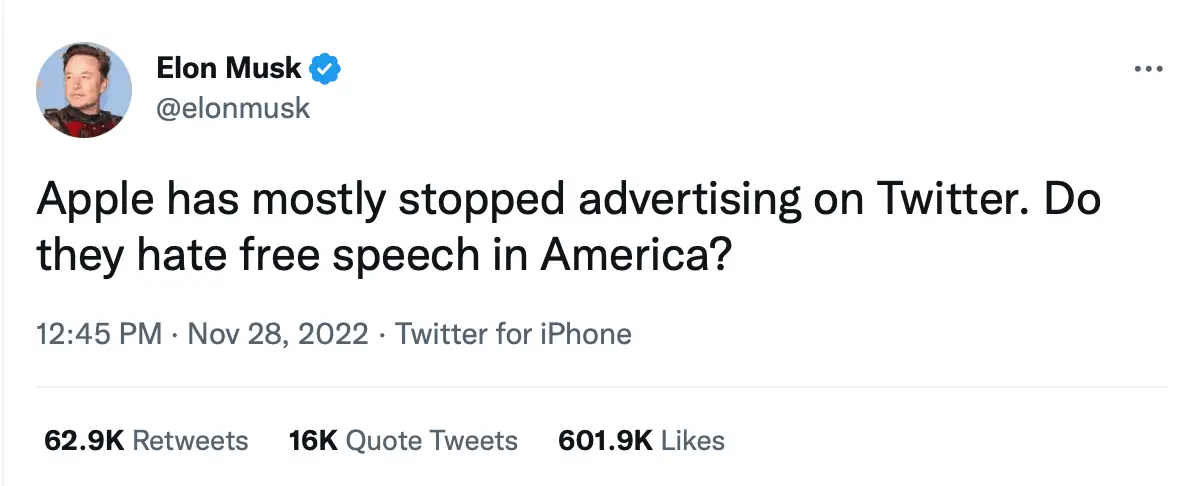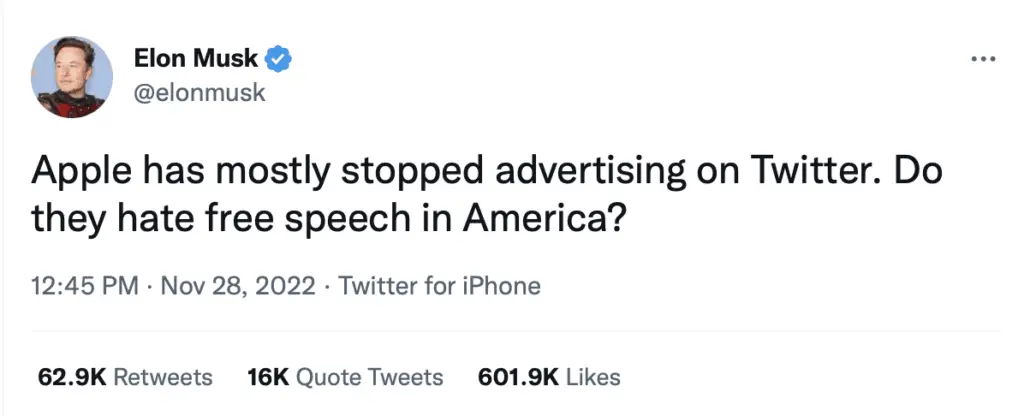 Without any real evidence, he claims that Apple has threatened to take Twitter off the App Store if the platform does not abide by its rules. Apple has removed apps before without hesitation—but with due process.
Apple isn't the only company to pull back on Twitter ad spending. Many large corporations paused ad spending amid Musk's takeover due to the uncertainty around the platform as Musk changed speech rules.
Many feared more hate speech would be spread across the platform and the companies did not want to be associated with that, but recently Musk says that hate speech impressions have lowered.
Musk says Apple also puts a "secret 30% tax" on all items purchased in the app store. If a company makes over $1 million annually through the app store Apple will take a 30% cut which Musk says is the equivalent of having a tax on the internet.
Musk tends to say what he is thinking, but in the case with Apple it could end badly. Many Twitter users access the platform on some form of an Apple device and if Apple decides to cut the app from its App Store after Musk's series of call-out tweets that could be a big loss in revenue for the company.
Backing up a bit
In October 2020, the New York Post published an article saying that a computer repair shop in Delaware had a laptop computer owned by then-candidate Joe Biden's son Hunter that revealed illegal foreign dealing by the young Biden. 
Twitter suppressed the story on its platform—to the uproar of Republicans saying that the social-media platform was interfering with the election. Now Musk has discussed revealing what was behind the suppression of the story.