Social media is becoming costly as more platforms that were once free are adding features only accessible with a fee.
Key Details
Twitter owner Elon Musk tweeted that starting April 15, only tweets by paid verified users will show up on Twitter's "For You" news feed.
Facebook parent Meta launched a paid subscription allowing users on both Facebook and Instagram to pay a monthly fee for verification.
Snapchat recently started licensing its augmented reality software and tools to other companies.
Why it's news
Social media has always been a free activity for users to spend time on, but recently users are feeling pressure to pay for access as many platforms begin launching paid features. 
Over the last few months, many social media platforms have begun pushing users to pay for services. The trend started with Twitter after Elon Musk began charging $8 a month for Twitter verification, which was once only accessible by celebrities and public figures. 
Users were not happy with Twitter's paid verification, fearing that others would impersonate public figures, but Musk has kept the feature to add more revenue. He recently announced another way to bring money from the verification process, tweeting that starting April 15, only tweets by paid verified users will show up on Twitter's "For You" news feed.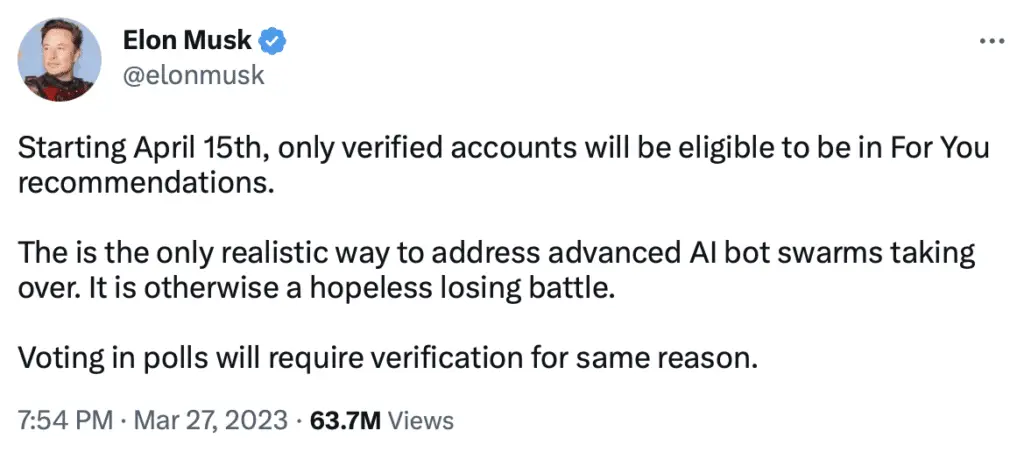 Musk also has started charging businesses for access to Twitter's API, or backend interface, a feature that was once free, according to Axios. 
Other social media platforms have followed Twitter's lead, including Meta Platforms—the parent company to Facebook and Instagram. Meta recently announced it was launching a paid verification similar to Twitter.
CEO Mark Zuckerberg made the announcement on his "Meta Channel," which is one of the newest features launched for social media creators to "directly reach their audience and form deeper connections with their communities," according to Meta.
Meta Verified is only available to personal accounts and will cost $14.99 per month if purchased on an iOS or Android device and $11.99 per month if purchased through the web. 
Meta says accounts with current verification can apply for the paid subscription, but for now, it does not plan to take verification away from those that already met the requirements.
Snapchat has started its own enterprise software business allowing other companies to pay for access to its augmented reality software and tools starting. The company will begin licensing its software to the retail industry before moving to other markets.
"This opportunity is major, not just for Snap, but for businesses of all sizes," says Snap's head of AR enterprise services Jill Popelka. 
Many users report not wanting to pay for social media accounts that were once completely free, but most of the platforms are pushing for paid subscriptions and edging out users who are not buying. 
Twitter's paid verification subscription received extensive backlash after originally launching, but now around 300,000 users have paid for the check, according to data from Social Media Today. 
If the newly instated subscriptions from other platforms seem to do well, it is likely that more social media accounts will soon require some form of payment for access.