In some cases, companies' ambitious release of new technology is too advanced, ultimately causing it to fail—like Google Glass, metaverse products, and Quibi.
Key Details
Google Glass is wearable smart glasses launched in 2013 that displays information right in front of the eye—the product was completely shut down this year after gaining little traction with audiences.
The metaverse is Facebook founder Mark Zuckerberg's vision of an environment where users can work, meet, and interact virtually. It was launched in 2021 but gained little user adoption—leading Meta Platforms to back off the idea after investing billions of dollars.
Quibi, a streaming platform made for on-the-go watching, garnered $2 billion in funding but crashed in 2020, less than a year after its debut—mainly due to its inability to create content that meshed with its core viewer demographic.
Why it's news
New technology is constantly being debuted, but many times good products fail—because they are too advanced to catch on with the masses, they are not marketed to the appropriate audience, or because their advanced features frighten the masses. 
Google Glass was released in 2013 by one of the largest tech companies in the world. For $1,500, the glasses, worn like traditional eyeglasses, displayed information right in front of the users' eyes—requested data, photo and video capabilities, voice and video calls.
While the technology worked well, there were many health and safety concerns from the public. People were worried about wearing a device on their heads that emitted radiation constantly. Others feared that the device did not secure their photos, phone, email, and text information and that their information could easily be stolen.
When Google Glass was first launched, consumers were scared by the thought of being filmed at any point with someone's glasses. This was a time before social media and filming in public was common practice.
What's more, the way the spectacles sat on the face caused users not to be able to see accurately, causing safety concerns, according to ProductMint. 
In addition, the $1,500 price tag for an emerging technology led to product backlash.
Despite Google's attempts to fix the glasses and ensure customers' data was safe, the glasses did not catch on with the masses leaving it to fail and be completely shut down in January of this year. 
In 2013, BusinessInsider expected Google to sell 21 million units a year by year-end 2018. It is estimated the company sold half that, according to a CorporaLabs blog post on Medium.
Facebook's Metaverse is another tech invention ahead of its time. 
Facebook's founder Mark Zuckerberg had an ambitious idea of bringing the real world into an augmented reality where others can work, meet, and do practically anything virtually.
The metaverse was a mix between augmented and virtual reality, allowing people to dive into the virtual world or do a mix of both by wearing goggles that placed virtual objects into users' surroundings. 
Meta invested about $36 billion into its flagship product Horizon Worlds, which it launched in December of 2021. The company expected around 500,000 monthly users at launch, but the virtual reality universe only garnered around 200,000. 
Horizon Worlds was a free virtual reality game that let users build an avatar and explore the world completely virtually. Users could meet and interact with others also playing the game, but it found little success. 
The public did not embrace the metaverse as much as Zuckerberg had hoped—and as much as he himself did—and Meta employees were not bullish either. Many chose not to use the app, stating that the idea was too advanced and poorly executed. 
Facebook remained so bullish on the product that it changed its company name to Meta Platforms in October 2021. The decision to deep dive into the metaverse wiped around $800 billion from the company's market value in just over a year.
Zuckerberg has held out hope that his metaverse vision would be successful, but after poor sales and multiple layoffs facing the company, it seems Meta has shelved the idea for now.
Quibi, the short-form video streaming service designed for people to enjoy on vertically-formatted smartphones, is another technology that met its demise less than a year after launching. 
Short for quick bites, Quibi was created to entertain younger people with shows that were 10 minutes or less in length. But as Julia Alexander writes in The Verge: "Nearly all of Quibi's shows were terrible. Quibi was packed with mediocre content that seemed to come from studios and networks happy to finally sell off the projects sitting on their basement floors for years… " Plus, the directed at a younger audience was actually geared toward an older audience. 
For example, Quibi never explored collaboration with Mr.Beast—the world's largest YouTuber with 128 million subscribers, reaching the young audience Quibi needed for success. His business manager Reed Duchscher said on Twitter in 2020 that they offered content from Mr.Beast for the app, but the people behind the service said no.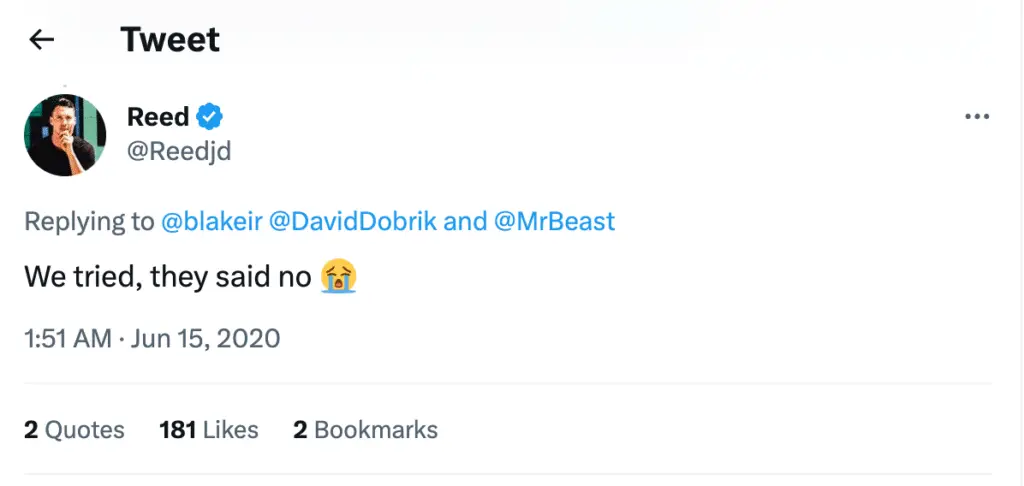 Quibi also decided not to allow screenshots (or memes) of any of the shows on the app. One of the best ways to market television shows is by people sharing screenshots on social media, but Quibi did not permit that, and many people were not even aware of the streaming app.
Alexander adds that founders and industry superstars Jeffrey Katzenberg and Meg Whitman did not "understand how people use their phones, what people want from streaming services, or why something like TikTok and Netflix worked"—and they would not listen to input from others.
The app was $5 a month, but users could sign up for a 90-day free trial. Some 90% of free-trial subscribers did not sign up for the platform. It shut down in December 2020.
Before even a year on the market, Quibi met its end in December 2020 after not meeting its subscriber goals. Although Quibi is gone, its programming was bought by Roku in January 2021.