In 2012, cardiac arrhythmia due to "caffeine toxicity" claimed the life of 14-year-old Anais Fournier. According to an ABC News report, Fournier had consumed two 24oz cans of Monster, the popular energy drink, within a 24-hour period. While watching a movie at home six days later, Fournier went into cardiac arrest and later died. 
Naturally, Fournier's untimely death prompted questions about the safety of these energy drinks. Resulting conversations, research, and findings have shed light on what is typically viewed as a harmless product. The Mayo Clinic states that healthy adults should avoid consuming more than 400mg of caffeine daily. Yet, Caffeine Informer says that a 24oz can of Monster contains 240mg of caffeine. This is more than half the recommended daily caffeine intake in a single can.
The National Library of Medicine says it would take 5,000–10,000mg of caffeine to be lethal. Yet, caffeine impacts some at much lower doses. To find out if these products are still safe to consume, learn the effects of energy drinks on the body. It might make you never want to pick up a can of Red Bull or Monster again.
Key Takeaways
Energy drinks currently make up a $45.80 billion global market.
A single energy drink contains more than half the recommended daily intake of caffeine and sugar.
Consuming highly caffeinated drinks can pose many serious health risks, including death.
Swapping to healthier alternatives (green tea, coffee, yerba mate) is recommended for long-term health.
What Is an Energy Drink?
Energy drinks are beverages that contain high amounts of caffeine and legal stimulants. These drinks work by releasing stimulants into the bloodstream to block adenosine, the brain chemical responsible for sleep. This block causes adrenaline to be released, resulting in a boost of energy. Meanwhile, caffeine increases the body's dopamine levels, causing feelings of pleasure and positivity. 
What Is in Energy Drinks?
Caffeine
Taurine
Guarana
Ginseng
B vitamins
Ginkgo biloba
Sugars
The advertised benefits of drinking energy drinks, like boosting alertness and improving cognitive function, are sought after most by students and athletes. In small doses, caffeine can have many positive effects. However, consuming too much caffeine and sugar in a short period, like energy drinks, can increase blood pressure and heart rate to harmful levels. 
What Do Experts Say About Daily Caffeine and Sugar Amounts?
As of 2020, the energy drink market was valued at $45.80 billion globally, according to Allied Market Research. By 2031, it's expected to reach $108.40 billion. Even though caffeine is the most widely consumed psychostimulant in the world, with 89% of the US population consuming it daily, not everyone knows how much is too much. 
How Much Caffeine Can You Consume Each Day?
A lethal dose of caffeine is 180 mg/L, according to The McGill Office for Science and Society. This equates to drinking about 40 cups of coffee in one sitting.
According to the Mayo Clinic, up to 400mg of caffeine daily is okay for healthy adults. This would be the equivalent of about four cups of brewed coffee or two energy "shots." For children and adolescents, however, the Mayo Clinic suggests avoiding caffeine entirely. 
A clinical toxicology study by the National Library of Medicine found that consuming low doses of caffeine, up to 250mg, can have many positive benefits. According to InBody, some of these benefits include increased concentration, improved performance, and burning unwanted body fat. Consuming more than 400mg of caffeine per day, however, can have adverse effects on the body, including death. 
Benefits of a cup of coffee:
Increased alertness and concentration
Greater sense of joy and improved mood
Improved endurance and performance
Antioxidants in coffee protect cells against damage
Reduced risk for depression
Decreased risk of several conditions, including Type 2 diabetes and liver disease
Everybody's sensitivity to caffeine is different. Too much caffeine for one person may not have any adverse effect at all on another. The key is to watch for signs of overconsumption and be mindful of how much caffeine certain drinks contain. 
How Much Sugar Can You Have Per Day?
Many energy drinks are known for packing in sugar. An 8.4oz can of Red Bull, for example, contains 29g of added sugars. The American Heart Association advises that men consume no more than 36g of added sugar per day and no more than 25g per day for women. This would be about nine teaspoons of sugar, or 150 calories, for men, and about six teaspoons, or 100 calories, for women. 
Of course, consuming too much added sugar is a known concern. U.S. adults consume an average of 77 grams of added sugar per day—three times the recommended amount for women. Beverages, like soft drinks and energy drinks, are the leading source of added sugar, making up 47% of all added sugar intake.
While energy drinks are a more obvious culprit of added sugar, some items, like bread, dairy products, and cereal bars, also contain surprisingly high amounts. Heart.org explains that consuming too much sugar may lead to weight gain and reduced heart health. The key is reading nutrition labels for sugar and added sugar content. This will help ensure you're not consuming too much.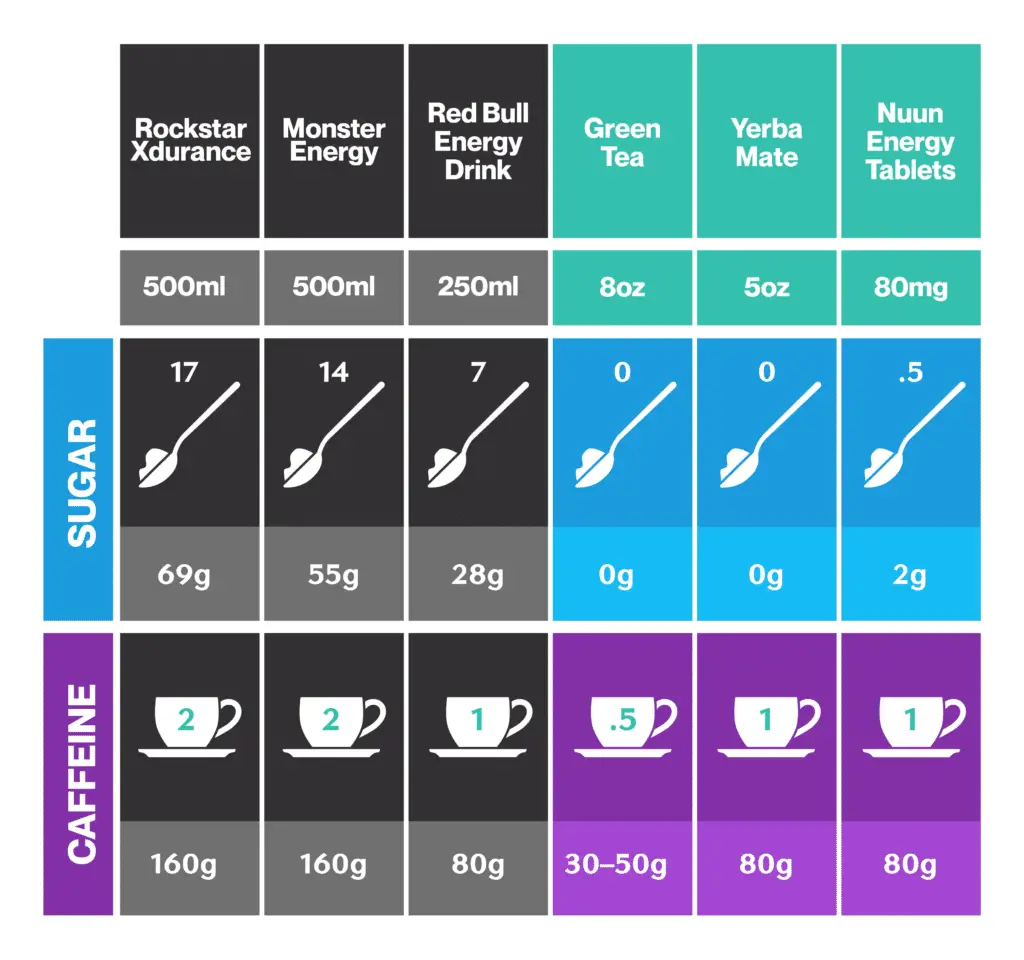 Symptoms of Caffeine Toxicity
If more than 400mg of caffeine is consumed in a short time, some unpleasant and even dangerous symptoms of a potential overdose can result. 
According to the Mayo Clinic, here are the early signs of a caffeine overdose:
Muscle tremors
Nervousness
Jitteriness
Headache
Increased or irregular heartbeat
Irritability
Frequent or uncontrollable urination
If you experience any one or several of these symptoms, drink water. In more extreme cases, experts have seen the following signs of caffeine toxicity:
Seizures
Fever
Rigid muscles
Frequent vomiting
Delusional thought
Chest pain
In these cases, one should go to the emergency room or call for immediate medical treatment. Intravenous hydration and other methods will then be taken to prevent cardiac arrest and death. 
While life-threatening caffeine ingestions are uncommon, they do happen. Experts found varying postmortem blood caffeine levels in a study of 51 caffeine-related deaths by the National Library of Medicine. This observation means that of those who died, there was no set caffeine amount or pattern from which they were all affected. For this reason, it's important to note how you feel when drinking caffeine and watch out for any early overdose symptoms before it's too late.
Top Effects of Energy Drinks to Watch For
When you ingest caffeine, adenosine (a hormone responsible for sleep) is blocked, and adrenaline releases into the bloodstream. When you ingest sugar, the brain releases dopamine and opioids, chemicals that cause feelings of pleasure. Consuming high amounts of sugar and caffeine results in a whirlwind of energy and joy, resembling feelings of strength, power, and stamina. 
This is exactly how energy drink companies want their products marketed, especially to young adults. Energy drinks are advertised as having superhero-like effects, providing impenetrable mental and physical benefits, often leading to risky decision-making.
What's not advertised are the sugar crashes, insomnia, anxiety, caffeine withdrawal symptoms, and energy slumps that can result from drinking too much. As registered dietitian Trista Best says in an interview with SheFinds, "You may be improving energy but you will also increase the calories you're taking in and end up with a sugar crash."
Energy Drinks and Health
Experts at the Harvard School of Public Health say that energy drinks can pose a real health issue for vulnerable groups like teenagers, pregnant women, and those with medical conditions. In particular, mixing caffeine with prescription drugs can lead to toxic and even dangerous reactions.
In the 51 caffeine-related deaths study, researcher Alan Wayne Jones observed an interesting commonality. While their caffeine levels were different, the deaths all shared the presence of other drugs, like antipsychotics, benzodiazepines, and antidepressants.
Make the Swap for Healthier Alternatives
With many healthier alternatives for getting energy and focus these days, relying on sugar and caffeine-laden drinks like Monster isn't necessary. Simply by making some healthy swaps, you can save yourself from the many dangers of energy drinks.
Three healthier non-energy drink options:
Green tea: Green tea contains caffeine, antioxidants, and other healthy minerals that benefit your overall diet. Plus, it's natural. 
Coffee: In moderation, coffee is much better than energy drinks. It's full of antioxidants that can help guard against heart disease and other conditions, and it also works to reduce inflammation. 
Yerba Mate: Consumed similarly to green tea, yerba mate is a substance from a South American holly tree. It's packed with antioxidants, minerals, caffeine, and other healthy substances that can provide a healthy energy boost with no addictive qualities. 
If the idea of quitting energy drinks cold turkey makes you shiver, there are healthier energy drink options now too. 
Three healthier energy drink options according to dietitians:
Nuun Energy: 15 calories, 2g added sugar, 80mg of caffeine per tablet
Bai Bubbles Sparkling Antioxidant Infusion: 5 calories, 1g added sugar, 45mg of caffeine per can
RUNA: 10 calories, 0g added sugar, 150mg of caffeine 
Continue learning ways to boost your energy and attention naturally by reading "How to Focus: 10 Ways to Reclaim Your Attention."