Work burnout is a wildfire that's currently raging through American companies. Research from Deloitte shows 77 percent of employees feel burned out in their jobs, regardless of their passion for their work. On top of this, when burnout occurs, 70 percent of team members say their employer doesn't do anything to help treat the problem.
These statistics communicate a serious issue. Leaders aren't fulfilling one of their core responsibilities: preventing harm from occurring to their team members—especially damage caused by work. So, why do so many executives, directors, and managers struggle with protecting their employees from work burnout?
The answer is simple: they're burned out and experiencing workplace stress, themselves.
According to a new study conducted by DDI, 60 percent of leaders feel the effects of work burnout at the end of each day. When you're emotionally drained or emotionally exhausted, it's nearly impossible to pour the little remaining energy you have left into others, so it's no surprise team members feel burned out, too. There's no one preventing them from following in their leader's footsteps. Ultimately, this work trend creates an unhealthy company culture, decreases employee retention rates, lowers productivity, causes more absenteeism, and results in job abandonment.
Work burnout starts and ends with leaders. But to do this, executives need to first recognize stress and burnout in themselves. This allows them to uncover it and resolve it for their employees as well. To learn more about doing this, find out below how to guard yourself and your team from workplace stress and job burnout.
What Is Burnout?
Work Burnout Definition
Work burnout is defined by the World Health Organization (WHO) as "a syndrome resulting from chronic workplace stress that has not been successfully managed." When left unaddressed, work burnout can have devastating effects on a person's mental health, body, and career. Whether it's feeling a lack of motivation, resenting time spent at work, or experiencing depression, job burnout is a serious issue that cannot be left untreated. With a variety of different causes, ranging from chronic stress to perfectionism, anyone—including leaders—is susceptible to work-related stress and job burnout.
Symptoms and Signs of Burnout
How does a leader know if they're actually experiencing burnout, though? Writing off signs like moderate fatigue and lack of motivation can be chalked up to having a couple of bad days. But, when feelings like this continue happening, it's a leader's responsibility to themselves—and their team—to acknowledge the signs of job burnout so they can treat the problem. To do this, use the questionnaire below.
Burnout Self-Evaluation
Do you feel a significant decrease in energy and an increase in exhaustion?
Have you experienced any recent unexplainable health problems?
Do you have work anxiety or dread?
Do you feel too socially isolated working on a virtual team?
Have you spent hours trying to focus on getting a singular task done?
Is your job performance suffering due to a lack of motivation?
When you speak about work, is it in a negative or cynical manner?
Do you emotionally dissociate from team members?
Has there been an increase in lack of sleep, alcohol, or drug use?
If you answered "yes" to one or more of these questions, you are likely experiencing signs of burnout which can lead to serious problems when left unresolved. Since job burnout can be closely associated with depression or underlying health issues, meeting with a doctor or mental health professional to discuss any occurring symptoms of burnout is always a good idea.
Causes of Burnout
Feeling Stressed
Stress is one of the main contributors to feeling burned out from work. Research conducted by Gallup shows business owners experience burnout and more stress than other workers. Following the results of a survey on the well-being of business leaders, their research found 45% of entrepreneurs surveyed felt stressed most of the day. 
Becoming a Work Martyr
Not taking time for rest or relief is also a primary contributor to work burnout. Project Time Off refers to this complex as being a "work martyr." Instead of recharging their batteries, work martyrs stay in a constant state of busyness. Since it is impossible to be attentive to everything all of the time, this impacts a person's motivation, productivity, and mental health. Additionally, it decreases a leader's ability to maintain strong relationships at work and in their personal lives. 
Limiting Vacation Days
Another study from Gallup found that small business owners rank as some of the least likely workers to take time off. 20% of business owners with fewer than five employees reported taking zero vacation days. This means entrepreneurs who are still in the early stages of building their companies do not take adequate time for recovery or rest.
Lacking a Sense of Freedom 
In a survey conducted by Finimpact, researchers found that "freedom is the most dominant reason for opening a small business." Yet, too often, company owners get caught in the cycle of the business running their lives. Instead of setting boundaries and practicing time management, many entrepreneurs allow work to consume them.
Burnout Risk Factors
Some business owners and other types of leaders and high-performers are more inclined to deal with work burnout than others. Those more susceptible to burnout might have demanding careers that require long shifts and little rest. For this reason, essential workers in healthcare rank as one of the top professions at risk. For example, the American Medical Association found that more than half of physicians in urology, neurology, and physical medicine show signs of work-related burnout.
Other high-pressure jobs, such as being an entrepreneur can make someone in danger of burning out and experiencing mental health and physical health problems, too. According to Dr. Shikhar Ghosh, a professor at Harvard Business School, 90 to 95 percent of startups do not meet their initial projections. There's a lot of responsibility riding on business leaders who don't want to fail their teams, customers, investors, and themselves. This can cause feelings of work-related anxiety which might lead to spending excessive hours on the job trying to achieve company goals. Additionally, not meeting business objectives after working months on end can also put people in jeopardy of burnout.
Being at-risk for burnout also includes people who:
Don't set boundaries between their professional and personal life
Work endless hours
Have a bad manager or boss
Are the victim of workplace bullying, harassment, or poor treatment
Try to meet unreasonable deadlines
Have unfair or unclear expectations
Receive an unmanageable amount of tasks and jobs
Experience the pressure that comes with perfectionism
Feel emotionally overwhelmed by responsibility
Lack a support system at work and at home
Work in a profession that doesn't suit their talents and strengths
Consequences of Untreated Burnout
Successful business owners and executive leaders know that finding time for rest can be difficult. Nevertheless, without a plan to intentionally take time away from work, leaders can easily overlook or ignore signs of fatigue. It is important to remember that working more hours doesn't necessarily equate to increased productivity. 
In fact, data shows that overworking actually leads to less productivity. Survey results published in the Harvard Business Review found that "leaders in countries with more paid vacation days actually tend to seem slightly more likely to work at a faster pace [and] have a higher quantity focus." 
Working excessive hours, feeling the effects of unmanaged workplace stress, and lacking rest—especially sleep—are detrimental to a person's health. In a study comparing burned out workers with "healthy" workers, scientists cite that job burnout can cause heart disease, type 2 diabetes, and "poor self-rated health."
Top Tips for Preventing or Managing Work Burnout
1. Master the Art of Delegation
Too often, leaders become crisis managers. Instead of working to the brink of exhaustion, set your sights on what you want to accomplish. Delegate the rest of the responsibilities to another team member. Delegation helps business leaders stay focused on fulfilling the vision and mission of the company. As leadership expert John C. Maxwell says, "If you want to do a few small things right, do them yourself. If you want to do great things and make a big impact, learn to delegate."
Start delegating by:
Writing a list of the top five impactful duties only you can do.
Listing the tasks that steal your joy or waste your time at work each week.
Delegating the second list to people on the team who are more proficient at these tasks.
2. Don't Operate in Isolation 
Being an entrepreneur can often be an isolating experience. As a result, many people struggle with mental and physiological issues stemming from business ownership. For example, Harvard Business Review's CEO Snapshot Survey found more than half of respondents felt lonely, while 60% of company leaders said loneliness affects their performance abilities. 
Making time for family, friends, and team members are the key to staying connected. Researchers contributing to the American Journal of Lifestyle Medicine found evidence that feeling connected "can help people maintain a healthy body mass index, control blood sugars, improve cancer survival, decrease cardiovascular mortality, decrease depressive symptoms, mitigate post-traumatic stress disorder symptoms, and improve overall mental health."
3. Lower Workplace Stress and Anxiety Levels
Without a doubt, leaders are experiencing burnout from stress and anxiety. When anxiety hits, your sympathetic nervous system, or your fight or flight mode, kicks in. Remaining in this constant state of fight or flight is proven to cause both physical and emotional repercussions on the body. In contrast, when the parasympathetic nervous system is engaged, your body can recharge and re-energize in the way it needs to thrive. But, how do you switch this "calm" nervous system into gear?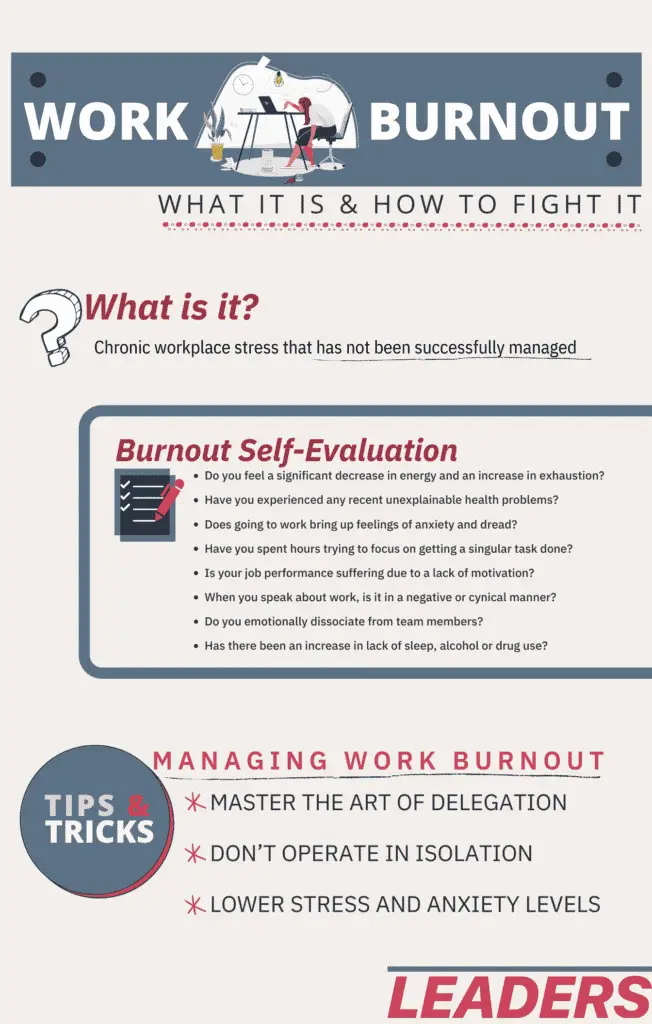 Lower your fight or flight response by:
Creating daily habits that help lower anxiety, such as breathing techniques, regular workouts, and a diet high in nutrients and low in sugar.
Practice boundaries, time blocking, and delegation, so not everything "rests on your shoulders."
Set quiet hours where you turn your phone on airplane mode, meditate, or practice breathing techniques.
Fight Leadership Burnout with Emotional Intelligence
It's essential leaders know how to deal with job burnout for their sake and their team's. Emotional intelligence (EI) is a critical skill leaders need to identify and treat burnout within themselves and others. This requires all the domains of EI: self-awareness, social awareness, self-management, and relationship management. Without these skills, it's nearly impossible to keep yourself and the team members you've been entrusted to care for from experiencing burnout. EI enables those in leadership roles to ask questions, listen, reimagine work environments and policies that support their team, and create a company culture that people love being a part of.
To learn more about avoiding work burnout and becoming more emotionally intelligent, check out the articles below:
Emotional Intelligence in the Workplace: What You Should Know