Great businesses don't exist to simply grow and make money. Instead, they solve the world's problems, from tiny issues to giant dilemmas. Problem-solving is essentially the main function of organizations. An effective organization will have systems and processes in place to reach their goals and solve problems. If a company has team members and leaders who have poor problem-solving skills, that means they're ineffective at one of the core functions of a business.
You need to be good at both external problem-solving (solving problems for others) and internal problem-solving (solving problems before or when they arise within the business). An organization that can solve problems will see its teams come closer together as they bond over providing solutions to serious issues. Companies that solve problems well will also be able to carry out their purpose more efficiently.
Learn the steps you can follow to solve problems both great and small. Additionally, discover some real-world methods and problem-solving skills successful business leaders use to solve problems of their own.
What Is Problem-Solving?
Problem-solving involves the search for solutions that follow an effective process of discovery, identification, ideation, and execution. Problem-solving usually requires overcoming numerous obstacles that stand in the way of reaching your goal. Often, the act of problem-solving includes coming up with solutions to many smaller problems before eventually solving the main issue that prompted the process in the first place.
What Is the General Process of Problem-Solving?
The key to cultivating excellent problem-solving skills is having a distinct process designed to produce solutions. While it may seem like problem-solving involves a complex strategy, it features several steps that are easy to follow. The following steps represent a general problem-solving process you can use when you need to find a solution.
1. Define the Problem
The first step to take as part of the problem-solving process involves defining what that problem is. While this may seem like a simple idea to follow, the key is to get to the root of the problem. Only once you're able to identify the root issue you're tackling through a root cause analysis can you be sure you're on the right path. Sometimes the surface issue isn't what you need to address. Just like an earthquake, organizational issues have an epicenter—complete with shockwaves that negatively impact the business. If you don't resolve the core problem, it can expand, and the damage becomes detrimental. All problem-solving jobs begin with this important first step.
Example
If your organization has a problem with employee retention, you may think you'll solve it by increasing pay or perks. However, that might not address the root of the issue. If you were to investigate further, you may discover that a manager is creating a toxic work environment, causing good employees to find work elsewhere. 
2. Brainstorm Possible Solutions
Once you have a solid idea of what the real problem is, you can proceed to create possible solutions you can pursue. Take the time to brainstorm different solutions. No two problems are the same, and each one will require a creative approach. Make sure you write down the alternative solutions so you can research them in depth. During the course of your brainstorming, you may stumble upon a solution you wouldn't have thought of otherwise.
As you follow this step, you may need to find the best way to inspire your critical thinking skills. Think about when and where you generate ideas and get the creative juices flowing. Then, try to put yourself in that environment as often as possible.
Example
Sara Blakely, the founder of SPANX®, says her most productive creative thinking happens when she's driving in her car. Even though she doesn't have a real commute, she gets in the car and makes one up. "I live really close to Spanx," she said on the "Masters of Scale" podcast, "so I've created what my friends call my 'fake commute,' and I get up an hour early before I'm supposed to go to Spanx, and I drive around aimlessly in Atlanta with my commute so that I can have my thoughts come to me." As a result, she sets time aside for developing her best problem-solving strategies every single day.
3. Research Several Options
After you've come up with several possible alternative solutions, pick two or three that seem the most promising using your analytical skills. Then you'll need to buckle down and do some research to see which one to pursue. Conduct your research using primary and secondary resources.
Conduct primary research by:
Having a discussion with a mentor
Interviewing a person who's successfully solved this problem before
Strategizing with team members closest to the issue
Great secondary sources include:
Trustworthy online articles and news sources from credible websites
Leadership books from experts who have written about the problem
Business podcast interviews on the issue
YouTube videos featuring established leaders
4. Select a Solution
At the conclusion of your research, you'll be better equipped to select the right solution. Evaluate the data you have gathered. To ensure you make a good pick, you'll need to keep several considerations in mind. 
Here are some good questions to ask when picking a solution:
Is this solution in line with the company's core values?
Is it a realistic option?
Could it lead to additional problems?
Will everyone involved accept the solution?
Does it truly solve the problem, or does it only delay negative effects?
As you employ your creative thinking skills in answering these questions, you'll eventually need to settle on a single solution. Adhering to a decision-making process helps you objectively choose the best solution out of many options. Don't make a quick decision you may later regret. Be deliberate in your analysis, and try to remain as objective as possible.
In order to make the most objective decision:
Get into a humble mindset and make sure you're willing to listen and learn.
Don't let emotions influence the choice.
Reverse-engineer the possible outcome of any given solution.
Weigh the pros and cons of each choice.
Seek wise counsel from trusted mentors, leaders, and team members.
5. Develop an Action Plan
Once you've settled on a solution, you'll be ready to pursue it. Before moving too quickly, revisit step one and make sure your choice aligns with the main objective. If it doesn't, although it may be a valid choice, it's most likely not the best for your team. If this is the case, don't get discouraged. Creative problem-solving takes time.
When the right choice is made, and the solution is placed into the overall strategy, start developing an action plan. Lay out the "who," "what," "when," "why," and "how." Visualize exactly what success looks like with this new plan. When working through the problem-solving process, write all the details down. This helps leaders construct action items and delegate them accordingly. Never leave this part of the process empty-handed. Your team needs a clear picture of expectations so they can properly implement the solution. And if everything works, you can use this problem-solving model in the future.
The Best Problem-Solving Strategies and Tools
You will undoubtedly encounter many problems that need to be solved in your life. There are a variety of ways to solve those problems. With all the problem-solving techniques out there, it can be helpful to learn some of them so you can employ the best one at the right moment. The following are just a few examples of what these strategies and problem-solving tools look like in the real world.
The 5 Whys
One of the best ways to discover the root cause of a problem is by utilizing the 5 Whys method. This strategy was developed by Sakichi Toyoda, founder of Toyota Industries. It's as simple as it sounds. When a problem occurs, ask why it happened five times. In theory, the last answer should get to the heart of the issue.
Here's an example of how the 5 Whys work in action: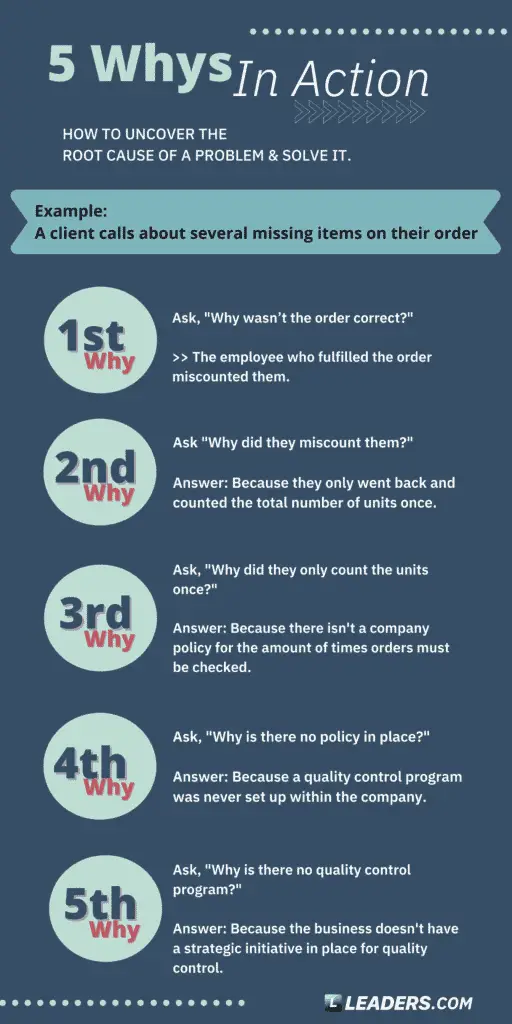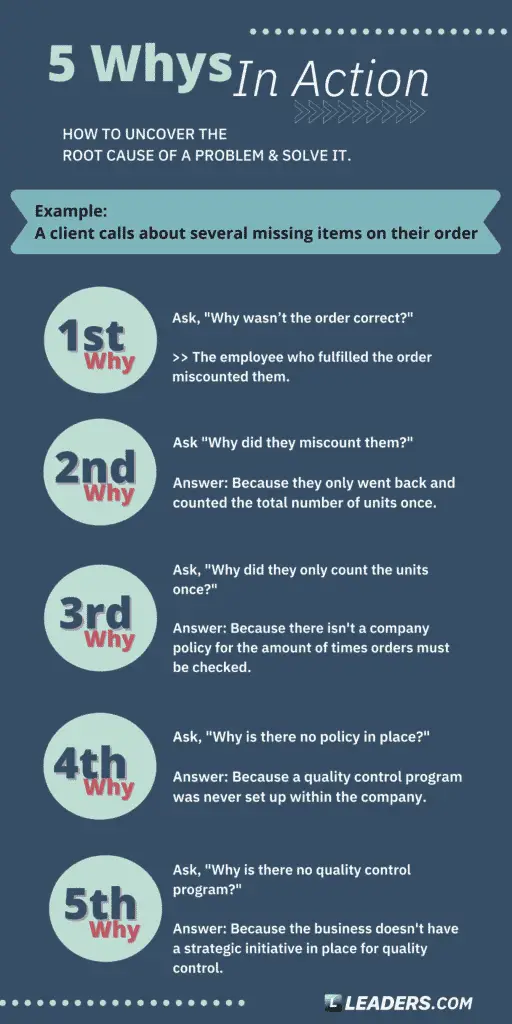 When business leaders use the 5 Whys method, problems are given more context. Uncovering how, when, and why they happen helps company owners and executives identify the organization's core issues.
First Principles Thinking
When one engages in first principles thinking, they end up questioning what everyone just assumes to be true. It effectively removes those assumptions, breaking things down into their most basic elements that are probably true. It's all about getting to that core foundation of truth and building out from there. Problem-solving skills should always include first principles thinking.
Elon Musk most famously pursued this strategy when it comes to space travel. Instead of accepting that building a rocket was too expensive, he got to the fundamental truths of construction, all the way down to pricing each component. Musk once explained that he follows first principles thinking by following three simple steps.
Identify the assumptions
Break down the issue into its core, fundamental components
Innovate by creating new solutions
Other business leaders have engaged in similar strategies, such as Jeff Bezos when he advised the need for finding out key truths for yourself. First principles thinking is an important part of innovating beyond what we assume can't be changed. It's a way to use analytical skills to discover potential solutions through constant learning and acquiring new information.
Steve Jobs' Problem-Solving Method
Steve Jobs gained a reputation for solving problems through Apple. He was always on the lookout for simple solutions to complex problems. He followed his own three-step method that helped him tackle difficult issues.
Zoom Out: When facing a problem, zoom out to get a larger view of the bigger picture. This is another way to help you define the problem and pinpoint the root cause.
Focus In: After defining the problem, focus all your attention on solving it. Concentrate your efforts, and don't stop until the problem is fixed. Give yourself a period of intense focus and dedication as you bring the solution to life.
Disconnect: If things aren't proceeding the way you thought they would, it may be time to disconnect. That means walking away and giving yourself a break so you can clear your mind. Sometimes, a break is all you need to approach the problem once more, this time from a fresh angle with your mind fully reenergized.
What to Do When a Problem Feels Too Big to Solve
From increasing sales to engaging in conflict resolution, business leaders have a lot of problems to solve. However, some people may still feel overwhelmed, especially if the problem is large in scope and could even threaten to close the company. Fortunately, there are steps you can take to get in the right mindset as outlined by James Clear, author of Atomic Habits:
Break the bigger problem down into a lot of smaller problems
Focus on one small problem and solve it
Use what you learned from solving that problem to increase your knowledge about the bigger problem
Repeat these steps until the larger problem is solved
Tackling a problem that feels too big to solve requires a can-do, positive mindset. In order to improve your problem-solving, you'll need to take remember these steps. Imagine what is possible instead of focusing on what seems impossible. As you do so, you'll become skilled in solving all sorts of problems while also improving your decision-making.
For more help in growing your skillset, check out the following article:
Growth Mindset: Creating an Environment for Innovation
Sources
Leaders Media has established sourcing guidelines and relies on relevant, and credible sources for the data, facts, and expert insights and analysis we reference. You can learn more about our mission, ethics, and how we cite sources in our editorial policy.
Abadi, Mark. "The CEO of Spanx Wakes up an Hour Early to Drive around 'Aimlessly' on a 'Fake Commute' Because She Does Her Best Thinking in the Car." Insider, 15 Nov. 2018, https://www.businessinsider.com/spanx-ceo-sara-blakely-fake-commute-2018-11.
Oshin, Mayo. "Elon Musks' '3-Step' First Principles Thinking: How to Think and Solve Difficult Problems Like A…." Mission.Org, 2 Nov. 2020, https://medium.com/the-mission/elon-musks-3-step-first-principles-thinking-how-to-think-and-solve-difficult-problems-like-a-ba1e73a9f6c0.
Clear, James. "How to Solve Big Problems." James Clear, 25 July 2014, https://jamesclear.com/narrow-focus.
Nast, C. (n.d.). WIRED. https://www.wired.com/2012/10/ff-elon-musk-qa/all/
Just a moment. . . (n.d.). https://www.indeed.com/career-advice/career-development/5-whys-example
inc.com. (n.d.). https://www.inc.com/kelly-main/apple-steve-jobs-problem-solving.html
How to find your big idea. (2022, October 6). Masters of Scale. https://mastersofscale.com/sara-blakely-how-to-find-your-big-idea/
EX-99.1. (n.d.). https://www.sec.gov/Archives/edgar/data/1018724/000119312517120198/d373368dex991.htm