In the early 1940s, Taiichi Ohno, a Japanese industrial engineer, developed the concept of the kanban board for Toyota Motor Corporation. This project management system was born out of a serious business problem. In comparison to the automotive industry in America, Toyota teetered toward bankruptcy because they couldn't keep up with the same level of production. Using his engineering skills, Ohno developed a system that optimized efficiency in an organization using a simple visualization of the company's work. As a result, Toyota was able to stay in business thanks to the creation of this new workflow management style. 
While kanban boards were popular among manufacturers, it rose even more in popularity thanks to David Anderson and his book Kanban. It adapted into becoming a continuous improvement system used for IT and software development teams. Since gaining traction, it's now considered a reliable, simple, and effective project management tool across a wide variety of industries. 
If you're looking to organize employees' work in a clear, direct way that boosts your business's productivity levels, learn more about how to use kanban boards below. 
What is a Kanban Board?
Kanban Meaning
In Japanese, kanban translates to English as "signboard" or "billboard." This is because the lean method for work management places all of an organization's tasks for various goals onto a digitized or physical "board." Whether using the square frame of a computer screen or writing out the company's different jobs on a whiteboard, kanban makes work within a business visual for employees to see.
Yet, this method of increasing productivity isn't just about project management. Overall, the purpose of a kanban board is to improve an organization's processes over time in small increments. This helps combat issues that stem from poor change management in business, and it all happens in real time. 
Top Benefits of the Kanban Method
There's a reason companies like Spotify, Microsoft, Volvo IT, and Pixar use kanban boards. Research paper, "Insights into the Perceived Benefits of Kanban in Software Companies" found users of this methodology said it is useful in "bringing visibility to work, helping to reduce work in progress, improving development flow, increasing team communication and facilitating coordination."
Other benefits include: 
Increasing the efficiency of the business's workflow without high levels of risk
Maximizing productivity levels by providing employees with a clear plan of action
Preventing burnout before it happens by seeing who has too many tasks on their plate
Finding places to reduce waste (time, energy, and resources)
Using a flexible project management system that can adapt quickly to changes
Creating strong, organizational processes that can scale a business
Key Elements of a Kanban Dashboard
While the case for using kanban is compelling, it might not be clear yet how it works. In essence, kanban divides tasks into a series of columns. Each one represents a stage in the company's workflow process. Start reading the board from left to right. The first column located on the far left is reserved for the first stage of work, while the column on the far right signifies the final stage of the work process for the task.
Inside each column are "task cards" which identify what needs to be done for that part of the process. Task cards provide information about the task. This includes instructions, who is responsible for the job, and any attached files needed for getting started. When a task card is ready for the next stage in the process, the team member drags and drops it to the next column. For example, a design file could be attached to a task card in the "Review" column that tags the creative director for approval. 
When creating a Kanban board, here's a few pointers:
Create a visual work process. Whether producing digital task cards or using sticky notes for a physical board, use visual cues. 
Put tasks into their respective columns, figure out what the company's current workflow process is. For example, a business's process might look like: "To-do," "In Progress," "In Testing," "Ready for Delivery," "Done." Don't get too caught up in creating the perfect process at first. More than likely, this process will refine and change over time as you learn how to optimize workflow. 
Limit the number of jobs categorized as "Work in Progress" (WIP limit). Set a definite number that indicates no more tasks can be added until this work is moved forward in the process. Often, when this column fills up with work, it means there's a bottleneck or organizational problem that needs attention. Setting a limit helps companies finish projects before moving onto other objectives too quickly. 
Add commitment points to your board as another layer of accountability for the process. For instance, many teams have a "ready to start" column. This ensures the task's assigned team member moves it from "to-do" to "doing."
Have a "ready for delivery" column. This represents the idea that the job is ready for implementation, thus bringing it to the final commitment before completion.
Types of Kanban Boards
While teams should follow the few rules above when creating a kanban board, how your company organizes and manages its process for getting work from start to finish is entirely customizable. Below, find a few examples of different types of kanban boards used across various types of businesses. 
Simple Board
A simple kanban board is great for those who want to keep track of their own personal tasks. It can even work for small scale teams that aren't managing a ton of complex tasks requiring a well-defined work process. Nevertheless, this type of board isn't always the best option for large teams with multiple layers of responsibilities and job types. 
Deadline-Driven Board
If your team works in sprints, this is more than likely the type of digital kanban board you'll want to use. In this workflow, the project manager makes tasks revolve around a clearly defined deadline. For this reason, it's a great choice for IT or software development teams used to scrum.
Simple Team Management Board
Haven't fine-tuned your work processes yet? That's okay—A simple team management board helps companies begin using the Kanban Method effectively and immediately. As time goes on, it'll become clear which columns need to be added to your team's unique workflow.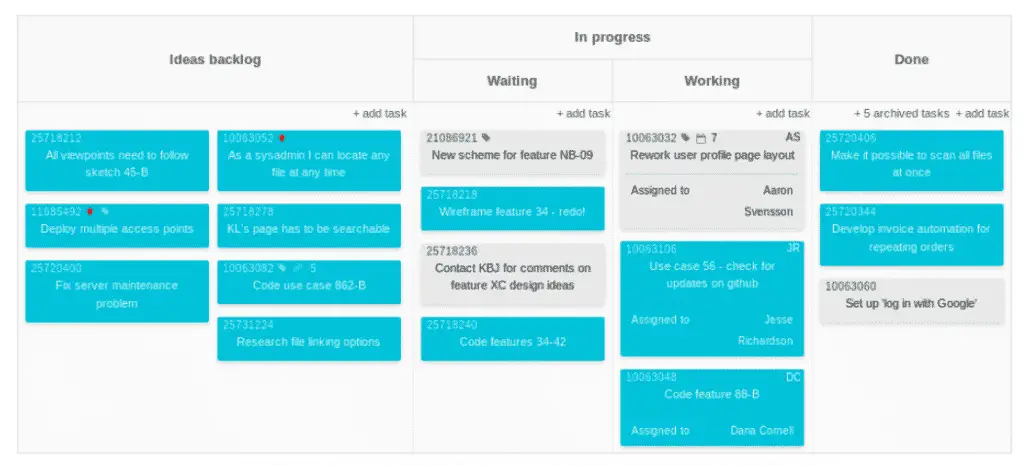 Product Development Board
This type of board is great when creating a product. From describing a wish-list of features to working through development, testing, and completion, this kanban flow guides teams through the process of ideation to a finished new product. 
Sales Board
This type of kanban board takes members on the sales team through the process of closing a business deal. From identifying new leads to gaining customers, this workflow is simple but effective in creating a profitable, clear-cut sales process. 
Parallel Process Board
Parallel process boards are great for smaller teams that fit within the framework of a larger team. For example, if you're a part of a marketing department with 20 staff members, there's likely a small team of copywriters, a small team of designers, and a small team of videographers. Everyone needs visibility into the interdependent work being done, so they know how it affects them.
Onboarding Your Team to Use a Kanban Board
Once you've decided what type of board works for your team, the next step is setting one up. Start by organizing your workflow process before adding kanban cards to each column. After the board is ready to go, meet with your team to discuss the information shared in this article. For successful implementation, let them know exactly what kanban is, how it works, and the rules around using it. If your team is in-office, it's a good idea to introduce them to kanban using a physical board with sticky notes as task cards. 
No matter what type of board you use, make sure to explain how this new system affects the current way your company completes work. It can take some time to create buy-in. Get the team on board with a new way of doing things by planning a full integration date within a month. This will give them time to adjust, but not too slowly. During the 30 days, monitor and support everyone adapting to using the system. By the end of the month, everyone should be using the board full-time to manage their work.
Ready to get started? Check out the many different project management tools that feature kanban boards, plus these other productivity-increasing business apps: 
Which Project Management App is Best for Your Team?