It may not seem like former NBA player Michael Jordan, TV host Oprah Winfrey, CEO Sara Blakely, and Olympic medalist Katie Ledecky would have much in common. However, they all accredit their success to one compelling strategy: visualization.
"I have my goals, and I visualize things to help me achieve these goals," Ledecky said in an article for Inc. Today, Ledecky is a ten-time Olympic medalist, three-time Olympian, and a 2019 gold medal World Champion, Team USA says.
Those unfamiliar with visualization techniques will likely be surprised to hear the profound success of those who practice them. The credibility of this technique extends beyond just personal testimony. Scientific studies have proven the connection between our thoughts and subsequent physical actions. For example, the University of Utah Health describes how fMRI scans show visualization as being just as effective as physical practice for aging piano players strengthening muscle memory. 
What's the secret to this mind-body connection? Continue reading to learn the proven strategies for visualizing your success.
Key Takeaways
Confidence in success is boosted in 67% of people who use visualization.
76% of people who write their goals down actually achieve them. 
Re-programming the subconscious mind is a vital component for success.
Seeing your goals, mentally or displayed physically, increases recall by 65%.
What Is Visualization?
Visualization is a technique of harnessing the subconscious mind to guide your actions and achieve your goals. The practice engages all five senses to imagine the achievement of specific objectives. This mental training and preparation ultimately have the power to bring you closer to accomplishment. 
Specifically, visualization is the practice of communicating a clear and concise message to your brain, telling it what to focus on. Diagrams, vision boards, images, and mantras can help tap into a visualization state. For leaders and entrepreneurs, visualization can effectively translate thoughts and ideas into attainable actions that others can follow. 
Why Is Visualizing Important?
Boosts belief: A Forbes study found that 67% of those surveyed believed they had a greater chance of achieving their goals by first visualizing them.
Activates the law of attraction: In The Secret, author Rhonda Byrnes explains how our thoughts' unique energy and frequency interact with the energy and frequency of the Universe and material objects. This interaction—called the law of attraction—has proven to transform our thoughts into tangible results. 
Builds intrinsic motivation: Visualization techniques require getting intimate with your most authentic wants and desires. This can feel difficult to do initially, but establishing internal closeness builds intrinsic motivation. Being intrinsically motivated is key to gaining traction towards achieving our goals. After all, we're not often motivated to achieve rewards and expectations that are separate from our own.
Engages the creative subconscious: Gregg Braden of Psychology Today describes the brain as a "programmable hard drive." Like a hard drive, the brain downloads information without differentiating between what is "real" and what's imagined. The practice of visualization engages this ability to re-program the subconscious mind to follow all avenues of possibility, even those yet realized.
Programs your brain: Distraction is what keeps many people from achieving their goals. Visualization tells your brain what to focus on and what to ignore. Programming your brain with what thoughts, visions, and goals to prioritize will help keep you on the right path and heighten your receptivity to helpful resources and opportunities. For example, a Neuropsychologia study examining the relationship between mental power and physical strength found participants increased their finger strength by 35 percent from doing mental contractions.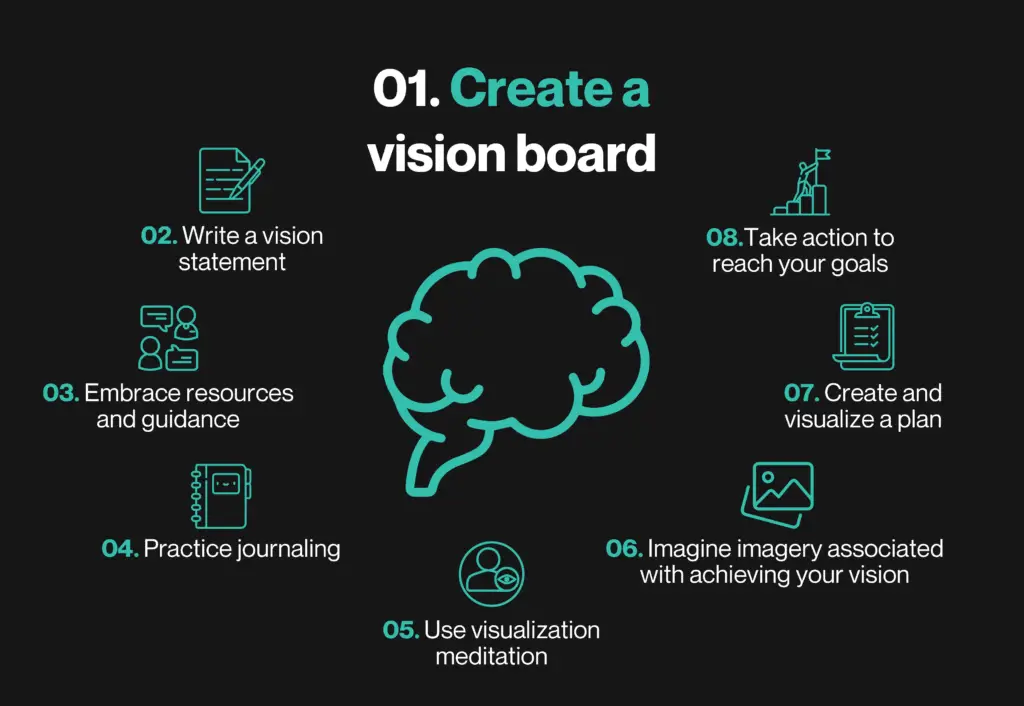 8 Visualization Techniques to Achieve Your Goals
If my mind can conceive it and my heart can believe it—then I can achieve it.

muhammad ali
1. Create a Vision Board
Making a vision board might seem like an adult arts and crafts project. You need image cut-outs, a glue stick, and scissors. But, unlike a regular crafts project, vision boards can profoundly affect your success because they help you stick to your life's vision. Studies show that simply displaying goals increases recall by up to 80% in three hours and 65% after three days.
Tips for making a vision board:
Visualize your future. What does it look like?
Write down the specific goals for achieving what you visualized.
Strategize on the new daily habits you'll need to achieve those goals.
Collect images, quotes, and items to attach to your vision board to remind you of your vision, goals, strategies, and habits.
2. Write a Vision Statement
As Simon Sinek says in Start With Why, "Leadership requires two things: a vision of the world that does not yet exist and the ability to communicate it."
With that in mind, what do you want your future to look like? A concise vision statement can help clarify where you want to go and how to get there. A study of 149 participants showed that 76% had achieved their goals by writing them down, identifying the action steps, and holding themselves accountable for progress from another. 
How to craft a vision statement:
Get clear on your "why."
Brainstorm what your future looks like. What words come to mind? Jot them down.
Write a draft of your vision statement, pulling together two to three main ideas.
Revise for clarity; review and remove any unnecessary or confusing words.
Put it into action. Share your vision statement with others, post it to your vision board, and keep reiterating it.
Learn more about how to write an inspiring vision statement.
3. Embrace Resources
If achieving your goals requires you to strengthen certain areas of your life or business, it's wise to practice pursuing and embracing resources. For example, is there a professional development program you can sign up for or a person in your life who can serve as a mentor? Consider the resources you have available and how they can help you. 
Embracing resources and learning from others is part of what psychologist Dr. Carol Dweck calls having a "growth mindset." Those with a growth mindset believe their skills can expand and grow over time. This type of thinking is what leads to greater success in life.
Begin embracing resources and practicing a "growth mindset" by:
Ditching perfectionism.
Seeing challenges as adventures and learning opportunities.
Accepting mistakes as a part of life.
4. Practice Journaling
A Michigan State University study showed that writing your thoughts about something before it's occurred frees up "brain space." This allows the brain to perform the task of getting an action done more efficiently than it would have otherwise. For this reason alone, the practice of journaling can be a powerful visualization technique for achieving your goals. 
New to journaling? Jump in with these prompts:
"How am I feeling right now?"
"If I had an extra hour each day, how would I use it?"
"How do I see myself being when I'm older?"
"Is there something challenging me right now? If so, what?"
At first, journaling may feel like a chore. However, by practicing atomic habits and sticking with them each day for at least three months, new thoughts and insights about yourself will continue to emerge, leading you down new pathways.
5. Set Aside Time for Visualization Meditation
Setting aside time each day to close your eyes and turn your attention inward is critical for staying focused and learning how to be confident. Visualization meditation can be achieved with either a guided meditation video or guided imagery. Kristin Keim shares with Headspace that she has her Olympic athletes use visualization meditation for 10–15 minutes as a part of their daily training. 
A few tips from Headspace for an optimal meditation routine:
Try to meditate in the morning, before doing anything else.
Be consistent. Set a specific time and place for meditation, and honor that.
Find a meditation position that's most comfortable for you (laying down, seated upright, feet on the floor, using a cushion or not, etc.)
Check out The 10 Best Mental Health Apps for 2022 for options on top-rated meditation and mental health programs.
6. Engage Specific Mental Imagery
Using focused mental imagery to make your goal(s) as real as possible is a powerful visualization technique. It's more than just thinking about a goal quickly for a moment, like a fleeting reminder. It's about closing your eyes, sitting quietly, and picturing your goal in detail. What color is it? What does it smell like? Feel like? Outline as many details about your goal as possible. Doing this will help your subconscious mind commit to it, driving your actions and decisions. 
3 Steps for Focusing on Mental Imagery, according to the National Library of Medicine:
Sit comfortably in a relaxing space, avoiding distractions.
Visualize a calm environment, either from memory or imagination. Note what you see, hear, smell, taste, and feel in that environment.
Using slow, deep breathing, remain in this environment for as long as possible. Continue observing the details of your vision.
7. Visualize a Plan and Take Action
When using the power of visualization technique for goal setting, use the SMART goals strategy to craft an actionable plan. Doing so will help identify the small, specific daily steps required to get closer to that vision. 
The SMART Goals Strategy
What is the (S)pecific goal?
How will it be (M)easured?
How is it (A)chievable?
Why is it (R)elevant?
What is the targeted (T)ime-bound deadline?
Once you've answered these questions, you can start creating new daily habits that will keep your actions on track, even when setbacks occur. Continue with 20 Life-Changing Personal Development Goals for personal and professional goal inspiration. You can also get additional help by learning about some SMART goals examples.
8. Get as Close to Your Vision as Possible
By engaging all these visualization techniques, you're effectively getting as close to your vision as possible. Don't try to take shortcuts. Each method has proven to help athletes, business leaders, celebrities, and entrepreneurs achieve their goals. As Rhonda Byrne says in The Secret, "Decide what you want to be, do, and have, think the thoughts of it, emit the frequency, and your vision will become your life." 
3 Examples of Success Using the Power of Visualization 
Thoughts become things. If you see it in your mind, you'll hold it in your hand.

bob proctor
Before trying this practice out, you might be thinking, "So, does visualization work?" Holding some skepticism about whether a practice you're unfamiliar with is understandable. Fortunately, many people have leaned on it for knowing how to manifest something, and it's from their personal stories that we can become enlightened.
1. Jim Carrey
In an interview with Oprah Winfrey, actor Jim Carrey shares how he practiced visualizing his success before his career took off. While broke and trying to break out into the film industry, Carrey would park his car on Mulholland Drive in Los Angeles, where some of Hollywood's most successful people live. Every night, he would visualize getting respect from directors and attention from industry leaders. In the interview, Carrey says:
"I would visualize things coming to me that I wanted . . . I would drive home and think, 'Well, I do have these things, I just don't have a hold of them yet, but they're out there.'"
He then wrote himself a pre-dated check that he could cash in three years for $10 million. In the memo line, he wrote: "for acting services rendered." Right before the date marked on the check, he learned that he was going to make $10 million dollars for Dumb and Dumber. 
2. Lady Gaga
Before becoming "Lady Gaga" and winning 13 Grammy awards and two Golden Globe awards, Stefani Joanne Angelina Germanotta used visualization techniques to manifest her career. In an early interview she says, "Well, fame for me is not external; it's internal. I've been famous for a long time, and I certainly know that my destiny is to be a storyteller in the world."
To program her subconscious mind to focus on her goals, Gaga would recite personal mantras to reinforce what she wanted to accomplish. She'd repeat these affirmations, explaining: "It's not yet. It's a lie. You're saying a lie over and over and over again, and then one day, the lie is true."
3. Beyoncè
"It's very strange, but all of my really great performances, I saw them happen before they happened," Beyonce says in this video as she describes her path to success. She continues:
"I have visualized everything from the color of my stiletto to my hairstyle to the choreography and movement [.]"
Beyonce, who has received the highest number of Grammy nominations and awards, according to Insider, used visualization to guide her every career move. "I am definitely someone that analyzes everything," she says in a 60 Minutes interview with Steve Kroft. 
Visualization Requires Action
Your whole life is a manifestation of the thoughts that go on in your head.

rhonda byrne
Jim Carrey explains it well when it comes to visualization, "That's the thing—you can't just visualize and then, you know, go eat a sandwich." Visualization requires more than just thinking about something, writing it down, and then going about your typical day. Successfully harnessing the power of visualization to achieve your goals requires action. 
Begin working toward your vision by:
Transforming small daily changes into atomic habits.
Doing a guided visualization meditation each day.
Enrolling in a class, professional development program, or conference. 
Joining a local Meetup group to connect and network with like-minded people.
Continue exploring how visualization techniques can lead to success by reading "How to Create a Vision for Your Life: A Must for Leaders."
Sources
Leaders Media has established sourcing guidelines and relies on relevant, and credible sources for the data, facts, and expert insights and analysis we reference. You can learn more about our mission, ethics, and how we cite sources in our editorial policy.
Rovello, Jessica. "5 Ways Katie Ledecky, Michael Phelps, and Other Olympians Visualize Success." Inc., 23 Aug. 2016, https://www.inc.com/jessica-rovello/five-steps-to-visualize-success-like-an-olympian.html.
"Katie Ledecky." Team USA, 8 Sept. 2022, https://www.teamusa.org/usa-swimming/athletes/katie-ledecky.
Call, Megan. "Neuroplasticity: How to Use Your Brain's Malleability to Improve Your Well-Being." Accelerate Learning Community, 8 Aug. 2019, https://accelerate.uofuhealth.utah.edu/resilience/neuroplasticity-how-to-use-your-brain-s-malleability-to-improve-your-well-being.
Zimmerman, Eilene. "Survey Shows Visualizing Success Works." Forbes, 27 Jan. 2016, https://www.forbes.com/sites/eilenezimmerman/2016/01/27/survey-shows-visualizing-success-works/.
Brenner, Abigail. "The Benefits of Creative Visualization." Psychology Today, 25 June 2016, https://www.psychologytoday.com/us/blog/in-flux/201606/the-benefits-creative-visualization.
Ranganathan, Vinoth, et al. "From Mental Power to Muscle Power—Gaining Strength by Using the Mind." Neuropsychologia, vol. 42, no. 7, Nov. 2003, pp. 944–56, https://www.sciencedirect.com/science/article/abs/pii/S0028393203003257?via%3Dihub.
Active Learning. http://changingminds.org/explanations/learning/active_learning.htm. Accessed 9 Aug. 2022.
Gardner, Sarah and Albee, Dave, "Study focuses on strategies for achieving goals, resolutions" (2015). Press Releases. 266. 
"For Worriers, Expressive Writing Cools Brain on Stressful Tasks." MSUToday | Michigan State University, 14 Sept. 2022, https://msutoday.msu.edu/news/2017/for-worriers-expressive-writing-cools-brain-on-stressful-tasks.
"When I Train Olympic Athletes, I Start Them with Meditation – Headspace." Headspace, https://www.headspace.com/articles/when-i-train-olympic-athletes-i-start-them-with-meditation. Accessed 9 Aug. 2022.
Jim Carrey | Visualization. 2016, https://www.youtube.com/watch?v=YahwMdSH_bk.
Lady Gaga Sharing Her Affirmations Secret. Creating Life, 2022, https://www.youtube.com/watch?v=7gy97TS-Chg.
Beyonce On VISUALIZING BEFORE IT HAPPENS! (Law of Attraction). Manifest Yourself, 2021, https://www.youtube.com/watch?v=OiPYnqvqymk.
Swain-Wilson, Savanna. "35 Things You Probably Didn't Know about Beyoncé." Insider, 1 Aug. 2022, https://www.insider.com/interesting-things-you-didnt-know-about-beyonce-fun-facts#and-whenever-shes-on-tour-she-watches-videos-of-all-her-performances-and-critiques-them-25.
Preview: Beyonce's Success. CBS News, 2010, https://www.youtube.com/watch?v=TupMwIsH14Q.
Guided Manifestation Visualization Meditation. Alina Alive, 2021, https://www.youtube.com/watch?v=Z_u-P2hqL8M.
"Meetup – We Are What We Do." Meetup, 9 Sept. 2022, https://www.meetup.com.
Norelli, Samantha. "Relaxation Techniques – StatPearls – NCBI Bookshelf." NIH NLM Logo, 6 Sept. 2021, https://www.ncbi.nlm.nih.gov/books/NBK513238/.