Famed self-help author Napoleon Hill spent a significant part of his life studying and writing about what makes people successful. Throughout his work, a pattern emerges: Successful people use the power of positivity to achieve what they want. They have positive mindsets, positive attitudes, and positive energy. 
Hill found the connection between the positive mindset and success while conducting research for his 13 books, including The Law of Success, Success Through a Positive Mental Attitude, Outwitting the Devil, and Proven Principles for Greater Wealth, Health and Happiness. For his most famous book, Think and Grow Rich, he dedicated 25 years of his life analyzing over 500 wealthy people to determine the "laws" of success. Since its publication in 1937, the book has sold over 15 million copies and is still widely popular among entrepreneurs, business leaders, and those interested in self-development. 
As a leader, positivity indicates a high level of emotional intelligence when interacting with employees, customers, and clients. It also contributes to one's ability to motivate others, build strong teams, and create a happy work environment. Without having to read all of his books, this article shares quotes from Hill's core teachings on how to become a more positive leader. Additionally, each section explains how to harness positivity through thoughts, behaviors, and actions. In turn, working on this skill increases the impact a person can create in the lives of others by spreading a sense of joy and hope.
Find a Positive Outlet for Your Emotions
"The emotions of man are like a river in that their power can be dammed up and released in whatever proportions and whatever directions one desires, but they cannot be eliminated. Through self-discipline, a man can organize all his emotions and release them in a highly concentrated form as a means of attaining the object of his plans and purpose." 
---
Entrepreneurs, executives, and other business leaders face a significant amount of work anxiety and stress. Being responsible for high-level decisions, running a team, producing results, and meeting company goals is no easy feat. In summary, those in leadership roles are held responsible for the business's success or lack thereof. Being a beacon of positivity can be especially challenging during stressful times.
Research conducted by TalentSmart® found that "90% of top performers are skilled at managing their emotions in times of stress in order to remain calm and in control." Finding positive outlets for stress or anxiety equips leaders to better manage difficult times. This is also crucial when it comes to avoiding burnout, decision fatigue, or reactionary behavior.
Implement a Strategy
Without a strategy in place for emotions during difficult times, positive interactions are less likely among employees and customers. Negative feelings need a constructive place to go, otherwise, mental health will suffer. Spending 20 minutes on art therapy, doing a quick HIIT workout to relieve tension, or practicing Kundalini Yoga, which uses deep, soothing breathing techniques are all methods for calming a person back into a healthy state of being.
As Hill states in the quote above, energy cannot be eliminated. Instead, find ways to channel negative emotions into a positive mindset and productive activity. This helps people manage their emotions and continue effectively leading others.
Control Your Thoughts
"We are the Masters of our fate, the Captains of our Souls, because we have the power to control our thoughts." 
---
Thought control is one of Hill's major key points around success. Being in control of thoughts includes breaking patterns of negative thinking. For instance, the opposite of this is "spiraling out of control." The mind is a powerful tool that influences how a person shows up in life. When business leaders break negative thought patterns, they reduce anxiety and fear. In turn, this helps with important parts of the job such as decision-making.
"Our perception dictates our actions and our actions dictate our results. We must understand that our mind frame, the way we think and view ourselves, has a tremendous impact on our successes or failures in business and in life," explains Dr. R. Kay Green in an article for the Huffington Post. 
Recognize Negative Thinking
To stay positive, first try working on recognizing negative thoughts when they appear. Stopping the repetition of negative thinking eliminates the thought's power and control. "Your attitude is a choice. You attract what you focus on, so let go of that which does not serve your goals. The more you practice positive mind-shifts, the easier it becomes," executive coach, Erin Urban tells Forbes. 
Consider negative thought patterns a distraction. They keep entrepreneurs and executives from achieving their mission in life. When these thoughts appear, make the choice. Recenter and refocus on the purpose of the company. Think about why the work being conducted is important and must be fulfilled.
Eliminate Limiting Beliefs and Fear
"Two of the greatest destructive forces in the human mind are fear, and its close partner, anxiety. They kill enthusiasm, destroy faith, blind vision, blunt creative effort, and dispel harmony and peace of mind—all qualities necessary for a positive mental attitude and sound mental health." 
— Napoleon Hill's Keys to Success: The 17 Principles of Personal Achievement
---
Limiting beliefs are the enemy of a positive mindset—they're kerosene for fear. In leadership, these negative core beliefs counteract positivity by fueling fears that halt development and progress within a company. Fear and self-doubt keep people from being the best version of themselves.
Listening for negative self-talk helps a person recognize core fears that hold them back from becoming the type of leader they know the business needs. For example, say the company's set objectives into place for making $5 million dollars more in revenue this year. Negativity will say this is impossible and the company needs to scale down instead, even when there is evidence to the contrary. The core fear of this limiting belief revolves around the possibility of failure and letting others down if this achievement isn't met.
Change the Conversation
One way of stopping negative thoughts is to write them down then ask yourself whether or not someone else would be able to say this to you without inciting insult. If the answer is "no," then this is a limiting belief that must be transformed into a positive one. "Once you have identified your limiting beliefs, replace each one with a positive belief. It takes time to change negative beliefs, but with perseverance, you will and then you can actually start to break long-term patterns that don't serve you in any way," advises entrepreneur Andrew Griffiths in an article for Inc. 
Visualize Positive Outcomes
"A person with positive mental attitude aims for high goals and constantly strives to achieve them." 
— Success Through a Positive Mental Attitude
---
Hill was a strong believer in visualizing positive outcomes. Today, the word "manifestation" is more widely used when describing this practice. Manifesting goals requires several steps. First, business owners and executive leaders must be crystal clear about the goals or changes the organization requires. The more details, the better. Setting a clear intention helps solidify vision and focus on achieving it. Business strategist, Scott Hansen, writes for Entrepreneur.com, "The reasoning behind this is simple: Your unconscious mind does not know the difference behind dreams and realities. So, the faster you can convince your subconscious that the desired result has already manifested, the faster it will show up in your reality."
Next, write the achievement down as if it already happened. This helps people identify the outcome of their actions. In addition, visualizing the required steps is part of this process. Set the bar high and think about the sense of accomplishment associated with goal achievement. Consider how accomplishing these objectives can create a better workplace for employees. What about producing a more impactful product or service for customers? These ideas are crucial for demonstrating purpose as a leader.
Communicate Purpose
When sharing visualized business goals, communicate them to employees so they know how their work fulfills the company's mission. Speaking positivity into these objectives motivates and encourages team members toward the collective purpose. Manifestation keeps the focal point of the business in plain sight while communicating and guiding people forward in new achievements.
Practice Self-Analysis 
"Annual self-analysis will disclose whether advancement has been made, and if so, how much."
---
Regular self-analysis helps eliminates negative behaviors, unhealthy patterns of thinking, and cycles of unproductiveness. In Think and Grow Rich, Hill provides a useful tool for measuring yearly progress. He says people should take this self-assessment test at the end of each year to measure growth and create your next goals for the year ahead. From customer service to employee relations, the personal inventory asks business owners and company leaders a wide-range of thought-provoking questions. The answers identify personal and professional development and where there's still room for improvement. 
Self-improvement is a process leaders must adhere to. Within its umbrella is a vast amount of qualities needed for successfully guiding an organization. For example, research conducted by Paul Silvia and Maureen O'Brien concludes that "Without self-awareness, people could not take the perspectives of others, exercise self-control, produce creative accomplishments, or experience pride and high self-esteem." 
When going through progression tracking techniques, think about the distance traveled. Oftentimes, leaders get so overwhelmed and stressed about moving forward at an exponential pace, they forget to hop off the train for a minute and realize how far they've actually come. Self-analysis helps with keeping a positive mindset because it shows the personal and company progression over the course of time. Look at achievements, recognize and appreciate the people involved in making these things happen and be proud of the work being accomplished. In addition to this, self-analysis determines methods for further improvement, adaptation, and growth.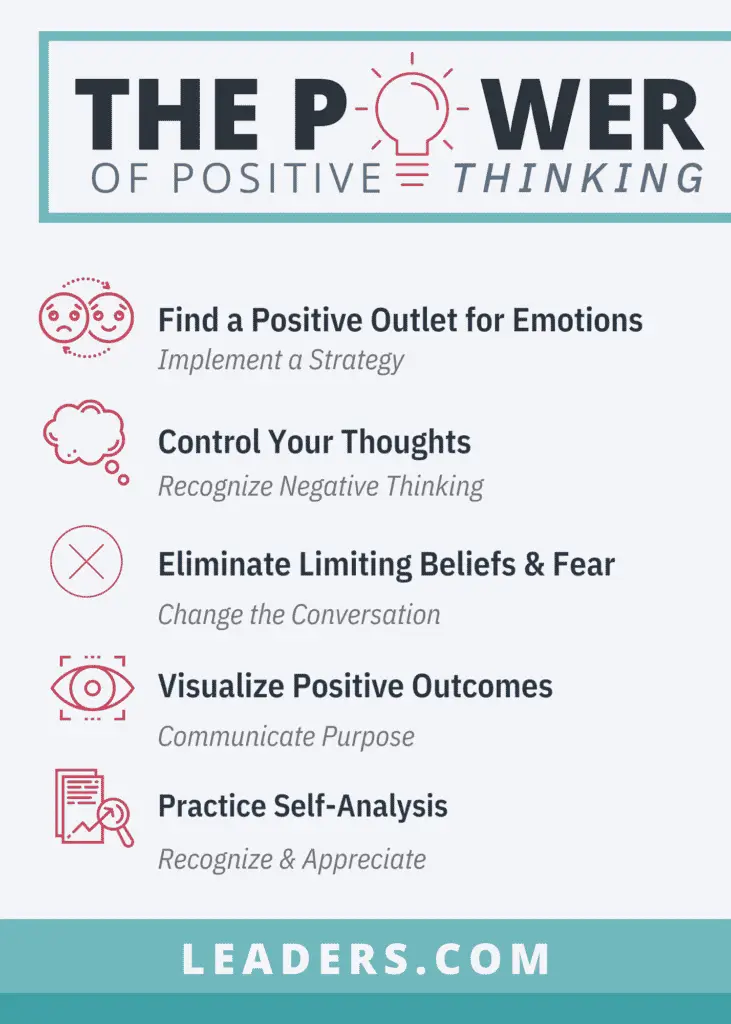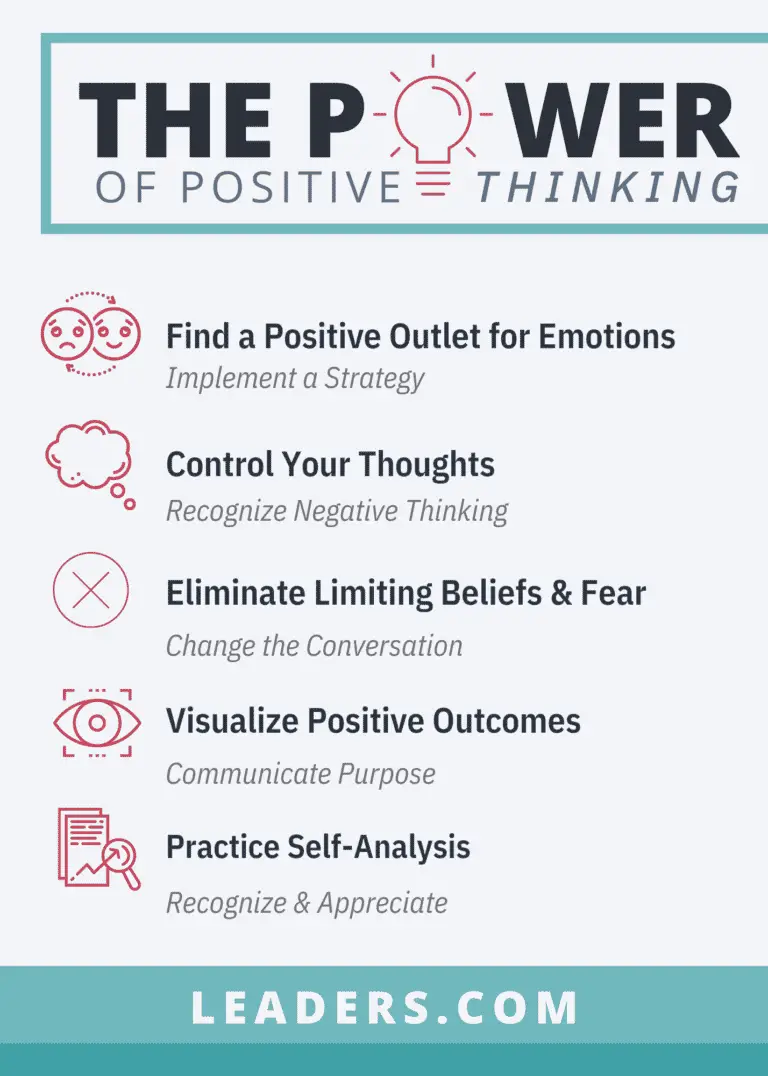 Use the Power of Positivity to Increase Your Success
Throughout Napoleon Hill's writings and teachings, you'll find that positivity is a determinant for helping leaders guide their companies and people toward success. Furthermore, what's great about positivity is that it costs absolutely nothing, but increases value by tenfold. Whether instilling belief into team members or spreading joy and confidence with clients, enthusiastic people with a positive attitude and mindset attract and encourage positive outlook in their lives and the lives of others.
For a deeper dive into creating a positive mindset, check out these three books:
Want to visualize success, but having trouble eliminating mental blocks? Read these articles next:
Limiting Beliefs: A Guide for Overcoming Self-Limitations