Michael Hyatt is one of the best leaders and teachers that entrepreneurs, executives, and working professionals can learn from when looking to further develop their leadership qualities. In 2012, the former chairman and CEO of Thomas Nelson, a multi-million dollar publishing company, became the founder and CEO of Michael Hyatt & Company. The mission of the business is "helping successful, but overwhelmed leaders get the focus they need to win at work and succeed at life." His purpose is getting leaders what he calls the "Double Win." Too often, leaders lack the knowledge and tools required for not only succeeding at work but also at home. He and his team realize this is a serious problem preventing many professionals from experiencing happiness and joy. Because of this, his work focuses on providing insightful information on how to set goals, increase productivity, and develop leadership skills. 
During his time with Michael Hyatt & Company, he's has launched a plethora of resources designed specifically for growing leaders. This includes several best-selling books, a podcast, a blog, and a variety of online videos and courses. Some of his most famous works include Your Best Year Ever, Free to Focus, and The Vision Driven Leader. 
Below, find seven of his value-packed assets designed for hard-working leaders searching for a better way to live and work. 
1. The Full Focus Planner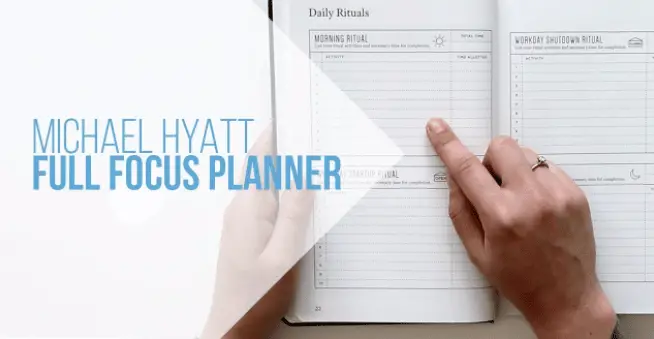 One of Hyatt's top-recommended resources from Dr. Josh Axe, founder of Leaders.com, is The Full Focus Planner. This planner is made for helping entrepreneurs and their leadership teams focus on accomplishing their top priorities. Many leaders are aware of the terrible feeling that occurs when they spend too much time putting out fires, being in unnecessary meetings, or saying "yes" to too many things. When working through the Michael Hyatt planner, leaders can minimize work anxiety by planning out their next 90 days. 
The planner includes progress tracking for weekly and quarterly reviews. It's also formatted to intersect day-to-day tasks with large-scale, ambitious goals. This process is important when planning the achievement of a big project or initiative. When a person can clearly look at the work they're accomplishing, they feel less overwhelmed by what's on the horizon. For this reason, the Full Focus Planner achieves Hyatt's mission of getting people to a place where they feel freer and less stressed. 
Studies show Hyatt's methodology works, too. Goal setting can significantly increase the likelihood of goal accomplishment. For example, a study conducted by Leadership IQ found "People who very vividly describe or picture their goals are anywhere from 1.2 to 1.4 times more likely to successfully accomplish their goals." It can also increase how much a person loves their job: "those who use visuals to describe their goals are approximately 52% more likely to love their job than people who describe their goal with one word or number."
2. Free to Focus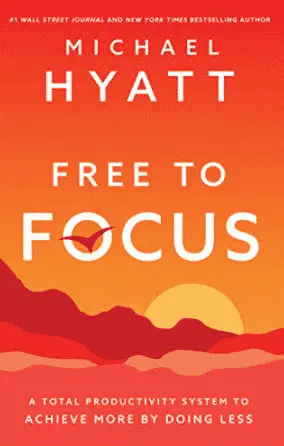 Pair the Full Focus Planner with Free to Focus, Hyatt's New York Times best-seller on increasing your productivity by making the most of the time you're given each day. In the book, Michael Hyatt teaches leaders nine different strategies for reclaiming valuable time and getting the results they want. When entrepreneurs and executives use methods like setting strategic goals, prioritizing, delegating work, and eliminating distractions, they can start making the Double Win a reality.   
Michael Hyatt reminds readers that outcomes—not checking tasks off the list—should be the true objective of high achievers. In fact, this is the key to being productive. Yet, too many people work without this strategy. Instead, they feel like being busy is the same as being productive. This is what causes chaos in a person's life and brings on those feelings of overwhelm and burnout. There are only so many hours in a day. For this reason, leaders must focus their attention on high-value work that generates real results. These results include spending more time with family, friends, or a partner, feeling like you're making significant contributions at work, experiencing growth in revenue and profits, and having more freedom to enjoy the merits of your hard work. 
Check out the audiobook, paperback version, and partner course.  
3. Lead to Win Podcast
Lead to Win is a podcast hosted by Michael Hyatt and his daughter, Megan Hyatt Miller, who is the COO of Michael Hyatt & Company. The show is a great resource for busy leaders who want a daily dose of leadership coaching. Since each episode is only about 30 minutes long, it's the perfect listen for a morning or evening commute. 
In the podcast, the father-daughter duo focuses each episode on a practical aspect of being a leader. For example, they discuss forming positive habits, shifting into a growth mindset, multiplying leaders, intervening during conflicts, building team culture, leading through crisis, and more. In only a half-hour, the team provides leaders with actionable strategies they can use to better their personal and professional lives. Again, this is another resource that fulfills Hyatt's mission of helping entrepreneurs and executives get the Double Win. Even better, it is completely free. 
4. BusinessAccelerator
Leaders interested in business coaching in the hopes of scaling their companies and experiencing more personal freedom should check out Hyatt's BusinessAccelerator program. This virtual coaching program features techniques for increasing revenue and creating reliable, scalable, proven systems. The coaching program is not industry-specific and currently serves over 50 different types of businesses. Any business owner can join and experience the rewards of being a group member. Additionally, the website states the perks of the program include "67% revenue growth, 11 reclaimed hours per week, 64% increase in confidence, and 66% took an additional week of vacation."
Those who register can expect: 
Situation-driven training
Weekly Q&A sessions with Michael Hyatt and his team
Live-streamed conversations with today's top business experts
Systems-driven training
Quarterly coaching intensives
Community-driven training
A monthly executive mastermind group with 6-9 other members
For those who want to get serious about growing their companies and also finding a way to get their business running in a way that doesn't rely on them being present 24/7, this is an invaluable resource. 
Learn more about the BusinessAccelerator course. 
5. Your Best Year Ever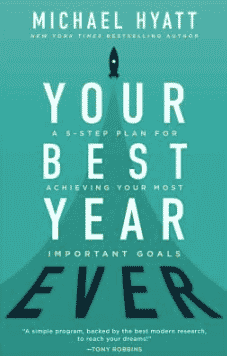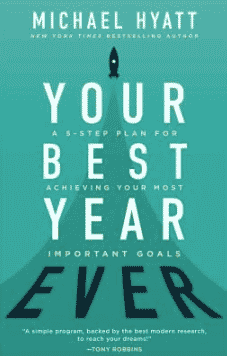 Your Best Year Ever is a book written by Michael Hyatt about setting challenging, yet attainable goals so you can reach your full potential. Oftentimes limiting beliefs and excuses stop people from accomplishing their big goals in life. A review on Amazon best sums up what this book can do for those who keep finding their goals slipping away from them: "This book is for dreamers who rarely see their dreams become reality. With a 5-step plan that is literally foolproof, Michael Hyatt bursts the bubble of every excuse, every myth, and every obstacle that has kept you from achieving your most important goals."
Hyatt says the purpose of this book is to set people up for a big breakthrough in their career and life. Again, the goal is decreasing the overwhelming feelings that come with accomplishing a big goal when you've got a million other things going on. By following the instructions provided by this experienced leader, readers can create a bridge between their big dreams and the daily actions necessary for making their goals a reality.
Get your copy of Your Best Year Ever. 
6. The Vision Driven Leader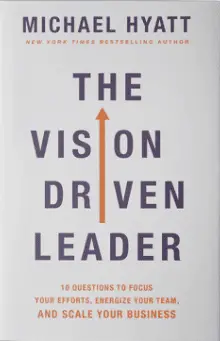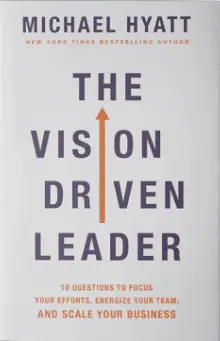 In The Vision Driven Leader, Hyatt outlines the process of casting a clear, action-oriented vision. "Business as usual produces predictable results. But if you want something fresh, something new, that takes vision. Greatness only happens by design," he writes, explaining why vision is an integral component of leadership. Vision is what leads an organization. While strategies might adapt and change, vision informs the actions, goals, and behaviors of a company's people. 
Additionally, communicating an inspiring vision is how leaders generate buy-in from their team. A recent study from Leadership IQ found that only 29 percent of employees felt their "leader's vision for the future always seems to be aligned with the organization's." When team members don't buy into a leader's vision, productivity drops and engagement decreases. Business owners and executives need their team's support—otherwise, their company's vision cannot be fully realized. 
Hyatt's simple, yet informative step-by-step plan provides six key strategies for crafting a compelling vision. By the end of this book, readers will have refined and mapped out the core components of a motivational vision.
Read The Vision Driven Leader. 
7. Leading Through Crisis Course
Finally, Hyatt offers a course on how to lead during times of crisis. Even if your business isn't currently in a state of crisis, it is always beneficial for business owners to know how to prepare for one. Mismanaging a crisis could lead to public distrust and disregard, mass employee turnover, or potential business failure. The Leading Through Crisis course helps leaders avoid these repercussions when things get tough. 
This is a much-needed resource. As business owners, there's typically no preparation for leading in times of uncertainty. Hyatt's online course teaches entrepreneurs how to lead with courage, confidence, and ethical behavior, even in the face of extreme challenges. Doing so is a means of protecting the business's team players and the stability of a company. 
Additionally, the course is taught from real, personal experience from an executive point of view. In 2008, Hyatt led his company, Thomas Nelson, through the 2008 recession. The course provides an outline of what he did to ensure the company survived this hardship. With only six sessions, it is a time-conscious program that offers tremendous value to leaders who want a proven, scalable strategy for effectively handling crises.    
Making the Double Win a Reality
As referenced above, all of Hyatt's resources have one thing in common: getting leaders closer to feeling like they've accomplished the Double Win. The truth is, many business owners and executives are working incredibly hard to experience more freedom in their lives. But often, they get caught in a Catch 22 where working harder only results in more stress and less freedom. Oftentimes they accept this as the way things have to be because they know no other way. The truth is, with more focus and the right tools, the Double Win isn't so far out of reach. With that being said, Hyatt's books, courses, podcasts, and other materials are designed to get people closer to feeling equipped for winning at their career and at home.
Want other resources for learning how to be a great leader? Check out this list of leadership books, next.